Rep. Cardoza Urges Additional Iraq Voting Sites in California
Bret Ladine
Communications Director
Rep. Dennis Cardoza, CA-18
435 Cannon House Office Bldg
Washington, DC 20515
202-225-6131
202-225-0819 fax January 14, 2005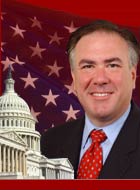 (ZNDA: Washington) Rep. Dennis Cardoza, Democrat-Merced, today renewed his request for the establishment of an additional voting site in the Central Valley so that Iraqis living in the region will not have to travel all the way to Los Angeles to participate in their country's first democratic election.
"The five voting sites that have been designated nationwide are inadequate," Cardoza said. "There are 40,000 Iraqis living in the Central Valley, which certainly qualifies as a precinct of its own. How can we expect to run a decent election in Iraq without giving people a reasonable opportunity to vote? We wouldn't require people to travel six hours by car to vote in America, so we can't require Iraqis living in our country to do that for their election."
Iraqis living in the U.S. are required to register as an absentee at the voting site between Jan. 17-23 and then return to actually vote between Jan. 27-30.
Rep. Radanovich Blasts IOM for Hypocritical Iraqi Election Measures for Central Valley of California
Heather Davis
heather.davis@mail.house.gov
(202) 225-4540

(ZNDA: Washington) Rep. George Radanovich (Republican-Mariposa) blasted the International Organization for Migration, an independent body that works closely with the United Nations, today with the following statement:
"Earlier this month, Gen. Colin Powell told the AP that, "The people conducting these attacks don't want to see an election.'" He further said on NBC's Meet the Press that "even in the Sunni areas where people are being threatened, people are coming out to register. People know that this is their chance to decide how they will be led and they are not inclined toward this kind of violence and these insurgents."
"Isn't it ironic that we are asking our soldiers to risk their lives to enable these elections to occur and yet we are not providing sufficient numbers of voting booths for the Iraqis in this country who will be casting their ballot for the first time? There are just 5 election locations in our entire nation-only one of which is in the entire Western half of the U.S.--to handle all absentee voting Iraqis in America between January 27-30. The Central Valley's 40,000 Iraqis requested their own voting booth so they can vote closer to home. Unfortunately, Los Angeles is the nearest voting facility and requires at least an eight hour round trip by car. Valley Iraqis are also required to travel to Los Angeles to register to vote during the week of Jan. 17-23, which calls for them to make two trips from the Valley in a very short period of time.
"My office has been working diligently to try and rectify this atrocity. We will continue to push for additional voting booths to allow these voters their rightful duty.
Iraq Expatriates Want Vote
Courtesy of the Washington Times
15 January 2005
By David R. Sands
(ZNDA: Washington) Christian Iraqis in the United States claim they are being effectively shut out of the planned Jan. 30 election for a new government in Baghdad at a time when their community faces murderous violence and discrimination back home.
Jacklin Bejan, a spokeswoman for the Chaldean-Assyrian-American Advocacy Council, said the decision by election organizers to set up just one polling station west of the Mississippi -- in Los Angeles -- means that tens of thousands of eligible voters will not be able to register or vote.
In San Diego alone, there are an estimated 25,000 expatriate Iraqis of Assyrian or Chaldean ancestry who could vote in the election. Iraq's Chaldean-Assyrian community is one of the largest remaining Christian populations in the Middle East, and has been the target of intimidation, assassinations and bombings by Islamist terrorists in recent months.
For some Iraqi communities in Northern California, "you are talking about an 800-mile round trip just to register next week, and another 800-mile round trip to vote on January 30," Mrs. Bejan said.
"We offered to do everything they wanted to set up more polling places -- locations, security, staffing -- and we were just told no," she said.
The Geneva-based International Organization for Migration (IOM), working with Iraqi election officials, selected five cities where the estimated 240,000 eligible Iraqis can vote: Washington, Nashville, Chicago, Detroit and Los Angeles.
About 1 million Iraqis in 14 countries will be eligible to cast ballots in the Jan. 30 election, considered a critical step in the country's rocky path to self-rule.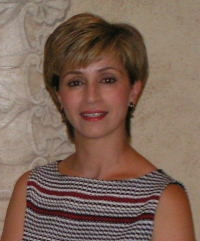 Jacklin Bejan, a spokesperson for the ChaldoAssyrian American Advocacy Council, believes the choice of voting sites in California is unfair to Iraqi Christian expats in San Diego & Central California..
Fifteen U.S.-based Chaldean and Assyrian groups signed a petition this week protesting the voting procedures in the United States. They noted that Nashville, with a community of only about 4,000 Iraqis of Kurdish origin, has a polling site, while San Diego County, whose Iraqi expatriate community is the third-largest in the country, does not.
Large Iraqi Christian communities in central and Northern California, as well as Arizona and Nevada, are also effectively shut out, the petition said.
"The seemingly arbitrary allocation of polling stations is seen as an outright act of discrimination against non-Kurdish Iraqis, especially the Chaldo-Assyrians who comprise 85 percent to 90 percent of all Iraqi-Americans," the petition said.
The Sunni Muslim Kurds were a staunch U.S. ally in the drive to oust Saddam Hussein. But they have also clashed in northern Iraq with Chaldeans, Assyrians and other smaller minorities over political control and economic resources.
The issue has attracted the attention of members of Congress.
Rep. Frank R. Wolf, Virginia Republican, wrote to Secretary of State Colin L. Powell earlier this week questioning the distribution of polling places and noting the campaign of terror targeting Christians inside Iraq.
"It is in our nation's own political interest to help ensure that this group, which is pro-democratic and pro-Western, can participate in the democratic process and have its rights protected in the new government," he wrote.
And 12 California lawmakers wrote this week directly to election organizers, urging the opening of two more polling sites in San Diego and Modesto, Calif.
Sarah Tosh, spokeswoman for the IOM's Iraq Out-of-Country Voting Program, said in an e-mail that the U.S. sites were picked based on census data and in close consultation with U.S. Iraqi groups and the Iraqi Embassy.
"They agreed that if we could only have registration and polling in five cities, then these were the best ones," she said.
She said officials recognize that the one California registration and voting site "will be inconvenient for Iraqi voters in San Diego," but, she added, "Iraqis living in other parts of the United States also face long commutes to vote."
With voter registration set to begin Monday, "it would be impossible for us to consider opening new sites at this stage in the process."
State Department spokesman Richard Boucher said yesterday he had not seen Mr. Wolf's letter to Mr. Powell and would not comment on it.
Michael Kozak, acting assistant secretary for human rights, democracy and labor, said in a Wednesday briefing that the U.S. government was merely "facilitating" the expatriate vote, which was organized and financed by the Iraqis.
"We are not making the rules. We're not the ones selecting the sites," Mr. Kozak said.
Nina Shea, director of the Freedom House's Center for Religious Freedom, said the passive stance of the U.S. government reflected "the proverbial tin ear our bureaucracy has for the importance of religion in the Muslim world and in the Middle East."
"We formed an alliance with the Kurds for understandable reasons, but that does not mean we should just view the country's persecuted Christian minority as an inconvenience," she said.
Mrs. Bejan said the voting question wasn't an academic one. Under Iraq's proposed voting formula, the expatriate U.S. vote could ensure as many as five seats for Assyrian-Chaldean candidates in the new National Assembly.
"Those are seats we badly need just to protect our property and our lives," she said.
[Zinda: Mr. Nicholas Kralev contributed to this article.]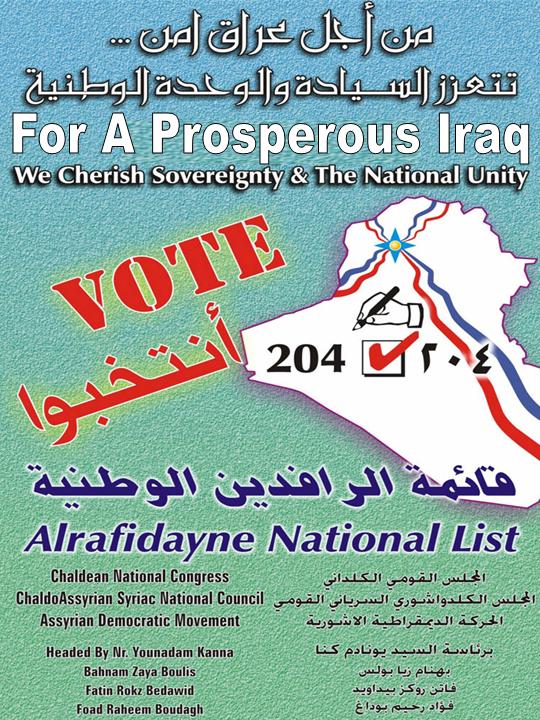 Southgate, Michigan Picked for Iraq Election Poll
Courtesy of Detroit Free Press
14 January 2005
(ZNDA: Southgate) Some Iraqi Americans in Michigan expressed disappointment Friday with the site selected for them to register and vote in Iraq's elections but said they'll do their best to get people to the polls.
Joseph Kassab, president of the Chaldean National Congress and a resident of Farmington Hills, said many Chaldeans live 40 to 50 miles from the site, a building in Southgate owned by Wayne County.
"Our people are going to face some challenges," Kassab said. "For some who can't speak the language, and some elderly people, it's hard for them to commute that much."
But as the Jan. 17-23 registration period approaches, Kassab said the community will figure out car pools and other ways to get Chaldeans to the polls. He said a recent rally urging Chaldeans to vote attracted 300 people.
"(Iraqi Christians) need our votes. Most of them will be unable to vote because of security and logistics," Kassab said. "More important, we as Iraqi Americans understand democracy. We want to implement it the very same way in our country at home."
The decision on the site came after weeks of failed attempts to find a suitable location. Registration is scheduled to begin at 8 a.m. EST Monday and will run until 5 p.m. each day through Jan. 23. Voting will be Jan. 28-30.
Vanessa Denha, an Iraqi American and Wayne County spokeswoman, said the Southgate site is accessible from Interstate 75 and has ample parking for the thousands of voters who may register and vote. Election officials estimate 1 million Iraqis living outside their country will be eligible to vote, including as many as 80,000 in Michigan. Denha said as many as 100,000 Iraqi Americans could come to Southgate, which is one of five voting sites in the country.
Denha said officers from Southgate, Wayne County and the Michigan State Police will secure the building. State police spokeswoman Shanon Akans wouldn't say how many officers will be on the scene but said police will try to get the federal government to pay some of the costs.
Voter registration is open to those who are present or former Iraqi citizens, those who were born in Iraq and those whose fathers are Iraqi. Voters must have documents to prove they are eligible. They also must have been 18 by Dec. 31.
Denha is eligible because her father was born in Iraq. She said she'll be researching her options before voting.
"It's a privilege to be able to vote," she said. "You have to be conscious and make a sound decision, like you would in any election."
Iraqis Are Far From Home but Voices Will be Heard
Courtesy of the Los Angeles Times
14 January 2005
By Teresa Watanabe
(ZNDA: Los Angeles) Alaa Alasady joined the armed uprising against Saddam Hussein. Shak Hanish endured torture for opposing Hussein's Baath Party. And Alan Zangana saw his community gassed, deported and massacred by Hussein's forces.
The three Iraqi immigrants to Southern California have dissimilar backgrounds, with Alasady an Arab Muslim, Hanish a ChaldoAssyrian Christian and Zangana a Kurd. But they are bound in suffering under a brutal dictator — and now united in new hopes for their beleaguered homeland as they prepare to participate in Iraq's first democratic elections in six decades.
"We have dreamed all of our lives of putting that piece of paper in the ballot box," said Hanish, an international relations professor who fled Iraq in 1980 after being forced to sign his own execution papers. "If the election was anywhere in the world, I would go to participate."
Under voting rules, Iraqi expatriates who were born in Iraq or whose father was born there are eligible to vote even if they are American citizens now. Overseas voting is planned to take place in 14 countries from Jan. 28 to 30; U.S. balloting sites are in Los Angeles and four other cities.
Registration for Iraq's National Assembly elections begins Monday, and the training of hundreds of poll workers is well underway to handle the estimated 67,000 potential voters who could travel to Los Angeles from around the Western states.
On Thursday, election officials gave the public its first peek at the Los Angeles training sessions.
Voting officials said that security for the election was a high priority, although a U.S. Homeland Security spokeswoman said no specific or credible threats had been received.
The California voting is not without problems. The Iraqi community in San Diego, the largest on the West Coast at an estimated 25,000, is protesting the failure to open a polling station in that area. On Thursday, 12 members of California's congressional delegation appealed to the Jordan-based organization that is running the overseas voting to open up more polling places in San Diego, San Francisco and the Central Valley.
Jeremy Copeland, spokesman for the International Organization for Migration's Iraq Out-of-Country Voting program, said it initially was intended to be limited in scope, with plans to conduct voting only in Washington, D.C. But under community pressure, it was expanded to Los Angeles, Detroit, Chicago and Nashville. He said there are no plans to add other cities.
Still, excitement over the election is palpable in places such as the Ahlul-Beyt mosque in Pomona, a sanctuary of Koranic tapestries and glass chandeliers largely frequented by Shiite Muslims from Iraq. Last week, Basim Ridha Alhussaini, who is a voting trainer in Los Angeles, gave a primer at the mosque, complete with a draft ballot.
The crowded ballot includes many coalitions or individuals from which voters may select only one as their choice for the 275 parliamentary seats. Seats will be awarded proportionally.
But this crowd's leading candidate was clear. "Which is the coalition supported by Grand Ayatollah Ali Sistani?" one mosquegoer asked, referring to Iraq's most influential religious leader.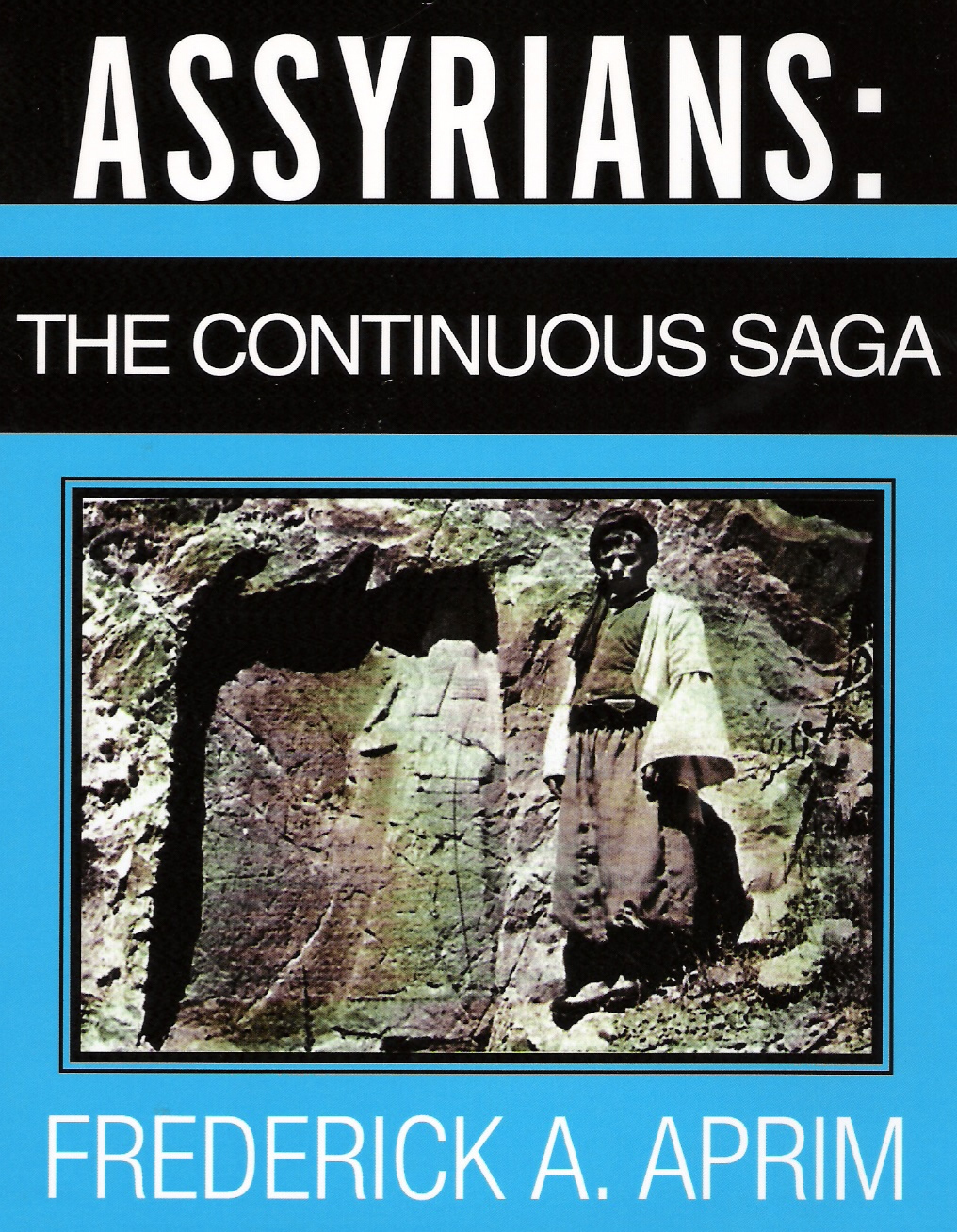 Assyrian Continuity from Fall of Nineveh to Modern Times / 309 pages
Fred Aprim
P.O. Box 446
Hayward, CA. 94543 USA

"Number 169," Alhussaini replied. "The United Iraqi Alliance."
For Walnut psychologist Ilham Al-Sarraf, the electoral stakes are highly personal. Her son, Sermid, is in Iraq helping rebuild the country's shattered legal institutions. Her brother is the nation's Supreme Court chief justice. Her sister, she said, is suffering from post-traumatic stress syndrome produced by years of war and terror.
That sister, Widad Hussein, was visiting the mosque from Baghdad last week and poured out anguished stories of a life destroyed. Amid continued lawlessness, she said, one daughter shuttered her dental practice after receiving anonymous death threats. Another, an engineer, has survived three bomb attacks on her office.
"We are living in pure misery," Hussein said. "The elections are a glimpse of hope to allow the Iraqi people to become human again."
Among Iraqi expatriates in El Cajon outside San Diego, the religion was different but the sentiments similar. At the St. Peter Chaldean Catholic Cathedral, the Eastern-rite Catholics still celebrate their liturgy in Aramaic, the ancient language of Christ, and have modeled their cathedral's tile towers after the architecture of Babylon, which is claimed as roots by the ChaldoAssyrians of Iraq.
But excitement over the elections was mixed with deep disappointment that San Diegans would have to travel to Los Angeles twice, to register and to vote. Noori Barka, president of the Chaldean American Foundation, said the community had offered volunteers and the free use of its churches as a voting site, to no avail.
"We have nothing here, nothing! Why?" asked the visibly agitated Bishop Sarhad Y. Jammo, who oversees 19 Western states. "How can you promote democracy through a process that is not democratic in the United States itself?"
Still, over a lunch of Mideastern salads and marinated meats, several community members marveled at the democratic choices finally facing them.
Hanish, the professor who fled Iraq in fear that his secret membership in a left-leaning student group would be his death warrant, planned to vote for the People's Unity Party. The liberal secular party, he said, represented "the unity of Iraq" and the values of pluralism, tolerance and feminism.
His friend, Said Sipo, said he would vote for the Christian Two Rivers Party to ensure that the rights of Christians would be respected.
In California's 30,000-member Kurdish community, meanwhile, many see the election as "the end of genocide against Kurds," Zangana said.
Zangana, program director of the San Diego-based Kurdish Human Rights Watch, came to the United States under political asylum in 1982. He had survived torture during a monthlong prison term under Hussein's regime. He experienced the mass deportation of his family and 300,000 others from Kurdish cities in 1975. He lost friends in Hussein's 1988 nerve gas attacks on Kurdish cities.
Like many other Iraqi Americans, he supported the U.S. invasion and does not want the upcoming voting to be postponed even amid continued violence by insurgents in Iraq.
Zangana plans to vote for the Kurdistan Democratic Party in the hope that Iraq will adopt a U.S.-style federalist system.
To secure his and others' voting rights, more than 300 poll workers are being trained in Los Angeles to staff the voting stations, whose locations have not yet been announced.
At the Radisson Hotel near Los Angeles International Airport early Thursday, poll trainer Alhussaini quizzed 150 poll workers on their upcoming duties.
The poll workers included Suad Jawad, 46, and her 18-year-old daughter, Essra. Like so many Iraqi expatriates, the elder Jawad can reel off the names of many relatives who were tortured or killed by Hussein's forces. Now, suddenly, her homeland was poised for democratic progress, and she and her family were eager to lend a hand.
"I never imagined this day would happen," said Jawad, her face crinkling into a smile.
Her Los Angeles-born daughter, weaned on the terrible tales of her family's suffering, added: "I want to do something for the country, even though I've never been there."