What's New on Slates 204 & 139 in the Iraqi Elections
(ZNDA: San Francisco) The following is an update on the two popular election slates, 204 and 139, prepared by Mr. Fred Aprim for Zinda Magazine:
Chaldean National Congress (CNC) Withdraws from Slate 204
Slate 204 initially included the Assyrian Democratic Movement (ADM), The Chaldean National Congress (CNC), ChaldoAssyrian National Council, and other ChaldoAssyrians from throughout Iraq.
The Chaldean National Congress (CNC) withdrew from 204 according to a letter dated 15 January signed by Mr. Ghassab Hanna Shathaya, Mr. Fu'ad Bodagh (CNC representative in Iraq), and few others addressing both the Iraqi Independent Electoral Commission and to the Assyrian Democratic Movement (view letter here).

The CNC disagreement came due to the seating of its candidates on the list. CNC's Fu'ad Bodagh and Zuhair Sabri Polous were placed in the 4th and 8th slots on the list. The CNC had asked that Fu'ad Bodagh's name be placed in the 2nd slot. The CNC believes that slate 204 (Rafidayn National slate of ADM and its coalition) will not be able to get the necessary votes (i.e. 120,000) to have four of its candidates in the Iraqi National Assembly. Approximately 30,000 votes are needed for any single candidate to win a seat and become a member of the Iraqi Parliament. CNC believes that its representative in the 4th slot will not be able to win a seat. Observers wonder if the CNC's real intention from withdrawing a few days before the elections is to jeopardize the ADM chances in securing a seat in the Parliament.
Mr. Yonadam Kanna holds the first slot on slate 204. In 2nd slot is Mr. Behnam Zaia Polous (a former minister in the Iraqi government from 2003 to 2004 whose family has close ties with the leadership of the Chaldean Catholic Church in Iraq). In the 3rd slot is, Fatin Bidawid, a lawyer and woman, as required by the election rules.
The CNC in its letter has asked that the Chaldeans vote for the Chaldean Democratic Union Party (of Mr. Abd al-Ahad Afram) running under a Kurdish ticket. According to this statement, the CNC describes the Chaldean Democratic Union Party as the other promoter of the Chaldean national movement and the defender of the Chaldean political and national rights.
Mr. Abd al-Ahad Afram's position within the Kurdish slate is in the 44th slot. The closest Assyrian (ChaldoAssyrian) on the same list, that includes 165 candidates, is Mr. Goriel Esho Khamis, a member of the ChaldoAshur Organization, a part of the Kurdistan Communist Party. He holds the 41st slot. Mr. Salim Potros Elias who held the 43rd slot on this list, withdrew himself from the Kurdish slate. He has noted an obscure reason for withdrawing from the Kurdish slate as a protest against the attack of the American forces on Arbil. No Kurdish candidate has withdrawn from this ticket yet.
The Assyrian National Assembly (ANA)'s List (Slate 139)
ANA's Slate 139 has yet to officially publish the list of its candidates. A list of 13 names was posted on an Assyrian internet forum on 16 January; however on the next day, the spokesman of the ANA declared the list as false. The list did not include the necessary number of women mandated by the Iraqi Independent Electoral Commission (i.e. every third, sixth, ninth, so on). The list had only two women on the third and sixth slots.
With less than two weeks to go to before the vote, scheduled for Jan. 30, guerrillas have stepped up their attacks and driven most candidates deep indoors, and on Saturday, the authorities said they would restrict traffic and set up cordons around polling places on election day.
Many candidates are often too terrified to say their names. Instead of holding rallies, they meet voters in secret, if they meet them at all. Instead of canvassing for votes, they fend off death threats.
Of the 7,471 people who have filed to run, only a handful outside the relatively safe Kurdish and Shi'ai areas have publicly identified themselves. The locations for the 5,776 polling places have not been announced, lest they become targets for attacks.
In the case of Slate 139 Assyrian observers explain that they are not much bothered by the candidates' lack of visibility; they point out that Assyrians will be voting for the group's mission and not individual candidates. In a statement released last week the Slate 139 candidates affirmed their mission as upholding the "Assyrian" identity and protecting the rights of "Assyrians" in Iraq.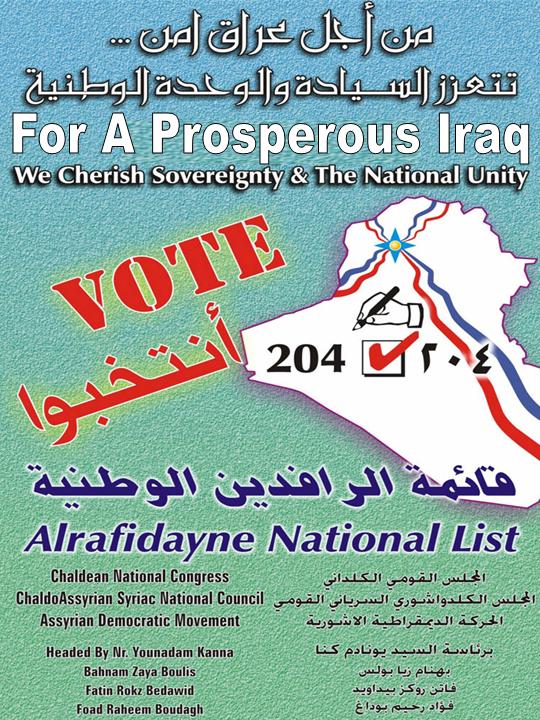 California Iraqis Make Long Journey
Courtesy of the San Francisco Examiner
18 January 2005
By J.K. Dineen

(ZNDA: San Francisco) Tens of thousands of Bay Area Iraqi immigrants are eligible to vote in the first independent election in their native country in 50 years, but most are likely to stay home because the closest polling place is 400 miles away, according to local Iraqi immigrants.
In fact, Bay Area Iraqis looking to participate in the fledging democratic experiment in the war-torn country must travel twice to Irvine, once this week to register and again at the end of the month to actually vote.
Monday, one Iraqi-American voter, Ashur Yoseph, set off for Los Angeles with his 71-year-old father, George. Seven hours later they were still en route to the polling place, stuck in "horrendous traffic," Yoseph said by phone.
"Tomorrow morning, we'll get up, go register to vote and then head home. In two weeks we'll do it all over again," said Yoseph, Mayor Gavin Newsom's point person for redevelopment at the Hunters Point shipyard. "I've got a lot of work to do. I'm not happy about it, but you've got to do what you've got to do."
Yoseph and other critics charge that the polling places for the Iraqi elections discriminate against Christian Assyrians, Chaldeans and Syriacs, the indigenous people of Iraq who make up just 3 percent of the country's population, but about 80 percent of Iraqis living in California.
Out of the five polling places set up to handle the 240,000 Iraqi expatriates in the United States, the Irvine office is the only one west of the Mississippi.
"There was clearly a decision not to open offices where there is a majority of Iraqi Christians," said Wilfred Bet-Alkhas, a San Jose-based magazine editor.
"I would be very, very surprised if 10 percent get to vote," he said.
There are approximately 50,000 Iraqi Christians in California, half spread across the Bay Area and Central Valley, and half in San Diego, according to San Jose resident Jackie Bejan, spokeswoman for the ChaldoAssyrian Advocacy Council. Nashville, Tenn., one of the five cities with a voting office, has just 4,000 Iraqis, nearly all of them Kurds.
Limited Registration Sites in California Angers Iraqi Citizens
Courtesy of the National Public Radio
17 January 2005
NPR host: Renee Montagne
NPR reporter: Scott Horsley

[Zinda: The following is the text of a report filed by NPR this week on the limited number of registration sites and polling places for Iraqi citizens living in the US.]

Renee Montagne: Iraqi citizens living in the United States may register, beginning today, to vote in their home country's upcoming election. Nearly a quarter million Iraqi-Americans are thought to be eligible to participate, but frustration over the limited number of registration sites and polling places is tempering excitement. From San Diego, NPR's Scott Horsley reports.
Scott Horsley: For Iraqi exile Shock Hanish(ph), this month's election is a historic opportunity, one that's been many years in the making.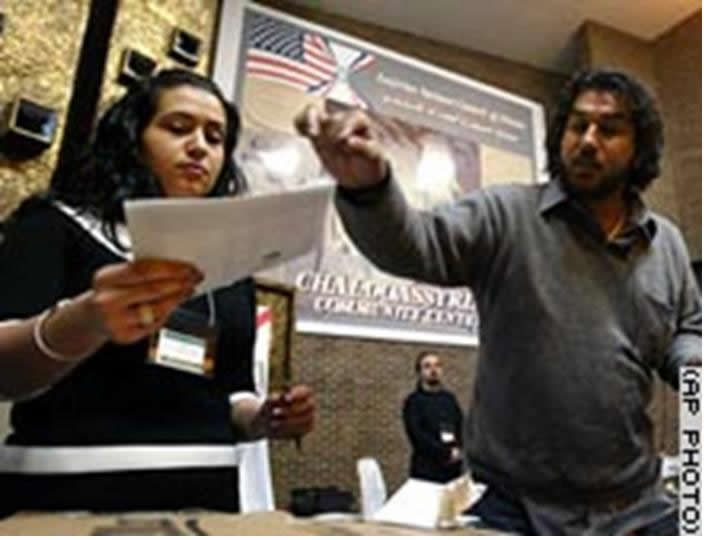 Armand Minachi, right, shows Atorina Zomaya how to vote Friday at a training session in Skokie, Illinois.
Mr. Shock Hanish (Iraqi Exile): To me it was like dream coming true because I lived all my life to see the day that Iraqi people would choose their own and truly representative.
Horsley: But Hanish's good feelings turned to anger when he learned there would be no polling place here in San Diego, his home for the last 24 years and home to the nation's third-largest Iraqi immigrant population. Adults living in the US can vote in the upcoming election if they or their fathers were born in Iraq, but first they have to register. Hanish complains for would-be voters in San Diego, that means two round trips to a distant polling place in less than a month, traveling some 100 miles each way.
Mr. Hanish: I will go to vote, but a great majority will not bother, probably, to go for different reason--business, work and other issues.
Horsley: Hanish and other San Diego Iraqis called a news conference last week to protest the citing of the West Coast polling place, originally advertised as Los Angeles. Tinu Shad(ph), who represents a Kurdish group, complains San Diego's Iraqi community is 10 times the size of LA's.
Mr. Tinue Shad (Represents San Diego Kurdish Group): Thirty thousand persons in San Diego to be sacrificed for the sake of 3,000 in LA. That is not justice.
Horsley: Altogether, there are five Iraqi voting centers in the US. The others are in Detroit and Chicago, which have the nation's two-biggest Iraqi communities, and in Nashville and Washington, DC. After last week's protest, California's polling place was shifted to Orange County, slightly closer to San Diego, but not enough to satisfy some local Iraqis. Stephen Lennon(ph), a spokesman for the Swiss-Face Group(ph) that's running the election, says the location has to serve Iraqis up and down the West Coast.
Mr. Stephen Lennon (Spokesman, Swiss-Face Group): There's a large concentration of Iraqi citizens in San Francisco also who have a further distance to travel than those in San Diego. Indeed, the San Diegan population is closer to a polling site than many, many groups of Iraqis in the United States.
Horsley: Still, the lack of a polling place in San Diego has fed Middle Eastern style suspicion among some people here. Most Iraqis in San Diego are Kurds or Chaldeans, minorities in their home country. Shock Hanish wonders if election organizers are deliberately trying to exclude them for partisan reasons.
Mr. Hanish: Chaldeans are Christian. No matter for whom they are voting, they will vote for secular democratic forces or parties or coalitions.
Horsley: Chaldeans also dominate the Iraqi community around Detroit where there is a local polling place. Last week, a dozen members of Congress from California wrote to election organizers urging them to add two new polling places in San Diego and north central California. But registration beginning today, organizers say that's impossible. Organizers echo the Bush administration in saying the US portion of the election will go forward as planned, even if it's less than perfect.
Saddam Spy Sami Khoshaba Targeted Chicago Assyrian
Courtesy of the Chicago Tribune
16 January 2005
By James Janega & Matt O'Connor
(ZNDA: Chicago) Sami Khoshaba Latchin now sits under house arrest in Des Plaines (near Chicago) for being an alleged Iraqi agent, ratted out by documents found in a Baghdad apartment and the accusations of admitted spies abroad.
Informants who pointed out Latchin for American investigators say he was put in a program that spread sleeper agents for Saddam Hussein. He was told to become a U.S. citizen, to spend years hiding in Chicago until summoned to begin spying.
In the meantime, he spent. Then he went bankrupt.
He has tens of thousands of dollars in bills on a dozen credit cards, according to his 2003 bankruptcy. His bank wants thousands more before granting title to his car, a used Cadillac Escalade too expensive for a man who worked as a gate agent and then a hotel desk clerk.
As the case against Latchin unfolds, a portrait of Latchin's life--and perhaps even of an unraveling foreign intelligence plot--has emerged from his 2003 bankruptcy filing, his 2001 car loan application, housing records, federal court papers and other documents.
A whispering cast of anonymous characters--Individuals A through J, most admitted former Iraqi agents--is introduced in bullet-point form in an FBI affidavit used for an August search warrant.
"We have to look at the whole story," Bill Theis, one of Latchin's appointed federal defenders, told a judge last month questioning the government's reasons for bringing the case. . "And from the government, I don't think we've gotten it."
Because the Latchin case relies so heavily on the testimony of admitted spies, it also sheds light on the secretive world of the old Iraqi regime, whose tendrils reached into the United States not to spy on government, but on Hussein's Iraqi enemies in exile here.
His alleged target: Assyrian dissidents in Chicago.
After the FBI arrested Latchin in August, it accused him of failing to mention an alleged past in the Mukhabbarat, Hussein's spy service, when he applied for citizenship in 1998. On Dec. 1, charges against Latchin were upgraded, accusing him of conspiring with others to act as a secret agent.
Neighbors, fellow workers and former employers said Latchin, 57, worked as an American Airlines gate agent at O'Hare International Airport from 1995 until 2000, then as a desk clerk at two nearby hotels.
He once told a co-worker he left Iraq because he didn't like the government there but later professed loyalty to Hussein and Hussein's Baath Party in an FBI interview, according to court documents.
His voice is quiet but steady, his handshake firm without a tight grip, and he politely declined comment for this report at the front door of his condominium in Des Plaines.
Iraqi intelligence informants allege that before working at O'Hare, he had used an Iraqi Airways job as cover for spy work in Athens in the 1980s and then worked at the Baghdad headquarters of the Mukhabbarat from 1987 until 1991, when the first Gulf War erupted.
His passport and immigration papers show he arrived in the U.S. on May 27, 1993, became a permanent resident and waited to apply for citizenship.
From then on, the government says, he was supposed to spy on Assyrians.
Residents of northern Iraq since before the time of Christ, Assyrians poured into the United States in the 1970s. Many settled in Chicago, still a center of the Assyrian population in America. Various estimates put the number of Assyrians in Chicago at about 80,000.
After years in the Iraqi intelligence service, Latchin was sent to penetrate the Assyrian community here under the guidance of an alleged Iraqi spymaster, the government alleges.
Individual C--Latchin's alleged longtime handler-turned-informant--told investigators he persuaded Latchin to work undercover in the United States, gave him a code name, prepared him and paid him.
He was one of at least six former Iraqi intelligence officers said to have known Latchin for more than 15 years, FBI agent Amy Beuschlein disclosed in an Aug. 27, 2004, affidavit.
Other informants in the affidavit filled in more of Latchin's alleged past:
He joined the intelligence service in the late-1970s after graduating from Al-Mustansiriya University, they told authorities. After years of spy work in Athens and at headquarters in Baghdad, informants said, he was to move to the United States and disappear.
For at least the next nine years, he blended in perfectly. A new used car every few years. A condo. Three jobs.
Tim Kinsley and his wife, Claudia Flam, hired him in the mid-1990s at Service Service Inc., a private firm that ran American Airlines' O'Hare ticket counter until 1997.
Records show Latchin was hired in 1995, by which time he had lived at two addresses within blocks of each other in the Assyrian neighborhood near Devon and Western Avenues.
Latchin stayed at Service Service after it was sold to Huntleigh USA in 1997, but in 2000 he moved to a job at the front desk at the Travelodge O'Hare.
About the same time, Latchin also began working at the Mt. Prospect Ramada Inn.
"He was not exceptionally outgoing, he was not exceptionally quiet," said general manager Shaukat Sindhu.
What stuck out was that Latchin spent most of a year holding down two jobs, days at the Travelodge and nights at the Ramada, Sindhu said.
"It seemed when he was here, he was working here for the money," Sindhu said. "I thought spies were supposed to be rich--rich like James Bond."
In fact, Latchin was bankrupt, or on the way.
He bought the condominium where he still lives from his brother in early 1998 and almost immediately started a series of frequent refinances and home-equity loans that continued until his 2003 filing for bankruptcy.
An alleged Iraqi co-conspirator and college friend said Latchin called him all the time, "often complaining about his financial situation in the United States," said a Dec. 17 federal court filing.
Phone records appear to confirm at least part of that account. The month he bought the Escalade in 2001, phone records show, he called his alleged handler in Baghdad 30 times.
He had made 13 calls to his alleged handlers in the previous 3 1/2 years, court records state.
Though the FBI said it had interviewed Latchin in Chicago as early as 2002, the beginning of Latchin's real troubles came after American troops poured into Baghdad in the spring of 2003.
Unable to destroy documents quickly enough to keep them out of American hands, Iraqi intelligence officials rushed sensitive papers into homes throughout Baghdad, informants later told U.S. investigators.
Iraqi army officers found such a stash in April 2003 stacked in the living room of House 10, Street 13, District 904, Baghdad.
Dates on the pages ran from 1984 until 1990, a period when, government informants allege, Latchin had worked at Mukhabbarat headquarters in Baghdad.
One of them, an April 9, 1990, cover letter signed by a member of the Mukhabbarat's Secret Service Directorate, advertised the "original findings by Mr. Sami Khoshaba Latchin."
The Mukhabbarat "were very ruthless people," said Judith Yaphe, whose 20 years at the CIA included work on Iraq and terrorism. But she questioned the conditions under which any document from the former Iraqi intelligence agency was produced. "Based on their past performance, you can make some fairly safe judgments," she said.
"But that doesn't get you any closer to the truth about who this guy is," she said.
Chaldean Man Charged in Oil-For-Food Probe
Courtesy of the Associated Press
18 January 2005
By Larry Neumeister
(ZNDA: New York) An Iraqi-American conspired to act as an agent for Saddam Hussein by accepting millions of dollars in compensation and negotiating with U.N. officials to let Iraq sell oil despite international sanctions, authorities said Tuesday.
The charges were the first to be revealed in the probe of allegations that administrators in the United Nations oil-for-food program took bribes and let the ousted Iraqi dictator skim money from the program.
Samir A. Vincent was charged in a criminal information in U.S. District Court, where a grand jury has been looking into the program. In announcing the charges, prosecutors said Saddam's government demanded secret surcharges worth several hundred million dollars as it managed the program with the help of the United Nations.
The $60 billion oil-for-food effort was created as a humanitarian exemption to sanctions imposed after Iraq's 1990 invasion of Kuwait, which led to the first Gulf War. Beginning in 1996, it let Saddam's government sell oil and use the proceeds to buy food, medicine and other items.
According to court papers against Vincent that were signed by U.S. Attorney David N. Kelley, the Iraqi government from at least 2000 and until March 2003 conditioned the distribution of allocations of oil under the program on the recipients' willingness to pay a secret surcharge to the Iraqi government.
Under the program, Saddam's government alone had the power to select the companies and individuals who received the rights to purchase Iraqi oil, the court papers said.
Officials at the highest levels of the Iraqi government selected a group of companies and individuals to receive the rights to buy Iraqi oil.
The court papers portrayed the program as a money machine for Saddam's regime, which allegedly stashed the cash in various Middle East countries and elsewhere.
The court papers said Vincent was born in Iraq in 1940 and later became a U.S. citizen.
They said he was never a duly accredited diplomatic or consular officer of a foreign government.
Yet, according to the court papers, between 1993 and January 2003 Vincent consulted with and repeatedly received direction from Saddam's government to lobby officials of the U.S. government and the United Nations to repeal sanctions against Iraq.
They further alleged that Vincent between 1992 and early 1996 met in Manhattan with U.N. officials and others to secure terms favorable to the government of Iraq to sell Iraqi oil.
In February 1996, Vincent went to Baghdad and helped draft agreements with Iraqi government officials that guaranteed millions of dollars in compensation for himself and others once an agreement to sell Iraqi oil was obtained, the papers said.
Between February 1996 and July 1997, the government or Iraq delivered millions of dollars in cash to Vincent and others, prosecutors alleged.
The court papers alleged as well that Vincent followed the direction of Iraq between 1998 and January 2003 when he lobbied former officials of the U.S. government in an unsuccessful effort to persuade the United States to support a repeal of sanctions against Iraq.
For his efforts, Vincent and a company under his control were awarded the rights to buy about 9 million barrels of oil under the oil-for-food program, the court papers said.
They added that Vincent "reaped millions of dollars of profits by selling to an oil company the rights to purchase that Iraqi oil."
According to a Boston College athletics website, Mr. Vincent, a 1962 graduate was a superb superb athlete who competed in high jump, long jump, triple jump, hurdles, discus, and javelin. He was also instrumental to Boston College's 1962 New England championship, the Eagles' first-ever regional title. Vincent was also Eastern collegiate triple jump champion in 1962 and third in NCAA championships, earning All-America honors.
Samir Vincent represented Iraq in the 1964 Olympics and was inducted into the Boston College Varsity Club Athletic Hall of Fame in 1990.