How will Iraq's October 15 referendum work?
Lionel Beehner
Council For Foreign Relations
Washington, DC
Introduction
On October 15, Iraqis go to the polls to vote in a referendum on the country's draft constitution. The ballot will feature one question: "Do you approve the draft constitution of Iraq?" If a majority of Iraqis vote yes, or if two-thirds of the registered voters in three or more of Iraq's eighteen governorates do not vote no, then the constitution will pass into law.
The referendum, if it passes, will conclude a turbulent process of political infighting that has revealed the deep schisms between Iraq's Sunni Arab, Shiite, and Kurdish communities. Much of the wrangling has been over wording on sensitive issues like religion, federalism, and distribution of oil revenues. Sunni Arabs complained about being sidelined during the process and criticized the final draft of the document, which was never formally approved by Iraq's National Assembly, for failing to address their concerns on federalism. Sunnis generally fear a federalized state will allocate too much power and wealth to Iraq's oil-rich regions in the north and south.
On October 15
SAY NO !
A public message from Zinda Magazine
Has the constitution been finalized?
In theory, yes. Five million copies of an early version of the draft constitution, after several delays, were distributed to Iraqis in early October along with their ration cards. However, the final text of the document is still a work in progress, says Nathan Brown, senior associate with the Carnegie Endowment for International Peace. Zalmay Khalilzad , U.S. ambassador to Iraq, is reportedly still in negotiations with Sunni leaders over wording in the draft on Iraqi identity issues and may add addendums to the text before the October 15 referendum. Most of these changes, however, are not substantive, Brown says, but amount merely to "tinkering in symbolic areas or changing preambular language."
Can the constitution, once passed, be amended?
Yes. Currently, any amendment must win approval by two-thirds of parliament and the Presidency Council, as well as pass a national referendum. One of the Sunnis' chief concerns is that the constitutional amendment procedures in place are too lax and may allow the document to be easily amendable in the future by the Shiite majority, Brown says.
Who can vote on the referendum?
Any Iraqi citizen can vote who's legally competent, over the age of eighteen, and registered to vote by the mid-September deadline. Of Iraq's 27 million people, roughly 14.2 million are eligible to vote. Unlike the January 30 elections for the transitional National Assembly, none of the nearly two million eligible Iraqi nationals living outside of Iraq's borders will be allowed to cast ballots.
Is voter turnout expected to be high?
It's unclear. Fewer than 60 percent of all registered voters cast ballots in Iraq's January elections. But experts expect this referendum's voter turnout to be higher. Much of the turnout will hinge on whether Sunni Arabs boycott the vote, as they did during January's election. Sunni Arabs, who comprise roughly 20 percent of Iraq's population, form the majority in four of Iraq's eighteen provinces, but they are overwhelmingly the majority in only two: Anbar province, a heavily Sunni area west of Baghdad that stretches to the Syrian border, and Salahuddin, a province north of Baghdad. High registration numbers—as high as 75 percent, Iraqi election officials say—in Anbar and Salahuddin suggest that Sunni Arabs may not boycott the election but will vote against the document. Only 10 percent of eligible Sunni Arabs voted in January's parliamentary elections.
Experts expect a very high voter turnout among Kurds, who got most of what they wished for in the latest draft of the document—concessions on the issue of federalism, ambiguous wording on Iraq's Arab identity, an expected resettlement of Kirkuk, the oil-rich city some Kurdish leaders call "our Jerusalem." Shiites, who make up a majority of Iraqis, are also expected to vote in relatively high numbers. Much of their turnout, however, will depend on Moqtada al-Sadr, the radical Shiite cleric, who has yet to formally declare his position on the constitution, says Kenneth Katzman, a Middle East specialist with the Congressional Research Service.
Aside from Sunni anger over the constitution's wording, the biggest hindrance to a high voter turnout is security, experts say. Several Sunni-dominated areas, particularly along the Euphrates River valley in towns like Tal Afar or Sadah, were insurgent strongholds until recent sweeps by U.S.-Iraqi forces. The raids were part of U.S.-led efforts to secure these areas to allow Sunni Arabs to vote. However, in areas around the Sunni Triangle northwest of Baghdad, security remains inadequate less than two weeks before the referendum, experts say.
Is the constitution expected to pass?
Probably, experts say. Even if Sunni Arabs come out and vote against the document, experts say they would probably not make up the majority in enough provinces to derail the constitution. However, a recent rule change was overturned that would have required two-thirds of registered voters—versus just two-thirds of those who actually cast ballots—to vote "no" on the constitution in three of Iraq's eighteen governorates for the document to fail. The rule was overturned after a loud protest from Sunni Arabs, who called it a "mockery of democracy," as well as the United Nations and U.S. government. Given past elections' low voter turnout in Iraq, if the rule change had stood in place, Brown says it would have made "it impossible for the constitution to fail."
LINDA BADALOF

Buyer Specialist for Monica Barkley

Fluent in Assyrian

COMPLIMENTARY

1-Year Home Warranty Plan
Home Buyer's Pro Inspection
Fall-Time Cleaning Service

Call for details - Gifts not to exceed $1,000.00 - Provided at the close of escrow.

25101 The Old Road
Santa Clarita, CA
Direct: 661.284.5097
Cell: 661.645.4290
lbadalof@sbcglobal.net
What happens if the constitution passes?
Once the votes are tallied, which will likely take a few days, the outcome of the referendum will be announced at a press conference by the Independent Electoral Commission of Iraq (IECI). If the referendum passes, the document will be ratified and passed into law. Elections for a permanent government will then be held December 15, and the new government will assume office no later than December 31.
What happens if the constitution fails?
According to the Transitional Administrative Law (TAL)—the interim constitution passed by Iraqis with U.S. oversight—if the constitution is rejected, the National Assembly must be dissolved and elections for a second transitional National Assembly must be held by December 15. Then the drafting process will start again—"a replay of this year basically," Katzman says. A second draft must be completed by August 15, 2006, and a second referendum held by October 15, 2006. A six-month extension can be requested, pushing the final deadline for the second draft to February 15, 2007. The TAL does not indicate what should happen if the constitution fails a referendum a second time.
Will elections monitors be present?
Yes. Six international observer groups have accredited nearly 500 observers for the referendum, down from the 700 observers present during the January 30 election. Among those in Iraq monitoring the upcoming referendum are representatives from Arab nongovernmental organizations and the Arab League—a first for Iraq—as well as U.S.-based election watchdog groups like the National Democratic Institute. All observers must be approved by the IECI's Board of Commissioners, which extended the monitors' registration and accreditation deadline until October 10.
What role has the United States played in the constitution-drafting process?
The U.S. government has been heavily involved in the process. Some Sunni Arabs and Iraqi experts have complained that Washington put too much stock on meeting deadlines set by the TAL than on incorporating the Sunnis' demands. The United States, in addition to providing election monitors and securing Sunni-dominant provinces, has also provided constitutional scholars to assist in the drafting of the document and urged Shiites to revise language on religion and federalism, in last-ditch efforts to appease Sunni leaders. The United States has also expressed dissatisfaction with the National Assembly's recent rule change on what constitutes an actual "voter."
Chaldeans, Assyrians, Syrians
Nenif Matran Hariri
Iraq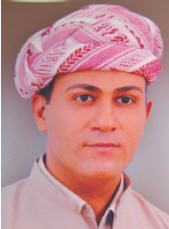 The author, Mr. Nenif Hariri
Chaldeans Assyrians Syrians are the oldest inhabitants of modern Iraq; they have a rich history dating back to the ancient Assyrian Empire. How are they fairing in this new Iraq?

In this article I shall refer to them as a single body (CAS), firstly because the new Iraqi Constitution classifies them so and secondly as they are one ethnic group, with a shared history, language, religion and all of whom originate from the same geographical region, Northern Iraq.

CAS have struggled to find their place in the new Iraq and not surprisingly hindered by a shrinking population which now accounts for only 1.1% of the population, 300,000 in Iraq, (Chaldeans 200,000 / Assyrian 20,000 / Syrians 80,000). There are however as much as 500,000 CAS Iraqi passport holders living abroad. What makes it worse is they are thinly spread throughout the country. Unfortunately for them size matters in this new Iraq, historic bravado carries little weight.

CAS had envisaged a return on mass by their overseas brethren to augment and complement their numbers, led of course by seasoned politicians but that never happened, they were left abandoned at their hour of need. Subsequently, the population here dwindled and with it went vital human resources such as unity and financial prowess, essential requisites for nation building.

The repatriation of overseas CAS would have been the single biggest political asset to aid their cause, had it materialized. Alas, they were far too busy on the Internet, to sweat it out in Iraq. Their monotonous writings, speeches and political demonstrations gained them no influential friends overseas and made zero impact here, where it counts. In fact, their wireless wrangling was a source of self-amusement, rather than an organized petition to secure their Nation's destiny.

Unlike Arabs and Kurds, who diligently returned to contribute towards their own ethnic ambitions and established flourishing enterprises to help their communities. The overseas CAS on the other hand, didn't even bother to vote in the elections and not a single penny of their donations since 1991 has ever reached the people here.

Unfortunately, they chose to hide behind their computer screens and studio sets, engaging themselves in fairytale politics and pointless historical rhetoric, rather than returning to face the harsh realities of local politics.
They hoisted their National flag on the wrong side of the Globe and refused to even visit the land they claimed. Their magnamanus and self-assured personas cracked and their true identity was revealed, their political punch seemed no more than shadow boxing, designed to fool their own kind.
ARC TV



Tuesdays

6 pm to 7 pm (California Time)

Wednesdays

2 pm to 3 pm (California Time)

Thursdays

7 am to 8 am (California Time)

NORTH AMERICA:


Satellite: Intelsat Americas 5
Frequency: 11867
MHz Polarization: Vertical
FEC Rate: 3/4
Symbol Rate: 22000

EUROPE & THE MIDDLE EAST:


Satellite: Telstar 12
Frequency: 11494
Symbol Rate: 17468
FEC: 3/4 Horizontal
Video PID: 0038
Audio PID: 0039
LCR: 0038
The Iraqi CAS whose opinions have the greater effect on Iraqi politics (as opposed to the self-appointed ambassadors overseas) were largely ignored, left to their own devices and ill-equipped, they found the going tough. Their efforts were not helped by thoughtless, provocative and counter-productive verbal attacks by their overseas cousins on the very people they share the land with, 'the Kurds' (CAS's only real allies in Iraq). They forgot that 'minorities' need to make friends not enemies.

A further setback for the community was their failure to unite under one National name. A single word with deep historical meaning and geographical significance such as 'Assyrian' would have been a great unifying weapon which they failed to agree on. The slightly ambiguous 'Chaldo-Assyrian' catch phrase never really caught on and was subsequently not used in the permanent Constitution. Now, they are left with this rather uncompromising and lightweight 'CAS' term.

Some Nationalist CAS overseas are intent on establishing a self-administered area for Chaldo-Assyrians in the Mosul province, and why shouldn't they, but it's a long shot. The new Iraqi Constitution does not allow it and the local CAS do not posses the quantity, the finance, the expertise, nor the will and above all the national unity to pull it off. Even if they did, would the overseas CAS leave their cushy lifestyles to live there? I don't think so. Also, who said that the CAS currently living in Kurdistan would be willing to exchange their lush green villages for desert dust?

So the need for 'geographical unity' has now become of paramount importance for these people. The 'dream-landers' vision overseas seems very distant from that of the local 'realists'.

A part of this 'realist' community has been co-operating with the Kurds and the KDP in particular, for a long time to safeguard the CAS's future. One can't help but feel this collaboration will yield the largest fruit. After all, 'Kurdistan' is where more than a hundred of their villages lie and it seems once again, that's where their joint destiny will be.

Mr. Nenif Matran Hariri is the Advisor for Christian Affairs to the Kurdistan Democratic Party (KDP) headed by Masoud Barazani, the current president of the Kurdish Region in north Iraq. Mr Hariri is a member of the Assyrian Church of the East and is the grandson of Shlimon, the brother of Mar Yosip.

The Chariot is an engaging rendering of riveting and significant stories from Assyrian history presented in a cool, realistic context. Through the eyes of Tiglath-Ashur and Naramsin-Uballit, Mr. Ninos Isaac tells these stories. Ninos Isaac, originally from Nottingham, England and now in Modesto, California, is a keen student of Assyrian history.
Why should we read The Chariot? Well, think of The Chariot as a 'highlight reel' of the best bits from our history. Knowing the best bits of our history are important to cultivate a love for our nation. We must know the key parts of our history to truly know our nation and know ourselves. As one philosopher said, "to understand a man, you must know his history." The same is true of a nation. Another great Englishman said that it is "upon the education of the people of a country that the fate of a country depends." It is a blessing to be an Assyrian because the history of the Assyrian nation is perhaps that of a great and significant nation. Now is the time to learn more about our rich and original history. Welcome back The Chariot!
---
Mermaids: Assyrian Myth
About Me
I am Naramsin Uballit, Ashipu and Royal Scribe for the great King Sharrukin, Sargon II, ruler of the 4 corners of the known world. I was with Sargon before he was called Sargon, before he was our legitimate King -- when he was simply the ambitious governor of Nineveh. I am still today his primary care physician and doctor, which is what an Ashipu is.
My history with Sargon is long. I was right there with the great Warrior-king when he came to the defense of the beleaguered citizens of Assur and Nineveh after the ridiculous King, Shalmaneser, had taxed them silly. I was with Sargon throughout the bloody civil war of Assyria, which split even the gods themselves. More on that amazing period of time another day, but today I want to record the origin of the mermaid legend. Why? Well, because today we are on our annual campaign to collect tribute and taxes from our allied provinces.
Collecting Taxes from Cyprus on the Shores of Lebanon
We have traveled to the shores of Lebanon and now we gaze on the western sea, the sea that they call the Mediterranean. We are here to meet the emissaries of the Phoenician navy, and through them collect tribute from our newly acquired province of Cyprus. 75% of the Cypriot tribute will be paid to Assyria in the form of precious copper, which we will use extensively in our armies, temples, and palaces. The Phoenician navy, our beloved allies, will conduct the exchange whereby we will send a Stele (statue) of Sargon to Cyprus to erect in the land as a symbol of Assyrian rule. I will record this in the royal writings. We do not intend to take our army to Cyprus, as part of our original agreement with the Cyprus. We agreed not to set foot on the island in exchange for a 15% surcharge in the annual tribute (which is based on population size). I won't include that point in the royal documents since Sargon believes that such nit-picky transactional details ultimately serve little purpose and serve only to undermine authority. Smart man, that Sargon,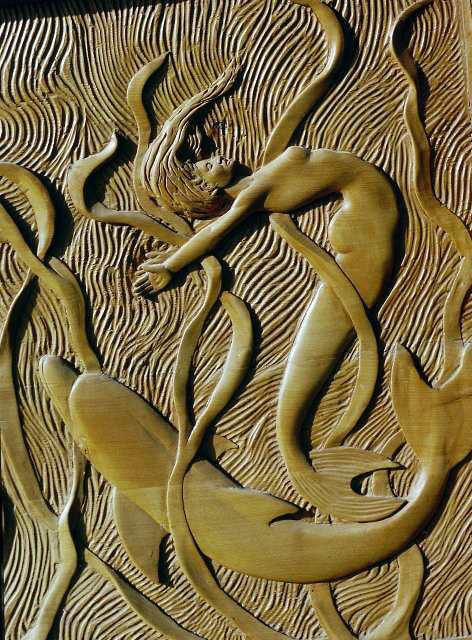 We spotted Dolphins!
Anyway, as we looked out on the waters, we spotted a group of dolphins. One turned towards us and raised its head out of the water as if to acknowledge our presence. The dolphin, the eagle and the lion are perhaps the most revered of creatures in Assyria. At this point, I insisted that we pay tribute to the proud, swift, intelligent creature. In doing so we also wanted to pay respect to the mother of Semiramis, the original Mermaid of the Sea, and the guardian of dolphins. We call the goddess who is half woman half dolphin, a Mermaid. For the past 100 years or so, mermaids have become all the rage in the cities of Assyria, especially with young teenage girls. Handbags, jewelry, and art are adorned with mermaids.
The Mermaid Legend
The first and only mermaid is Atoureta (or Atargatis), the mother of Shamiram (Semiramis). Atoureta (according to our Assyrian legends) loved a mortal shepherd, and while making love to him, accidentally killed him – just like the Black Widow spider does to her mate. Embarrassed by her own behavior, Atoureta jumped into the lake and took the form of a silver, round-nosed dolphin. The waters would not conceal her divine nature however, and so she took the form of a "mermaid", meaning human above the waist and dolphin below the waist. Mermaids are uniquely Assyrian.
For this reason, it is forbidden among Assyrians, Phoenicians, and even Egyptians to kill or eat a dolphin. Assyrians of course have a list of protected animals. Private citizens of Assyria also cannot kill lions or eagles. The Assyrian king may kill (as part of a religious act) a lion or eagle, but when it comes to dolphins all bets are off! Even a King may not kill the dolphin. This is primarily out of respect for Atoureta, mother of Shamiram.
Our Ceremony
Now, as the sun sets, and with the leaping silver Assyrian dolphin before us, the generals, King Sargon and myself will pour a libation over a beach rock. This we do in honor of the great creature, and in honor of the Queen Mermaid, Atoureta – the guardian of the dolphin, and the legendary mother of the greatest Queen of Assyria.

---
Relevant Links & Information
http://en.wikipedia.org/wiki/Mermaid
http://www.nationmaster.com/encyclopedia/Atargatis
Queen Shamiram: The famous mother-queen, Shamiram, or Semiramis as she is known to those in Egypt and beyond, was believed to have a semi-divine origin.