Church of the East and Chaldean Synods Focus on Church Relations and Iraq
Info on Chaldean Synod Courtesy of the AsiaNews & Zenit
3, 7 November 2005
(ZNDA: Chicago & Rome) The Holy Synods of two historic Assyrian churches were in full session, back to back, starting with the Synod of the Bishops of the Church of the East in Chicago which ended this Monday and the Synod of the Bishops of the Chaldean Catholic Church in Rome which began on the same day.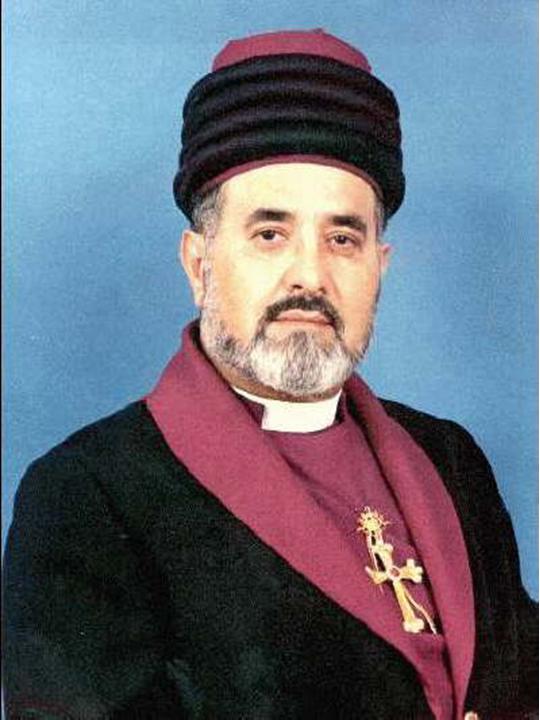 Mar Dinkha IV, patriarch of the Assyrian Church of the East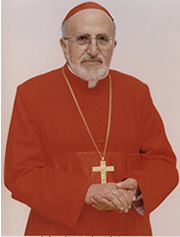 Mar Emanuel Delly, patriarch of the Chaldean Catholic Church
At press time no official statement has been released to Zinda Magazine from the offices of the Patriarch and his bishops in Chicago. However, sources close to the Patriarch told Zinda Magazine in Chicago that the main focus of this year's Synod has been the review of Bishop Mar Bawai Soro's conducts during his term as the bishop of the Western U.S. Diocese in northern California and the condition of the Church in Iraq, in the northern region in particular.
Three days, prior to the opening of the Synod in Chicago, Mar Dinkha IV met with Mr. Masoud Barzani in Washington D.C. to discuss the construction of His Holiness' new patriarchate complex in Ankawa, near Arbil, and over 20 new parishes of the Assyrian Church of the East in the Kurdish dominated region in the north. The construction project, according to sources to Zinda Magazine, is estimated around 25 million dollars.
The special Synod of the Chaldean Church is also in full session this week in Rome attended by twenty bishops from Iraq and the diaspora. The Synod is expected to end on Saturday, 12 November.
Another Kurdish leader, the Iraqi president Jalal Talabani arrived in Rome on Monday for a visit that includes talks with Italy's top officials and a meeting at the Vatican with Pope Benedict XVI. Both Church of the East and Chaldean Synods preceded meetings with the two top Kurdish leaders from Iraq.
One of the participants in this week's Synod in Rome, Mgr Rabban al-Qas, Bishop of Amadiyah (northern Iraq), said the first day "confirmed the two main issues on the table, namely the general situation of Christians in Iraq and reform of the liturgy."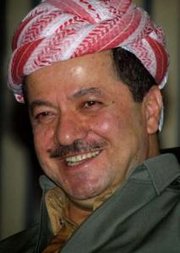 Mr. Masoud Barzani, president of the Kurdish Regional Government, head of the Kurdistan Democratic Party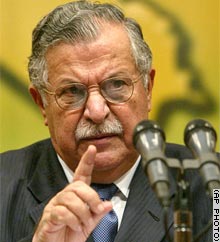 Mr. Jalal Talabani, president of Iraq, head of the Patriotic Union of Kurdistan
The prelate did not add much except to say that the bishops are scheduled to meet the Pope in an audience this Saturday and will take part in the beatification ceremony of Charles de Foucault in St Peter's Square.
The Chaldean Church has about 550,000 members in Iraq and another 150,000 around the world.

The Chaldean and Assyrian bishops are meeting behind closed doors. Usually the Chaldean bishops come together once a year; however, the urgency of the Iraqi situation has prompted the holding of a second synod after the one in Iraq at the start of 2005.
Father Philip Najim, an official in the patriarchate, said the bishops will also discuss reform of the Chaldean liturgy and the law.
Chaldean Archbishop Louis Sako of Kirkuk said that urgent matters include setting up a "direct line" of the Church to make proposals "with courage" to the government; studying the problem of migration; and how to counter the "growing proselytism of evangelical churches in Iraq."
Patriarch Emmanuel III Delly said the "new evangelicals" who arrived after the war seem more committed to collecting money from foreign rich donors rather than spreading the Gospel.

According to Bishop Sako, "the crucial issue today is the situation facing Christians in Iraq, especially under the new Constitution, which makes conversion from Islam impossible and which unites Chaldeans and Assyrians in a way which is unclear". The bishop's denunciation is unequivocal: "Our church does not have a vision for the future, neither for the political future of the country nor from a pastoral viewpoint; everything is improvised, lived by the day."
The referendum was "an important step" towards democracy but the Constitution is "too confessional" and the Christian community "is not satisfied". Mgr Sako gave an example: "Christian representatives at talks about the Constitution were all lay people, while Muslims also had clerics there; there was no bishop present, and only a religious leader can understand certain issues."
The hope of the bishop is that the Synod will tackle these matters: "that we may undertake serious research about the new Constitution and prepare ourselves to ask for new changes. We would need committees to engage in serious research, like the Maronites are doing in Lebanon. Those charged with the task could meet, say, in the Kurdish areas where security is absolute. But perhaps the will is lacKing. We must find the courage to speak out and to ask for more rights from the authorities".
Another problem which Sako proposes submitting for discussion is the "aggressive proselytism of Protestant churches which came to the country with American troops". He said: "In Baghdad, there are 16 new (churches) and here in Kirkuk, there are two or three; many members of our community are leaving to join them." It is clearly a must to see "why and what they are searching for". Continued the bishop: "Methodists and Presbyterians come with the army and they proselytize Catholics and Orthodox: they draw people with money and the promise of visas for migration, they hold celebrations in Arab dialects, while we have not updated our liturgy as yet." According to Mgr Sako, "the future of the Chaldean Church is here in Iraq", however Christians are increasingly migrating from the country. "Our people feel isolated from the rest of the world and they leave the country in search of security: Kurds in the Kurdish areas are well protected; Arabs have the support of neighbouring countries but what about Christians? They are alone." The bishop gave an example: "If a Christian is kidnapped, the family must somehow find the money to pay the ransom; we do not have support from anywhere. Our only respite comes from Disapora Chaldeans; they collect funds and they are only ones who can put pressure on western countries to protect Christians in Iraq and the Middle East." Some Christian leaders claim that between 10,000 and 40,000 Christians left Iraq between August and October 2004.
Talabani met with Italian President Carlo Azeglio Ciampi on Monday afternoon, but no details were released. Talabani also held talks with Premier Silvio Berlusconi and Foreign Minister Gianfranco Fini on Tuesday.
Berlusconi, who supported the United States in its war in Iraq despite strong domestic opposition, sent about 3,000 troops to the country after the ouster of Saddam in 2003. Italy is now gradually pulling out its contingent.
Talabani praised Italy's commitment and said "a premature withdrawal would be a catastrophe for the Iraqi people and a victory of terrorism."
Monsignor Philip Najim, who represents the Chaldean Church at the Holy See, echoed Talabani's comments, saying international troops had a duty to stay in Iraq.
"This situation in Iraq didn't exist before. It was borne by the presence of the troops, and I am forced to ask that they not leave Iraq," he told Vatican Radio.
Mr. Albert Yelda, an Assyrian, is currently Iraq's ambassador to Vatican.
Narsai's Taste of Mediterranean Raises $150,000 For Humanitarian Projects in Iraq
For Immediate Release
7 November 2005
Lisa Mirza Grotts
San Francisco
The Bay Area's Assyrian community joined with the Assyrian communities from Los Angeles, Chicago, and Phoenix on Friday, November 4th at the Ritz-Carlton Hotel in San Francisco for the fourth annual Narsai's Taste of the Mediterranean charity dinner and auction, raising $150,000 for the Assyrian Aid Society of America and the Assyrian Aid Society-Iraq.
Hosted by Bay Area culinary expert and KCBS Food and Wine Editor Narsai David, the Narsai's
Taste of the Mediterranean dinners have over the past four years generated approximately
$650,000 which has been used for medical, education, reconstruction, war refugee relief,
agricultural, and other humanitarian projects in Iraq.
Fluent in Assyrian

COMPLIMENTARY

1-Year Home Warranty Plan
Home Buyer's Pro Inspection
Fall-Time Cleaning Service

Call for details - Gifts not to exceed $1,000.00 - Provided at the close of escrow.

25101 The Old Road
Santa Clarita, CA
Direct: 661.284.5097
Cell: 661.645.4290
Yahoo ID: LindawithREMAX
lbadalof@sbcglobal.net
Dr. Donny George, Director of the Baghdad Museum and Chairman of the State Board of Antiquities and Heritage in Iraq, was the evening's featured speaker. During his week-long stay
in San Francisco, Dr. George also conducted a seminar at the University of California – Berkeley and appeared on KQED's nationally acclaimed radio interview program, Forum.
Showcasing a delicious five-course dinner inspired by the cuisine of the Mediterranean region, the dinner was prepared by an all-star lineup of renowned chefs: Roland Passot of La Folie;
Michael Mina of Michael Mina and Tom Ricci of Michael Mina's Arcadia in San Jose; the Ritz-Carlton's award-winning Chef Jean-Pierre Dubray; Mahmoud Khossoussi of Maykadeh in
North Beach and Justine Miner of RNM. Wine was donated by Darioush, Gloria Ferrer, Miner Family Vineyards, Oakville Ranch, Showket Vineyards, and Narsai & Venus David Vineyards.
The featured performer was singer Lida Lawando, plus the traditional music of Daniel Eshoo & The Ancient Echoes.
With items ranging from dinner for ten at the home Venus and Narsai David to a San Francisco Giants Luxury Box for twelve to Fly & Dine Getaways to New York City and Las Vegas, this
year's auctions raised over $65,000.
Event Information. The fourth annual Narsai's Taste of the Mediterranean was held on Friday, November 4th at the Ritz-Carlton San Francisco, the City's only five-star and three-diamond hotel. The event was hosted by Narsai David. Event co-chairs were Mona Malik and Lisa Mirza Grotts. Dinner Chair was Sherry Rad. Major event sponsors include American Airlines, The
Ritz-Carlton, KCBS Radio, Fossil, Macy's, Medius Corporation, Super Sightseeing Tours, and Zinda Magazine.
The Assyrian Aid Society of America (AAS-A) is a 501(c)(3) charitable organization dedicated to helping Assyrians in need, preserving Assyrian culture and heritage, and focusing American and international attention on the needs and humanitarian concerns of the Assyrian people.

This year, Zinda Magazine sponsored 22 Assyrian students who attended the dinner event at a special discounted price. Thanks to the generous donations of two Assyrian benefactors and Zinda Magazine, each of the students enjoyed a 5-course dinner and met with several Assyrian dignitaries for less than 10 percent of the regular ticket price.
Transcript of Larry King Interview with the Syriani Family
Courtesy of the CNN's Larry King Live
Aired November 7, 2005 - 21:00 ET
For background information click here.
King: The crime occurred in North Carolina, but the family all joins us where they now live in Munster, Indiana. They are Rose Syriani, the oldest child of the Syriani family. She was in her early teens when her father fatally stabbed her mother. Also there is Sara Syriani Barbari, the Rose's youngest sister, John Syriani, who was 10- years-old when he witnessed his dad stabbing his mother and Janet Syriani, the baby of the family. She was only 8-years-old at the time of the murder. She's currently a sophomore in college.
Here's the Syriani family story. It is summer 1990, Rose, Sara, John and Janet's father Elias stabs their mother 28 times with a screwdriver. The mom Theresa died 25 days later. They testified for the prosecution at trial. And their dad was sentenced to die. Now 15 years later and just days from the scheduled execution, November 18, they're hoping that North Carolina governor Mike Easley will reverse the death sentence.
Let's start with Rose. Why do you want your father to be commuted to life?
Rose Syriani, Mother Fatally Stabbed: Well, I have to start off by telling you the past 15 years has been a struggle. And recently in the last two years, we have been able to put to peace, some sort of peace, you know, by having some sort of contact. And this miracle that's happened by forgiving our father.
I can't stress enough this has been such a difficult time for us. And the days leading up to the execution date, we're just hope hoping that this execution does not get carried out. For my own reasoning -- I feel that at some point now I'm able to close the book, close a piece of my past that was always a black hole, that was always a black hole in my heart. And I've been trying so hard to move on.
And these past 14 years before meeting my father, before forgiving my father, before seeing his sorrow and his love for us, I was just an absolute wreck. I mean, I just wanted so bad for my own personal self just to close the chapter. And I'm just -- I can't imagine this happening to us right now. I mean it's just so important and...
King: John -- finish, dear.
John, you were 10-years-old. You witnessed the stabbing, right?
John Syriani, Mother Fatally Stabbed: Correct.
King: Why do you want to forgive?
John Syriani: Well, basically before this happened, me and my father were best friends. We were inseparable together. We were always going fishing. He was basically always guiding me the right way.
God taught us to forgive. And that's exactly what I did.
I love my father. He's my flesh and blood. I just thought about it and put it in my heart to forgive my father for what he has done. Basically, I just want to let everybody know that I had to put in my heart to forgive my father.
And I know that it's a time of peaceful, and we need to basically get over this hump that we're going through right now. And we're just blessed with God. And we just want to wish that the governor can hear us and accept our plea.
King: Sara, why did he murder his wife?
Barbari: To be honest, Mr. Larry King, that's not a question that I could answer. I know from talKing with my father that he lost it. Like I said, I really cannot explain. That's a question that would probably be more appropriate for my father.
Rose Syriani: One thing, Larry.
King: Go ahead. Anybody could chime in.
Rose Syriani: I'm sorry. Yes. This is Rose.
You know, one thing that we want to share with you is the first day that we actually went in and decided to confront my father. All of us, you know, at some point were thinking about it for some time and we decided simultaneous -- we decided that all four of us would go and confront this man.
There were so many feelings that I personally had. I was angry and, you know, just scared of him. And, you know, so many of my emotions growing up as a teenager and not understanding where they came from and just by the grace of God we've stuck together, the four of us. And we've been able to get through this. For the past 13 years we've done it on our own.
And now this is the opportunity to save the only -- the sole parent that we have left. You know we had...
Friday, November 11, 2005 is Veterans Day in the United States. Zinda Magazine is proud to have some of America's veterans as our subscribers - both Assyrian and non-Assyrian. This year, the free world marks the 60th anniversary of the end of World War II. As this day approaches, Zinda pauses to remember veterans for their patriotism, love of country and willingness to serve and sacrifice for the common good of all humankind. Join Zinda Magazine as we pause to especially honor all Assyrian veterans who served in the armed forces of every adopted country.
King: Rose, did you want them to execute him originally?
Rose Syriani: You know, Larry, we were kids. At the time I was 13. I was angry and upset and scared of him. And you know, there -- I can't really answer that. Because I just feel that, you know, the time that we've had now to kind of think about our family and...
King: Let me get in a question in for Janet. Then we'll take a break and come back with more.
Janet, you were a baby at the time, only 8-years-old. How do you feel about all this? Do you have memories of your mother?
Janet Syriani: I have vivid memories because of my siblings. They tell me stories. And now I just feel like I have the parent that I've always wanted. I was so young. I was only 8, obviously. So I just now need the parent figure that I've longed for all these years.
King: How often do you see your dad? How often do you see him?
Janet Syriani: Since the past two years, about six, seven times. We try to go a few times a year.
King: Let me get a break. We'll talk about the clemency hearing, what they plan to do. The Syriani family, an amazing story. Don't go away.
Elias Syriani , Murdered Wife: Almost all day, I am with my wife and my children all day.
Unidentified Male : In your mind?
Elias Syriani: Yes, and when I sleep sometime even I dream I wake up and I stay like that.
(END VIDEO CLIP)
Rose Syriani: We're just right now, living day by day, just trying to do what we can to stop this from happening. We're just begging that this does not carried out. And again, I mean, I said this is four lives. Four lives that will be destroyed.
King: Sarah, when is the clemency hearing?
Barbari: Thursday, November 9th. King: That's this Thursday?
Barbari: Tenth, I'm sorry.
King: That's in North Carolina?
Barbari: Yes, in Raleigh.
King: Do you know who will appear supporting the idea of lethal injection?
Rose Syriani: Well, we believe that we have the support of...
King: No, no, not your support. Who's going to be on the other side?
Rose Syriani: Well, you know, I'm not sure. I mean, as far as the prosecuting side?
King: Yes.
Rose Syriani: We're hoping, we've been told that they are willing to share their time with us. You know, this is a very unique case and in our opinion, it's not black and white. You know, we're not up here, you know, trying to save the world, you know, at this time.
This is something that is very personal to us that you know, we just want to be able to speak with the governor directly. At this moment, we don't have...
King: Is the governor at the hearing?
Rose Syriani: He will be at the clemency hearing. You know, the prosecuting side has some time and the defense side has some time. And we're hoping that he would share his time with us and, you know, allow us to speak and just share some of our feelings and, you know.
King: John, what about your mother's family? Is anyone going to appear on -- is her sister living, your aunt or uncle or anyone?
John Syriani: Right now, Larry, I'm not aware of who is going to be there. But, I really couldn't answer that question for you right now.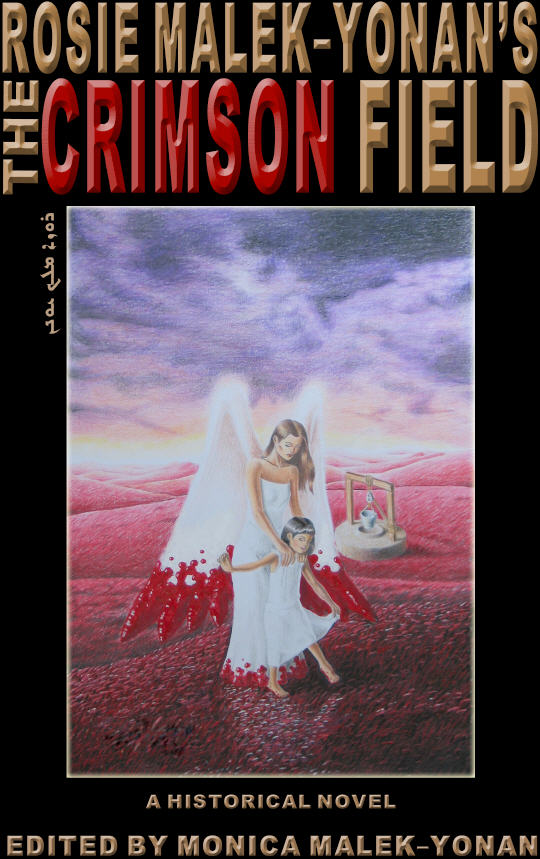 Tour Itinerary
Friday, November 11 - 7:00 p.m.
Live Radio Interview: Assyrian Night Star Radio
8:00 PM / 1590 AM
Friday, November 11 - 9:00 p.m.
Book Signing
Assyrian American Association of Chicago, Inc.
1618 West Devon Ave., Chicago, IL 60626
Saturday, November 12 - 1:00 p.m.
Book Signing
Mesopotamian Museum
6301-07 Pulski Rd. Chicago, IL 60646
Sunday, November 13 - 11:00 a.m.
Book Signing - After Holy Mass
Mar Givargis Church
7201 No. Ashland Ave., Chicago, IL 60626
Sunday, November 13 - 5:00 p.m.
Assyrian National Council of Illinois
2450 West Peterson Ave., Chicago, IL 60659
(presented by Assyrian Academic Society and
Assyrian American Civic Club of Chicago)
For More Information Click Here
Rose Syriani: It is important to mention that, my mother's side supports her children. We are the ones that have been hurt the most. And Larry, we're nervous up here, but this is really an extraordinary story. And it should be shared with everyone. And at this point, we're just hoping that our healing process is not stopped and that we regress another 15 years.
I mean, this is going to devastate us. And this is something that was a gift from my mother and a gift from God. I mean, my mother doesn't want us to fear, to hate. You know, we've been grieving for all this time. I know this is from her. And there's not a day that goes by that we don't think about her. And now for the past two years, we've been able to move on without feeling such grief. And we're just hoping that the governor will please look at this as a unique case and we're able to regain our past.
I mean, we have memories that my father is able to share with us. We don't get to see him very often, but my sister Janet, every day, she runs to the mailbox to see. He's able to watch over us, as much as he can. He'll send my brother a letter and he'll tell him, your sister is having a hard time in school, watch over her. I know we have limited time, but there's so many beautiful stories.
King: I'm trying to not -- I'm trying to see that you don't get repetitive. You're making your point very well. I want to bring in some other members of the family as well, so we can hear from them.
Janet, what is it like when you talk to your father?
Janet Syriani: I have a father-daughter relationship now. He calls me his baby. You know? I have that emotional side that I've been wanting for so long. And like my sister said, you know, I was having problems with school. And just everyday life, you know. And he would write me letters and tell me that I was going to make it and I was going to make his dream come true.
King: That's great.
Is he remorseful? Is he remorseful over the killing?
Janet Syriani: I mean, it's just unbelievable the way...Rose Syriani: For someone to hurt their child, I think has be.
King: Hold on, let me get a break. I'll come back, hold it, let me get a break.
We'll be back with the Syriani family.
(AFTER COMMERCIAL BREAK)
Sarah Syriani: I've always thought of him as a murderer that took my mom. But when I saw him for the first time, waving and smiling, like a kid in Disneyland, I saw my dad.
King: Sarah, will your main argument at the clemency hearing be, we forgive him, therefore the state of North Carolina should forgive him?
Barbari: I wouldn't go that far. I'm just hoping that more than anything that Governor Easley will look at these four lives and realize that it is us that is going to suffer.
My father has come to terms with his fate and what could happen to him. And the only fear that he has is that his children's hearts are going to break once again. And he's right, that is exactly what will happen.
I mean, it took us so long to come this far. You know, from hate and anger to forgiveness and love. It is just the most powerful thing that has entered our lives.
And just so much good has come out of it. I mean, we're all different people now and could live our lives whole and in peace and we just feel...
King: Is this...
Barbari: ...that if this is carried out that we are going to take a step back.
Janet Syriani: 15 years back. It was a long healing process.
King: Rose, is this the last chance, this hearing? Rose Syriani: Yes. Yes, it is.
King: No appeals, everything's gone.
Rose Syriani: At this point, today, today we do not have, you know, an actual time with the governor. And we're just hoping that, you know, everyone that has supported us has been wonderful. And, now, we just -- we're reaching out. And we're just asKing if the governor's watching tonight to just please just allow us to hear from us, that, you know...
King: If he attends -- does he -- he's part of the clemency board, right, in North Carolina?
Rose Syriani: Yes, he is.
King: So he will be there Thursday.
Rose Syriani: Well, he will be there Thursday right. But from my understanding with the governor's counsel.
Barbari: We are requesting a face-to-face visit with the governor. As of now, we don't have that scheduled. So we're hoping that he will allow us to come in to, you know the conference room and meet with him face to face to hear us out, to know each individual. And, you know, to hear where we're coming from.
So as of right now, we don't have an actually one on one visit with Governor Easley. We're hoping that he'll change his mind.
King: If he sits on the board, he will hear from you, will he not? If he's a member of the board? Do we know?
Rose Syriani: That's what we're hoping. That's what we're hoping for, that we will have that face-to-face with him.
King: Let me get a break. We'll be right back with more on this addition of LARRY King LIVE. Don't go away.
(BEGIN VIDEO CLIP)
Rose Syriani: We cry because we lost our mother. We cry because we lost our father. And we're blessed that we have these two people in our lives at the most important time, where I learned so much from my father as the oldest and taking charge of the family and no matter what hard time we go through, we stick together as a family.
(END VIDEO CLIP)
(COMMERCIAL BREAK)
Barbari: That first meeting with him, all of these hurt and anger and feelings just like floated away from me. Janet Syriani: I was looKing through letters that he had written my brother and there was something that said, your sister is having a hard time. He's still trying to protect us.
Rose Syriani: I don't think anyone can go from absolute hate to love in a split second if it didn't come from some place else.
(END VIDEO CLIP)
King: Sarah, you are pregnant, are you not?
Barbari: Yes, I am. Five months.
King: So if we keep him alive, it will be his first grandchild, right?
Barbari: Yes, it will.
King: I guess he's excited. Are you at all prepared -- Rose, we're running close on time. Rose, are you prepared for the worst?
Rose Syriani: At this moment, we are focusing all of our energy and trying to do what we can to stop this. You know, I have to mention -- I have to say that it's very important. Fifteen-years-ago the state of North Carolina was protecting us. They saw these four children heartbroken, but 15 years later a miracle happened. And now we're asKing the state of North Carolina to protect us again. I just -- I'm sorry.
King: John, are you hopeful?
John Syriani: Yes, Larry, I am very hopeful. I just pray every night before I go to sleep that God will listen to my prayers. And he's answered my prayers once before of getting all four of us and reuniting with my father. He answered that prayer for me. So, I'm hoping he'll do the same with this. I feel very positive about it and I just pray every night.
King: Wish you the best. Janet, are you hopeful?
Janet Syriani: I'm definitely hopeful. Definitely. I can't wait to come and visit him and finally tell him that I made his dream come true and I've become a college graduate.
King: Do you know if they let you know right away, Sarah, at the hearing or do they get back to you?
Barbari: Well, to our understanding, just the way that Governor Easley has handled things in the past, I don't know how soon we'll find out.
King: We'll stay right on top of it all day Thursday. Thank you all. And best of luck to you.
Barbari: Thank you.
John Syriani: Thank you very much, Larry.
King: Thank you, guys. Good luck.

This is a rush transcript. This copy may not be in its final form and may be updated. To order a video of this transcript, please call 800-cnn-news or use CNN's secure online order form located at www.fdch.com
Assyrian Beauty to Compete in China For Miss World Title
(ZNDA: Vancouver) Representing Canada at Miss World is Ms. Ramona Amiri, 24, an Assyrian who earlier this year won the Miss World Canada title.
The month-long race has already begun in China. There are 120 contestants including assembled in Sanya on Hainan Island, China, where the competition runs until December 11.
To make the final, participants must progress through four sections: Beach zone, Talent Zone, Miss World You Decide (global phone text vote) and Beauty with Purpose.
The modern day Miss World pageant is all about doing good, with a global focus on raising money for charities.
If she captures the Miss World crown, Ms. Amiri will spend the next year jetting from country to country using her profile to help secure donations.
Ms. Amiri is a medical research assistant. She was born and raised in Montreal. She moved to Vancouver in 1997 to attend University. Graduating university with an Honours Bachelor of Science Degree in Biology, her ambition is to continue worKing with the Children's Fund while completing medical school to become a Doctor.
Ms. Amiri's hobbies are belly dancing and modern dance, cooKing, reading, piano, and riding her motorcycle! Sporting interests are: ice hockey, volleyball, badminton, swimming, roller blading and hiKing.
Ramona is half-Assyrian from her father's side of the family and is proud to speak the language. Her personal motto is "Work like you don't need money, love like you've never been hurt, and dance like no one's watching".
"I am a compassionate, honest and loyal person. These characteristics definitely help to bring out the best of others, as well as the best of myself. When you have compassion, honesty and loyalty, how can you go wrong in life?", says Ms. Amiri.
On her unusual talents, Ms Amiri says: "Thanks to my Arabic and belly dance training, I am a very flexible person. Since belly dance especially involves moving the hips and worKing out those abdominal muscles, I developed a very unusual talent thanks to all of this exercise: I am able to flip a coin over on my stomach!"
On her Assyrian heritage Ms. Amiri makes the following comment: "I would love to visit a place in Iran called Urmieh. My father's roots are in this magical region, which has been traced back through the Bible; many say this region is the original Garden of Eden. Ancient culture and history have always fascinated me, along with my family's Persian and Assyrian heritages, so I would love to visit to find out if I can see a little bit of Eden in Urmieh!"



To view Zinda Magazine's special photo gallery of Ms. Amiri click here. Photos by Paul Alexander.