Volume XI

Office 202-349-1429 | zcrew@zindamagazine.com | Fax 1-415-358-4778

1700 Pennsylvania Avenue. , NW Suite 400 Washington, DC 20006 U.S.A.
| | |
| --- | --- |
| | Zinda Magazine Endorses Yonadam Kanna & 740 |
Why Kanna Matters
Wilfred Bet-Alkhas
Remembering Albert Khorshid
Assyrian Claims Discussed in Australian Parliament
Ciçek & Assyrian Genocide Remembered in Brussels
500 Members of Australian Diocese Send Open Letter
The Assyrian Pontiff
...And You Call This Unity?
God Save Our Nation

Click to Learn More
ZINDA CALENDAR
ZINDA ARCHIVES

Award Winning Documentaries on the 1915 Genocide
Why Vote and For Whom?
'When Righteousness Is Transgression..."
Yosip Shikwana
Ivan Kakovitch
Meet Miss World Canada 2005, Ramona Amiri
Why Kanna Matters
Parliamentary elections in Iraq are only a few days away. Zinda readers have spoken and the campaign drums are beating wildly for one candidate: Yonadam Kanna, the Secretary General of the Assyrian Democratic Movement. Zinda Magazine wishes to add its voice to the beat of these drums and add its endorsement for Mr. Kanna and the candidates running on slate number 740 in the upcoming elections in Iraq.
Unlike the one-party politics of the Baathists, today's politics in Iraq are anything but boring. Colorful posters, street demonstrations, town meetings are facts of campaigning for some 200 political coalitions and over 300 candidates running for a piece of action in the first full-term parliament of that country. But the dark clouds of tribalism and sectarian politics have loomed over the pre-election days from Zakho to Basra. Voters most likely will cast their vote for the candidate closest to their religious or tribal convictions, dancing most comfortably to the tune of their own drumming.
For Assyrians the politics of voting is based on one pre-election fervor – to take the largest bite from the ADM cake without leaving a mess on the table set by the Kurdish leaders. Yonadam Kanna is determined to send the late arrivals home empty-handed.
December 2005 offers a different reality for Yonadam Kanna. If he wins on December 15 he is not winning a popularity contest against the other candidates. His victory will result from his stand against the perceptions of the forces he and his thousands of supporters have painstakingly depicted as "anti-unity".
Kanna is an elusive person. Described as arrogant and overconfident with questionable ties to non-Assyrian entities in Iraq, he reminds us more of an Iraqi bureaucrat of the pre-Liberation Iraq than a democratic contender. However, unlike his competition, he has an admirable charisma and an uncanny ability to mold himself into a myriad images and expressions.
Kanna's expressions venerate the forces that herald a united nation, even if in reality we are more divided than ever. His speeches threaten the establishments of the extremist Assyrians and Chaldeans. For Kanna we are each a double-faced Janus, looking into opposite directions and refusing to acknowledge the other, even though our heads stand atop the same body that can move in only one direction.
To help us find our direction, Kanna cleverly found the enemies he wanted: the extremist holy men who decried his version of unity called "ChaldoAssyrian", the political jesters who fancy the ancient glories, and the greedy puppets enslaved by Kurdish and Communist schemes. A vote for Kanna is implicitly understood to be a vote for unity and bipartisan politics of a Chaldo-Assyrian nation. Kanna wishes to lead an undivided nation by pitting people against their established leadership. The civic leaders, political observers, bishops and even patriarchs who speak against a united nation are quickly classified as "anti-unity". The strategy is working. Unscientific polls show that more people may be voting for Kanna and his slate now than they did in January 2005.
The stakes are high and the votes in the coming week do matter. The winner(s) will represent the Assyrians in the Iraqi parliament for the next four years and will vote on the legislation that will impact our politics in Iraq for many years to come.
The decision of the voters in the Diaspora weighs more this time than nearly a year ago. With an astonishing number of supporters in Iraq, Kanna is certain of his victory in Baghdad and in the north. It is the decision of the voters outside of Iraq that may tip the balance away from Kanna and bring the ADM cake closer to the mouths of the other contestants.
Nevertheless, Kanna has refrained from serenading the independent voters in the last few weeks. The swing voters are still unsure of Kanna's true intentions and Kanna's supporters in North America and Europe have run a dismal campaign for their candidate, marketing his vision with a photo on a poster and interviews with individuals more concerned with a comic disc jockey in Modesto than the politics of the Nineveh Plains in north Iraq.
Zinda Magazine endorses Yonadam Kanna for one single reason alone, that a vote for Yonadam Kanna and 740 is a vote for experience and to less extent a token of appreciation for his two decades of leadership. Kanna represents a new brand of Assyrianism, ingrained in pluralism, open-mindedness, and political savoir-faire. Kanna is a shrewd politician; he alone among all other contestants can shake the hands of both the cherubs and the demons in the parliament and deliver our voices to the places that matter.
The next four years cannot be trusted to the nameless and inexperienced activists whose domain of power is limited to Chicago, Sweden, and Masoud Barzani's living room . We need a centrist who can focus on issues and not tribal or sectarian politics. More importantly we want a leader who can help us rebuild our towns and villages in the north and strengthen our position in Baghdad. Kanna is the only person, with experience in the ministries of energy and reconstruction that can take this mission to the next level.
The people close to Kanna know the dangers of his centrist approach, but they say he has to stand for unity, as does the ADM. Kanna is comfortable with this role; the radicals in Iraq and in America are not. His critics claim that Kanna is not a team player and does not wish to share the cake with anyone else but his closest Zowaa allies. Kanna ignores his critics and instructs his supporters to ignore them and continue to build momentum and interest. This strategy has failed miserable and Kanna has lost popularity among the young and the religious voters.
The followers of Mar Dinkha are swing, so are the seniors watching the manufactured lies on AssyriaSat and the extremists that believe a Chaldo-Assyrian label will help erase the name "Assyrian" from all future history books. Since their numbers are negligible, Kanna believes that he has a solid lock on the educated, professional, and working families. He may be right.
Yonadam Kanna and the ADM are not the only game in town, but they are the best chance we have for pushing a centrist agenda in Iraq. This election is not about who would win or even whether it might be close; the public opinion polls like this week's in Zinda have pretty well answered that. Rather, the question is whether Yonadam Kanna and 740 would win by a historic landslide. Zinda hopes that the answer is a resounding yes.
Remembering Albert Khorshid
Earlier this week a true "sun of Assyria" passed away after a brief struggle with illness in Los Angeles, California. When I received the article below, it reminded me of my friend in L.A., Mr. Albert Khorshid, whose telephone calls I will sorely miss. I heard Albert's name for the first time in Iran when he was actively engaged in the Assyrian politics of his time. I was only 10. His last name, Khorshid (Farsi for "the Sun") was an appropriate title for the man who encouraged me and many others for decades "to examine the facts by reading the documents and enlighten others." Anytime a reader of Zinda would make a false claim about a historic event or person, I knew a call from Albert was eminent. I addressed him as Raabi (teacher) Khorshid. Many of the Zinda replies to the readers' messages were contributions of Mr. Khorshid. If there was a inquiry about a past official document written sometimes in the last century, Albert would meticulously arrange all appropriate information in chronological order and then fax them to our private fax number. Albert kept records of everything. He always began his calls as this: "Wilfred, I know you're busy but I think it's important you see this document..."
For those of us who remain humbled by the contributions of the young men like Albert Khorshid from the days of the Assyrian Youth Cultural Society of Tehran, the men who gave us the greatest Assyrian political success called the AUA, the passing of Albert will leave a great void. His love for Assyria will always shine on us from above.
Wilfred Bet-Alkhas
The Loneliness of Being Assyrian
Ashur David
New York
What is the loneliness of being Assyrian? It is … the loneliness of the only child, who has no one to play with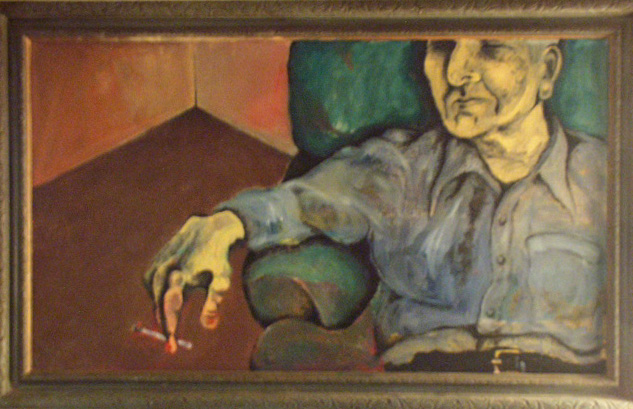 Ray Hernandez
… the loneliness of the orphan, deprived of the comforts of family and the joy and innocence of childhood
… the loneliness of the young searching for love, understanding and respect
… the loneliness of the widow forced to live alone in a world that has passed them by
… the loneliness of the immigrants struggling to make a life far from everyone they have ever known
… the loneliness of the survivor of injustice, oppression and massacres
… the loneliness of never being understood
… the loneliness of always living halfway between acceptance and rejection
… the loneliness of never being able to live up to all that is expected of you
… the loneliness of not having a state to point to with pride
… the loneliness of being part of a fractured nation with multiple names, sects, experiences, attitudes and outlooks
… the loneliness of being part of a nation so varied and diverse; yet so afraid of its own diversity
… the loneliness of being part of a people scattered throughout the world, abandoned by fate and left to survive on our own in the best ways that we can
… the loneliness of a Shepherd searching for his lost flock, finding each one in a completely different location, situation and condition, yet loving each one in the unique way that they need; rejoicing and taking immense pride in the process of reclaiming all that was lost to us over the millennia
… the loneliness of unrequited love for your own people.
It is a special type of loneliness that only the Assyrian understands. It is what pushes us to seek out one another wherever we may be. It is what draws us to our people one day and estranges us from them the next. It is the love-hate relationship we all have towards each other.
Carrying such an emotional burden can often make it difficult for us to put up with one another. And every now and then it gets so complicated, frustrating and intense that we just want to run away from everything Assyrian. But the one thing we can never escape is our intense Assyrian loneliness. It is what keeps bringing us back to our people. Politics, borders, experiences, attitudes and egos divide us; but our special loneliness will always unite us.
Assyrian Claims Discussed in Australian Parliament
Hermiz Shahen
Assyrian Universal Alliance
Secretary-Australia Chapter
The following report was raised in parliament by the Federal Member for Prospect Mr. Chris Bowen MP. Since the lodgment of AUA petition in Parliament during last May 2005, Mr Bowen has continuously raised the issue of the Assyrians during the question time in Parliament.
On behalf of the Assyrian Universal Alliance-Australia Chapter and the Assyrian community in Australia. We would like to thank him for his cooperation and support, to raise the Assyrian issues with the Australian Government. It is very encouraging to have such strong support from a friend of Assyrians, who care about the future of our nation and our worldwide struggle to advance our pleas for our national and human rights in Iraq.
---
Mr Bowen: In October this year, the United Nations High Commissioner for Refugees issued a report on the human rights of minorities in Iraq. This is something I have spoken about in the House previously, and indeed the House has debated a motion I moved on protecting the rights of Assyrian, Chaldean and Mandaean minorities in Iraq. This report gives crucial official support to the concerns of these communities that their human rights are now more violated than they were even under Saddam Hussein's regime. This is a claim that I found surprising when I heard it, but I have heard it raised time and time again and, on my reading of reports by bodies like Human Rights Watch and Amnesty International, I am convinced it is true.
The UNHCR report explicitly deals with this issue. At page 2 the report reads that the situation of these minorities has:
"been noticeably aggravated since the invasion of Coalition forces and the subsequent fall of the former regime in March/April 2003."
The report goes on to say: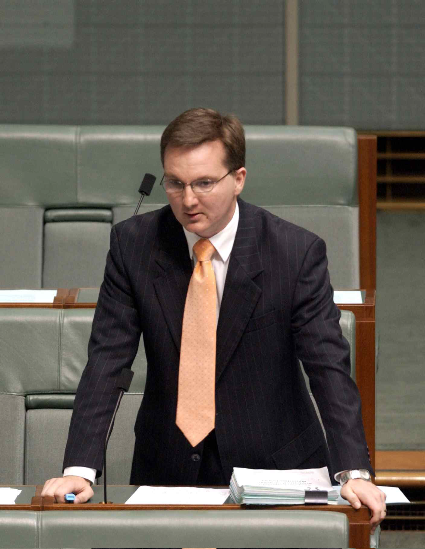 Chris Bowen, Member of the Australian Parliament - Labor Party
"The Iraqi Security Forces are currently not capable of effectively maintaining law and order. In addition, the lack of a functionary judiciary often leaves victims of assault, maltreatment, expropriation and other attacks without legal protection and redress, including members of religious minorities. Increasingly, Iraqis are resorting to extra judicial conflict resolution and protection mechanisms such as tribal law. Members of religious minorities often do no have access to such traditional mechanisms, as they do not necessarily belong to a tribal grouping."
Minister Downer, in his letters to me, in his answers to questions on notice that I have placed with him and in his correspondence to the various organisations which represent these groups, does not recognise there is a serious problem with the human rights of these groups. Minister Downer refers to the protections for these groups in the Iraqi constitution. I recognise this protection but, in the real world, it is having zero practical impact. I again quote the UNHCR:
"In practice, however, religious minorities' freedom of religion is severely impeded by the current situation on the ground."
Yesterday, I met with the Iraqi Ambassador to Australia, His Excellency Ghanim Taha Al-Shibli, at the instigation of the shadow minister for foreign affairs and trade, the member for Griffith. I was very happy with the Ambassador's response to the issues I raised. He indicated that he was willing to make very strong representations to the Iraqi government and raise the concerns of the Australian community at the highest level. He also indicated that he was acutely aware of the issues that I raised and that he has close relationships with many of the communities I discussed with him. He also indicated that he had been to a wedding in my electorate just the week before.
I have been very careful to conscientiously avoid making political points on this issue, but I need to say in this House that the government needs to recognise the 'real world' situation in Iraq. The government needs to keep this issue at the forefront of its discussions with both the Iraqi government and the United States government. In relation to immigration, the government needs to recognise that the human rights situation of religious minorities in Iraq has worsened, and our refugee policy needs to recognise that. Many cases have come through my electorate office in which the Department of Immigration and Multicultural and Indigenous Affairs seems to be paying less credence to the real concerns of members of these minorities about their physical safety in Iraq.
I recognise that this is a difficult issue. I recognise that anyone can claim to be in physical danger in their homeland. I recognise that the department and the Minister for Immigration and Multicultural and Indigenous Affairs face a difficult job in sorting out who is genuine and who is simply using this as an excuse to try and gain entry into Australia. But I appeal to the minister to read the UNHCR report and take it into consideration when weighing up the claims of members of these minority groups when it comes to assessing their applications for refugee status in Australia. The special humanitarian program needs to recognise that the situation in Iraq is not 'rosy' now that Hussein has been toppled. Indeed, for many groups, quite credibly, it has worsened. These groups have a valid claim that they are more persecuted now than ever before. The people in the Assyrian, Chaldean and Mandaean communities are good people. They care deeply about the plight of their relatives at home. I call on the government and the House to do everything possible to assist them in furthering the aims of the Assyrian, Mandaean and Chaldean populations in Iraq.
Mor Julius Isa Ciçek & Assyrian Genocide
Remembered in Brussels
A Report by Naher Arslan for Zinda Magazine
(Brussels) Focusing on the 1915 Assyrian Genocide, perpetrated by the Ottoman Empire against the Christian populations of Turkey, writer and lecturer, Sabri Atman was invited to expose the fruit of his research on 4 December at the Holy Basilica of Koekelberg in Brussels. Dayroyo (monk) Gabriel, a monk of the St Ephrem Monastery in Holland, began the lecture by a minute of silence for all the martyrs then a prayer as tribute to the memory of His Eminence Mor Julius Isa Ciçek, the late Metropolitan of the Central Europe and the Benelux Countries of the Syrian Orthodox Church who recently passed away in Germany.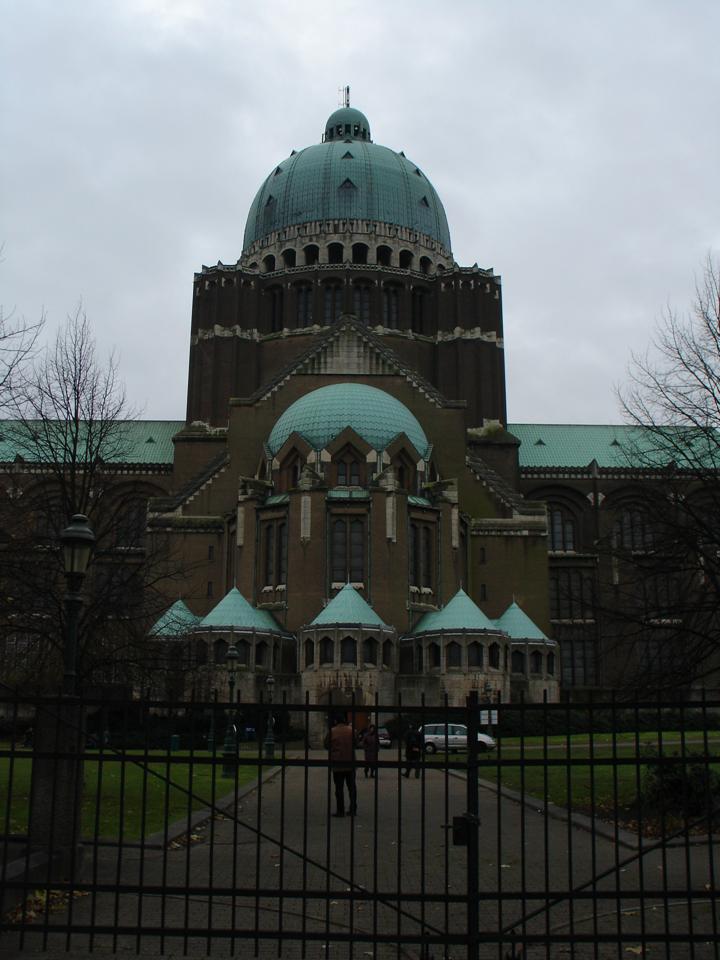 Holy Basilica of Koekelberg, Brussels

Mor Julius Isa Ciçek has been playing an important part within the Assyrian Community's life. Particularly with the construction of the Syriac Orthodox Church, St Ephrem Monastery, but also by editing and publishing many books that tell the story of the 1915 Seyfo.

Mor Julius Isa Ciçek was very interested in the education of children living in the Diaspora. He published a great number of school manuals for the Parish centres of education, in particular books written in the Syriac language.

Dayroyo Gabriel is in charge of the safekeeping of these books, written in many languages, reworked and published by Mor Julius Isa Ciçek in his own lifetime. Books that according to Dayroyo Gabriel are the "fruits of a life of devotion from a great man to the nation, to the culture and the church of a scattered community, banished from their ancestral lands."

Noted Assyrian genocide scholar, Mr. Sabri Atman, commented that "sources on the Assyrian genocide remain inadequate and what leads this community to acknowledge the genocide is that they have been the victims."

The public release of the published and unpublished works of Mor Julius Isa Ciçek is expected to draw great public interest in the coming years.

What are the ways used by the Assyrians to refute the opposite thesis of the Turkish government, which continues to assert that there has never been any genocide in 1915. Unsatisfied, Sabri Atman reminds his listeners that contrary to the Armenians, who have many books treating this matter, the published work by the Assyrians are only a few, ninety years after the "Seyfo" and can be counted on the fingers of one hand.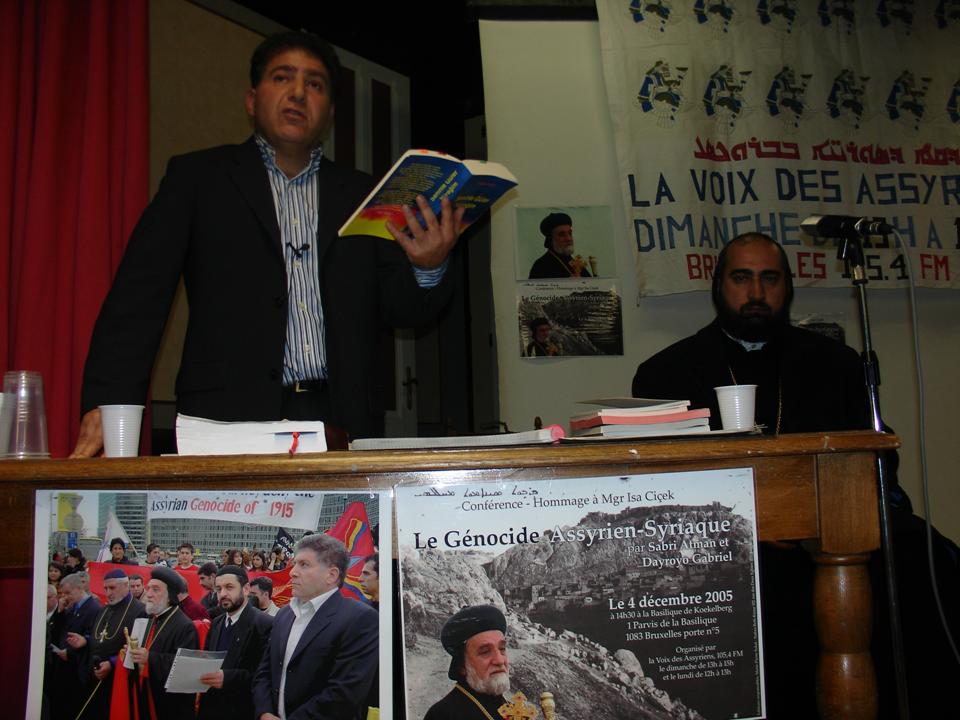 Sabri Atman (standing) and Dayroyo (Monk) Gabriel
Mr. Atman, continued to say that many techniques have been ignored, like the process used by the Ottomans for the extermination. Some specialists have nevertheless begun to learn more today about this.
Sabri Atman presented to the public, the "Blue Book" of the British Government, concerning the Armenian treatment in the Ottoman Empire, a book in which 150 pages are written about the Assyrians. He explained, with examples, how badly treated the Christians were during the Genocide.
At last, after a short intermission, opinions were shared over refreshments.
The lecture was concluded with some questions from the audience, mostly about the 1915 genocide. Sabri Atman and Dayroyo Gabriel enjoyed answering these and enlightening their audience from the Assyrian Community in Brussels.
500 Members of Australian Diocese Send
Open Letter to Patriarch
(ZNDA: Sydney) Over 500 members of the Holy Apostolic Catholic Assyrian Church of the East, Diocese of Australia and New Zealand signed and sent an open letter to His Holiness Mar Dinkha IV, Patriarch of the Assyrian Church of the East this week. The following is the full text of the letter in which the members request His Holiness to help restore peace and unity, and resolve differences between the Synod of the bishops of the Church and His Grace Mar Bawai Soro.
An Open Letter
Committee in Solidarity with His Grace Mar Bawai Soro,
Sydney, Australia
PO Box 177A
Fairfield Heights, NSW 2165
Australia

Re: In Response to the Decision of the Tenth Synod of the Assyrian Church of the East, Regarding His Grace Mar Bawai Soro
As members of the parish of the Holy Apostolic Catholic Assyrian Church of the East, Diocese of Australia and New Zealand, and other members of the Assyrian Community in Sydney, we hereby show our total disappointment with the unfair and biased ruling of the recent Synod of our church regarding our beloved Bishop Mar Bawai Soro, the only recipient of PhD in theology among our clergy.

The extremely harsh treatment and options placed by the Synod upon His Grace Mar Bawai for no valid reasons, make us wonder why this was necessary and why didn't His Holiness, the Patriarch, and the Metropolitans and Bishops adopt a more Christian and tolerant stand. This leads us to believe what has been stated many times by many dignitaries within our Assyrian communities all over the world, that this was instigated within the church by certain individuals.


Tour Itinerary

December 11 - 9:15 a.m. to 1:00 p.m.
St. Anne Melkite Greek Catholic Church
11211 Moorpark St., N. Hollywood, CA 91602

December 17 - 7:00 p.m.
Book Signing - Mar Addai Church Christmas Party
Assyrian American Civic Club of Turlock
2618 N Golden State Bl
Turlock, CA 95381

December 18 - 11:00 a.m.
Book Signing - Mar Zaia Assyrian Catholic Church of the East, 1457 Mable Ave.
Modesto, CA 95355

For More Information Click Here

We are obliged to report that as members of the Australian diocese of the Assyrian Church of the East, we are at a loss to understand why our Bishop Mar Meelis Zaia would be one of the signatories of this unfair act of the Synod. Both Mar Meelis and Mar Bawai were consecrated bishops on the same day, yet Mar Meelis has been so prominent in his enmity and stirring conflicts regarding his brother in Christ, Mar Bawai. We fail to comprehend why would our Bishop play such a biased role against Mar Bawai who presides on a diocese so remote from our Australian diocese!

Mar Bawai's parents, relatives and friends reside here in Sydney and have been in the forefront of all those members who extended a hand of welcome to the newly appointed bishop of Australia, Mar Meelis, since his arrival to take up his post. Yet, total disregard has been shown time and again for all those people by our bishop as if trying to push into insignificance all those related or linked to Mar Bawai in any way or form. This act not only surprises us all, but it also makes us wonder how far this un-Christian manifestation will go on despite everything.

We would like to make it clear that although we have tolerated all that has been going on for many years, and all the recent provocations and attacks on His Grace Mar Bawai, alleging that he has fraudulently misappropriated the finances of his diocese; our expanse has been reached and we cannot allow this unfair and pointless act to go on. Therefore, we ask that this un-Christian show of contempt to all those who are in any way or form associated with His Grace, be stopped forthwith, and instead embark upon a path of righteousness and Christian fellowship to right all the wrongs done against Mar Bawai, so that our Church will once again unite our masses everywhere around the world in a truly and faithfully Christian unity.

We cannot emphasise stronger the need to heed to the above assertion in order to keep our Australian parish above any attempts to disunite it and bring about a new sense of fragmentation that we all can do without, and our diocese would be responsible for. Let us all pray that Almighty God would help our church leaders to reassess their decision and come to the conclusion that just as our Lord Jesus Christ offered himself as a sacrifice for the redemption of mankind, so will they show a spirit of brotherhood toward their fellow worker in the service of their and our Lord.

In conclusion, we ask our church leaders to use the energy they seem to have in spreading peace and harmony. This is the time when our people need it more than any other time in our recent history. It is the time when absolute clarity is needed on these issues and a clear "lead' by the Synod.

This open letter was signed by more than 500 persons in Sydney, representing a large number of members of the Assyrian Church of the East, Diocese of Australia and New Zealand, and a number of concerned members of our Assyrian community in Sydney. It has been sent to His Holiness the Patriarch Mar Dinkha IV and to the members of the Synod.
The Assyrian Pontiff
Daniel A. DeKelaita
California
His parents called him Khananya (kind, forgiving). His mentor, the legendary Mar Yousip Khnanisho, schooled him from childhood and groomed him to follow in his footsteps to serve his people through difficult times.
Upon the death of our Patriarch Mar Shimon, the nephew of Mar Yousip Khnanisho, the task of patriarchship was placed on his shoulders.
I call him Assyrian Pontiff because he is the bridge builder between Assyrians and other people, whether Catholic, Kurdish, Arabic, Persian, etc. For this and other noble deeds he has been called unflattering names (just like Jesus). Members of a political party are fomenting rebellion among church leadership ranks and our church is about to break up.
Last election my children and I voted for Slate # 204 without hesitation. This time it will be so much easier to vote as the voting place is close by, but the decision of whom to vote for will be a lot more difficult. Could we just for once separate politics from church matters?
...And You Call This Unity?
Ashor Chamoun
United States
Coming from an athletic perspective within our community, it's great that organizations host tournaments for our athletes' to keep the unity among our people, nationally for instance, like ACANA. However after reading the article posted in Zinda it seems quite odd that ACANA is hosting a tournament during Labor weekend. To my understanding doesn't the Assyrian American National Federation host a convention that has included sports for the past 73 years for our community internationally. How can you promote unity when you yourself do not?
When you host a sports tournament during the same time as another older organization that has been hosting the same event for nearly a century, in my personal opinion that's not unity; that's more division.
It's seems to be a virus among our people that if we do not see eye to eye then we part ways and start our own group. At the end of the day the victims become our people which means the athletes. Being an athlete there is too much personal aggression among our people from every side of the spectrum and I'm not targeting any specific organization. This is for every organization from politics, church, and sports. One-Name One-Nation.
God Save Our Nation
William Aprim
United States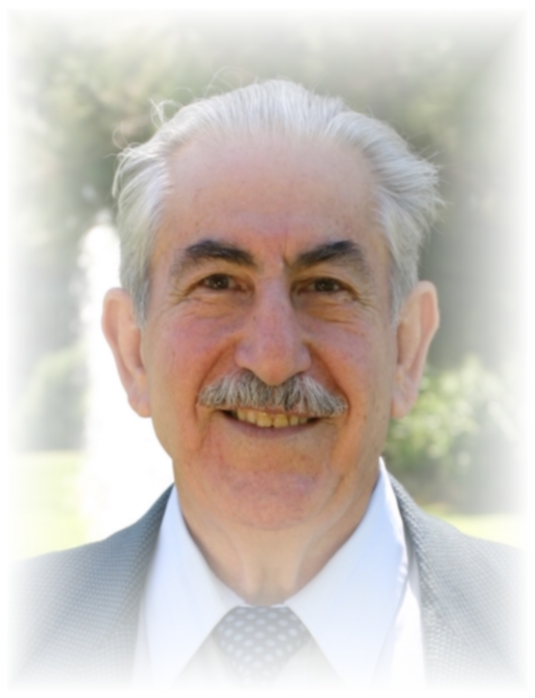 Modern Assyrian Language Guide
Volume I
by
Tobia Giwargis
(209) 667-6697
88 Pages
U.S. $20.00 / International $25
(includes shipping)
To Order Your Copy Contact:
Assyrian Club of Urhai
Education Committee
P.O. box 577762
Modesto, CA 95357 USA

The present situation in Iraq, both political and religious, has created a massive desire among the entire people, in particular, our ChaldoAssyrianSyriac, to find better ways for restoring peace and stability in the country. The most interesting news is the distinct understanding among the average young generation of today. Regardless of our old and deep rooted believes, we are making remarkable progress by gaining speed and strength in this magic movement of harboring respect and listening to each other. This new beginning, has been able to recondition and mobilize our spirit to recognize, admit our mistakes, and offer forgiveness,when needed.
In this confident expectation, I solemnly suggest offering these prayers for all those who are tirelessly working for unity, peace and progress for our nation. It is worthwhile and appropriate to mention, especially for those who are constantly exposed to eminent danger to their life. The living martyrs of today:
God, we beg you through your son Jesus, to help, protect and guide our brave people in Iraq, all nationalities, including your race of choice "ChaldoAssyrianSyriac", the remnant of your proud Cradle of Civilization "Assyria" in order to enable them to seek harmony and peace among themselves.
God, bestow among your people, the proud "Assyria" the wisdom to work together in your name, to pray for solidarity and unity of one strong people, one nation, blessed with love and respect, to serve your glory.
God, bless and bestow your kind guidance to our beloved Church, its leaders, faithful, to blend together to challenge the cloud of despair and illusion which is currently destroying our moral and national integrity.
God, forgive us, for we all make mistakes, fill our hearts with your heavenly mercy and keep us strong to undo injustice, and work for peace and prosperity for our national goal, one people, one
Nation, undivided in our ethnic and religious faith, as remnant of the cradle of civilization.
God, we are your desired people, we shall remain devoted to your scriptural teaching, help us understand your glory through the power of your son Jesus Christ. Amen.
Award Winning Documentaries on the 1915 Genocide
Gomidas Institute and AGBU (London) in conjuction with Riverside Studios present on the Holocaust Memorial Day (27 January 2006) Two Award Winning Documentary Films on the Genocide of 1915: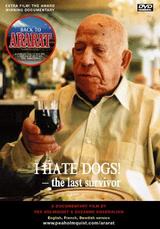 "Back to Ararat"
6.45 pm "Back to Ararat" (by PeÅ Holmquist)
8:30 Intermission
9.00 pm "I Hate Dogs - The Last Survivor" (by PeÅ Holmquist and Suzanne Khardalian)
9:25 pm Panel discussion with Suzanne Khardalian at Riverside Studios, Crisp Road, Hammersmith
London W6 9RL
Ticket Price: £6.50/£5.50 with concessions
The Swedish filmmakers PeÅ Holmquist and Suzanne Khardalian produced the first feature-length documentary film about the Armenian Genocide, "Back to Ararat." The film received many awards, including "Guldbaggen" for Best Swedish Film, 1988. "I Hate Dogs - The Last Survivor" is a new production and will have its UK premiere at Riverside Studios on Holocaust Memorial Day.
Copies of both films will be available on a single DVD.
For further information, please contact info@gomidas.org.uk or Riverside Studios Box Office 020 8237 1111.
Why Vote and For Whom?
Yosip Shikwana
Michigan
The Iraqi people have paid an enormous price for the construction of a democratic pluralistic government. Due to this noble cause countless thousands have been martyred, expelled, uprooted and forced to emigrate. Today, the path towards democracy, while lined with obscurities is finally being taken. We are on the verge of choosing and electing those to who will represent us and work towards establishing our national and ethnic objectives in the following four years. Since, the Iraqi elections a true representation of the varied mosaic found in the country, countless slates have participated expectedly as was anticipated.
It can also be expected that every candidate and slate running, will work towards presenting their own agenda in an attractive method in the Election Campaign, which is a right reserved to them as long as it is done with the expected boundaries. In the face of the numerous election campaigns, stands the voter, confused due to the similarities between the objectives of the different slates. To escape this state of confusion, the voter should specify the objectives he, or she, expects the winning slate to achieve and later the voter should choose the one slate that is expected to comply and actually work towards establishing those objectives. Further, the voter should refrain from being influenced by well constructed statements used by many and instead focus on the previous records and accomplishments of the chosen slate, its stances, commitments, beliefs and sacrifices made to attain those objectives.
The conveyance of specific candidates to the national assembly is not a goal, but a method, used to reach our objective. After the specification of our National and Ethnic objectives for our ChaldoAssyrian Syriac people, it is obvious that the Assyrian Democratic Movement, heading the The Al-Rafidain Slate #740, is well suited to represent our nation and carry through with our objectives. Numerous reasons can be stated in support of the previous statement, I will be focusing on the following significant ones:
DAVID YOUKHANA


ARIZONA


Real Estate-Relocation-Investment

Associate Broker

Certified Commercial Sales Specialist

Realty USA southwest

Glendale, Arizona 85310

Click Photo For More Information

The positions taken by the Assyrian Democratic Movement in opposition of dictatorship; It's strive to attain democracy in Iraq; its struggle to preserve this position during the numerous political changes and different political stages that the country experienced. This path was actively pursued undercover in cities and jails, followed by armed struggle and continuing in the ADM's participation in the Regional government of Kurdistan. More recently, ADM's active involvement in the operation to liberate Iraq and its construction underscore their ability to best suit our nation. At times the price was set high and paid with our martyr's blood.
It is well known that our nation suffers in regards to the name issue, and the Assyrian Democratic Movement realizes this fact. Furthermore, ADM acknowledges that it does not posses a solution that appeals to all. However, ADM is distinguished by:
• Its absolute belief in our National Unity, without segregation between any individual based on their chosen label, religious denomination or region. This is evident in the diversity of its members, successive leadership, martyrs and establishments. Based on this principle, Zowaa extends its hand to every believer in our Nation's unity.
• It severely rejects any specific naming that ignores other labels that our people use and honour.
• It firmly stands against all operations that aim to divide and fragment us and will eventually lead to our extinction.
• In facing this reality it believes in working for our rights, national identification, and our existence. It firmly refuses to waste this valuable time in meaningless arguments that have no feasible results.
It is collectively agreed that one of our most significant and distinguishing characteristic of our national existence, that has continuously ensured our survival, is our Syriac language. Our language has been the emitting source for idealistic, scientific, literature and philosophical radiation. Consequently, The Assyrian Democratic Movement, built on this knowledge, and hastily accepted the challenge in 1991 when the opportunity was presented. Zowaa, in spite of all challenges and oppositions, translated its statements into actions and was successful in implementing Syriac schools at the elementary, secondary and, more recently, university levels (to second year university levels to be precise). It should be noted that this magnificent accomplishment could not have been materialized without the support and sacrifices of ADM's members. They took political action, supported the educational institutions materialistically, and sent their children to these schools although some claimed that their children's educational future was undetermined in this new educational system.
Numerous political changes have been observed in Iraq since Zowaa's establishment on April 12th 1979. During this period Zowaa has underwent numerous phases, including: underground struggle, armed struggle, and participation in the freedom campaign which continuous to this day. It is worth noting that regardless of the changes over time, ADM's primary basis and objectives have not been altered. These include: direct work in our homeland, being practical and facing reality, the reliance on actions rather than verbal statements, its continued belief in democracy, sustaining our national and ethnic identity, the belief in unity, and working to preserve our language and the independence of choices.
In the reality that faces us we see that needs are multiplied while positions reduced. A true striver will be the first to sacrifice and the last to benefit. Our nation's march has always needed dedicated people that have sacrificed for its plight, stood by it, endured the same difficulties, and protected it. In the ADM, numerous such individuals can be identified. Those who have sacrificed with out hesitation, at times with their own lives, to aid our people. And what personal satisfactions can one gain by self sacrifice for the protection of language, heritage or the participation in the liberation campaign? Our people are capable of recognizing who served them and sustained their survival during times of needs and is also aware of who just appeared when positions were allocated. The difference is vast between those who are committed to our public service and those who believe were created for greatness and high positions only.
Numerous types of organizations can be found within our Nation. There are those that were created prior to the Iraqi liberation, and others that precede it. Some organizations are positioned in the homeland, while others scattered in Diaspora. Some organizations believe in taking action, while others are solely interested in speaking. That being said, there is a large segment of dedicated, qualified and capable individuals that are willing to work and sacrifice for their nation. The Assyrian Democratic Movement has continuously opened its doors and made opportunities for such individuals to participate in different fields including: Kurdistan's regional government, the Iraqi transitional government, the initial ministries, and various other committees and electoral slates. Zowaa's distinctive belief remains that the required objectives must serve the nation and not the ADM.
Key criteria for the winning candidate, or successful slate, must include the required experience for the specific job. For instance, when constructing a house, the best contractor is usually hired; moreover, the best specialized doctor is retained to treat a loved one. Shouldn't we therefore select the best, and most experienced, candidate to represent an indigenous nation whose very existence is at stake?
In its struggle for the past 26 years, the Assyrian Democratic Movement has gained vast knowledge, on various national and ethnic levels. The base for this knowledge is the product of its continuous attachment and closeness to our people especially during hardships.
In conclusion I ask:
If you wish for democracy, who would you vote for?
If you believe in our ethnic and national unity, and its establishment and entrenchment in the constitution, who would you vote for?
If you take pride in our ancient language, and demand to have it preserved, who would you vote for?
If you would like to be assured that your elected candidates continue on a permanent and stable path, who would you vote for?
If you require that your representatives believe in their duties and the execution of these duties, who would you vote for?
If you believe in the role of neutral individuals, who would you vote for?
Finally, if you are looking for those with experience, who would, you vote for?
For all these questions, there can only be one answer. That answer is: Al Rafidain, Slate # 740.
Translated from Arabic for Zinda by Ms. Alda Benjamen. Mr. Shikwana is the representative of the Assyrian Democratic Movement in North America (United States and Canada).
'When Righteousness Is Transgression and
Transgression Is Righteousness!'
Ivan Kakovitch
California
Motto
What a single, or multiple political parties, call for Assyrians to partake in the forthcoming December 15 elections in occupied Mesopotamia is not, that which enables an Assyrian to opt for envisaging a Neo-Assyria, or Assyria proper, but to safeguard their oblivious infrastructure, as a political national entity.
Right vs. Wrong
Without the slightest of reservations, all Assyrians and their co-religious brethren, within or without, the occupied Mesopotamia, are conjured to participate in the December 15 elections, that is, if their intent is to add their voices to those favoring an imposed dictum of the armies of occupation. However, prevailing naïveté that their vote shall offer a pedestal for Assyria – whatever the name or denomination – is a total misdeed.
Casting ballots is not only a privilege, but is even more than a right. It is an obligation.
No power can resort in opposition to desecrate such a right. And, if such voices are evidenced, it is best to ignore them, or disavow their stand altogether.
As Assyria has tentatively – or permanently – become a nation of emigrants into over thirty nations of the world, its nationals ought to cherish and to applaud the liberties offered them to share in the structuring of the future of the lands, they and their children shall dwell and strive as nationals of their adopted citizenry.
Hence, in retrospect of the parallels drawn between the disparaged and occupied ancestral land, and that of their presently domiciled nations they chose as their country, it is just and devout of criticism that they undo with their past, and do what is expected of a civilized society, that is to venture out and vote.
But, this rule, however sound, applies only to less than one-half of Assyria.
Fluent in Assyrian

COMPLIMENTARY

1-Year Home Warranty Plan
Home Buyer's Pro Inspection
Fall-Time Cleaning Service

Call for details - Gifts not to exceed $1,000.00 - Provided at the close of escrow.

25101 The Old Road
Santa Clarita, CA
Direct: 661.284.5097
Cell: 661.645.4290
Yahoo ID: LindawithREMAX
lbadalof@sbcglobal.net
Exception to the Rule
The other half of Assyria does not derive from within the present-day borders of the former Iraq.
As early as 1836, the Assyrians of the region of northern Mesopotamia, under the rule of the Ottoman Empire, since 1452, and, upon which the Ottomans had bestowed the 'Millat [Autonomous] System', the Assyrians had began emigrating from their millennia habitats, to more hospitable areas of the surrounding areas. Hordes of indigenous Assyrians were pouring into Greece, Bulgaria, Georgia, Armenia, Persia and Russia.
The second and most devastating blow to the Assyrian enclave took place between 1908, culminating with the Semele Massacre of 1933¹, and has continued ever since, on an alarmingly escalating scale.
The descendants of those migrants were completely out of touch with Mesopotamia, and the area that was carved up and baptized as Iraq, in the mid twenties.
Today, numbering well over one million, these Assyrians are not considered, nor do they consider themselves Iraqis, or whatever other name that part of the land might be called in the near future.
Misplaced Patriotism
A political division has pervaded the Assyria of Mesopotamia and that of Diaspora.
The Mesopotamia Assyrian strives to attain a stature of good citizens of former Iraq. Whereas, given a choice, the Diaspora Assyria would rather see Assyria, even at the expense of former Iraq.
And Why Not?
The three largest contingents of the armies of occupation in former Iraq happen to be nations where almost one half of the Assyria of Diaspora resides.
This is what one refers to as a 'misplaced patriotism'.
Or is it?
This contingent of Assyria has only one denominator within the borders of Mesopotamia, and that is, its brethren of Assyria, and all those other Christians that go by variety of denominations. Otherwise, they do not speak Arabic, they have no interest in the political structure and designs for the future Iraq, nor do they contemplate to shed their blood in defending the borders of that country. They do however amass funds to aid the sustenance of the ravaged nation and its inhabitants, especially, the hardest hit indigenous Assyrians in Ninevah and other two adjacent Provinces in the northeast of Mesopotamia. This act is predominantly of essence, in absence of a strong central government, and its practically non-existent security or social services apparatus.
These Assyrian residents, and citizens of no less than forty countries do not plan to return to the land of their ancestors. They merely seek an accouterment, embellishment of their existence in the world.
Last, but least, one cannot disavow the third contingent of Assyrians.
Former Iraq Migrants
No less than a quarter of a million of misplaced Assyrians of former Iraq have settled down in mostly western countries. Obviously, the hundred thousand or so that have taken refuge in Jordan, Lebanon and Syria, are striving to obtain the necessary papers and to resettle in the Western democracies.
This is a group of some die-hard dissidents, and members of the financially strapped citizens that are focusing on raising their children in more developed environments, so that they could one day become better educated and, by doing so, to join the millions of the middle class citizens of the West.
Although not anticipating returning to the land of their ancestors, they do harbor more stringent affiliation with their brethren, and to a certain extent are more patriotic than those that have never breathed the air of Mesopotamia.
Thus, the four categories of Assyrians, namely: (a) The Mesopotamia; (b) The Diaspora of non-Mesopotamia; (c) The Native Diaspora; and, (d) The Native Diaspora surrounding Mesopotamia, are condemned – not by their choice – to pull the reins of their former ancestral land in four different directions, rather than in unison.
Hence, their personal traits, their opinions, their perspectives, and their political inclinations and philosophies differ, and this discordance shall persist among them, probably for the rest of their lives, and that of their children, if not grandchildren.
The Mesopotamia Assyria
Mr. Guiliana Yonan
&
The Bet-Nahrain National Quest
Announce Their Support For Slate
# 740
Proven Leadership. Commitment to Unity.
The political accommodation and affability directed by the main political groups of Assyria of Mesopotamia must be recognized and respected. Its stance dealing with the ever-changing seasonal political climate in the former Iraq is within its rights and perhaps, even its attitude is commendable, since it is not doing anything different than the other Assyria throughout the world, that is engaged in some sort of political alignment of its adopted country.
The major political parties of Mesopotamia, Assyrian Democratic Movement (ADM), and Assyrian Democratic Organization (ADO) are adamant in rerouting their political philosophy in favor of unification with their brethren beyond the borders Mesopotamia.
That is their fallacy, since their aim is strictly that of political accommodation within the framework of political forces of Iraq on philosophical ideology, rather than aspiring national stature, at least, nominally.
This political alignment is detrimental to Assyria, since no political party can sustain the power of national issue, albeit temporarily, it might appear well entrenched.
The future of the political parties that follow the ideological philosophy is doomed, since political atmospheres constantly change, however, nationalism is a fervent belief, entrenched in the minds of its nationals. The emancipation of Frenchmen during the French Revolution, the establishment of ideological philosophy in Russia, and the rerouting of the same in China into nationalism are seriously to be pondered as testimonials of dangers of running a nation with a political clout, rather than nations running political philosophies.
The Diaspora Assyria
This second largest group of Assyria, sees former Iraq totting with its ancestral and indigenous rights, and feels humiliated by what it conceives as 'Reddition sans Cessation' [Unconditional Surrender] of its land to 'Force Majeure' of the Kurds and the two factions of Arab religious dominant powers.
The forces of occupation and their dictum on the political horizons of Mesopotamia are unapologetic scorns that threaten the existence of a nation of over six millennia of civilized history.
Shades of democracy and federalism of Iraq is regarded as deviation from the recovering portion of Mesopotamia, and turning that piece of real estate into a developing autonomy, regional autonomy, or even independent State of Assyria.
No doubt the forces of occupation shall depart one day, but that shall be only the beginning of the end for the once proud indigenous Assyria.
A re-ignited perspective of Semele Massacre of the early 30's is well envisaged, once Mesopotamia rejoins the rank of a sovereign nation, and once the dominant forces take power into their own hands, fathomed either on a Federal or on Autonomous Regional entities.
Native Diaspora
As times go by, more and more the Native Mesopotamia Diaspora aligns itself with its brethren in former Iraq. This trend shall continue, and, once again, it is absolutely no one's right to criticize, challenge or to chastise its patriotic sensitivities.
Native Diaspora Surrounding Mesopotamia
Just as much as the Native Diaspora, this parody shall pursue a parallel line with their brethren, both within and without Mesopotamia.
Resolution
The political spectrum of the parties that are at each other's throats, both within and without Mesopotamia, has been bleak, is in repose, and shall continue to render itself obsolete, as time goes by. This conclusion is based on the fact that neither one of them has the zeal nor the courage to acknowledge the necessity of unison under a Constitutional By-Laws and Regulations. Their never ending harangues, both in print and on the web against each other, or merely to dominate each other's decrepit political, but not ideological philosophy is an open and shut case for their failure to reach any national goal.
Just like the Ecclesiasts, the politicians wrangling is infantile at best, and immature at worst, since they never acquiesced the notion that 'unity derives from national decrees, and not from people's outrage.'
Today is the 31st Anniversary of 'The Assyrian Manifesto²'. This document alluded to an International Confederation of Assyrian Nation (ICAN). Assyrian political party of the time – as the only viable political movement – rejected it, and by doing so, today, that same political party, namely, the Assyrian Universal Alliance (AUA) has been broken like the Stock Market Chips into variety and insignificant political movements. Needless to add that the fragmented Kurdish tribal and political movements, converged into a single entity, thus, guaranteeing themselves a Statehood, if not today, in the near future.
Did the Kurds invoke 'The Assyrian Manifesto' – which was translated into Arabic, immediately following its publication?
And, just like the AUA of yesterday, and today, the other political parties are following the parallel footstep of mother of their political movement, and the only apparent conclusion reached is that they are united in one single element: 'DISUNITY'.
The torch of unity is in a Charter, a National Charter, and in the case of Assyria, an International Charter.
It is this Charter that can impose a perpetual unity of realm, and not a single party, nor a single individual, or a combination of both, can master that feat.
Conclusion
The political behavior of movements of Assyria is 'ab irato' [movement of anger]. Two days ago, while paying respects to the family of an active and illustrious acquaintance, who passed away, I said: "How sad, that we had lived in the same city for almost 30 years, but never saw each other, nor contacted each other."
Zowaa goes it alone, and it is entitled to its own platform and its own dictum. However, it also cannot, nor should it impose the same dictum onto other parties or individuals, that are within or without the borders of Mesopotamia.
AUA is still issuing a memorandum here and there as a reaction to events that have passed hands already, even though it has placed itself into the able hands of an astute and knowledgeable individual.
The AANF is wrestling with three-year-old name issue, and although it has retained its 'Assyrian' name in its logo, it is strongly imposing the virtues of its President and his subordinates to see such a name changed into a non-existent nomenclature.
Assyrian Academic Society, which responded two years ago to a query by this writer as to the reason of not inserting the newly published book 'Mount Semele' in its catalogue, stated that their agenda is with historical books, and not with novels. What a novel notion. This same organization is running a mock with political flirtations, and has a paid advocate to handle its political affairs in Washington, D.C.
The webs and print media raise everybody's eyebrows by insinuations, innuendoes and malicious personal attacks against Ecclesiastic or political leaders, namely the Patriarch, of the Apostolic Catholic Church of the East, and Mr. Yonadam Kanna, leader of Zowaa.
This is unforgivable. This is disastrous. As a matter of fact, this is treacherous, since we are presenting a nation, at its worst.
Last week, an article that was published in Zinda Magazine, was posted on the 'Assyrian Forum', controlled and censured by AINA, and its owner and editor, Messrs. Firas Jatou and Peter BetBasoo, who saw to it that it be removed, since the message was not to their liking.
Sober up from ab irato. Work in a framework of a Constitution³. Concentrate and foment an election of an International Parliament on an international suffrage basis that allows and respects all opinions, all philosophies, all ideologies, and all religious denominations.
1. (See 'Mount Semele', by Ivan Kakovitch.) Published 2002. Mandrill Press.
2. Ibid. (See 'Assyrian Manifesto'). Published, December 11, 1974, Washington, D.C.)
3. Ibid. Charter, Interim Committee for the Government of Assyria, ICGA. (Published, August 1, 2004, San Jose, CA).
Meet Miss World Canada 2005, Ramona Amiri
Courtesy of the Asian Pacific Post
7 December 2005
(ZNDA: Vancouver) The month-long Miss World contest is over and a new champion has been selected. Twenty-four-year old Assyrian winner of Miss World Canada and winners from108 other countries crowned Ms. World Iceland as the 2005 Miss World this week in China.
Ms. Amiri was a winner in two categories, Talent and Beach. In the Talent Category, she was the winner in one of the five subcategories and in the Beach Category she reached the semi-finals. Ms Russia won the Beach finals and later, based on the decision of the 10 judges Ms. Iceland was selected as the overall winner in all categories.
Ramona Amiri was born and grew up in Montreal. She moved to Vancouver in 1997 to attend University. She has an Honours Bachelor of Science Degree in Biology, and is currently working as a Medical Research Assistant Ramona is half Assyrian from her father's side of the family.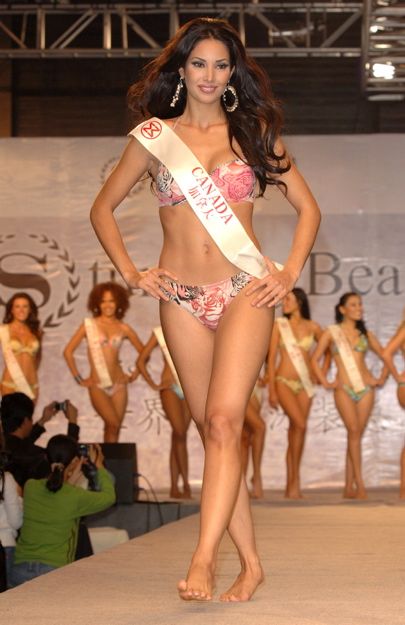 Ms. Remona Amiri, Assyrian from Canada, reached the semi-finals in the Beach Category at the Miss World contest in China this week.
Why did you decide to enter the Miss World Canada contest this year?
Miss Canada wins the traditional dance contest I entered the Miss World Canada contest to be part of an organization that was humanitarian based. I have always enjoyed helping others through volunteer work, research positions and as a medical assistant.
As Miss World Canada 2005, I have been very involved in fundraising and charity events and I'm looking forward to continue making a difference by devoting my life to helping others as a physician.
You were one of the top fundraisers in the charity component of the national contest. What's your secret to getting people to open their pockets to support 'Beauty With A Purpose'?
This year the charity of choice was the Canadian Cancer Society. Since literally tens of thousands of people are suffering from this disease, everyone knows someone close to their heart who is/was affected by it.
That being said, it wasn't hard for people to open up and give generously to a cause that they are so deeply touched by. Plus, I had a blast raising this money!
You've mentioned that you're very proud of your Assyrian heritage. Describe that culture for us, and say something in the Assyrian language.
The Assyrians are a very ancient civilization originating 7,500 years ago. Now, they are considered to be on the verge of extinction and have no country to call their own.
The Assyrian people are scattered throughout the world with the bulk of their population being in Iran and Iraq, where the empire once stood. They are Christians of somatic race and have their distinct foods, traditions, dances and language. "Shlama all chulokhun!" (Peace be on you all!)
Miss World 2005 is shaping up to be the biggest and best event ever put together. With over 110 other contestants, it's going to be a great competition. Who do you consider to be the big favorites?
I agree that it is going to be a great competition. I think everyone is someone's favourite and it's a matter of personal taste. All of the woman have an equal chance and they are already winners for making it this far. I can't wait to meet everyone and see an amazing range of beauty from all the continents, well, except Antarctica!
What are you most looking forward to about your trip China?
I have never been outside of North America (except for one trip to Iran when I was 12 years of age) and I'm extremely excited to tour China and learn about the history. I am definitely looking forward to visiting some of the most fantastic wonders of the world!
Canada has now won Miss Universe twice, but we still haven't brought home the Miss World crown. What do you think is essential that a Miss World should possess, and do you have it?
In my opinion a Miss World should possess a beautiful heart. She must be sincere, genuine, warm, dedicated and at the same time be strong and hard-working. I believe I have these qualities, and I hope to show them to the judges in Sanya.
Canada finished second in Miss World just two years ago after a nearly fifteen year of dry spell. Do you think you can bring home the title?
I would love to bring home the first Miss World title for Canada! I will do my very best and I will represent my country with pride and honour, and leave the rest up to the world to decide. And here's hoping that Canada can be the first country in five years to win Miss Universe and Miss World!
Who are some of the delegates you are most looking forward to meeting at Miss World, and why?
I am excited to meet all the beautiful delegates! Each will be unique, representing the beauty, the culture, the language and traditions of their own country.
Thank You
The following individuals contributed to the publication of this issue:
| | |
| --- | --- |
| Dr. Matay Beth Arsan | Holland |
| Sargon Donabed | Canada |
| Mazin Enwiya | Chicago |
| Nineb Lamassu | United Kingdom |
| Ara Sarafian | United Kingdom |
| Sam Shalala | Australia |
| Simon Yigit | Holland |
ZINDA Magazine is published every Wednesday and Saturday. Views expressed in ZINDA do not necessarily represent those of the ZINDA editors, or any of our associated staff. This publication reserves the right, at its sole discretion, not to publish comments or articles previously printed in or submitted to other journals. ZINDA reserves the right to publish and republish your submission in any form or medium. All letters and messages require the name(s) of sender and/or author. All messages published in the SURFS UP! section must be in 500 words or less and bear the name of the author(s). Distribution of material featured in ZINDA is not restricted, but permission from ZINDA is required. This service is meant for the exchange of information, analyses and news. Any material published in Zinda Magazine will not be removed later at the request of the sender. For free subscription to Zinda Magazine, send e-mail with your name, address, telephone number to: zcrew@zindamagazine.com.
ZINDA means "Spark of Fire" in modern Syriac (Assyrian); Zinda's Red Swoosh is a rendering of the seventh letter in the Assyrian alphabet, letter ZEN, and the first letter in the word "Zinda". For more information about the Assyrian culture and heritage write to Zinda Magazine.
Zinda Magazine™ Copyright © Zinda Inc., 1994-2005 - All Rights Reserved - www.zindamagazine.com