Volume XI

Office 202-349-1429 | zcrew@zindamagazine.com | Fax 1-415-358-4778

1700 Pennsylvania Avenue. , NW Suite 400 Washington, DC 20006 U.S.A.
| | |
| --- | --- |
| | Assyrian Women in Sweden Celebrate 25 Years of Progress |
Hang Together or Hang Separately
Wilfred Wong
Assyrian Police Officer Killed in Kirkuk
First Year Students at Mosul University Celebrate in Baghdede
Great Interest Displayed at Seyfo Conference in Vienna
740 Election Campaign Event in Toronto
MI Subdivision Tells Chaldean Family to Remove Baby Jesus
M+ Going Strong Despite Defeat
Assyrian Poetry Festival in Sweden
Assyrian Women Celebrate 25 Year Jubilee
Focus on the Elections, Not the Synod
Sound Policies of Zowaa
Iraqi Elections Are Irrelevant to Assyrian Rights
Our National Goal is Our Priority

Click to Learn More
ZINDA CALENDAR
ZINDA ARCHIVES

Lost on Location: Turkey and the Netherlands
Assyrians and the Iraqi National Elections of December 15
Fred Aprim
The Secret of the Apricot Tree
Arpine Harutiunyan
Hang Together or Hang Separately
Wilfred Wong
United Kingdom
On signing the U.S. declaration of Independence in 1776, Benjamin Franklin confirmed the urgent need for unity at that critical juncture in U.S. history with the reminder: "We must indeed all hang together, or most assuredly, we shall all hang separately."

If this saying has significance for any ethnic group today, it certainly has relevance for the ChaldoAssyrians. Today, the ChaldoAssyrian's continued existence as a viable community in its ancient historical heartland of northern Iraq is fragile and under threat. In northern Iraq, at least 60
ChaldoAssyrian villages have been illegally misappropriated by Kurds. Despite numerous requests to the dominant Kurdish political party, the Kurdistan Democratic Party (KDP), for the return of the villages, little has been done to correct this injustice.
In August 2004, bombings by Islamic militants against 5 churches sparked off a mass exodus of thousands of ChaldoAssyrians from Iraq, further weakening a community which had already lost many of its members to migration.
In January 2005 the KDP stopped the delivery of ballot boxes and papers to many ChaldoAssyrian areas in northern Iraq, preventing up to one hundred thousand ChaldoAssyrians from voting. During the referendum on the draft Iraqi constitution, Kurdish officials used fear, intimidation and vote
rigging in the Nineveh Plains in northern Iraq to prevent those who would have voted against the constitution from voting. The KDP reportedly transported non-resident Kurdish voters in a convoy of buses into the ChaldoAssyrian towns north of Mosul, accompanied by a large Kurdish militia,
which intimidated election officials at the polling stations to provide them with ballots to vote. The local population planned to vote against the constitution but was intimidated by the Kurdish militia's presence into staying home.
Iraq's ChaldoAssyrians are facing assaults from many different directions. There are the Kurds, especially the KDP and its followers, who covet ChaldoAssyrian land and appear intent on assimilating and Kurdifying the ChaldoAssyrians of northern Iraq and building a greater Kurdistan on what
has historically been ChaldoAssyrian territory. Then there are the Islamic militants, who want to Islamise the ChaldoAssyrians and pressure or force them all to convert to Islam.
The ChaldoAssyrians are also being targeted by insurgents and kidnappers, the former because of the mistaken perception that as Christians, they must be in league with the "Christian" Coalition forces, and the latter because of the misconception that ChaldoAssyrians are more wealthy than other
Iraqis.
It is a great and timely blessing to the ChaldoAssyrians that at this critical and dangerous juncture of their history, a ChaldoAssyrian political party which works hard for their unity and speaks out fearlessly for their interests actually exists. I am referring to the Assyrian Democratic Movement (ADM), which for some years I have worked with in campaigning for the rights of Iraq's ChaldoAssyrians.
I have campaigned for many different ethnic groups around the globe and for numerous Christian communities in the Muslim world, but never have I ever seen them organise themselves so well on a political level as the ADM has. My experience of working with ADM members is that they are well organised, very dedicated (even to the point of sacrificing their lives, as some ADM members have done), committed to the unity of the ChaldoAssyrian people and unafraid to speak out boldly for the interests of the ChaldoAssyrians.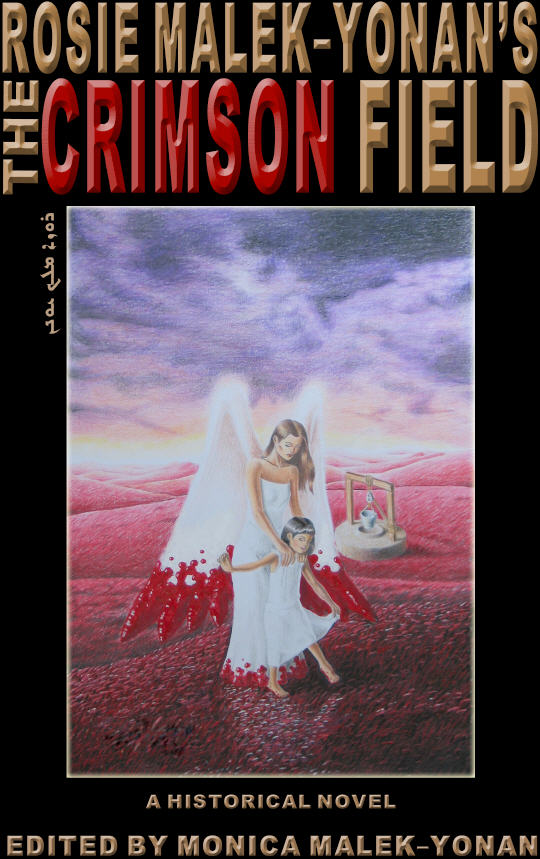 Tour Itinerary
December 3 & 10 - 9:00 a.m to 10:00 p.m..
Westfield Santa Anita Shopping Center
400 S. Baldwin Ave., Arcadia, California 91007
December 11 - 9:15 a.m. to 1:00 p.m.
St. Anne Melkite Greek Catholic Church
11211 Moorpark St., N. Hollywood, CA 91602
December 17 - 7:00 p.m.
Book Signing - Mar Addai Church Christmas Party
Assyrian American Civic Club of Turlock
2618 N Golden State Bl
Turlock, CA 95381
December 18 - 11:00 a.m.
Book Signing - Mar Zaia Assyrian Catholic Church of the East, 1457 Mable Ave.
Modesto, CA 95355
For More Information Click Here
These many admirable qualities which the ADM have are the sort of characteristics we all want to see in our political leaders and their parties. The ADM has proven its willingness to challenge the dominant
political powers such as the KDP, when ChaldoAssyrian interests are at stake. Sadly, the KDP has found it relatively easy to buy off some of the ChaldoAssyrians and to manipulate others into toeing the KDP line. By exploiting divisions within the ChaldoAssyrian community, the KDP has made
it easier for them to be dominated by the Kurds. This policy of "divide and rule" is one of the oldest and most successful political strategies around.
It appears that only the ADM has managed to stay completely independent from KDP control and manipulation. They have even argued fearlessly for an administrative region for the ChaldoAssyrians in northern Iraq, flying directly in the face of the KDP expansionist agenda. Especially in these
challenging times, what the ChaldoAssyrians desperately need is a party like the ADM, who are committed to the unity of the people and fighting for their interests, and are not simply being used as puppets by the KDP as has happened to some ChaldoAssyrians.
The ADM is also big enough in its vision to transcend the age old arguments over what names to use: "Syriac", "Chaldean" or "Assyrian". I have never before come across a situation similar to the ChaldoAssyrians, where so much precious unity, time and energy is lost over endless debates about what name to call themselves. This kind of division can be and has been exploited on numerous occasions by the enemies of the ChaldoAssyrians.
Arguing over names when the very survival of one's community is at risk is analogous to arguing over the arrangement of the deck chairs on the Titanic as it sinks. The tragic element of this argument is that the names which have resulted in so much division are rooted in denominational differences
between ChaldoAssyrians.
When Jesus started His church, He prayed that His followers would all be one and be in complete unity (John 17:20-23). The early church we read of in the Bible was not divided into denominations. John 17 reflects what is very close to Jesus' heart and this includes the unity of His church. How it must
pain Jesus to see Christians arguing over names because they feel their denominations are not being given sufficient recognition. I have come across a couple of ChaldoAssyrians who criticised the use of a particular name to describe his people. In frustration, I said to one of them, "If the ChaldoAssyrians keep arguing over what name to call themselves, ultimately they will be completely defeated and dominated by their opponents and then the only names they will get to choose for themselves will be Sunni or Shiite." Better to hang together behind the name, "ChaldoAssyrian", than hang separately from 3 scaffolds, one each, for the Chaldean, Assyrian and Syriac.
The ADM, to its credit, has promoted the unifying name, "ChaldoAssyrian", and stressed the overriding importance of unity, especially in the face of so many grave threats to Iraq's ChaldoAssyrian community. By refusing to simply follow KDP dictates the ADM is putting the interests of the ChaldoAssyrian community first, as any ChaldoAssyrian political party
should. Appeasing the KDP will only commit future generations of ChaldoAssyrians to even more KDP domination and exploitation.
The present generation of ChaldoAssyrians have a huge responsibility. Future generations will either praise them for safeguarding their community's future or blame them for contributing to the destruction of their community in their ancient lands. One key decision this generation has
to make, is to choose its political leaders wisely. After years of working with the ADM in campaigning for ChaldoAssyrian rights, I am convinced that the ADM is the best political party which can safeguard the future of Iraq's ChaldoAssyrians.

Jubilee Campaign is an interdenominational Christian human rights group which has worked with over 150 British Parliamentarians on human rights issues in countries all over the world. Mr. Wilfred Wong is the Jubilee's Researcher and Parliamentary Officer. Special thanks to the Mesopotamian Magazine for permission to reprint the above article.
Assyrian Police Officer Killed in Kirkuk
(ZNDA: Kirkuk) Sarmad Behnam Ibrahim, 31, a member of the Assyrian Democratic Movement and an officer in the Kirkuk Police Department, was murdered while on duty on 2 December. No further reports were received at press time.
First Year Students at Mosul University Celebrate in Baghdede
(ZNDA: Mosul) Ankawa.com and AshurTV reported this week that a Students Orientation Party Party to honor "the first year ChaldoAssyrian students attending Mosul University" was organized at al-Mahabba Hall in Qaraqosh (Baghdede) on Friday, 2 December.
Hundreds of ChaldoAssyrian students from Baghdede, Karamlesh, Bartelle, Alqosh, and Mosul attended the party and participated in the many games and folkore dances.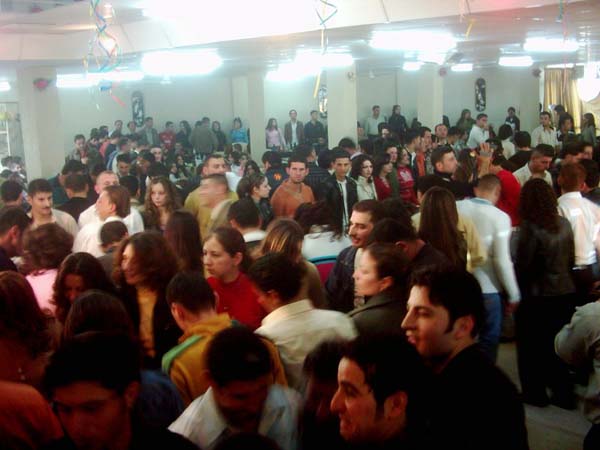 First-Year ChaldoAssyrian university students gather to celebrate in Beghdede, north Iraq.
Great Interest Displayed at Seyfo Conference in Vienna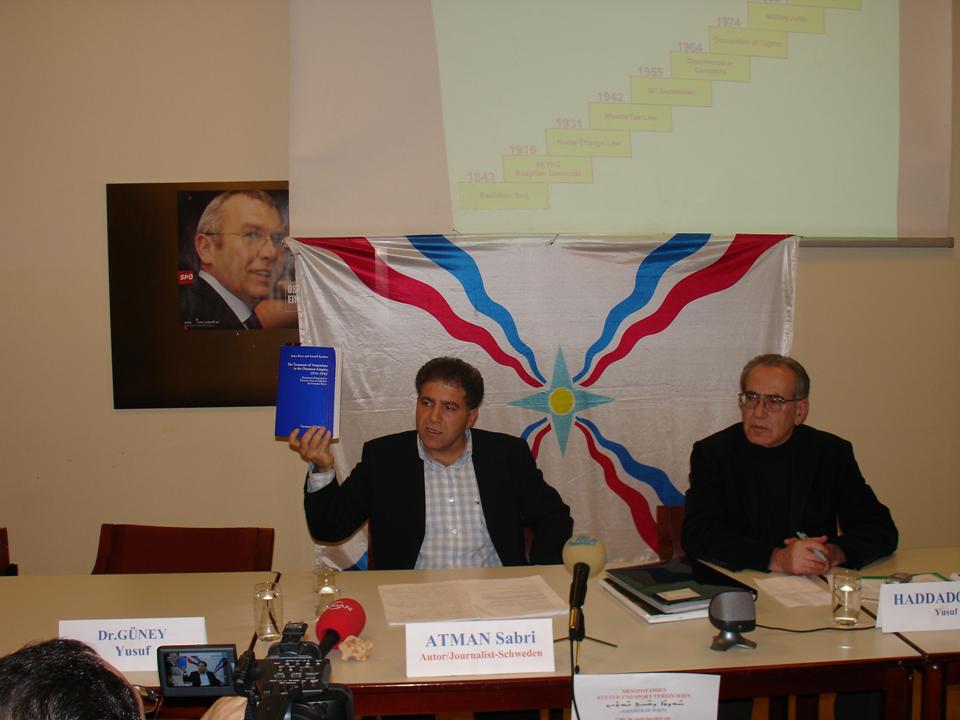 Mr. Sabri Atman (holding a book) and Mr. Yusuf Haddadoglu present at the Vienna conference on the Assyrian Seyfo (sword) Genocide of 1915.
(ZNDA: Vienna) Almost weekly, conferences and public discussions on the Seyfo Genocide of 1915 perpetrated by the Ottoman (Turkish) government, have been held in cities across the world, mainly in Europe. Different magazines and media outlets have also been keeping the public informed of the protests around the world. The messages given at these conferences and news outlets have been inciting reaction from many Turkish politicians.
The Turkish Minister of Foreign affairs Abdullah Gül, has showed his dissatisfaction by a protest letter to the French Government about a monument that was erected in France to commemorate the Assyrian–Chaldean victims.
Shortly after this Prof. Yusuf Halacoglu, Chairman of the Society for Turkish History, broke his silence after a long time and said in an interview with ANKA – press agency. " We know the activities of the Assyrian people and are well prepared for their attacks".
Sabri Atman, a well-known genocide scholar, holds almost weekly lectures about the Assyrian Genocide in 1915 throughout Europe. He also writes articles for many newspapers about the Genocide (Seyfo/Holocaust/Genocide) of the Assyrians .
He was invited by the Mor Ephrem Church of Vienna for a planned conference on the Genocide, on 27 November. For unknown reasons the conference was however called off. Thereupon the Assyrian Association (Mesopotamian culture und sportverein in Vienna) prepared a conference instead on 26 November. An unexpectedly large number of people attended this conference.
Sabri Atman explained the historical, political, and the psychological aspects and effects of the "Seyfo".
Turkish Media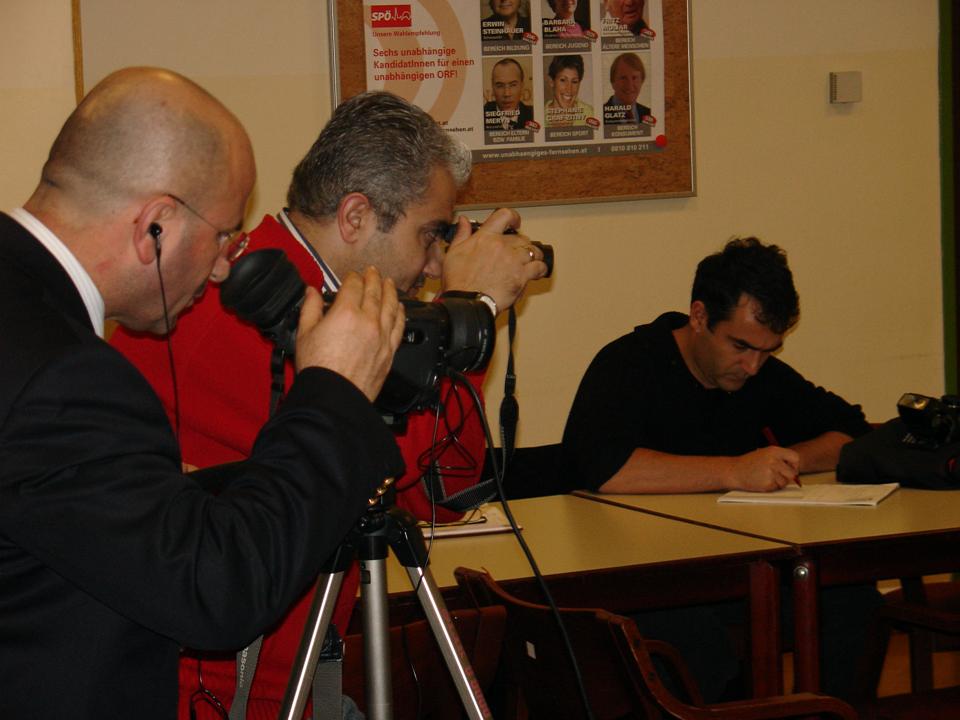 Turkish journalists meet with Mr. Atman prior to his lecture in Vienna.

Mr. Sabri Atman's lecture lasted approximately 2 Hours. Many participants were reminded of the hardships experienced during the Genocide and were moved to tears.

The conference also received the interest of the Turkish Media. Mr. Atman held a press conference before his lecture, to which many Turkish journalists were invited. Mr. Atman responded to their questions by providing facts and historic data.

In the name of the Mesopotamien Kultur- und Sportvereins Vienna Mr. Yusuf Haddadoglu gave the inaugural address and Dr. Yusuf Güney ended the conference with a closing speech, in which again he thanked for the interest and participants' show of interest.

740 Election Campaign Event in Toronto

Diklat Georgees, reporting for Zinda Magazine from Canada

(ZNDA: Toronto) On Sunday 27 November, the Canadian Chapter of the Assyrian Democratic Movement organized a campaign event outlining the political position of ADM in preparation for the upcoming Iraqi elections set for 15 December 2005.

With an audience of approximately 220 individuals, the informative event took place at the Edessa Banquet Hall in Toronto and included the following speakers:

Ramsin Benjamin: ADM Canada
Yousip Shikwana: ADM North America
Sheba Mando: Assyrian National Council of Illinois
Yonadam Youkhana: Slate 740 Campaign Manager of North America
David Enwiya: ChaldoAssyrian Syriac National Council of Detroit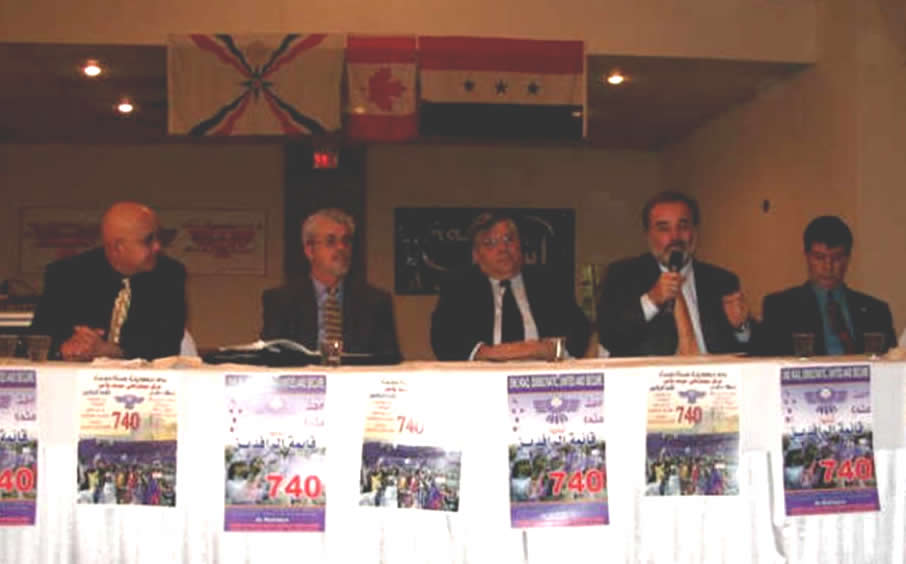 From left to right: Ramsin Benjamin, Yousip Shikwana, Sheba Mando, Yonadam Youkhana and David Enwiya.
Ramsin Benjamin presented general information regarding the campaign strategies used for the Assyrians Chaldeans Syriacs residing in Canada, this included the importance of voting, campaign funding and advertising.
Yousip Shikwana, provided detailed examples of ADM's "proven ability to lead our nation towards a hopeful future." He emphasized ADM's "major role and dedication in building a strong foundation through significant processes and achievements, such as the progressing educational institutions instilled to preserve our mother tongue and the strive for unity among our nation."
Yonadam Youkhana, the Campaign Manager informed the audience of the overall North American voting process. Sheba Mando illustrated his support for the 740 campaign through his own personal experience after visiting the homeland and witnessing the accomplishments and continuous work of ADM.
David Enwiya, encouraged the audience to vote for 740 by addressing the need in placing the name issue aside and "utilizing unity as the key formula for strength, stability and security of our nation."
The speakers presented an informative session which was later followed by responses to questions posed by the audience. The event can be seen this week on AshurTV satellite television broadcast.
Michigan Subdivision Tells Chaldean Family to get Baby Jesus off Lawn
Courtesy of the Detroit News
29 November 2005
By Jennifer Chambers and Brad Heath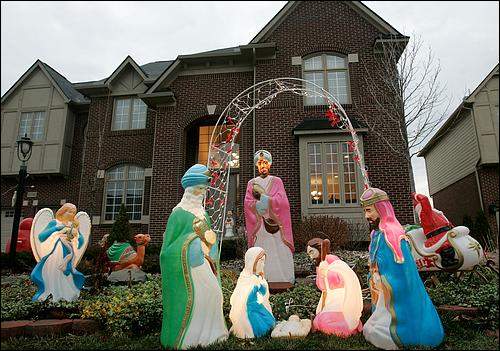 The multicolored nativity scene on the Samona family's front yard was under attack.
(ZNDA: Detroit) The multicolored nativity scene on the Samona family's front yard was under attack.
The Samonas' neighborhood association ordered the Novi, Michigan family to remove its seven-piece plastic display or face upto $100 per week fines.
The family did not budge and neither did their three wise men. The Samonas vowed not only to keep the display, but also threatened to enhance it."If you take this out, it's not Christmas anymore," said Joe Samona, 16, as he reached down and scooped baby Jesus from the creche on his parents' front lawn.
A letter sent by the association to the Samonas brought to their front yard the nation's latest skirmish over just how and where the Christianity of Christmas should be on display.
The homeowners association that ordered the removal of the nativity scene display last week sent a letter of retraction and apology.
Already this year, religious groups have taken aim at retail giants such as Wal-Mart and Target for replacing Christmas with fuzzier "holiday" greetings, to say nothing of the annual battles over local governments building nativity scenes in the public square.
DAVID YOUKHANA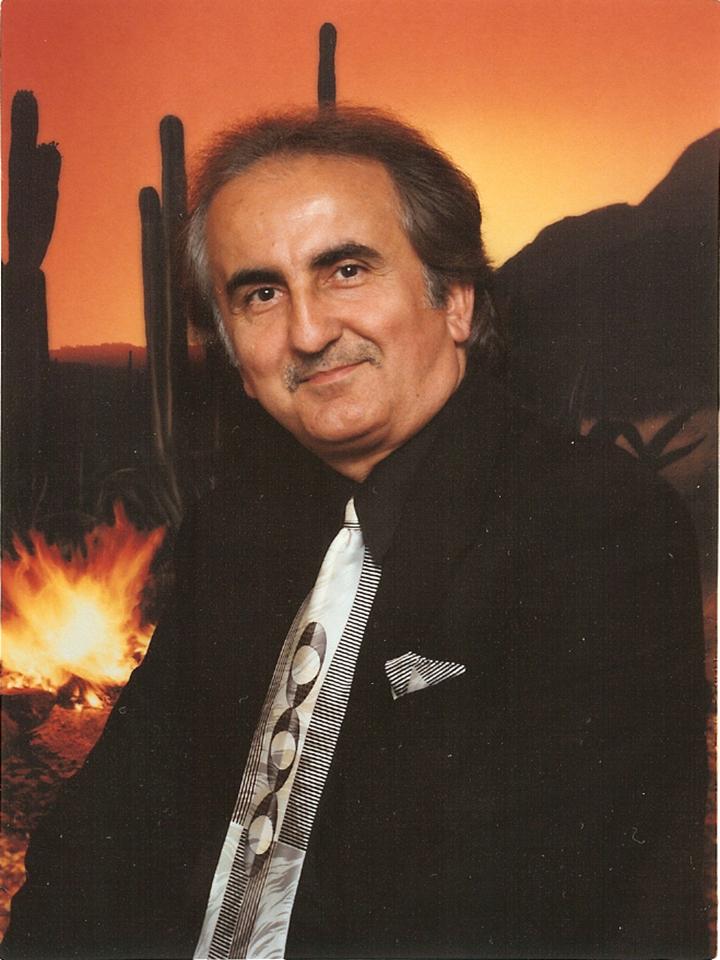 ARIZONA


Real Estate-Relocation-Investment
Associate Broker
Certified Commercial Sales Specialist
Realty USA southwest
Glendale, Arizona 85310
Click Photo For More Information
The dispute also reinvigorates the issue of what rights homeowners have to wear their beliefs on their front yards. When homeowners join neighborhood or condominium associations, Michigan courts have said they must abide by the rules the group sets. Early this year, for example, a judge said a Macomb Township veteran could not fly a Marine Corps flag from the front of his condominium because having it there violated association rules.
Last week, Joe's parents, Betty and Frank Samona, received a notice from the community association that sets regulations in their upscale Tollgate Woods subdivision. It said the family may be violating rules that prohibit lawn ornaments, statues or outdoor art from being placed on the lot without prior approval of the board of directors. Then it simply says: "Please remove the nativity scene display from your front yard."
Joe, an outspoken high school student, said the family takes great pride in the holiday decorations it pulls out of the basement every year, which also include a Santa and Mrs. Claus and Minnie Mouse and Winnie the Pooh outfitted in red for the holidays.
The family, which includes three other sons, lived in Southfield for 23 years prior to moving to Novi. The mother, Batoul (Betty), agreed with her son Joseph.
Every year for the last three years, Betty Samona set up the display the week before Thanksgiving outside her home near Meadowbrook and 12 Mile roads.
She said the display is important to her because it symbolizes what Christmas is about and it's a tradition for her Christian-Iraqi family.
"I cried when I heard what they wanted me to do," Betty said. "How I am going to take out Jesus, Joseph and Mary?" she said, near tears.
"I feel like putting out more things."
Family members said they have received nothing but praise and support from neighbors they know and from strangers who pass by and encourage them to keep the display.
Reports from Sweden by Afram Barryakoub
M+ Going Strong Despite Defeat
A report from Afram Barryakoub in Sweden
(ZNDA: Norrköping) On 26 November, during the third round of Junior Eurovision Song Contest, Sweden was represented by two Assyrians, Maria Chabo and Maria Josefson. Both girls are 15 years old and won Lilla Melodifestivalen as M+ (click here).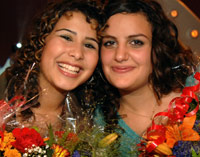 Maria Chabo and Maria Josefson of M+
Maria Chabo and Maria Josefson live in Norrköping, Sweden. They became close friends in the 7th grade and started singing and writing music together. They regularly perform at school and sing their own songs as well as cover versions.
Maria Chabo is the leader of a youth church choir. Maria Josefson likes dancing.
The Third Junior Eurovision Song Contest took place in Hasselt, Belgium, before a live audience of 8,500 at the brand new Ethias Arena. M+, to the dismay of their thousands of fans, did not win. They performed their winning song, "Gränslös kärlek" (Endless Love) in English (click here). The winner were Kseniya Sitnik from Belarus taking the title with the song 'We Are Together', ahead of second-placed Antonio José from Spain and Norway's Malin in third. Kseniya was presented with a trophy designed by local student Liesbeth Pieters.
A total of 71 artists from 16 countries took part in the contest this year.
The two and a quarter hour show, hosted by Maureen Louys and Marcel Vanthilt, included performances from Cirque du Soleil and María Isabel from Spain, the winner of last year's contest who already has released her second album, 'Número 2'.
The show's grand opening featured drummers, bungee jumpers and pyrotechnics and was developed by Dirk Decloedt, the man behind shows of superstars like Céline Dion. The stage was the largest ever used for the Junior contest and was lit by 100,000 LEDs to create the look and feel of a huge rock concert. Once again, the artists' Green Room was situated amid the audience.
Junior Eurovision 2006 will take place in Bucharest, Romania and will be organised by Romanian broadcaster TVR.
M+ and their fans were shocked by the results of the contest as the two Marias were very confident they would reach the top three spots. The defeat, however, has made the girls more determined in pursuing their goals: "We know we're good' it's Europe that has a bad taste", M+ reportedly commented to a Swedish magazine.
M+ has already been contacted by a music studio to produce their first CD in English.
Assyrian Poetry Festival in Sweden
(ZNDA: Södertälje) On 3 December the Cultural Committee of the Assyrian Federation of Sweden (ARS) organized a poetry festival at the Assyrian club in Södertälje. Fourteen Assyrian poets recited their poems in both eastern (Surith) and western (Suryoyo) Assyrian dialects. The festival, named the "Fraydoun Atoraya Poetry Festival", attracted some one hundred interested individuals. Dr. Atouraya was an Assyrian nationalist credited, along with a few other compatriots, for the Assyrian national movement at the turn of the last century. He was later arrested by the Russian government and killed in prison.
Nearly every poem recited dealt with Assyrian identity and the struggle for Assyria. The other subject of interest by a few poets was love.
The participating poets were: Michael David, Pauls Dinkha, Phinkhis Shamoun, Aziz Hawsho, Jalal Yaldiko, Dr. Gabriel Ousi, Michael Mammoo, Gabriel Afram, Hammurabi Bahe, Yacoub Chanko
Ashour Odisho, Sleman Galle, Najwa Kanon, and Sabri Isho.
Aziz Poli, one of the persons behind this initiative commented afterwards: "We have learned things on this day and we hope to arrange an even better poetry festival next year".
Each of the poets received a book on the Assyrian culture and a little medallion.
The crowd expressed appreciation for the festival, but also remarked that it was somewhat too long. Later in the evening the attendees enjoyed a party featuring musical performances by Babylonia and Ninsun Poli.
Assyrian Women Celebrate 25 Year Jubilee
(ZNDA: Södertälje) On 4 December the 25-year jubilee of the Assyrian Women's Association was celebrated at the Assyrian Cultural Club in the Assyrian stronghold, Södertälje, Sweden.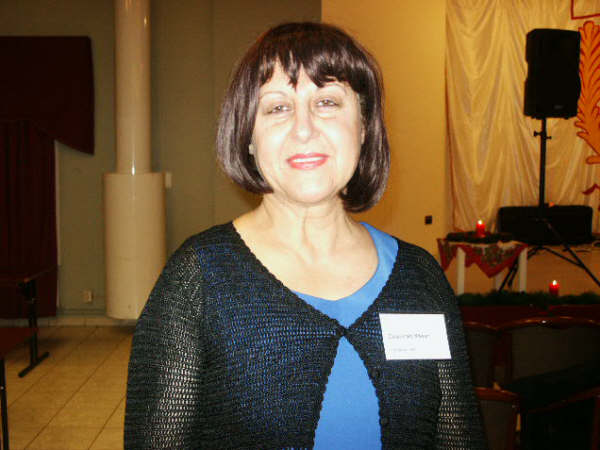 Chamiram Khouri
Twenty five years ago a few Assyrian women established an association by and for Assyrian women in Sweden. Today, the Assyrian Women's Association of Sweden (AKF) is the largest women's association for the Assyrian women in Europe with some four thousand members.
The Assyrian woman of the year was also announced at this event, an honor given this year to Ms Norma Bahe–Saadi. The current chairwoman of AKF, Ms Chamiram Khouri explained why Ms Norma recieved the prize: "Norma Bahe–Saadi is one of our best known ladies who has worked secretly in Assyria.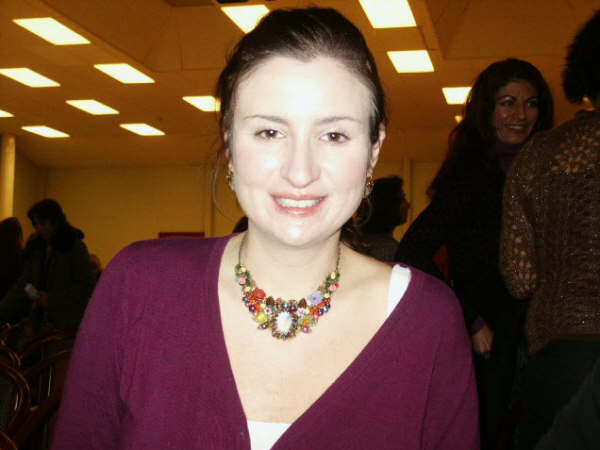 Birgitta Olsson
When her husband, Mr. Bashir Saadi, was arrested and tortured by the Syrian police I asked her how she was holding on and she replied "I feel fine; we have to be arrested and tortured. If we are not arrested and tortured it will not be known that we are working for our people, we have to give sacrifices". And when I called her recently and told her about the prize she was overwhelmed but at the same time she said " I don't know if I am worthy of this prize".
Birgitta Olsson, a well known Swedish feminist gave a well received speech and demonstrated her impressive knowledge of the Assyrians .Birgitta, who is currently working on a study on gender issues among Assyrians said: "It was very nice to be here and see how many well-educated and intellectual Assyrian women there are. Clearly, there has been a tremendous transformation for assyrian women during those twenty five years."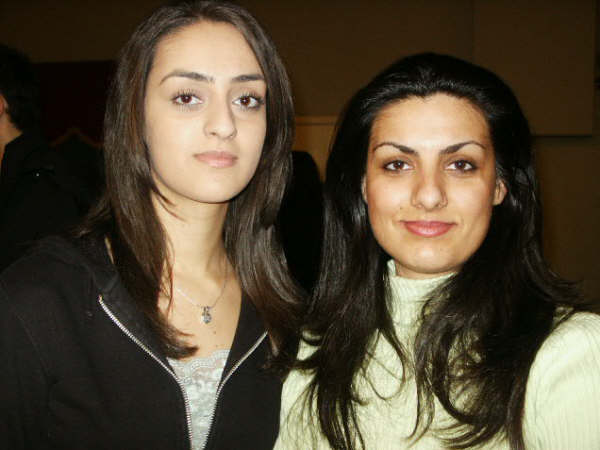 Izla and Ninive
Many attendees including, Izla and Ninive, two young Assyrian women at this jubilee event, said they appreciated Birgitta Olsson's speech. They commented: "We think there are Assyrian women who are oppressed by their men, but we hope this will change with the new generation."
The celebration included song performances and the recitation of a few poems.
Focus on the Elections, Not the Synod
Professor S. Osipov, MD, PhD, DSc.
Russia
The discords in the Church of the East are normal, since they were imminent for a quite a while. As soon as the Assyrian world starts seeing some progress in the national political movement, our Church falls into a state of shock. This is due to the fact that for 2000 years the prelates of our Church controlled the spiritual as well as temporal power. Now they are afraid of losing control over the temporal domain, as above all this means revenue. That is why the apologist of the Holy Synod in fight against Mar Bawai Soro is Mar Meelis Zaia who, as we all know now, is a prominent businessman and an expert in financial machinations.
Our people: Assyrians, Chaldeans, Syriacs have to understand that nowadays we can only preserve our national identity through politics. We all have been, are and will always be Christian and we should not care how our hierarchs will divide their positions. The only important thing for us is to follow God. Leave the conflict in the Holy Synod to those who only think of their own well-being and not of the well-being of their people.
This is not the time for this! It is a question of life and death for our people at our historical motherland. All our attention should be concentrated on that. I am asking, first of all, the editorial board of Zinda Magazine to pay maximum attention to the upcoming elections on December 15, 2005 and to ask all our fellow Assyrians to participate in the elections and vote for 740. ADM is a real force, trying to protect the interests of our people in Iraq.
As for His Grace Mar Bawai Soro, I am asking him to agree with the decision of the Holy Synod to be transferred to Russia. He is such a great intellectual and very intelligent person; it will be wonderful to have him in Russia, in a country with such intellectual power.
Finally, I would like to say that for many years I have been collaborating with Mr. Sargon Dadesho. Believe me his days are over. Today all he dreams of is the crown of Sargon III. Give him this toy and let him be happy. May be then he will stop pouring out dirt on ADM.

Translated from Russian by Nina Georgizova.
Sound Policies of Zowaa
Bailis Yamlikha Shamun
North Carolina
I enjoyed reading Dr. Edward Odisho's in-depth analysis of the political realities of the region and the Assyrian Democratic Movement's ideology and its implications - Issue 63, November 30, 2005. To have a political party that is recognized not only by the Iraqi government and institutions, but also by those of the neighboring countries (indeed even by the US authorities) is a new phenomenon among our people, and reflects well on ADM and its strategy and manner of operation.
ZOWA'A has managed to successfully stress our rights while maneuvering to maintain balance by developing and promoting relationships with others on the scene. These are signs of political maturity and should be rewarded by people of goodwill. To me, two of ADM's most important achievements have been its attempts at uniting the many segments of our people, and the establishment of some thirty or so schools to preserve our language. The benefits of this very sound policy will positively affect future generations for a long time to come.
The Assyrian Democratic Movement (ZOWA'A) has earned and deserves the moral and material support of our AssyrianChaldeanSyriac people. It is the only one of our groups that has the material and manpower resources, the organizational requirements, and the political recognition and sophistication needed to produce the desired results.
Iraqi Elections Are Irrelevant When it Comes
to Assyrian Rights
Jonathan S. Davidson, M.D.
California
We are currently being bombarded by political propaganda regarding various slates supported by Assyrian political groups. The fact is hat the largest Assyrian population in Iraq , 'The Chaldeans' under direction of their religious leaders have exhibited no interest in securing any national or self governance rights . The remaining Assyrian population cannot secure enough votes to elect representation of any significance in the future Iraqi parliament. Despite these fundamentals the war of words between the competing factions rages on.
It is not expected that any Assyrian elected member of the Iraqi parliament will formally demand Assyrian national rights in the current security environment in Iraq. Such a demand will surely mean a death sentence which most likely will be carried out by the current occupier of Northern Assyria. Those of us who reside in the safety and security of the 'civilized west' cannot in good faith demand that the residents of occupied Assyria publicly and aggressively pursue Assyrian national rights with no risk to ourselves.
Securing a seat in the Iraqi parliament , while not attainable by most Assyrian political factions, is a prerequisite for continued survival of the Assyrian Democratic Movement (ADM). The ADM infrastructure benefits from the icon of a visible leader, who as a member of parliament creates photo opportunities which translate into influence in the Assyrian community. The leader of ADM, as a member of parliament, can also maintain a loyal following by granting favors and providing employment.
It appears that the neither ADM nor any other Assyrian political party is capable of securing any sort of meaningful national rights for Assyrians in Iraq. The sole beneficiary of the parliament seat will be the ADM and not necessarily the Assyrian nation. The current fight amongst Assyrian political groups in reality is not about securing a homeland or a province for Assyrians as we are lead to believe by all parties, but it is about the ADM attempting to maintain it's infrastructure and about it's opposition which is trying to destroy it.
Our National Goal is Our Priority
William Aprim
United States
Please receive our best wishes at this important time of the year, upcoming Christmas and the new year.
Fluent in Assyrian

COMPLIMENTARY

1-Year Home Warranty Plan
Home Buyer's Pro Inspection
Fall-Time Cleaning Service

Call for details - Gifts not to exceed $1,000.00 - Provided at the close of escrow.

25101 The Old Road
Santa Clarita, CA
Direct: 661.284.5097
Cell: 661.645.4290
Yahoo ID: LindawithREMAX
lbadalof@sbcglobal.net
As Assyrians and Christians we go back some times to a lot of thorough thinking about our roots, trying very hard to reconstruct what is being destroyed and long neglected. As history has dictated to us, such outlook is very thoughtful, resourcefully and healthy to the eyes and ears of our young generation, especially at times like today. Unfortunately, our religious leaders choose not to enlighten and make progress in this direction, but rather got tangled into meaningless selfish issues and confrontation about old in-updated standards that serve no purpose other than creating what we have today. Tens of thousand dollars have been spent for the recent Assyrian Church Synod, the time of which was carefully chosen and its deliberations pre-cooked. Despite the tireless efforts and pleas by certain intellectuals, historians, social and religious groups, who tried to convince the His Holiness Mar Dinkha, Patriarch of the Assyrian Church of the east, to maintain good wisdom, and preserve the wish of his Lord Jesus,, the Church decision came roaring anger and frustration against the wish of the real people, the faithful, who fall numb with misapprehension.
What worries most is the center of this whole issue, the National goal, which is today receiving no support and blessing from our prelates, in general. What is more glory and holy to us this time other than our concern about our legitimate human rights in Iraq? Is it a sin to preach about unity and helping the struggling sons and daughters of this nation who are working tirelessly, day and night, to find solutions and means to gain our national rights? Is it unholy to speak about the destruction of our land, homes, properties, and unlawful takeover of our land by the kurdish invaders? Is it unholy, or satanic, to reject being called Arab or Kurdish christian? Is it unholy to speak about the welfare of our poor AssyrianChaldeanSyriac people who were driven out away from their lands, homes, in the north of Iraq, as a result of the old regime's atrocities, and the fear from political unrest in the area?
Thousands of families are now living in the neighboring Arab countries like Syria, Jordan and Lebanon. Fierce winter conditions are approaching, as most of these people are living under conditions that are unacceptable to any conscientious person whether in politic or religious arena. This particular concern must be called holy and must be heard loudly in our daily prayers, and not smearing with dirt the dignity of those who are calling for unity, preserving peace and dignity of our people in Iraq.
In closing, we call upon the faithful, sons and daughters of this great nation, to be patient, alert and watchful for the preachers of evil who are working hard and trying vainly to destroy our well structured comprehension of this new beginning that is holding us together. We must be stronger that satan for we know that our Lord is among us because we honor and advocate his wish and teaching to remain faithful to his love for peace and unity among all people regardless of their religious inclinations. We must believe and work for one people, united, one nation, Assyria.
Lost on Location: Questioning Culture, Religion and Identities across Turkey and the Netherlands
Graduate Student Workshop
December 14-19th, 2005
University of Amsterdam, the Netherlands
Over the last decades the term culture has achieved an unprecedented popularity in terms of organizing daily lives, providing ground for political mobilization, and becoming a significant analytical concept in a number of academic disciplines. The accelerating pace of the globalization process and problematization of the meta narratives of modernity have created a space in which the discourses on "authentic cultures of people" could emerge all over the world. Part and parcel of the "return to the roots" movements has been religious revivalism in both Turkey and the Netherlands. The attempts of diverse Muslim groups to achieve recognition and representation through cultural politics of difference have paved the way for challenging and negotiating 'secular' norms and values. These developments point to a crisis of Turkish and Dutch secular national identities in terms of representing the totality of Turkish and Dutch citizens.
Multiculturalism's recent fall from grace in the Netherlands and ensuing debate over the compatibility of 'Muslim identity' with 'Dutch norms and values' take place concurrently with EU's pressures on the Turkish government for introducing legal reforms that expand political rights of the minority groups. In both countries the unsettling of former certainties is influenced by transnational processes such as migration from Turkey to the Netherlands, EU integration, and traveling of signs and concepts through globalized media. These processes have been conducive to the destabilization of former identities and boundaries, together with the generation of new ones based on imaginaries that extend beyond national boundaries.
"Lost on Location" is an attempt to come to terms with recent processes in Turkey and in the Netherlands, inducing the destabilization of former boundaries between social groups and the repositioning of centers and margins that have engendered the formation and codification of new identities –secular, religious, national, subcultural, or transnational.
Among the speakers at this workshop is the Assyrian student, Mr. Nicholas al-Jeloo from Leiden University. Mr. al-Jeloo will be discussing "The Dilemma of Turkey's Assyrians: A minority Caught Between Homeland and Diaspora." His presentation is scheduled for Wednesday, 14 December, during a workshop between 10 am and 12:30 pm.
Assyrians and the Iraqi National Elections of December 15
Fred Aprim
California
Introduction
People sometimes ask me, why do you bother wasting so much time writing articles when people do not even care?
First, I tell them, the time I put into these articles is an investment and never a wasted time. Second, our people do care; but they show it when they see something that they could relate to, believe in, or issues that touches them profoundly. This is why sometimes I spend as much as two whole days writing some of those articles in Zinda; because I know that people do read them, they do care about what is happening to our people, and in some instances learn a thing or two. Some might not agree with what I present in my articles, and that is okay.
Today, I want to come to you and talk about one of the most important issues facing our people at this stage of our modern history and that is the elections in Iraq.
On December 15, 2005, Iraqi voters will elect a new Iraqi Parliament. There are 307 political entities and 19 coalitions registered to contest for the 275 seats in the future parliament (Council of Representatives). This will be the third time this year that Iraqis will have gone to the polls. On January 30, 2005, Iraqis elected a Transitional National Assembly (transitional parliament). One of the responsibilities for that parliament was to write a draft constitution of Iraq. Iraqis approved the resulting document in a referendum held on October 15, despite the clear objection of Sunni Arabs and many Assyrians because of certain articles that were unfair to our people.
This new elected parliament will run the Iraqi affairs for the next 4 years, while the January 30 parliament was temporary. Therefore, the importance of these elections goes beyond saying.
Slates Represented by Our People
Here are the slates (lists) that include individuals who will represent our people:

A) Slate 740 – al-Rafidayn
The list includes almost 80 candidates from the Assyrian Democratic Movement (ADM), ChaldoAssyrian Syriac National Council, various civic societies, and independents. The list is headed by Mr. Younadam Kanna and includes many notables such as Louis Qlemis, Sarmad Ishaq BiDawid, Dr. Ricardos Yousif, Prof. Hanaa' Emmanuel al-Qas, and attorney Majdi Nabil Khadurri.
The 740 slate will compete throughout the 18 Iraqi provinces:
In Nineveh, led by former Minister of Migration and Displacement, Pascale Eshao Warda, and including Behnam 'Aboosh Abd al-Masih, Duraid Hikmat Tobiya, and Sliwo Masious Sliwo.
In Arbil, led by the current Minister of Science and Technology, Basima Yousif Potrus, and including Nadir Moshe Murad.
In Kirkuk, led by former Deputy Governor, Sargon Lazar, and including Lu'ai Mikha Elias, Mrs. Dolphin Aprim Gorial, and attorney Ashur Yalda Benyamin.
In Dohuk, led by Nisan Mirza, the head of the Assyrian Cultural Center, and including Riyad Girgis Baddi, and Mrs. Fadiya Karim.
In Basra, led by George Ishaq, Chief Editor of Bahra.
In al-Anbar, led by Mrs. Janet Rasho.
B) Slate 752 – al-Nahrain Watani
Includes these groups and individuals:
Bet Nahrain National Union (led by Gewargis Khoshaba Michael).
Chaldean National Congress (led by Fo'ad Rahim Bodagh).
Assyrian Patriotic Party (APP) (led by Nimrod Baito Youkhana).
Suryan Independent Gathering Movement (led by Yashoo'a Majid Hadaya).
Chaldean Democratic Forum (led by Sa'eed Shamaya).
Hikmat Hakim, as Independent.
Certain of the above people were previously members of the Iraqi Communist Party. Of course, Communism rejects exclusive ethnic nationalism. I am puzzled here. How could people who believed in Communism switch from denying ethnic nationalism to cherishing it over night and defending Chaldean nationalism, for example? Many of these groups did not exist before the fall of Saddam in 2003.
C) Slate 800 – the General Assyrian Congress of Eshaya Eshoo.
Eshaya Eshoo was a member of the Assyrian Universal Alliance (AUA). He later split and formed the AUA-Political Arm, a group which dissolved with time. He represents himself and few members of his tribe and relatives. One of the supporters of this group is Sargon Dadesho and his AssyriaSat television. Eshaya runs the Social Club in Chicago. The list includes these as its candidates:
In Baghdad -- Wilson Gabriel, Liza Nisan, Bahram Zaya
In Kirkuk -- Bassam Matti, Benyamin Nisan, Alice Nisan
In Mosul -- Edwar Hanna, Najib Hanna, Basima Zarko
In Dohuk -- Hani Endrawis, Habib Sa'eed.
D) Slate 620 – Mithal al-Aloosi List for Iraqi Nation
This includes the following groups: The Iraqi Federalist Gathering and the Iraqi National Party
While I respect Mithal al-Aloosi as an individual for his liberal views on Iraq as expressed on many media outlets, the fact remains that he will succeed to win a position for his slate in parliament from the many of the good and moderate Iraqi voters. His views are healthy, but Assyrians with their small numbers compared to the rest of the Arab and Kurdish Iraqis cannot afford to cast their vote to his group. Mr. al-Aloosi is guaranteed a position in parliament from the moderate Arab voters. We must vote for slates devoted for and by our own people first, since the Arab Shi'aa will support Shi'aa slate, the Arab Sunni will support Sunni slate, the Kurds will support Kurdish slate, and the Turkoman will support Turkoman slate. After Mr. al-Aloosi wins his seats, he and the Assyrians could cooperate in the parliament.
Two Assyrians are running on this slate:
Dr. Shimon Khamo. Earlier Dr. Khamo was a member of the Bet Nahrain Democratic Party (BNDP). He then formed his own group after his legal problems and the lawsuit by the BNDP of Sargon Dadesho. He joined other groups and became the Vice President for External Affairs with the Hizb al-Ahrar wa al-Ta'akhi al-'Araqi (Iraqi Liberals and Fraternity Party). However, Dr. Khamo and ten others in the party had their disagreements with the president of the party, Mr. Hussein al-Mosawi, and the 11 members resigned on October 28, 2005. After deliberations with Mr. Mithal al-Aloosi, the 11 individuals joined al-Aloosi and his list # 620.
Jacklin Zomaya (ran on the Kurdistani slate in the last election).
E) Slate 798 – Jabhat al-Khalas al-Watani (National Salvation Front).
It includes the Democratic Reconstruction and Justice Party and the Nasiri Forefront Socialist Party. The latter is a Pan-Arabist movement.
I understand that there is a member of the Bet Nahrain Democratic Party on this list. The name of that individual is unconfirmed. However, AssyriaSat did ask the viewers to vote for either 800 or 798.
F) Slate 730 – Kurdistani slate.
The only person that counts on our people and who is part of this slate is Abd al-Ahad Afram Sawa. Abd al-Ahad is a member of the Kurdistan Democratic Party (KDP) and has been for years. He has commitment to the KDP and continues to work for Kurdish goals in parliament. He secured his seat in the current parliament, which will dissolve after the new elections.
G) Slate 667 – al-Jabha al-Iraqiya li al-Hiwar al-Watani (Iraqi Front for National Dialogue).
This slate is joined by the Iraqi Christian Democratic Party of Minas al-Yousifi. Minas, who lived in Sweden, stated in an interview on al-Jazeera Arabic International Satellite TV station on July 1, 2003 that there was no difference between Christians and Moslem, or between Kurds, Chaldeans or Assyrians, etc. He rejected the leadership of the ADM in Iraq and claims that he is an umbrella for all Christians of Iraq. Some claim that he had allegiances to the Iraqi Communist Party and more recently to the Kurds and Masoud Barazani.
Why Should We Vote?
After the conclusion of World War I in 1918, the surrender and defeat of the Ottoman Empire, and the decision of the partition of that empire, the Assyrians (AssyroChaldeans or ChaldoAssyrians) and their case was on the agenda of the League of Nations in 1919. The Treaty of Sevres of 1920 instituted specifically the Assyrians (under the AssyroChaldeans title) and their rights in the post World War I political Middle East scene. Of course, in 1920 in Sevres, the defeated Ottoman Sultan was doing the negotiations with the victorious Allies. Sadly, the treaty was replaced by the Treaty of Lausanne of 1923, which was negotiated by Kamal Attaturk's powerful new government in Ankara who refused to comply with the Treaty of Sevres signed by the weak then Sultan in Istanbul.

During the preparations to end the British mandate on Iraq in 1932 and the admittance of Iraq into the League of Nations, the Assyrian question was again addressed by the League. Patriarch Mar Eshai Shimun tried hard to convince the League to bring the Assyrian claims to a mutual satisfaction of all parties involved. The League commission recommended specifically that the Assyrians must be settled homogenously in northern Iraq, i.e., some sort of an enclave and administrative area for the Assyrians; however, the British had other plans for Iraq. Since then, the Assyrian issue has been put of the shelves until the fall of Saddam's regime. Today, the Assyrian case and their rights for an administrative region similar to the Kurds is open again and is being discussed by the powerful nations. Many of us might not be aware of such thing. Many of our real leaders in Iraq might not be talking about it publicly because the time is not right to do so. However, the Assyrian case is alive. We must keep it that way. How, one might ask? I say through voting.
We must vote. This is the only way that we could tell the world that we exist. We cannot afford letting the world assume that we are only 50,000 around the world since that is the total number of votes our people cast in the January 2005 elections. We cannot demand greater things with a population of 50,000. We must show the world our true numbers and the only way we can do that at this time and with the lack of reliable census in Iraq is by voting.
If we do not vote, we do not exist politically. It is that simple.
Whom for Should I Cast my Vote?
That is a good question. To me, there is nothing simpler than this to answer. All that a person needs to do is to be objective and truthful with him/herself. Lets look at the slates above and the names of the candidates and ask ourselves after considering all that is around us, the complexity of the situation, and our real abilities: who, besides talking, has been there for our people in Iraq in the last 25 years? Who, besides talking, has accomplished anything for our people in Iraq in the last 25 years? Who was the first to put in motion the unity process, emphasized on its importance, and organized a conference in October 22-24, 2003 to bring our people together? Today, everybody wants to use that same concept of unity and that the Syriac-speaking Christians are ONE people as a powerful tool in their election campaign. The ADM envisioned the urgency of unity and sought it genuinely because it realized that we could not prosper in future Iraq if Chaldeans, Nestorians, and Jacobites did not come together again and forgot their sectarian divisions. Most importantly, whom do our people in Iraq really support, which was reflected in the past elections? The answer is clear, the ADM.
The Credentials of the ADM
The ADM has been struggling for Assyrians on the ground in Iraq since 1979. The ADM was part of the Iraqi opposition groups meetings in Beirut, London, New York, etc. Most importantly, and under the Iraq Liberation Act of 1998, President Bush and the United States government recognized the ADM as a legitimate and democratic opposition group through Presidential Determination No. 2003-05. Why didn't President Bush recognize BNDP or APP for example? Because the Americans know very well who is behind the real Assyrian force in Iraq. The ADM participated in the 15-Member Iraqi Governing Council, in the first Iraqi transitional government of Ayad 'Alawi, and later in the transitional elected government of Ibrahim al-Ja'afari. More recently, the Arab League and its Secretary General Mr. 'Amro Mousa invited many Iraqi delegates, representing notables, parties, movements, and organizations to attend the Iraqi Dialogue Conference in Cairo and the ADM was there as it received a direct invitation.
You see the world is making it clear who has the experience, legitimacy, and is in the leadership position to lead the Assyrians in this critical transitional period.
Why is the ADM on a Separate Slate of 740?
Efforts were made to have all of our people in one slate; however many reasons prevented such efforts to materialize. Certain Christian personalities tried to link that proposed united slate to Christianity and to our church leaders. That was a dangerous path for the Assyrians to follow. In addition, there were disagreements on the principles by which this proposed cooperation was to be achieved, how they perceived our history, and the path this new united slate was to take in the future Iraq. Furthermore, certain of our people from abroad demanded high position in the proposed united slate even when they have no support in Iraq. As far as not being part of any Arab or Kurdish slate then the ADM made it clear that its slate takes pride in representing the Assyrian Chaldean Suryani people as a distinctive ethnic group and part of the Iraqi mosaic and not just as a Christian group. This stand has gained the ADM the admiration of many Iraqi secular and liberal groups.
Why Vote for the ADM and Slate 740?
How does one prove himself? Cheating the Assyrian people through empty talk will not work. When a group wants to prove itself and its legitimacy, it must persistently prove it through its deeds over the years. For example, if Bet Nahrain Democratic Party (BNDP) and Sargon Dadesho do not approve of the ADM, its policies, and its activities, then Dadesho must show what he and his group have achieved in the past and what is their national agenda. More importantly, he must show what steps he and his group have taken to achieve whatever it is that they are set to accomplish. However, what we have seen, and for two long years, are continuous attacks, smearing campaign, swearing, and bad mouthing of the ADM and its leadership through AssyriaSat, the mouthpiece of Mr. Dadesho. Is this how one proves that he is working for the Assyrian people? I say, show us what have you done. Prove that your achievements, if any, are better than those of the ADM. We must not just attack while doing nothing because we cannot win the support of the people that way. Putting others down and belittling them does not mean that one is better.
One cannot deceive the Assyrian people any more, not in this day of the Internet. This is not Biblical times. Genesis 27 describes how the near death and blind Isaac asked in privacy his first born son Esho for savory meat, which he loved, and promised him his blessings and how Esho went out to hunt for venison. It described as well how Rebekah overheard that talk and told her favorite son Jacob to bring back two good kids of the goats meat, then made Jacob feel like a hairy person like his brother Esho, took goodly raiment of Esho and put them on Jacob, and then sent him off to meet his father pretending to be Esho. Issac was deceived and he gave his best blessings to Jacob. The Assyrian people will not be deceived because they are not blind and they can see who is accomplishing what, who is really on the ground and giving one martyr after another for the Assyrian cause.
AssyriaSat and Sargon Dadesho on Tuesday, November 29, 2005 questioned that the two Assyrian members of the ADM who were pasting election campaign posters on a wall in Mosul were murdered. Dadesho stated that the photo showing the attacked white car the Assyrians were using was fake.
Do we not fear God any more? Have we lost all decency and honor?
What is wrong with the Assyrian groups? Why are they so against the ADM? Why don't they just do their thing and prove themselves to the people?
Before I proceed, allow me to use the Bible again. Genesis 37 explains that Israel loved Joseph more than any of his other sons, because he had been born to him in his old age and that he made a richly ornamented robe for him. When his brothers saw that their father loved Joseph more than any of them, they hated him and could not speak a kind word to him. Then Joseph told his brothers how he saw in his dream that he would reign over them and they hated him more. Finally, when Joseph was in the field with his brothers, they stripped him of his beautiful coat and later sold him to the Ishmaelites for 20 pieces of silver who took Joseph to Egypt. We then read how Joseph became powerful in Egypt and how his brothers did indeed bow for him later in Egypt.
In Dora, Baghdad, and according to a report posted on www.ankawa.com a supporter of slate 800 hired three Arabs and paid them 15,000 Dinars each to paste the posters of slate 800 over the posters of slate 740, when there was enough space on the same wall to have the posters pasted somewhere else.
Why are the Assyrian political groups putting the ADM down and conspiring against it? Is it because the ADM is the only group that is truly accomplishing something and whom the Assyrian people in Iraq support more than the rest of them combined and more?
My fellow Assyrians,
The people are very much aware of who is really struggling on the ground in Iraq. They have spoken in the previous elections when the slate of the ADM won far more votes from all other Christian groups combined. The people will bless those who are doing the real work and they will translate that blessing through their vote for the slate that represents true unity in its ranks and file and to the slate that truly struggled for our progress and better future. While many other candidates joined non-Assyrian slates to guarantee a free ride to parliament through the large Arab or Kurdish voters, slate 740 is depending on the vote of our own people. This is were the ADM gets its strength. Those on the non-Assyrian slates have obligations to the programs of their corresponding slates. This is logical. Meanwhile, slate 800 whose supporters won some 7,000 seats in the last elections are destined to repeat that result according to all analysts. Even if they gained 10,000 votes, it will not be enough to secure a seat in parliament. My question to those truly patriotic Assyrians who are supporting slate 800, why waste your vote if you know that you cannot win? Why not empower the slate that proved to be a winner in the previous elections? Would you just waste your vote rather than giving it to another Assyrian winner? What kind of an Assyrian patriot are you?
Vote on December 15, 2005
Vote for the sake of the blood that our martyrs gave to our cause
Be patriotic and vote for our united nation
Vote for 740 because it is the right thing to do and because we should not waste our votes on losing slates.
The Secret of the Apricot Tree
Arpine Harutiunyan
Armenia
"The duduk is the only instrument whose music makes me cry," is how the world-famous composer Aram Khachaturyan described it. Now Djivan Gasparyan's has brought the Armenian duduk worldwide fame. Today the whole world is listening to the music of the duduk.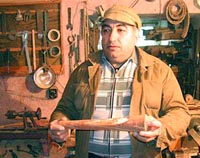 Misha Sadoyev holding the precurser to a duduk he's working on.
The oldest duduks, dating from 3,500-4,000 years ago, have been found in Egypt and India. Nobody knows which nation created the duduk. But we do know that Armenians make the best duduks. How long have Armenians been playing the duduk? Who were the first Armenian duduk players? "Our historians Movses Khorenatsi and Pavstos Buzand wrote in palace records about the use of similar musical instruments. There are pictures of musical instruments of this type in ancient Armenian manuscripts", says Hripsime Pichikyan, senior researcher at the Institute of Art.
"Our duduk is special," says 55-year-old duduk-maker Misha Sadoyev, "because our Armenian apricot tree is special". Assyrian by origin, Misha Sadoyev has been making duduks for 25 years now. His duduks are played by famous musicians. Misha's ancestors fled to Armenia from Persia in the early 1800s. They lived first in Artashat, then moved to Yerevan. "In the beginning I would make flutes from pine-trees and play them. My brother was a musician. I wanted to be like him. One day I got an old duduk. I used to play, and feel how close this instrument was to my heart," recalls the master. Later on he learned to play the zurna, another wind instrument, and played in different bands. Some years ago he won a prize in a zurna competition. Afterwards he began making duduks. He makes 13 types of duduks (according to the sound). He supports his family by playing and selling duduks. He plays at weddings and funerals. "I have always played for joy, on the stage. But now I play at funerals, too, to earn money. I don't have any choice," he says. He has traveled a lot, and met foreign duduk players. He has studied their duduks and become convinced that "no nation in the world plays duduk like Armenians. I am sure that this 'velvet' instrument was created by the Armenians".
The duduk has a simple structure, but not everybody knows its secret. "Nobody will give away his secret. Every master creates the duduk in his own way", says master Misha. "They make the duduk from various woods – wild plum, pear, cornelian cherry…" He says apricot wood has a specific moisture, and that is what gives a "velvet" tone. The apricot tree is resilient and even chemicals and moisture don't damage it. A strong, hard wood is needed to make the duduk. The best is the apricot with a bitter pit. The wood is very strong. Generally they use the center part of the trunk of the tree, cutting the wet wood into sections and putting it under a roof. They also keep it in urns and sacks. The wood should be kept in a draft for about a year. During this time, the ethyl oil dissipates and the wood "loses strength". And only then is the duduk made. Next they put it into lime, and in the end they rub it with olive oil. "And thus, thanks to the masters, out of the duduk comes the voice of the Armenian - his joy, his grief, his soul, his strength … yes this is an Armenian instrument," murmurs the master.

To listen to a sample of duduk sound, click here to hear the opening track from Djivan Gasparyan's "A Cool Wind is Blowing."
Thank You
The following individuals contributed to the publication of this issue:
| | |
| --- | --- |
| George Donabed | Massachusetts |
| Albert Michael | United Kingdom |
| Johnny Michael | United Kingdom |
| Stan Shabaz | Washington D.C. |
ZINDA Magazine is published every Wednesday and Saturday. Views expressed in ZINDA do not necessarily represent those of the ZINDA editors, or any of our associated staff. This publication reserves the right, at its sole discretion, not to publish comments or articles previously printed in or submitted to other journals. ZINDA reserves the right to publish and republish your submission in any form or medium. All letters and messages require the name(s) of sender and/or author. All messages published in the SURFS UP! section must be in 500 words or less and bear the name of the author(s). Distribution of material featured in ZINDA is not restricted, but permission from ZINDA is required. This service is meant for the exchange of information, analyses and news. Any material published in Zinda Magazine will not be removed later at the request of the sender. For free subscription to Zinda Magazine, send e-mail with your name, address, telephone number to: zcrew@zindamagazine.com.
ZINDA means "Spark of Fire" in modern Syriac (Assyrian); Zinda's Red Swoosh is a rendering of the seventh letter in the Assyrian alphabet, letter ZEN, and the first letter in the word "Zinda". For more information about the Assyrian culture and heritage write to Zinda Magazine.
Zinda Magazine™ Copyright © Zinda Inc., 1994-2005 - All Rights Reserved - www.zindamagazine.com