Iraq's Christians Disenfranchised at Home and in U.S.

Courtesy of Christianity Today
31 January 2005
By Rob Moll
Last weekend was the first time in their 6,700 year history that Iraq's Assyrian community was able to participate in a free, democratic election. But Ron Michael, who cast his vote Sunday, says it was insignificant. "It's not going to matter," he said before going to The Assyrian National Council of Illinois Community Center in Skokie, a suburb north of Chicago where the Out of Country Voting Program (OCV) placed one of Chicago's two polling centers.
Though the community center was packed Sunday, with tight security and a full parking lot, Assyrians—who make up 80 percent of Iraq's expatriate community in the United States— were furious, saying they have been purposefully excluded from the election. Without representation, say Assyrians, they won't be able to fight for their rights when the legislative assembly draws up Iraq's constitution. And since they are all Christians, Assyrians worry they will continue to suffer persecution, and will continue to leave Iraq, where 50,000 have already fled since U.S. troops invaded.
U.S. Disenfranchisement
After two days of voting, only 3,685 people total had voted in Chicago, home to the second-largest Assyrian community in the United States, with more than 100,000 Assyrians from Iraq and neighboring countries. Only slightly more than 26,000 Iraqis registered to vote, though Michael believes there are 200,000 Assyrians in the U.S.
The OCV's definition of an eligible voter is broader than the State Department's definition of an Iraqi, says Nina Shea, director of the Center for Religious Freedom at Freedom House. Someone like Michael is off the radar, she says, because he was born in Lebanon. The OCV allows second-generation expatriates to vote. So Michael, whose father is an Iraqi, is eligible to vote. The State Department classifies him as ChaldoAssyrian.
Not Receiving Zinda Email Notifications Anymore?

But Michael is also off the OCV's radar because he is Assyrian. Shea says the OCV asked the U.S. State Department where to put the voting centers. The State Department looked at Census data to find where Iraqi-Americans lived. Because the Census only records ChaldoAssyrians as an ethnic group and doesn't identify their country, their locations didn't factor in placing five U.S. polling centers, which instead focused on centers of Iraqi Kurds and Arab populations.
Assyrians also say the OCV didn't listen when they complained that the only polling place west of the Mississippi River, near Los Angeles, in Irvine, was far from the more than 50,000 Assyrians eligible to vote in San Diego and Northern California. Yet, Michael and other Assyrians complain, a community of 3,000 Kurds in Nashville, Tennessee, received their own voting center.
"OCV has done a woefully inadequate job," says Michael. "We have a hundred-thousand Assyrians in California and the polling station is in L.A., where most of the Assyrians happen to be Iranian, not Iraqi. They intentionally avoided San Diego, where we have 35,000 to 40,000 of our people, and perhaps a similar number in the Central Valley."
Shea agrees that when the OCV was notified of the problems, they did nothing. "They were showing flexibility and innovativeness when it became clear that it was a disaster," Shea says. Yet, she says, they ignored the pleas for more polling places. "What I think angers the ChaldoAssyrians is that all the public petitions and appeals by senators and congressmen and bishops, the direct phone calls, they just brushed off, they didn't care. It was bungled from the beginning, and it was left in the hands of indifferent bureaucrats."
Jacklin Bejan, a spokesperson for the ChaldoAssyrian American Advocacy Council, of which Ron Michael is also a member, sees bitter irony. "How is it that we're going in Iraq to install a democratic government, yet in this very country, the symbol of democracy, we as Americans are not afforded the opportunity to participate in the process?" she says. "Is this really why our soldiers are dying?"
To the Assyrians gathered in the hallway at the community center, it is clear they have been the object of a campaign to disenfranchise the largest Christian population in Iraq. "You could not have designed a better placement of ballot boxes to ensure the disenfranchisement of Assyrian voters," Michael says.
"We were very hopeful that the expatriate vote, especially in the United States, would contribute to securing at least three or four assembly seats for our people in Iraq," Bejan says. "We wanted to fight so that Iraq will not turn into another Islamic republic like Iran. We needed those seats to fight for the right of the indigenous people of Iraq, the ChaldoAssyrians. Our people depended so much on the votes of the expatriates, and unfortunately, it has been quite disappointing."
Under Kurdish Control
At the community center, word spread that six ballot boxes in three Christian Assyrian areas in Iraq never arrived. Not only were Iraqi-Assyrians the object of terrorism before the vote, their polling places never opened. By Monday morning, Michael said, the ballot boxes had arrived, but there were no poll workers.
Some Assyrians were visibly angry. "There has been a campaign of terror to lower the turnout," says John Michael, Ron's brother. "The Kurdish Democratic Party prevented the ballot boxes from arriving in six towns under the military control of the U.S., which is presiding over the disenfranchisement of the indigenous Christian people."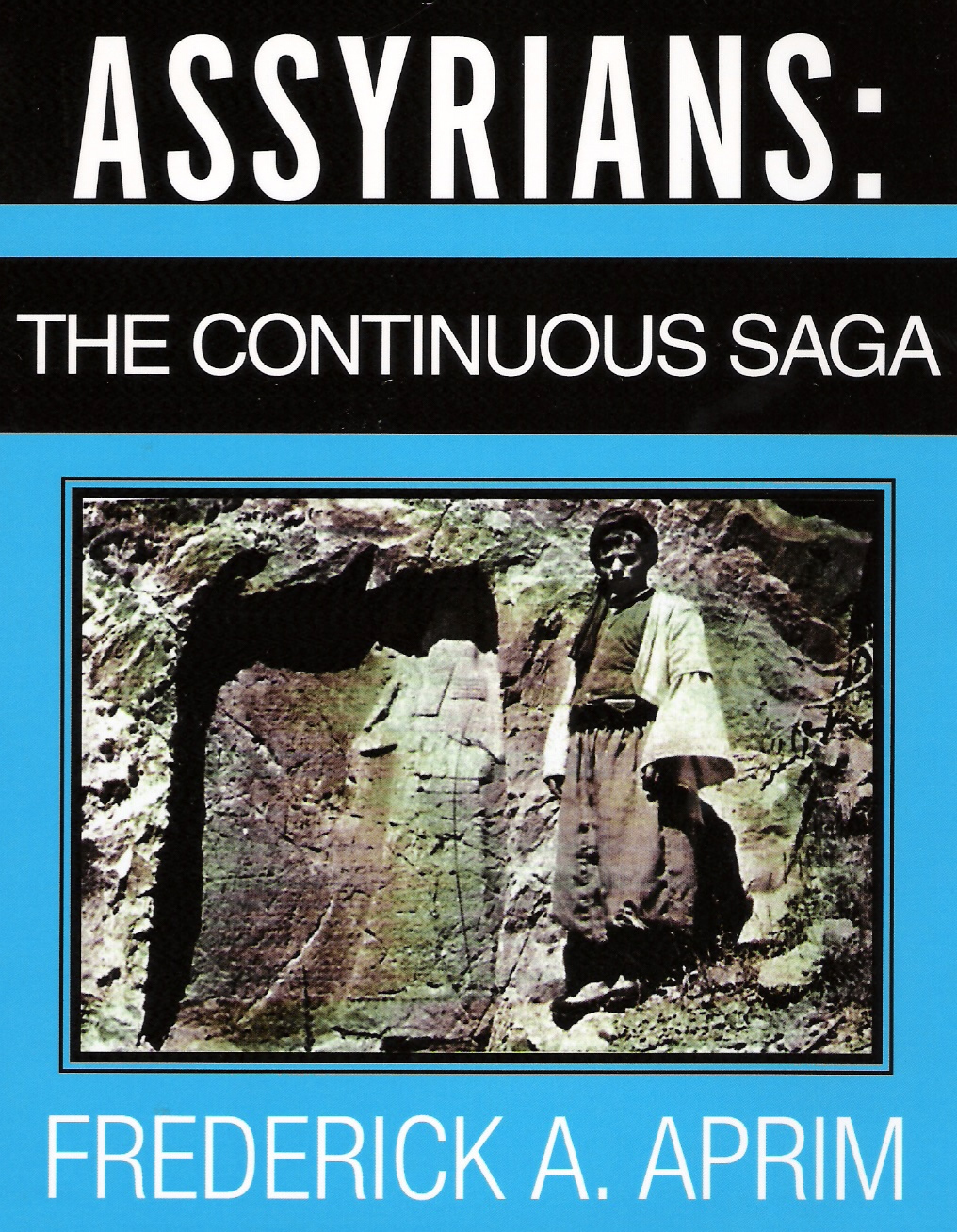 Assyrian Continuity from Fall of Nineveh to Modern Times / 309 pages
Hard Cover $30
Paperback (Soft Cover) $20
Price includes shipping and handling.
Send money orders (preferred) or personal checks to:
Fred Aprim
P.O. Box 446
Hayward, CA. 94543 USA

Assyrians make up at least 3 percent of Iraqis, though other estimates are higher because Saddam Hussein refused to count them in the census. Michael believes they could make up as much as 6 to 10 percent of the Iraqi vote. The Assyrians trace their Christian heritage back to the church in Antioch, the first group to be called Christians, and they trace their presence in what is now the north of Iraq back to the birth of civilization. Now, they fear, their long history is at an end. "This [vote] is about nothing other than the survival of the last area of predominately Christian people in the world," says John.
Christians in Iraq are suffering disproportionately from terrorist activity, says Bejan. "Our women are subjected to continued threats, our children are kidnapped, our businesses are bombed, our churches are threatened, and our archbishops are kidnapped. Our fear is that we will not be able to fully participate in this first democratic election." International Christian Concern says that Christian women have had acid thrown in the face for not wearing a veil.
The Kurds are systematically displacing the Iraqi Christians, says Larry Allen, spokesperson for ICC. "The Kurds have been making a move for the Nineveh plain area and trying to expand Kurdistan out to the west." The Kurdistan Democratic Party is linked to a paramilitary group that has confiscated homes. "Farmland has been confiscated. In addition, the $20 billion designated for reconstruction in Iraq, the Assyrians have seen none of it. The Kurdish authority is not distributing it," Allen says.
"The Kurds are literally ethnically cleansing us out of the region," says Ron Michael. "They are doing to us what the Sudanese government was doing to the Christians in the south of the Sudan. The Kurds are engaged in a push for autonomy and independence. They feel that they can only achieve their national aspirations by ethnic cleansing, either by political maneuvering or through violence, until every shred of Assyrianism in northern Iraq is gone."
Hope for Democracy and Survival
The ChaldoAssyrians are "pro-West, pro-democracy, and pro-human rights," Shea says. They support U.S. plans for Iraq, and the Christian presence in the country is a major argument used by Iraqi authorities, including Islamic clerics, to have a secular government rather than an Islamic republic. "Right now, they can point to the Christians. They can say, 'Look, we're a pluralistic society,'" Shea says.
However, if Christians continue to flee, those who support a secular government will have no minorities to appeal to, according to Shea.
Already 50,000 Christians have fled the country. And they will all eventually leave, says Bejan, if persecution continues.
The Assyrian representatives hoped to write into the constitution religious freedom, women's rights, and equality for ethnic, and linguistic minorities, says Michael. Otherwise, he says, it will be the same as it has been for the last 1,400 years. "We have lived nearly 7,000 years in the north of Iraq. We still speak Aramaic, the language of Christ. We are the oldest Christian community on the planet," Michael says. All of that, he believes, is on the line now.
If an Islamic constitution is drafted, Shea says, ChaldoAssyrian Christians "will leave, assimilate, and that will be the end of their language. If they're forced to emigrate, the last concentration of Aramaic speakers, it's going to be gone. That will be the end of their culture."
Iraqi Christians Claim Their Votes Blocked
Courtesy of the Decatur Daily
2 February 2005
By Eric Fleischauer
Even as Iraqi Muslims proclaimed Sunday's elections a success, the Christians of that country complained that they were prevented from voting both in Iraq and in the United States.
Christian Assyrians, 1 million of whom reside in Iraq, claim that Kurdish officials in North Iraq blocked the delivery of ballot boxes from Assyrian-dominated villages, leaving many Assyrians disenfranchised. They also claim that election officials placed U.S. voting locations in areas that maximized the distance expatriate Assyrians had to travel.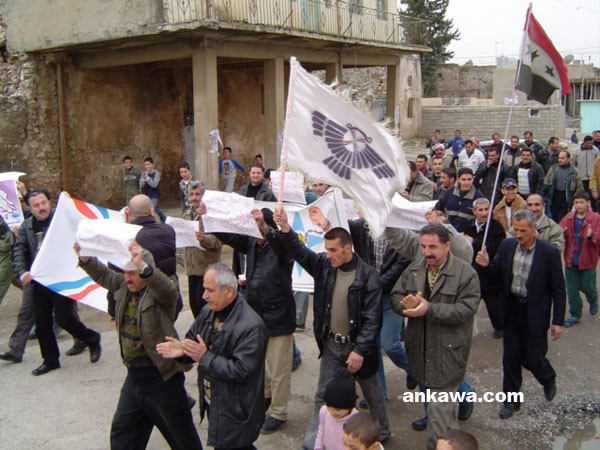 Susan Patto, chief of staff to the secretary general of the Assyrian Democratic Movement in Iraq, said officials failed to deliver ballot boxes to five towns in the Ninevah Plain of Northern Iraq. All are predominantly populated by Christian Assyrians.
"The people of those areas went to vote. When they found there were no boxes, they headed to our centers," Patto said.
Patto said she and others in her organization contacted officials in Mosul, but they said the security situation prevented delivery of the vote boxes. Baghdad officials then instructed election personnel in Arbil to deliver the boxes, but they failed to do so.
After the election hours ended Sunday, Patto said, a U.S. helicopter delivered four boxes, two designated for Bartella and two for Baashiqa. Election officials instructed local officials to permit three hours of voting Monday morning to make up for Sunday's missing ballot boxes.
"The next morning people headed again for the centers, but there were no staff, no ballots and no ink — just the boxes," Patto said.
Give up, Demonstrate
The Assyrians who had gathered to vote waited until noon before giving up, Patto said, at which time they began a demonstration.
The demonstration was squelched, Patto said, by the Kurdish militia. She said the Kurds beat an Assyrian city council member from Baghdida during the demonstration by breaking all his teeth.
Other Assyrian-populated towns had ballot boxes, but an inadequate supply of ballots, she said.
All told, Patto estimated voting irregularities prevented 50,000 Assyrians from voting.
Frederick Aprim, who lives in an Assyrian community in California, said the Independent Electoral Commission of Iraq chose the five U.S. polling locations with deference to expatriate Kurdish populations, but failed to locate polls close to larger Assyrian communities.
Officials located one poll in Nashville, which has a Kurdish population of about 4,000. About 38,000 Assyrians live in the northern half of California, but the closest polling place was in Southern California.
IECI did not immediately return telephone calls or e-mails Tuesday.
Out-of-country Voting
In literature distributed to Iraqi expatriates, the IECI said, "Given that the decision to offer out-of-country voting was taken only a short time before the election it was a choice between an imperfect system, which still allows a great number of Iraqis outside the country to vote, or no voting outside Iraq at all. The IECI made the choice that it was better to offer the opportunity to vote to some rather than none."
New Books from

Gorgias Press

Aprim said he had to travel 800 miles, round trip, to the Los Angeles polling site, to register for the election. He had to repeat the trip a few days later to vote.
"Many Assyrians got discouraged from making the long trip," Aprim said. "Many elderly could not make the trip. Many (poor Assyrians) could not make the trip. Assyrians lost so many votes because of this unfair distribution of voting centers."
Aprim said Iraq's interim government includes Assyrians, but because the interim constitution declares Islam to be the official religion, Assyrians fear continued discrimination and oppression.
Aprim said the blocked votes would prevent Assyrian representation from Ninevah Plain in the Iraqi Transitional National Assembly, the political body that will determine if the Iraq constitution adopts Islam as the new Iraq's official religion.
Patto said the blocked votes hurt not just Iraqi Christians, but Iraq as a whole.
"It is not just the number of seats (on the National Assembly). We want to establish a new country that believes in human rights and democracy, and (in which) people are equal and have the same rights," Patto said.
"We want to build it together with all Iraqis."
Get Out the ChaldoAssyrian Vote
Courtesy of the National Review
28 January 2005
By James Rayis
From Sidney and Detroit to London and Beirut, Iraq's voter-registration process for eligible voters who live outside Iraq, which ended last Tuesday, was disappointing. Only 280,303 people out of the more than one million estimated to be eligible registered in the 14 countries participating in the out-of-country voting program.
In the United States, a mere 25,946 registered, a tenth of what was expected. Here the low turnout is attributable to serious mistakes made by the U.N.-appointed International Organization for Migration's Out-of-Country Voting office (IOM-OCV), which officially pronounced it was "satisfied" with the registration results. The blunders were ultimately the result of indifference and arrogance, since they occurred despite repeated warnings from expatriate Iraqis as well as appeals sent by Senator Rick Santorum, Rep. Frank Wolf, twelve members of California's delegation to Congress, and others in the preceding weeks. There is still time to correct the problem, however, and to get eligible voters to the polls by allowing new registration during the voting process and relocating polls to populous areas.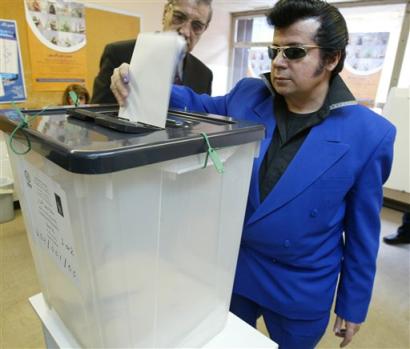 Iraqi expatriate Benjamin Nissan, a beautician who said he likes to dress like Elvis Presley, casts his ballot in Chicago.
Those most hurt by the IOM's blunders are Iraqi Christians, since they constitute the largest segment of the Iraqi-American population. Beginning with the collapse of Ottoman rule, systematic harassment and outright persecution have driven Iraq's indigenous Christian community of Assyrian Chaldean Syriacs (called ChaldoAssyrians in Iraq's transitional administrative law) to the United States and other countries. In recent decades, Saddam's tyranny pushed those from Arab and Kurdish groups to flee. Accounting for 80 to 85 percent of Iraqis in the U.S., ChaldoAssyrian groups pleaded with the IOM-OCV for months to locate polling stations in more places to facilitate voter turnout from their communities, as well as from the others. Instead, the IOM-OCV located the polls according to U.S. census data for the smaller groups of Iraqi Arab and Kurdish populations. As ChaldoAssyrian groups continuously pointed out, the American census data is flawed because surveys for Assyrian Chaldean Syriac people do not differentiate between those from Iraq and those from Turkey, Iran, Syria, and elsewhere.
The IOM-OCV rejected a polling place for San Diego, where an estimated 25,000 of 30,000 Iraqi expatriates are ChaldoAssyrians. The same is true for Phoenix and the Modesto/Turlock area in California, where tens of thousands more reside. Why the office felt the need to limit the U.S. polling sites is a mystery; the IOM-OCV established more polling sites in Iran than in the United States, which is six times bigger.
The continued survival of the indigenous people of Iraq may well depend on the new assembly, which will be elected in Sunday's voting, and the constitution it forms. Most ChaldoAssyrian Iraqis in the American diaspora were disenfranchised from the vote. This is particularly ironic since, as American taxpayers, they are funding the election.
It is unclear why IOM-OCV ignored the information the ChaldoAssyrian community provided and rejected its petitions over the many weeks before voter registration even began. I spoke with Roger Bryant, head of U.S. voting for IOM-OCV weeks ago. He admitted hearing over and over again from groups throughout California and Michigan, but told me simply it was "too late." Nevertheless, since that call he made numerous other last-minute changes, such as closing two original Detroit voting locations, moving one polling place from Los Angeles to Orange County, and deciding during the week of registration to extend the registration period for two days. Except for Chicago, there are no voting locations for Iraqi ChaldoAssyrian communities similar to the Nashville location serving 4,000 mainly Kurdish expatriates or the New Carrolton, Md., site where 2,048 Kurdish and Arab voters registered. The beleaguered Iraqi ChaldoAsyrian Christians are once again being pushed aside in favor of the dominant Iraqi groups, this time right here in the United States.
There is no sense pretending that the out-of-country turnout of this segment of the Iraqi population was anything but anemic. Since the IOM-OCV has been making up the polling rules as it goes along, it is not too late to help remedy the stunningly low registration in the U.S. by allowing simultaneous registration and voting here just as is occurring within Iraq proper, and by establishing more accessible polling sites. We should not give up the democratic process to terrorist threats — or to bureaucratic indifference.
[Zinda: James Y. Rayis is an international lawyer based in Atlanta and former chairman of the international law section of the state bar of Georgia. He serves as vice-chair of the ChaldoAssyrian American Advocacy Council.]
Assyrian Christians Protest Iraqi Election with Crucifixion, Fast in New York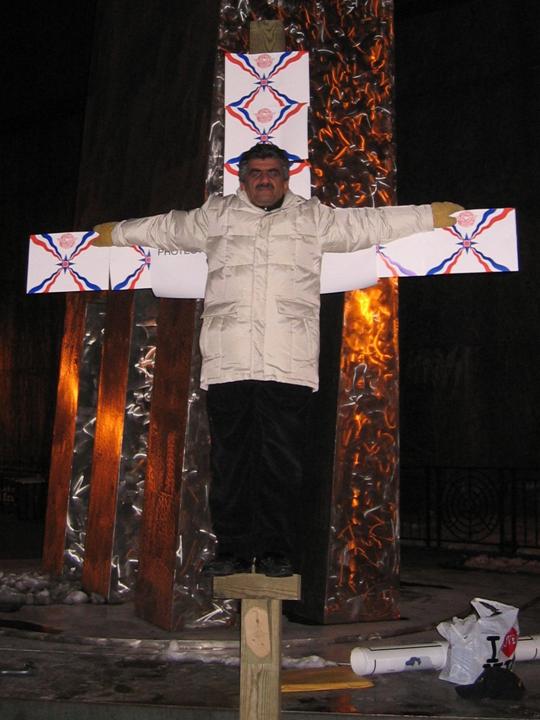 (ZNDA: New York) Only two weeks after being suspended from membership in the Assyrian Church of the East, Mr. Yosip Bet-Kolia, 47, commemorated the `Rogation of Nineveh` - a traditional Assyrian feast - by crucifying himself on a cross in New York city. Beginning on Friday, 28 January Mr. Betkolia, supported by Rev. Ken Joseph, placed himself on a cross and fasted to protest the condition of the Assyrians in Iraq and the failure of the Iraqi election registration process.

"I am grateful to the Americans for liberating Iraq and giving Iraqi people hope for a prosperous future," said Mr. Bet-Kolia.
Hikmat Hakim in the Iraqi Elections
Courtesy of the Detroit Free Press
By Niraj Warikoo
29 January 2005
(ZNDA: Detroit) When he was only 16, Hikmat Hakeem was jailed for opposing Iraq's repressive Baath Party, which ruled the country for decades.
But today, the Warren resident is a candidate for office in the democratic elections that will take place Sunday in his native land. The legal scholar might soon play a key role in writing a new Iraqi constitution and making sure the rights of minorities are protected. Hakeem is Chaldean, a minority Christian group in Iraq.
Whether Hakeem gets that chance will depend on whether his liberal-leaning party gathers enough votes this weekend. If that happens, he would be part of an assembly whose members will draft a constitution. Given that he was an attorney and has taught constitutional law, he could play a major part in writing it.
"It's like a wedding for me," Hakeem said by phone Thursday from his home in Baghdad, describing his anticipation for Sunday's vote.

The 56-year-old Iraqi American once taught law in Iraq. But because of his activities against the Baath Party, once headed by former Iraqi leader Saddam Hussein, he fled in 1979.
"It was terrible to live under" the Baathists, he said.
After leaving Iraq, Hakeem said, he lived in Yemen, Libya, Algeria and Syria. In 2001, he was granted political asylum in the United States and started life anew in Michigan.
He moved to Warren, Michigan and stocked supplies at a warehouse while trying to obtain a teaching certificate. In March 2003, he was tapped by the U.S. State Department to participate in a program called the Future of Iraq, which studied how to rebuild the country after the fall of Hussein. That May, Hakeem went to Iraq, and in June 2004, he was chosen to be one of 100 members of a temporary national council that helped the government and set up the election. Hakeem's wife and children still live in Warren.
Hakeem's party, Ittihad Al-Shaab, or People's Unity, is a secular coalition with members from all of Iraq's various religious and ethnic backgrounds. Close to 40 percent of its members identify with the Communist Party. But Nabil Roumayah, who heads the Southfield-based Iraqi Democratic Union, a group that long opposed Hussein, said Iraq's Communist Party has a long tradition of standing up for human rights and democracy and for opposing the Baath Party. The People's Unity coalition also has a high number of women candidates -- 91 -- and educated Iraqis.
Jacob Mansour, a West Bloomfield doctor who organizes the annual Arab and Chaldean Festival in Detroit, said he supports the People's Unity coalition because it represents all Iraqis and promises to guarantee equal rights for all. That's important for Chaldeans, a tiny minority in Iraq.
Hakeem ia ranked No. 7 on the coalition's list of 275 candidates. That means that if his party garners enough votes, he will be seventh in line to be part of the new 275-seat assembly. The higher the ranking, the better the chance of being part of the assembly.
Christians on PalTalk Chat Service Tracked by Radical Islamic Web Site
Courtesy of the Chicago Sun
By Daveed Gartenstein-Ross
A radical Islamic Web site systematically tracks Christians on PalTalk.com, an Internet chat service on which a New Jersey man received a death threat two months before he and his family were murdered. The password protected Arabic Web site, at the address www.barsomyat.com, features pictures and information about Christians who have been particularly active in debating Muslims on PalTalk.
One page from barsomyat.com features a group of photographs of a Syrian Christian, "Joseph," who now lives in Canada. Barsomyat.com's users have posted personal information about Joseph, including his brother's parole status, and make clear that they are actively trying to track down his current address.
Subscribers also post explicit warnings to Joseph. One comment states, "Know, oh Christian, that you are not far from us and you are under our watchful eyes!" Another user remarks, "Laugh, oh Chrisitan, and soon you will see a big hit."
Ahmed Paul, an Egyptian Christian and a theology student in America, said he believes Joseph was targeted because he frequently engaged in debates with Muslims on PalTalk. The Internet chat service attracts up to 3 million users a month, and subjects range from movies to music to religion to adult topics -- and some Arabic-speaking users of PalTalk have reported that contentious debates between Christians and Muslims are common in certain chat rooms.
Hossam Armanious, a Coptic Christian from Jersey City, N.J., who was found murdered earlier this month, frequently debated with Muslims on PalTalk. Two months before Armanious's murder, authorities said he received a death threat from a Muslim PalTalk user: "You'd better stop this bull ... or we are going to track you down like a chicken and kill you." On January 14, Armanious and his family -- including two daughters, ages 15 and 8 -- were found killed in their Jersey City home, bound and gagged with their throats slashed.
Authorities have not determined whehter Islamic extremists are to blame for the Armanious family's murder, nor is there any apparent link between the murder and barsomyat.com's tracking of Christians on PalTalk. However, many barsomyat.com users expressed jubilation at the deaths.
One user posted a photograph of Hossam Armanious and wrote, "This is a picture of the filthy dog, curser of Muhammad, and a photo of his filthy wife, curser of Muhammad. They got what they deserved for their actions in America."
In all, about 40 different discussion threads on barsomyat.com berate the Christians of PalTalk, and there are at least seven collections of photographs of PalTalk Christians. The barsomyat.com discussion threads seem to focus on Arabic-speaking Christians rather than those who speak English.
Barsomyat.com features not only photographs of the targeted Christians, but also attempts to track down their addresses. A post about a Christian man whose computer was apparently hacked to obtain his photograph includes the man's PalTalk name, his real name, and the city where he resides in Lebanon.
Another barsomyat.com entry outlines the relations (both blood and marital) between four Christians who are apparently PalTalk users, posts photographs of them, and then states, "We have postponed publishing this information because there is a lot more to be revealed when the time is right."
Even barsomyat.com's banner displays its hatred of Christians. The banner displays a crucifix crossed out by a violent red "X," and the main heading reads in Arabic, "Christians: Revealing the Truth Behind Our Belief."
Judging by the posts, almost all of barsomyat.com's users are Middle Eastern, and they are predominantly Egyptian. Mr. Paul said that's significant because the extremists on barsomyat.com live in societies where people simply do not challenge Islam and would never dream of insulting Prophet Muhammad.
Mr. Paul, who is an Islamic convert to Christianity, said when Islamic radicals from such societies participate in Internet debates with Christians who live in societies that promote free speech, they are often shocked by the Christians' arguments and view their debating opponents as blasphemers. And in the eyes of Islamic extremists, blasphemers are worhty of death.
Author Robert Spencer, who has been following the Armanious case for his Web site Jihad Watch, described barsomyat.com as "extremely important" after it was shown to him.
"I have never seen anything like this before," Mr. Spencer said. "It's chilling to see photographs of people who probably have no idea that they're on the Web site. Hamas's Web site would post self-congratulatory accounts of their attacks on civilians, but barsomyat.com's users are telegraphiing their intended victims in advance."
Mr. Spencer added that barsomyat.com is a "prime example" of how some Islamic extremists can utilize technology to attempt to bring Islamic religious law to the West.
"We saw in the Theo van Gogh murders that some Muslims will take these kinds of matters into their own hands," Mr. Spencer said.