Western Sydney Shadow Minister Supports Assyrians
(ZNDA: Sydney) Shadow Minister for Western Sydney, John Ryan, on 23 March 2005 called for recognition and adequate representation for Christian Assyrian's in Iraq.
Mr Ryan represents many Assyrian's in Sydney's west and in a speech to the New South Wales State Parliament on 22 March was compelled to raise their concerns about irregularities at the recent Iraqi Election.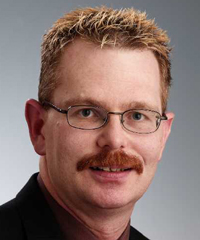 The Hon. John Francis RYAN, member of the Legislative Council in the Australian Parliament.
Mr Ryan said that there were several incidents, especially in Northern Iraqi, which may have restricted local Assyrian's from voting and therefore their representation on the new Government.
On the 30 January, Election Day, voting boxes and supplies were not delivered to predominately Assyrian regions in northern Iraq. Election Officials also insisted that Muslims from surrounding areas should staff ballot booths in Assyrian areas.
Expatriate Assyrian's also found it difficult to vote.
Mr Ryan said that these irregularities potentially cost Assyrian's 10 seats on the new Iraqi Government. Assyrian's believe there are entitled to about 27 seats, which is proportional to their population in and out of Iraq.
"Christian Assyrians in Australian are particularly worried that the minority Assyrian Christian community in Iraq may not be able to enjoy human rights such as the right to freedom of worship and freedom from discrimination.
"Their anxiety is reasonably based because there have been many calls from the Shi'ite majority in Iraq for an Iranian-style Islamic state to be enshrined in the new Iraqi constitution," Mr Ryan said.
Mr Ryan continued by saying that it was crucial Assyrian interests were represented in the new the new Iraqi constitution in order for them to feel safe and secure.
"I support the petition from the Australian Chapter of the Assyrian Universal Alliance who have called on the Federal Government to urge the new Iraqi Government to designate a geographic protected administrative area in Iraq for Christian Assyrian's.
"I have written to the Prime Minister the Honourable John Howard to support the petition from the Assyrian Alliance and to express my concerns about the election. I eagerly await his reply," Mr Ryan said in conclusion.
The following is the full text of the Honorable Ryan's speech delivered on 23 March at 5:07 PM:
On 30 January this year historic elections took place in the troubled country of Iraq. While we all welcome the introduction of democracy in Iraq, I believe that it is also important to highlight some concerns expressed by the Assyrian community in Australia about irregularities that may have adversely influenced the election outcome for the Christian minority living in that country. These concerns do not invalidate the great significance of the steps taken in Iraq towards democracy, but they must be addressed if all Iraqis are to enjoy the full benefits of democracy. Before I speak further about this matter, I extend my warmest wishes to His Grace Bishop Mar Meelis Zaia, the Diocesan Bishop of the Holy Apostolic Catholic Assyrian Church of the East Diocese of Australia and New Zealand. I wish him and his congregation a happy and prosperous Assyrian new year. I also look forward to working more closely with him and members of his church, many of whom I have met and who live in the Fairfield area, where his church was first established in the mid 1960s.

I also extend my congratulations to Bishop Mar and his congregation on the introduction of an English liturgy to their services, which has been translated with great effort and faithfulness from the Aramaic liturgy. As I mentioned previously, the recent Iraqi elections appear to have been conducted in a way that has disadvantaged Assyrians and has limited their representation within the interim Iraqi Government. This may have serious and profound implications for the safety of the Assyrians and their representation in that country. Australian Assyrian Christians are particularly worried that the minority Assyrian Christian community in Iraq may not be able to enjoy human rights such as the right to freedom of worship and freedom from discrimination. Their anxiety is reasonably based because there have been many calls from the Shi'ite majority in Iraq for an Iranian-style Islamic state to be enshrined in the new Iraqi constitution.

The 30 January elections in Iraq were an historic breakthrough in the development of Iraq as a free and democratic society and were widely supported by Assyrians in Iraq and around the world. Never before has Iraq had free, fair and transparent elections, with thousands of candidates and hundreds of political parties. Never before had the Christian Assyrians, who are a unique and indigenous people in Iraq, been allowed to participate in elections with their own independent parties. But on election day several irregularities took place, affecting at least 300,000 Assyrians, Yezidis and Turkmen in northern Iraq, and a significant number of the 500,000 Assyrians in the worldwide Diaspora. For example, on polling day voting boxes and supplies were not delivered to some northern districts in Iraq. These districts have a population of 300,000 and Assyrian Christians make up a high component of that population. Despite assurances from the head of the Iraqi Electoral Commission the official voting boxes did not arrive from Kurdish-controlled Arbil. This effectively limited the ability of people, Assyrians included, to exercise their democratic right to vote.

The Al-Rafidayn Democratic Coalition, the main party representing the Christian Chaldo Assyrians, has rejected the Iraqi Independent Electoral High Commission's report on voting irregularities in northern Iraq and has strongly criticised the opening of only 93 of the 330 voting centres in the Nineveh governorate on election day. Expatriate Assyrians also found it difficult to vote in some countries. Depriving 300,000 eligible Assyrians of their right to vote may have cost that community up to 10 seats in the 275-seat Iraqi National Assembly. This was not an auspicious beginning to Iraqi democracy for the Assyrian community, who view these events as a possible continuation of the 1,400 years of discrimination and marginalisation that many have endured in Iraq to date because of their minority status in a predominately Muslim country.

Assyrians in Iraq are calling for a minimum number of seats in the new Iraqi Government and have requested that this should be between 22 and 27 seats. This is proportional to the Assyrian population in and out of Iraq, estimated to be between 8 per cent and 10 per cent of Iraq's population. Australian Assyrians supported this claim by demonstrating recently outside the American Consulate in Sydney and outside the New South Wales Parliament. I support the petition from the Australian Chapter of the Assyrian Universal Alliance, which has called on the Federal Government to urge the new Iraqi Government to designate a geographically protected administrative area in Iraq for Christian Assyrians and for other similar minority groups who are currently underrepresented. I have also written to the Prime Minister, the Hon. John Howard, in this regard to express my concerns and I eagerly await his reply.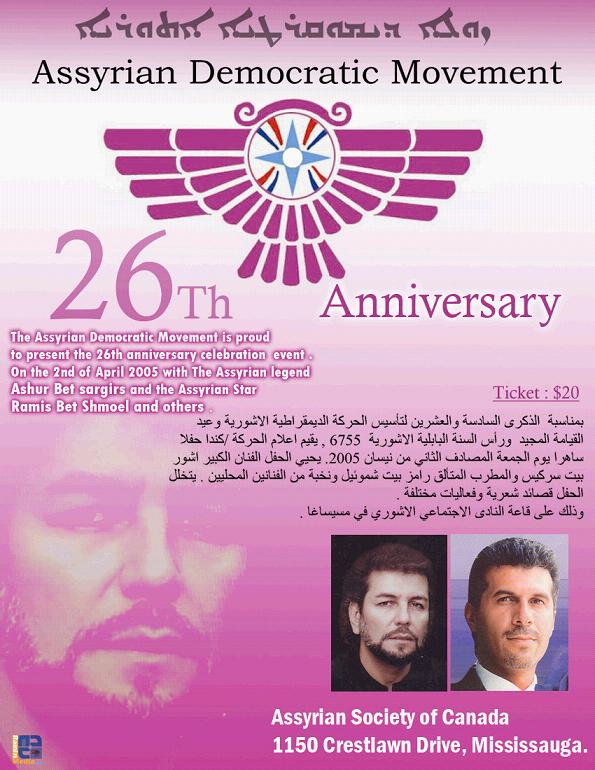 Mikhael Mammo Honored at Special Reception in Sweden
(ZNDA: Jonkping) In appreciation for his 25 years of service to Hujada (Khuyada or 'Unity') Magazine and the Assyrian community in Jönköping, Sweden, Mr. Mikhael Marogil Mammo was honored by the Central Committee of the Assyrian Federation in Sweden at a party to organized at the Mesopotamia Club in Linkoping on March 19.
The celebration was attended by the staff of Hujada Magazine, representatives of the Assyrian Federation and about 70 friends and admirers of Mr. Mammo. Gifts were presented to Mr. Mammo by the president of the Assyrian Federation, speeches were made acknowledging the cultural contributions of Mikhael and for his promotion of the Assyrian language.
Mikhael Marogil Mammo was born in Habbaniya in 1948. He attended primary, intermediate and secondary schools in Ramadi, Iraq where his interest and career in journalism started. He edited and wrote for the school paper. When he was 16 years old he wrote a short story, an interview with a soccer player and an article which were all published.
Breaking Through Barriers of What Assyrian Music is and Should Be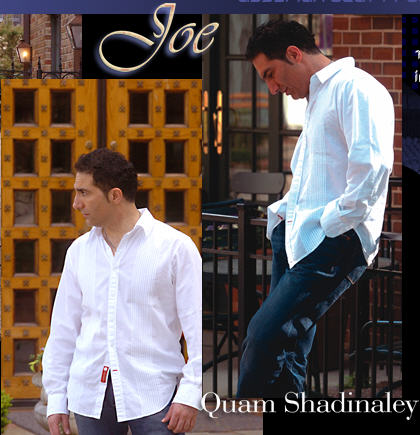 Click Poster to Enter A New Dimension in Assyrian Music
After graduating from high school he attended the Teachers Training Institute in Ramadi and later went to Basra where he enrolled in the Basra Law College. He supervised the publication of a single page of news and articles for the Law College which was published in the local newspapers.
In Baghdad he was active in the Assyrian Cultural Club, the Assyrian Community Club in Dora (Baghdad), the Union of Syriac Writers, Tammuz Athletic Club, and prepared interviews with prominent Assyrians and foreigners in the Assyrian language which were aired on Baghdad radio and TV.
From 1973 to 1977 he worked for the Assyrian Cultural Club's magazine and was its editorial secretary until he left for Sweden when he was warned that he may be arrested for interrogation by the dreaded Security.
On arrival in Jönköping, Sweden, with the help of some Assyrians, he attended the Swedish language courses until 1979 and in 1980 he enrolled at the Swedish Higher Institute of Teachers, and at the same time took correspondence courses in Arabic language and literature organized by the Stockholm University. In Jönköping he also took courses on the literature for children and the youth.
From all his studies in Jönköping and the Stochholm University he earned 210 points equavalent to a Masters Degree.
In Jönköping Mr. Mammo has been very active since 1979, teaching Assyrian and Arabic languages, organizing Assyrian language courses at the Babel Assyrian Club, preparing textbooks in the Assyrian language and teaching Arabic to Swedes at the Swedish Foreign Languages Institute. Mr. Mammo is the representative of foreign languages teachers at the Jönköping branch of the Swedish Federation of Teachers.
Mr. Mammo was chairman of the Babel Assyrian Club from 1979 to 2003 and is an honorary member, a title awarded to him by the Club.
He writes in Hujada Magazine's Arabic and Assyrian sections. He bought the first Assyrian typewriter from the late Father Francis Alesharan which he uses to write for the magazine. He has participated in several Assyrian conferences in Germany, Holland, Russia and America.
Mr. Mammo is fluent in Syryoyo (Western Syriac) which he learned in Jönköping. His biography details a long active life in journalism and cultural activities, writing, studying, publishing and editing.
According to the president of the Assyrian Federation in Sweden Hujada magazine has a circulation of 2000 copies and subscribers from 35 countries. The magazine is published in Swedish, Syriac, Assyrian, Arabic and Turkish.
[Wilfred Bet-Alkhas / Editor: Michael Mammo's gutsiness in journalism has a moral base, which would also be true of his politics. He is a man of action who can think and a man of thought who can act. A rare combination among Assyrian activists. Michael's articles have covered every angle of Assyrian issues, from politics to literature, and continue to be the staple of information for the dedicated readers of my personal favorite Assyrian jounal, Hujada. I, among many others in the owe much to Michael's dedication to Assyrian journalism and language. He is a treasure of graceful prose whom I place in the company of other giant Assyrian writers of our times. Many congratulations to Michael and everyone who has come in contact with his work and dedication to the Assyrian cause! ]

Diamanda Galas Performs in Honor of Forgotten Genocides
Courtesy of the Vancouver Sun
By Nancy Lanthier
(ZNDA: Toronto) Diamanda Galas growls, hisses, groans and shrieks while clawing at the piano like Chopin possessed, creating a soundscape that's terrifying and beautiful.
To have any performer deal articulately with topical monstrosities is rare; to have such a badass musician saying it is a gift from God. We know Galas reigns as the queen of extended vocal technique, a voice that has only gained in power and versatility over the years (she trains constantly, like a boxer); she has also, in recent years, become one of the greatest, most original piano players on Earth, with a strong lower-two-octave/highest-octave attack that perfectly stabs the drama of her lyrical concerns.

- John Payne, Los Angeles Weekly
Diamanda Galas will perform her critically acclaimed current work, Defixiones: Orders From The Dead as part of the Open Ears Festival of Music and Sound on Saturday, 30 April 30, 2005 at the Zion Church Sanctuary. This unique venue is located at 32 Weber Street in Kitchener, Ontario - approximately 75 minutes from Toronto.
Defixiones: Orders From The Dead is a sacred mass dedicated "to the forgotten and erased memory of the Armenian, Assyrian, and Pontic Greek genocides that occurred in Asia Minor, Pontos, and Thrace between 1914 and 1923," genocides that the American and Turkish governments refuse to recognize to this day.
Like the Eumenides - the mythological creatures charged with administering justice - Galas seeks to pursue the criminal with the memory of his crimes. Note her new inclusion of the Turkish poem "Hatred," published by Hurriyet Newspaper on the eve of the 1974 invasion of Cyprus, which advocates the large-scale decapitation of the Greek "giavouri" (infidels).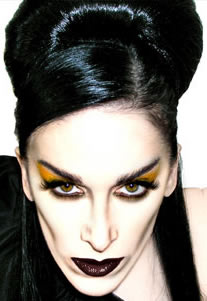 Defixiones draws its title from the "curse tablets," the small lead charms engraved with curses that were laid on graves throughout the eastern Mediterranean to discourage desecration.
With this, then, her fifteenth concert creation, Galas directly engages the Greek heritage that has always - occasionally directly, more often obliquely - informed her work.
Defixiones: Orders From The Dead includes new compositions based upon the texts of Yiorgos Seferis, Yannis Ritsos, Nikos Kazantzakis, and Jose Maria-Cuellar. The new work has recently been performed at the Vancouver New Music Festival, the Portland New Music Festival, and Il Teatro Communale in Ferrara as part of a festival focusing upon the Armenian music and culture.
Songs of Exile from Defixiones: Will and Testament (Mute Records) has been recently performed in January 2005 at the Academia Santa Cecilia di Roma to rave reviews.
The music of Diamanda Galas is currently featured in two new movies. In the Fall, Galas recorded new vocal improvizations for director Hideo Nakata (director of the Japanese hit film Ringu) for the upcoming motion picture "Ring Two" which was released by DreamWorks on March 18, 2005.
Spanish/Nicaraguan filmmaker Mercedes Moncada Rodriguez has used Diamanda's music as the primary soundtrack for her film "The Immortal", produced in Mexico, Nicaragua, Spain, New York, and the Sundance Institute. The film is centered on a group of brothers and sisters whose lives are forever changed when they are caught in the crossfire between the Contras and the Sandinistas in war- torn Nicaragua.
Joe Anderson of Variety on 28 January 2005 wrote of the soundtrack:
El Inmortal [has] the aural atmosphere of a horror movie: Jungle screech becomes scream; scenes changes are punctuated by thunderous clangor, and a tremulous, rattling bass seems to underscore each chapter in the Rivera saga. As a result, an unearthly tension emanates from EL Inmortal as the emotional mechanisms and contentious spirits of the Riveras' village contend for dominance.
[Zinda: To sample Diamanda's superb vocal and instrumental genius listen to the cut, "Eagle of Tkhume" (Assyrian Nishra d'Tkhume) - click here and a zCrew favorite "See That My Grave is Kept Clean" - click here.]