Karl Suleman Leaves Prison, Faces New Charges
Courtesy of the Daily Telegraph & Sydney Morning Herald
5 March 2005
By Vera Devai, Nicole Azzopardi & Anne Lampe
Photo by Tamara Voninski
(ZNDA: Sydney) Failed dotcom entrepreneur Karl Suleman left prison last Friday after 12 months behind bars for fraud, but the Froggy group founder still faces 26 fresh charges brought against him just two days before his release.
Wearing dark clothing and carrying a box of his belongings, Suleman was released on parole from Silverwater prison about 10:30 am last Friday and picked up by a car load of young men.
"His wife was meant to collect him but that didn't appear to happen,'' a prison source said.
Suleman served his minimum 12-month sentence at several low-security facilities, including Bathurst and Junee prisons.
The 43-year-old was jailed for a maximum 21 months by a District Court last April after being convicted on four fraud offences in March. He's now subject to bail conditions relating to the new charges.
Suleman appeared in Central Local Court via videolink from Junee jail on Wednesday but did not enter a plea to 15 counts of making false statements to obtain money and 11 counts of using false documents.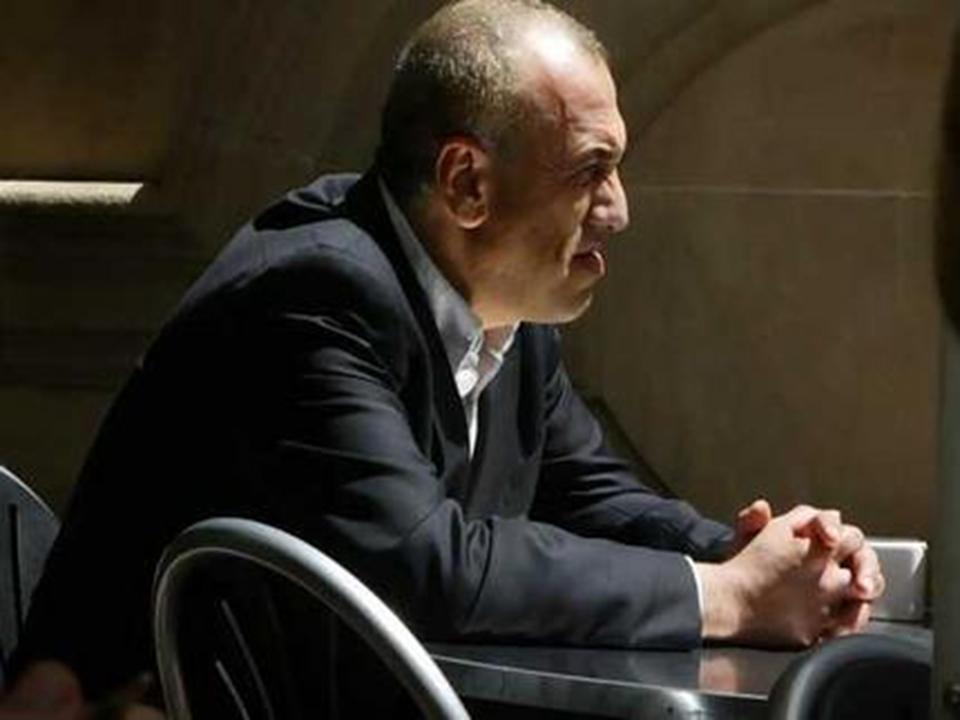 Karl Suleman sits quietly as he is charged with 15 counts of inducing investors to enter into agreements to invest $3.185 million in Karl Suleman Enterprises' supermarket trolley collection business. Each charge carries a maximum jail sentence of 10 years.
The charges follow an investigation by the Australian Securities and Investments Commission. Suleman allegedly sought public investment in a supermarket trolley collection businesses.
Karl Suleman Enterprizes fleeced 2062 investors - who committed $130.7 million between them - by inviting them to invest in a trolley collection business that promised investors returns of 100 per cent a year.
But instead of their money going into that business, the money was used to fund Suleman's extravagant lifestyle.
Suleman and his wife Vivienne bought properties, luxury cars, boats and planes, sponsored charity events and gave lavish gifts.
Some of the money was used to service a $13 million loan taken out to finance a range of IT and mobile phone ventures under the Froggy Group banner.
He allegedly made 15 false statements to obtain investment worth $3.185 million and used 11 false documents to induce one party to invest $1 million.
He is due to appear in Downing Centre local court on April 12 to answer the charges.
Documents filed with the court by the Australian Securities and Investments Commission showed that investors, mostly from Sydney's Assyrian community, were induced to put between $50,000 and $150,000 into the trolley business on the promise that they would receive fortnightly returns of between $4000 and $25,000.
Investors were asked to sign a contract entitled "Financial Investment Agreement" with Karl Suleman Enterprizes, a $2 company jointly owned by Suleman and his wife. Suleman was the company's sole director.
While investors received some fortnightly payments as promised, the money earned by the trolley collection business fell well short of being sufficient to sustain the promised payments.
The company's liquidators said in their report that between July 2000 and November 2001 the business made a net profit of $275,096 but was paying out $2 million a week to investors seeking high returns.
The second set of 11charges relate to Suleman claiming he had contracts for trolley collection in various parts of Queensland when they either did not exist, could not be found or were not serviced.
Suleman allegedly used the contracts to entice Wendy Billington to invest $1 million, into the company, thinking she was investing in a sound business with many contracts.
Liquidators Neil Cussen and Paul Weston concluded that the revenue generated by the trolley collection business was never sufficient to fund the returns promised, and that repayments to existing investors were paid out of new investors' funds under a pyramid-style scheme.
Suleman started the trolley business in 1993, providing trolley collections from supermarkets stretching from Cairns to Adelaide. Supermarkets paid Suleman an agreed fee out of which he paid subcontractors to do the work.
Under his bail conditions, Suleman will have to report daily to police, cannot leave Sydney without court approval, cannot apply for a passport and must not approach any points of departure for traveling overseas.
[Zinda: For a full update on the rise and fall of Froggy see Zinda's investigative report: "The Hood, the Bad and the Holy."]
---
Iraqi Election Was A Bittersweet
Courtesy of the Fairfield Champion
9 March 2005
(ZNDA: Sydney) The recent Iraqi election has been a bittersweet one for local Assyrians. The Shi'ite United Iraqi Alliance (UIA) nominated Islamic Al-Da'wah leader Ibrahim al-Ja'fari as its candidate for the position of prime minister in the transitional government.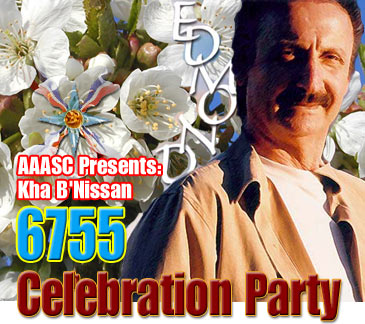 The Assyrian American Association of Southern California invites you to join us at the Annual Kha B'Nissan Dinner and Dance at the
Hilton Universal City on March 19th. 2005 555 Universal Hollywood Drive, Universal City, CA (818) 506-2500
www.universalcity.hilton.com
Entertainment for the evening is being provided by Edmond and the Haroot band. Doors will open at 7 pm and the buffet dinner will be served between 9 PM and 11 PM.
Tickets for the event are $70.00 each and are being sold on Saturdays and Sundays between 2 and 6pm, beginning on February 26, 2005 at the association on a non-refundable, first-come, first-serve basis. Visa/Mastercard and checks are accepted if purchasing at the Association.
For more information, or to purchase tickets
call (818) 506-7577. Seating is limited, so buy early.
The Secretary of the Assyrian Universal Alliance Australia chapter, Hermiz Shahen of Bonnyrigg, said his organization believed the January 30 elections in Iraq were a historic breakthrough in the development of Iraq as a free and democratic society, but was tainted by the number of people denied the right to vote.
``Never before had Iraq had free, fair and transparent elections," he said. ``Never before had the Christian Assyrians been allowed to participate in elections with their own parties.''
But Mr Shahen said although Assyrians supported US policy in Iraq, they feel they were deliberately locked out of the process when about 300,000 Assyrians, Yezidis and Turkmen in north Iraq were denied access to voting.
``In their eyes this is not an auspicious beginning to Iraqi democracy but a continuation of 1400 years of discrimination and marginalisation of their community,'' he said.
Mr Shahen said the official reply from the International Organisation for Migration was that the staff were not sent to the Nineveh Plain because of lack of security.
``But they never explained how the voting boxes were stolen and brought back completed with voting ballots,'' he said.`` Given the inequitable access to voting, Assyrians should be guaranteed a minimum number of seats in the Iraqi National Assembly. This should be between 22 and 27 seats, proportional to the Assyrian population in and out of Iraq, estimated to be between 8 and 10 per cent.
"Without representation, Assyrians will not be able to fight for their rights when the legislative assembly draws up Iraq's new constitution."
Mr Shahen said that once transitional National Assembly convenes, it must elect by a two-thirds majority Presidency Council consisting of a president and two deputy presidents.
That council will then nominate a prime minister, who will then be put to a confidence vote within the transitional National Assembly.
The UIA, which won 140 seats in the January 30 national election, had started negotiations with Iraq's Kurdish Alliance, which amassed 77 seats in the vote.
---
Linda George Survives Serious Auto Accident in Sweden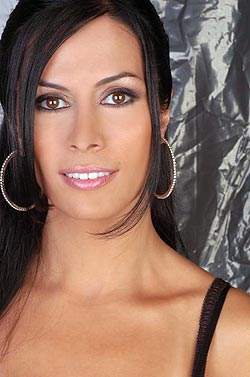 Ms. Linda George, survives a serious automobile accident in Sweden. She and the famed European journalist, Nuri Kino, were driving to Sodertalje when the accident occurred last week.
(ZNDA: Stockholm) Last week on a very cold and icy day in Stockholm, Sweden, Assyrian entertainment artist, Linda George and the Assyrian journalist, Mr. Nuri Kino, on their way to Sodertalje, were involved in a serious automobile accident which has rendered their vehicle useless.
Neither George nor Kino were seriously hurt.
Earlier that day Ms. George and Mr. Kino had spend a day working at a local television station on a documentary about Assyrians. As Mr. Kino was making a left turn, another car crashed into their automobile.
"I remember clearly the path was clear, then as Nuri turned I saw the beam of the other vehicle coming from his side," comments Ms. George in a phone interview with Zinda Magazine shortly after the accident. "I thought we were going to be instantly dead, a piece of glass almost slash his throat, then the bumper of the other vehicle and its engine which crashed our door almost penetrated our bodies," tells Ms. Linda George.
Both vehicles were about the same size.
The passenger next to the other driver sustained serious injuries; she was pulled out of the trunk, all framed in metal bars after few hours on the scene. Mr. Kino was placing snow on her wounds and assisting her to breathe normally, until the ambulance arrived.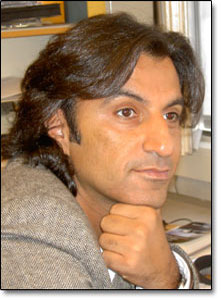 Nuri Kino, Assyrian journalist, was driving when the other driver crashed into his convertible.
"I believe and so does Nuri, that there was a Guardian Angel holding the path of the car that hit our vehicle's door, which then turned to the right. There was a big dent on the door, but not even a single crack on the frameless window of our convertible Mercedes. It must have been those angelic children that I had touched in north of Iraq back in 2002, or it could be one of the angels at a local shelter that I visited before Christmas. Somebody's prayers were with me, especially my Mom's family."
Ms. George returned to California on Saturday to nurse her mother in Modesto. Ms. George is in a good health and will return to Europe in two weeks to work on her musical and documentary projects.
Mr. Kino, who has authored several articles published in Zinda Magazine, was doing fine as well.
Mr. Nuri Kino is one of the most prominent European journalists and nominated for the 2005 Golden Spade Award - Sweden's equivalent to the Pulitzer Prize in journalism. Mr. Kino has been the recipient of this award for three consecutive years.
---
Four New Metropolitans To Malankara Church Consecrated
Courtesy of the IOH News Service
5 March 2005
By George Thazhakara
(ZNDA: India) Malankara Orthodox Syrian Church was blessed with four more Metropolitans on 5 March as they were consecrated as their new shepherds.
H. G. Dr. Gabriel Mar Gregorios, H. G. Dr. Zachariah Mar Theophilos, H. G. Augen Mar Dionysius and H. G.
Dr. Yoohanon Mar Chrisostom are the four consecrated as Metropolitans at Parumala Seminary Church on Saturday March 5 2005.
The holy consecration ceremony was led the supreme head of the Church, His Holiness Baselius Marthoma Mathews II, Catholicos of the East and Malankara Metropolitan and assisted by the Catholicos elect H. B. Thomas Mar Thimothios, in the presence of 18 other Metropolitans, hundreds of clergies, tens of thousands of faithful at home and all over the world.
The Catholicos and other Metropolitans of the church first led the four Bishop-elects into the 'Madbaha' during the morning prayers.
| | |
| --- | --- |
| | |
| | |
| | |
| | |
After being initiated into the new ecclesiastic status by the Catholicos, the four Rambans knelt down in mediation facing the Holy Altar. In middle of the holy Eucharist, celebrated by His Holiness, the consecration ceremony began.
During the first phase, all the four Rambans sealed their divine contract affixing the signatures before the Chief celebrant His Holiness the Catholicos. The second phase saw them declared as new Metropolitans of the church. Then they were given the shepherd staff, seated in thrones attired in Metropolitan's vestments and raised three times as per custom by saying 'Oxios'.
After 'Bas'malko', H. G. Thomas Mar Athanasius, the Metropolitan of Kandanadu diocese delivered the Word of God regarding the 'good shepherd'. At 2pm the consecration ceremony came to an end.
Later, in a public meeting to felicitate the newly ordained shepherds, Chief Minister of Kerala Mr. Oommen Chandy hoped the newly ordained bishops would serve the church and society alike positively. He said this while on inaugurating the public meeting held at the Church premises immediately after the consecration ceremony.
His Holiness the Catholicos Baselius Marthoma Mathews II presided over the public meeting. Among those who offered felicitations were Dr Marthoma Metropolitan H. G. Philipose Mar Chrisostom , Catholicos-Elect of Malankara Orthodox Church H. B. Thomas Mar Thimothios, H. G. Thomas Mar Athanasios, H. G. Dr Thomas Mar Makarios, and Sabha Secretary Dr Alexander Karackal.
The Malankara Orthodox Syrian Church (also known as Indian Orthodox Church or Orthodox Syrian Church of the East), is a prominent member of the Oriental Orthodox Church family. The Church traces its origins to St. Thomas the Apostle, who came to India in AD 52.
The head of the Malankara Orthodox Syrian Church is the Catholicos of the East and Malankara Metropolitan H.H. Mar Baselius Mar Thoma Mathews II whose seat is at Kottayam, Kerala, India. The Church has dioceses and churches in most parts of India as well as in the US, Canada, United Kingdom, Western Europe, Persian Gulf nations, Australia and New Zealand. The official title of the head of the Church is "the Catholicos of the East, Catholicos of the Apostolic throne of St. Thomas and the Malankara Metropolitan".
---
Bishops in Lebanon Call for Elections

Courtesy of Zenit News Agency
2 March 2005
(ZNDA: Beirut) Following the resignation of the Lebanon's leaders, the Maronite Bishops' Higher Council appealed for the formation of an interim government and the holding of elections this spring.
The prelates on 2 March urged that Christian President Emile Lahoud consult with Shiite Nabih Berri, president of Parliament, and the country's political forces, to find a substitute for pro-Syrian Sunni Prime Minister Omar Karame, who resigned.
Karame's resignation has not resolved the crisis that began Feb. 14 with the assassination of former Prime Minister Rafik Hariri.
"We exhort the Executive and Parliament to rapidly form a neutral, interim government in charge of organizing legislative elections for the coming spring," said the bishops, after meeting under the presidency of Cardinal Nasrallah Sfeir.
"It is unacceptable to allow things to drag on and create a constitutional vacuum, as it would be a leap into the unknown which could lead to economic collapse," they warned in a statement.
Around 40% of Lebanon's 3.7 million are Christians, mostly Maronite-rite Catholics. The majority of the population is Muslim.
Yesterday, the Hezbollah militia rallied hundreds of thousands of people in the streets of Beirut to thank Syria for its role in stabilizing their country. The pro-Syria crowd in Beirut was far larger than earlier student-led demonstrations calling on Syria to pull out of Lebanon.
Today, Lebanese legislators ignored weeks of anti-government protests and moved to reinstall the pro-Syrian prime minister, Omar Karami, forced out last week. The move ensured the Syrian government will continue its dominance in Lebanon but risked domestic and international condemnation.

---
San Diego Chaldeans Nominate Sistani for Noble Prize
Courtesy of the Associated Press
7 March 2005
By Rawya Rageh
(ZNDA: Baghdad) A group of Iraqi Chaldeans in San Diego County has launched a petition nominating Iraq's top Shiite Muslim cleric, Grand Ayatollah Ali al-Sistani, for the Nobel Peace Prize, drawing more than 7,000 signatures from around the world.
Ayatollah Sistani, 75, is Iraq's most-revered Shiite cleric and a symbol of Shiite political power. The group said Sunday he repeatedly has opposed anti-American violence, including a bloody summer uprising by Shiite cleric Muqtada al-Sadr.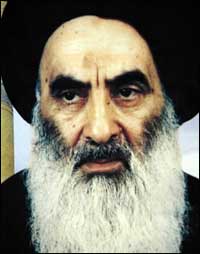 Grand Ayatollah Ali al-Sistani
Sistani "gave Muslims all around the globe a good example how to follow peaceful ways to resolve complex social (and) political challenges that face them, condemning terror and emphasizing ... rule of law," the petition said.
"We are forwarding the petition for the 2005 prize by Tuesday, March 8. If they accept it for this year, it will be great, if not, we will still apply next year," said Dr. Labib Sultan, one of the petition writers.
The Norwegian Nobel Committee makes its choice based on nominations submitted by Feb. 1 every year. Petitions submitted later are considered for the following year.
The petition, posted on the Internet on Feb. 27, was initiated by members of the Iraqi Chaldean community in El Cajon, Calif., a suburb east of San Diego, who belong to one of Iraq's tiny Christian minorities.
Shiites have been targets of dozens of mass suicide bombings and attacks blamed on Sunni insurgents that are widely seen as efforts to spark a sectarian civil war. Al-Sistani is believed to be a major force preventing an all-out confrontation between the two sects, with his repeated calls on Shiites to refrain from retaliating.
Shiites, who make up 60 percent of Iraq's 26 million people, are poised to take power for the first time after decades of Sunni domination. Christians are believed to make up just 3 percent of the population.
The frail, white-bearded cleric has millions of followers, who decorate their homes, stores and offices with his picture in a black robe and turban. He is seen as a spiritual figure who guides Shiites from his home in the Shiite holy city of Najaf, south of Baghdad.