Obtaining Direct Answers to Our National Dilemma
Alfred Alkhas
California
Defining the Crisis
Any observer could easily recognize that, without the need to have sharp eyes or use magnifying lenses, we are facing serious national crisis and can also identify that this crisis is caused by the following two major problems:
1. The religious differences that are polarizing various factions in divisive manners based on their faiths and religious beliefs at the expense of their national awareness and unity.
2. The political differences of the national parties that are sending conflicting messages causing more confusion rather and decimating the efforts needed to face the historical challenges and assume all national responsibilities.
Are we the only nation facing such problems or living in such crisis?
The answer is resounding 'no' because every nation has its religious and politician. Moreover, these are natural problems that are seen in all evolving nations during their long process of creating the national awareness and finding their way for prosperous and hopeful future.
However, having these two factors of religious and political powers, in any healthy environment, should act as supportive ingredients for unity and solidarity. They should mobilize the people to find tangible solutions for the national issues rather than being the main reason behind the emergence of this dangerous divisive attitude and hence creating this national crisis.
Dominating Factors
Unfortunately we have seen our religious leaders lacking or hesitant in assuming their 'national' responsibilities except for a few of them who on the contrary were over engaged in the political process sending some controversial messages to the public and therefore causing more damage than healing. The rest of our religious leaders gave vague excuses for not being involved in the national struggle as if they are not nationalists or should not express their national feelings for which they were rejected and denounced by the majority of their own congregations.
On one hand, we can easily notice that while our religious leaders have shown a very high discipline in holding on their religious differences and keep them out of our national issues at this critical time, for which they should be highly credited. However, and despite their honest intentions, this position was not helpful at all for our national advance. Silence is not the proper reaction when the moment requires demonstrating solidarity and unity and when most of the people are waiting some spiritual guidance from their most respected and appreciated leaders.
The complete silence from our religious leaders has caused more damage as compared to expressing their opinions openly and calling things by their real names. This passive position didn't either help them avoid being criticized at all; on the contrary, it caused more damaging to their national reputation than to save it! We are not here to blame our religious leaders and hang on their shoulders our failure but just to mention that their help and anticipated guidance is greatly missed and they need to reconsider their position.
The political parties on the other hand have shown, and as expected, completely opposite attitude being much more aggressive but unfortunately in the wrong direction. They engaged openly and vigorously in discrediting, disqualifying or even working against their rivals instead of leaning to rational thinking and create national front. The real expectations true nationalists would be a call for a serious national dialogue to negotiate their political views and to resolve their disagreements in order to reach common grounds and work as one well organized team.
Other Perspectives
Having different opinions and agendas should not be considered, at any time, a barrier to our progress but rather it should be invested as sharpening tools or supporting factors to improve our dialogue and strengthen our efforts. Our different opinions should be manipulated properly and wisely because all great ideas and thoughts stem from constructive and positive dialogue.
Whoever thinks that, for the purpose of our national struggle, we should have one view that must stem from one party and be preached by one church is wrong and 'Naïve' because such approach would only mean that we are dumb and unable to discuss our views freely enough and we don't care a damn about our national issues as we should.
Having different views or opinions should by no means make us conclude that we can't agree or we shouldn't reach common grounds to arrange one national plan and prepare one agenda. The only rule that must prevail always to defy such trivial conclusion is that we must precede our national best interests on any other political or religious views or beliefs regardless their significance and importance.
Remedy
The strong messages from our religious leaders to address this anomalous situation are yet to be heard. Our religious leaders need to demonstrate their great influence on the people for the benefit of the people. Silence in these hard times is wrong because true leadership emerges only when it speaks out the true message of wisdom and guidance to the people in a moment of crisis and we are now in desperate need for such leadership. While we are asking our politicians to show solidarity and lean to rationale, there must be at the same time some example to help them and to follow. The only one model available could come from our religious leaders by demonstrating their high standards and national awareness and to prove once again to their congregations that they are up to the moment as they used to be at all times of need.
The political parties must understand and admit that their past efforts were unsatisfactory and below our expectations and nothing but a complete failure. They must grow up to the historical moment and assume their national responsibilities to resolve their differences. They must realize that the only way available for them is to sit on one table to negotiate the national issues. They must realize that this national issue is not single party task but rather a national project that can be achieved only by organized work of a well prepared team.
Last Call
National crisis always emerge from the absence of true national leaders and we are living in the midst of such crisis awaiting true leaders to undertake and assume true leadership. The whole process is ignited by one spark of true example of national sacrifice and genuine move towards national reconciliation and we are yet to witness such sacrifice or move and yet feel the heat of such long awaited 'sweet' spark.
It may sound unfair, cruel or even strange to draw such picture but the fact is that in such conditions everyone is guilty until proven otherwise! The otherwise required is one graceful act only; assuming national responsibilities nothing less.
The Passion of Aramaic
Jay Bushinsky
The Jerusalem Post
14 April 2005
Trying to unravel the mysteries of Aramaic is like embarking on an odyssey across the deserts, mountains and valleys of the Middle East and onwards to Europe and North America.
It is an intellectual adventure that leads to an array of secular scholars, devout clergy and laymen - Jewish and Christian - who are experts in the history of these Semitic languages, which in some places still survive.
They tell of Israeli rock groups that sing modern Aramaic songs, of popular radio and TV programs in Aramaic or Syriac broadcast in Canada, the US and Scandinavia and of remote villages in Syria and Iraq, where Aramaic, rather than Arabic, is the local vernacular.
Aramaic is revered by Jews because it alternates with Hebrew in the later books of the Bible, is the Talmud's principal tongue and comprises several of Judaism's most important prayers, including the mourners' kaddish. Christians respect it as the language spoken by Jesus Christ and his apostles, while its eastern version, Syriac, is used in the liturgies of the ancient churches of Iraq and Syria.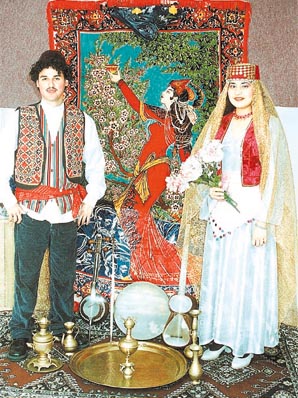 My Big Fat Aramaic Wedding - A Jewish 'Nash Didan' wedding scene. The natives of the Caucasus Mountains are one of the least-known ethnic groups in Israel.
Kurdish Jews brought Aramaic with them from northern Iraq, Iran and Turkey to Israel, where it is still spoken at home by the older generation, in much the same way Ashkenazi Jews speak Yiddish with their parents or grandparents. But they also regard it as evidence of their being descendants of the "Ten Lost Tribes" who were deported by the Assyrians nearly a century before the two remaining tribes of Judea were expelled by the Babylonians.
Hezy Mutzafi, an expert in Aramaic, contends that contemporary Aramaic is in danger of extinction, as the younger generation of families that have left the Middle East assimilates linguistically.
Prof. Geoffrey Khan of Cambridge University's Faculty of Oriental Studies has been mapping the neo-Syriac dialects linguistically for fear they may soon disappear. Mutzufi, who teaches Aramaic at Tel Aviv University, learned several of them and can converse fluently in each. Estimates of the number of Aramaic speakers in the world range from 500,000 to five million.
The head of the National Organization of Kurdish Jews in Israel, Avraham Simantov, interviewed in his Jerusalem office, said he takes pride in the fact that his people "preserved the language of the Targum," referring to the monumental translation of the Torah into Aramaic, which is known as Targum Onkelos. The latter evidently is a misnomer, however. Experts believe this term was erroneously adopted from the Greek translation by Aquila, a work cited in both the Jerusalem Talmud and in Christian lore.
Most scholars credit Rav Joseph, a third-century Babylonian scholar, and his students with having produced the authorized Aramaic translation attributed to Onkelos (a name possibly derived from Aquila).
"We read the Torah twice in our synagogues," said Simantov, "Once in Hebrew and once in Aramaic. This is because the leader of the congregation must be sure everyone present understands the text."
Simantov, who is the executive director of the Prazot housing company, arrived in Jerusalem from Kurdistan in 1951 with his family.
"My Aramaic made it easy for me to pick up Hebrew," he said, recalling that he was admitted to Jerusalem's elite Ma'aleh school, where many of the teachers were German Jews and where he made a swift transition from a quasi-medieval lifestyle to a modern Israeli one.
Unlike Jerusalem's Kurdish Jews, who speak Aramaic at home and Hebrew outside, their compatriots who settled in other parts of Israel use Aramaic in all facets of their daily lives.
"Generally speaking," Simantov explained, "our young generation speaks Hebrew. But even though it is the third generation since our mass immigration, its members still understand the language of the Targum. And in our synagogues, especially in the agricultural sector, they still alternate the text of the Hebrew scriptures with that of the Targum."
In Nazareth, home of Atallah Mansour, the distinguished Israeli journalist who was on the staff of the Hebrew daily Haaretz for more than three decades and now serves as a columnist for Jerusalem's Arabic daily al-Quds, Aramaic is a constant feature of the linguistic landscape, especially its liturgical aspect.
He cited an unusual source book published 14 years ago in Cairo by Izzat Zaki, in which the Nestorian Christians describe themselves as "the children of Israel" and claim they are the remnant of the Ten Lost Tribes. Zaki contends that they do not marry outside their religious faith and live in the most defensible mountainous regions of Kurdistan. Zaki quotes them as saying, "we use Aramaic just like the Jews."
Mansour refers to these exotic Christians in his newly published book, Narrow Gate Churches, a history of Christianity in the Holy Land and the surrounding regions of the Middle East from the time of Jesus to the present era. He invited the local head of the Maronite Church, Abouna (Our Father) Yusuf Issa, to explain his 1,000-member congregation's integration of Syriac into its prayer services.
"Only members of the clergy are taught the Syriac language," Abouna Yusuf said, noting that he learned it as a seminarian in Rome.
"I don't speak it," he admitted, "but I understand every word."
Abouna Yusuf pointed out that until a century ago, there were many villages in what is now Syria where Aramaic was the spoken language. Today, only three are left, all of them relatively close to Damascus. For political reasons, the Syrian authorities tried to shield them from inquisitive foreigners, especially foreign correspondents, but persistent requests by BBC Television to produce a documentary about their cultural traditions were eventually granted reluctantly.
"We pray in Syriac," explained Abouna Yusuf, "but find it necessary to switch to Arabic more and more."
He equated Syriac with Aramaic, allowing for the fact that it is a different dialect, but confessed, "I am very proud to be able to speak the same language in which Jesus Christ spoke."
Outside of prestigious universities like Cambridge and Tel Aviv University, there are few, if any, schools where Aramaic or Syriac is taught as a language to read, write and speak.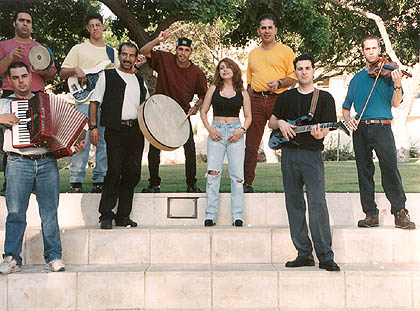 Nash Didan, a musical band formed by Arik Mordechai plays the music of the Nash Didan ethnic group in Israel. Nash Didans ('Our People' in Syriac) emigrated to Israel primarily from Urmia in Iran and northern Iraq over 50 years ago, shortly after the independence of Israel in 1948.
This is the educational reality that confronts most Jewish yeshiva students, whose primary goal is to learn the contents and theological principles expounded in the Talmud or the Gemara, as it is called in Aramaic. They are not taught Aramaic grammar, are not challenged with vocabulary enrichment and are not required to converse in Aramaic, despite the fact that the Talmud itself consists of rabbinical discourse conducted 2,000 years ago in that language. Instead, they learn Aramaic only in the Talmudic context and mainly by rote.
"An experiment conducted at Cambridge to teach young Orthodox Jews Aramaic as a classical language and thereby enable them to peruse the Talmud's text independently, without rabbinical guidance, ended in failure," said Mutzafi.
"The boys were not adept at grasping linguistic structures such as the verb categories or grammatical usage that could be found in the ancient text."
At the same time, he noted that the range of words used in the Talmud is "quite limited" to those that reflect Jewish religious life and observance.
Aramaic made its debut 3,000 years ago as the language of the ancient Arameans, the nation that lived in the Bible's Padan-Aram and the Patriarch Abraham's Aram Naharayim.
It served as the Assyrians' lingua franca soon afterward and became their imperial language as well as that of the Babylonians and Persians, all of whom applied it to diplomacy and trade from India to Ethiopia. Those within their respective imperial realms who could not speak Aramaic could at least read and understand it, one scholar said.
By the Second Temple period, 2,000 years ago, Palestinian Aramaic was widely used by the Jews of the Land of Israel. After the birth of Christianity, its adherents developed their own dialect, which differed somewhat from that of the Jews. But Aramaic remained supreme in the Fertile Crescent until the Muslim conquest in the seventh century, after which it was gradually overtaken by Arabic.
The very name of the Syriac translation of the Bible, the "Peshitta," is a derivative of the Hebrew word pshat, or simplification.
Many of the common cognate words are easily comprehensible to Hebrew speakers. For example, toda raba ("thank-you") is pronounced with the accent on the first syllable of each word rather than on the second, as is the case in modern Hebrew.
During Aramaic's linguistic heyday, when it enjoyed the same international status as English does today, it not only split into Western and Eastern versions (the former always known as Aramaic and the latter as Syriac), but Syriac spawned countless dialects, which were often unintelligible to close neighbors who spoke the very same language. By then, the alphabet used by the Jews to transcribe the Hebrew language was the Assyrian one they had encountered during their captivity, while the original one, which was of Phoenician origin, was abandoned. Syriac's linguists opted for a different alphabet.
One consequence of these diversions was that Talmudic Aramaic was incomprehensible to Christians. Instead, they used the various Aramaic dialects, gradually incorporating foreign words from Greek and Arabic.
A Christian scholar based in Jerusalem, who also insisted on anonymity, said the Aramaic- or Syrian-speaking diaspora encompasses Canada, Sweden, Norway, Australia and England. (This list was extended by a secular colleague to include France, especially Marseilles, Lebanon and the southern reaches of the former Soviet Union.)
He listed the four main eastern churches in which Syriac is the language of prayer as the Syrian Jacobite, Syrian Catholic, Nestorian and Chaldean churches (the latter previously known as the Church of Jerome).
Judean or Palestinian Aramaic was the dominant language among the Holy Land's Christians until the 16th century, he explained, noting that their shift to Arabic was very gradual - faster in the highlands than in the valleys and plains.
A similar process occurred in Syria, Iraq and Iran, where the descendants of the original Arameans and the successive Assyrian, Babylonian and Persian ethnic groups had converted to Christianity and adopted the northwestern Mesopotamian dialect of Aramaic, which is known as Syriac.
The pervasiveness of Aramaic was such that it virtually replaced Hebrew as the preferred language of the Holy Land's Jews, a declining number of whom were familiar with the biblical tongue. This was also true of their coreligionists in Babylon and the surrounding regions of Mesopotamia - so much so, this scholar noted, that the Book of Daniel, which emerged from that milieu, "is more than 80 percent Aramaic."
Emanuel Doubchak, a linguist and translator who emigrated to Israel from France, attributes the spread of Aramaic in the ancient world to the fact that its namesakes, the Aramaeans, were merchants who plied the far-flung trade routes of the Fertile Crescent and Mediterranean Basin.
"They did not engage in empire-building and never had an empire of their own," he contended, "but their language attained the status of being the main linguistic vehicle for diplomatic discourse" and international trade for nearly a millennium.
He credited Aramaic's universality with the fact that many of the great philosophical, historical and scientific works of the ancient world were translated into it from Greek and Latin and thereby were saved for posterity.
Despite the powerful cultural impact of Greek language and culture during the Hellenistic period, "Aramaic remained the dominant language of this country and its square alphabet replaced the cursive letters of the preceding Canaanite-Phoenician writing system originally adopted by the Hebrews," he said.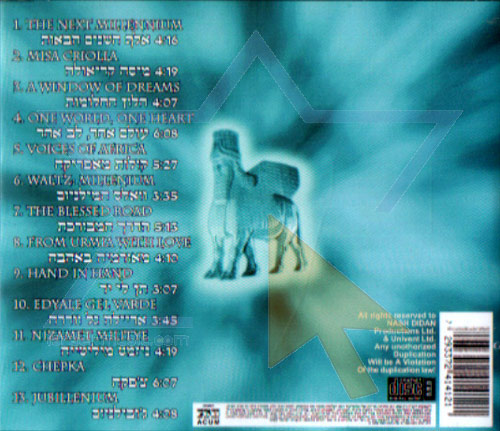 Zinda: The back cover of the musical band Nash Didan's CD titled "Jubillenium". Often mistaken as a Jewish Kurdish community, the Nash Didans continue to disperse such misconceptions in their music and folklore, rather linking themselves to ancient Assyrians.
The rise of Christianity and the fact that the New Testament was written in Greek posed "an obstacle" to Aramaic's local longevity, however. Concurrently, the eastern Christians had adopted a variation of the Assyrian alphabet, whose letters are reminiscent of the Hebrew ones, but not enough to make them legible to most Jews. The anonymous Christian scholar from the Old City, however, was able to jot them down in a jiffy.
There is no better proof of modern Aramaic's vitality than the spectacular weddings held by the Jewish "Nash Didan" community, which hails from the remote foothills of the Caucasus Mountains.
"Nash Didan" means "Our People" and its distinctive music and dance have been immortalized by Nissan Aviv, a brilliant composer and orchestrator who arrived in Israel 55 years ago during the peak of the "Nash Didan" immigration, and has devoted his life to preserving and continuing this culture ever since. In addition to the many CDs he's put out over the years, Aviv was also the subject of a documentary by Channel 1's Gil Sedan.
Soon after the late Naomi Shemer's Yerushalayim Shel Zahav ("Jerusalem of Gold") became a hit on the eve of the Six Day War, Aviv obtained her permission to render it in Aramaic. Translated as Yerushalayim Ai Dheba, it is a beloved staple at "Nash Didan" weddings.
Aviv was born in Urmia, an ancient city in Iranian Azerbaijan.
"We spoke Aramaic at home, Turkish on the street and learned Persian at school," he said.
"I knew a fair amount of Hebrew when we came to Israel because it was taught in our Jewish schools. And partly thanks to my Aramaic, I was able to speak like a sabra in no time."
Aviv's lyrics are written in modern Aramaic and his songs not only draw audiences from the various Aramaic-speaking communities in Israel - located in Holon, Givatayim and Jerusalem - but are also played on the Aramaic (or Syriac) radio and TV stations in Australia, Canada and Sweden.
"Jerusalem of Gold is as popular abroad as it is here," he said.
Aviv's music is based on three instruments: a drum known as a dair'a, a five-stringed instrument plucked like a balalaika or mandolin known as a kar kavkazi and a Central Asian version of the cello known as a kamanncha.
Aviv has won the unstinting acclaim of one of Israel's leading experts in cognate Semitic languages, Hezy Mutzafi, who speaks half a dozen of the Aramaic and Syriac dialects fluently. Noting that the "Nash Didan" community consists of "only a few thousand" Israelis (its members constitute a relatively small percentage of the influx of nearly 200,000 immigrants from Iran, Turkey and the Caucasus), Mutzafi points out that it also is one of the least known Jewish ethnic groups.
"Its focus is on culture, folklore and spoken Aramaic," explained Mutzafi, referring to the latter as lishan noshan or "our language."
Mutzafi singled out Aviv as one of the most outstanding activists in the "Nash Didan" community, a man who has contributed mightily to its spiritual and cultural life.
Privately, Aviv is rather pessimistic about what the future holds for the language and lifestyle he loves and has tried to preserve.
"Our Aramaic is being forgotten," he said. "The younger generation can understand it, but cannot speak and in time, this too will be lost.
One project that gives Aviv hope is the Tel Aviv University's development of an Aramaic dictionary.
"The trouble is that the project is enormous and the funding available for it is minuscule," he said.

[Zinda: The music of Nash Didan is astonishingly beautiful and relaxing. Their hit song, A Window Of Dreams, is featured in Claude Challe's Nirvana Vol II CD. The music is tranquil, rich, and universal with familiar "Assyrian" themes. Recommended by Zinda Magazine, all Nash Didan's CD's can be purchased from Isreal-Music [click here].
Jay Bushinsky has been a foreign correspondent covering the Middle East since 1966. Based in Jerusalem, he writes a weekly political column for the Toronto Sun and (Chicago) Daily Herald as well as the Pittsburgh Jewish Chronicle and files news dispatches to the Toronto Sun. His feature articles appear in the Melbourne Sunday Herald-Sun. Bushinsky produced and reported several documentaries including a major expose of Austrian President Kurt Waldheim's involvement in the Nazi Wehrmacht's genocide committed against Serbs, Gypsies and Jews in occupied Yugoslavia, the case of Josef Mengele and the hunt for Alois Brunner. Jay Bushinsky received his M.S. degree from Columbia University's Graduate School of Journalism. He teaches Journalism at Bar-Ilan University and at the Tel Aviv College of management. Bushinsky is married and has two sons and a daughter.]