U.S. Investigating Fate of Chicago Assyrian Missing in Iraq
Courtesy of the Chicago Tribune
26 May 2005
By Sean D. Hamill & Jamie Francisco
(ZNDA: Chicago) More than a week after an Iraqi-American businessman from Skokie (suburb of Chicago) disappeared in Baghdad, the U.S. State Department is still trying to find out whether he was executed or taken hostage, an official said Wednesday.
Neenus Y. Khoshaba, 56, an American citizen, was reported missing in Baghdad on May 17 after he left for what was described as a business meeting that may have been a trap, family members said.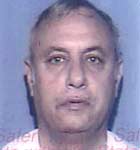 Mr. Neenus Khoshaba is still missing in Iraq after he was kidnapped on 17 May.
Iraq's al-Qaida frontman Abu Musab al-Zarqawi claimed his group executed an American pilot, but personal ID posted on the Internet indicates the terrorists may have mistaken a frequent-flier card for a flying license, according to an intelligence analyst.
The statement on the jihadi site, posted along with photos of the personal documents, showed the purported victim, Neenus Y. Khoshaba, is a U.S. national born in 1948, said Laura Mansfield of the Northeast Intelligence Network.
The terrorists' statement said: "Your brothers in al-Qaida in the Land of Two Rivers got their hands on a U.S. pilot who turned out to have bombarded several mosques and the Sheraton Hotel in Baghdad during the invasion of Iraq, as well as several civilian homes."
The identity cards shown were an Illinois driver's license, a health insurance card, a frequent-guest card for a hotel chain and a membership card for the Executive Club of British Airways, a frequent-flier program.
"Apparently the jihadis interpreted the frequent-flier card and the British Airways Club card as evidence that the hostage was a pilot," said Mansfield.
The Baghdad Bazaar website describes Khoshaba's company as "active in Wood Household Furniture, Upholstered; Hardwood Veneer And Plywood."
A high-ranking official with Iraq's Assyrian Democratic Movement told Agence France-Presse that Khoshaba is a U.S.-Iraqi businessman from an Assyrian family who was kidnapped last Wednesday.
"I can't confirm his death but I can identify the hostage," the official told AFP, speaking on condition of anonymity.
The official said Khoshaba was based in Chicago and moved back to Iraq in 2003.
"He was apparently tricked by a group of people posing as representatives from the oil ministry, who told him that they were looking for someone with a dual nationality and had business opportunities to offer him," the official said. "There had been no word from him since."
"The thing is we keep seeing a whole bunch of different reports that claim that he was killed, and other reports from other news media that he was being held hostage," said Steve Pike, a spokesman for the State Department in Washington. "But it's all very vague."
Officials have been unable to confirm the authenticity of a report posted on the Internet by a group claiming it kidnapped and executed Khoshaba for being a U.S. military pilot who helped bomb mosques and a Baghdad hotel. The group reportedly said it was Al Qaeda.
The State Department is working with Iraqi officials and with Khoshaba's family to find out what happened to the computer engineer, Pike said.
"He's not military," said Aladin Khamis, who spoke on behalf of a Chicago family describing themselves as third cousins of Khoshaba. "There's no way he would fly a plane."
Khamis said that Khoshaba, 56, actually was a consultant in the construction industry in Saudi Arabia who often traveled between there and the United States.
Khamis, who is president of the Assyrian American National Federation Inc., said he does not know if Khoshaba is alive.
At a gathering in a home on the 6400 block of North Artesian Avenue, Khamis said he got a phone call a week ago that Khoshaba had been kidnapped.
Khoshaba's brother-in-law, Calvin Albazi, said Khoshaba "went to a business meeting and never came back."
Khoshaba, who spent most of the last 20 years working in Saudi Arabia, still considered the Chicago area his home, relatives said.
Alexander Abraham, 69, a first cousin from Glenview, held out hope that the report of Khoshaba's death was false.
Abraham said that a group claiming to have kidnapped Khoshaba contacted Khoshaba's brother in Baghdad three times in the last week. "The group ... has not specified what they want," Abraham said.
There has been a rash of kidnappings in Iraq in the last year, sometimes for political reasons, but also for ransom.
Abraham said Khoshaba's brother also told him that two men Khoshaba was with the day he disappeared also are missing. One was a Muslim business partner, the other the brother of the Assyrian Christian bishop from Kirkuk, Abraham said.
The office of U.S. Rep. Jan Schakowsky (D-Ill.) has asked the State Department to investigate, according to a statement. Khoshaba's family are also Christian Assyrians, a religious minority in Iraq.
Khoshaba immigrated to the United States from Iraq when he was 18 and got a degree in computer engineering, relatives said.
His wife, Moona, to whom he was married for 21 years, was a Chicago native who died of leukemia two years ago.
Though he considered the Chicago area his home, Khoshaba has worked for a string of Saudi Arabian engineering companies for the last 20 years, relatives said. His wife was a successful interior designer in Saudi Arabia.
They would both spend most of each year in Saudi Arabia but return to Chicago for several months in the summer, where the sociable couple frequented Rush Street restaurants. Khoshaba liked a good cigar and following the Cubs and Bears.
When the Iraq war ended and the rebuilding began, he was a natural to help with the vast amount of engineering work that needed to be done, his relatives said, because he grew up in Baghdad and spoke both English and Arabic fluently, as well as Assyrian. He was staying with his older brother, Bolus, and their mother in Baghdad, but his family had expressed concern about him coming to work in the city because he was an American now.
"They didn't want him to be there because it is dangerous," said Calvin Albazi's brother, Martin, 51, also of Skokie. "But when you're Americanized, you think it won't happen to you."
Australia's Parliament Endorses Petition for Assyrian Administrative Area in Iraq
(ZNDA: Sydney) On Monday, 23 May, Mr. Chris Bowen, a Labor party member in the Australian parliament moved a motion before the House of Representatives, circulated by the Australian Chapter of the Assyrian Universal Alliance. The petition calls on the Australian government to urge the Iraqi government to create a "'protected administrative area for the Assyrians'.
Mr. Chris Bowen MP lodged this petition on Monday 14 March 2005 in the Federal Parliament of Australia. The petition was read as follows:
"The petition of certain citizens of Australia draws to the attention of the House: The need to develop an Australian foreign policy that calls on the Iraqi government to designate a geographic 'Protected Administrative Area' for the Christian Assyrians, Chaldeans, Syriacs and Mandeans in Iraq, in line with Article 53d of the Iraqi government's Transitional Administrative law.

Your petitioners therefore ask that the House review the Australian Government's policy in relation to Iraq and make a statement encouraging the Iraqi government to establish a 'Protected Administrative Area' for Christian Assyrians, Chaldeans, Syriacs and Mandeans."
Immediately after the reading of the petition the following statement was released by the AUA to the offices of Zinda Magazine:
On behalf of the Assyrian Universal Alliance (AUA) we are pleased to announce that after a strong lobby which this chapter conducted with more than 15 Ministers and Senators of the governing Australian Liberal members with help from dedicated Assyrians Mr Poul Azzo and Mr Zaya Tooma, the Monday 23 May 2005 motion was successfully seconded and endorsed by the six speakers of the house. The whole debate lasted about 30 minutes. An audio CD will be available shortly for Assyrian political Organizations wish's to view and keep for records.
A delegation representing the Assyrian Australian National Federation, the Assyrian Universal Alliance, and other prominent Assyrians were at the house during the debate. The delegation visited Mr. Chris Bowen, MP, in his Parliament office, to congratulate and thank him for his stand in defending the Human Rights of the Assyrian people of Iraq. The delegation also met with Ms Maria Vamvakinou, MP, Australian Labor Party in Victoria, representing the Assyrian community in her electorate of Calwell in Melbourne, who seconded the motion and spoke in its support, and with Mr. Kevin Rudd, MP, Shadow Minister for Foreign Affairs & International Security. The Assyrian delegation also had an opportunity to meet for 10 minutes with The Hon Kim Beazley, MP, Leader of the Opposition in Parliament, and with many other Senators.
Mr. Hemiz Shahen, AUA Secretary in Australia told Zinda Magazine: "The next stage will be harder and will require much more effort toward implementing this motion and the suggestions that were raised from both the Labor MP's and the Government representative.
The office of Mr. Chris Bowen M.P., Federal Member for Prospect, also released the following statement on 24 May:
MPs Join Chorus For End to Violence Against the Forgotten People of Iraq

Yesterday, the Federal Parliament heard of the plight of Iraqi's ethnic minorities in Post-Hussein Iraq and the need for the international community and the Australian Government to act so as to avoid another humanitarian crisis.

Federal Member for Prospect, Chris Bowen moved a private members motion urging the Federal Government to make urgent representations to the Iraqi Government, concerning the plight of some of their ethnic, Christian minorities.

"There is another dimension to the unfolding Iraqi story which has received little attention," said Mr Bowen during the debate.

"It is a story which has the potential to erupt into renewed violence and develop into a humanitarian crisis of the first order.

"It is the story of Iraq's other minorities: the Assyrians, Chaldeans, Mandaeans and Syriacs.

"The challenge now for the Minister for Foreign Affairs and the Government is to build on the spirit of bipartisanship that was evident during the debate," said Mr Bowen at the conclusion of the debate.

Government and Opposition Members supported Mr Bowen's motion.

The Federal Government needs to make direct representations to the newly elected Iraqi Government to ensure their ethnic minorities are:

• constitutionally guaranteed the right to freely exercise their customs, religion, language and traditions;

• given the same protection by law enforcement and international security forces as other ethnic groups; and

• entitled to proper representation and participation in all levels of government.

"Anyone who believes that people should be able to follow the religion of their choice without fear of persecution has every reason to fear recent developments in Iraq."

Today's parliamentary debate comes on the back of numerous public statements and speeches by Chris, including the tabling of a petition by Chris in the Parliament with over 2,000 signatures, as well as an intensive lobbying effort by the Australian-Assyrian community.

Who Says A Website Can't Be Judged By its Cover?

The ALL NEW Z

INDA MAGAZINE
Fleeing Iraqi Christians on Road to Damascus
Courtesy of the St. Petersburg Times
23 May 2005
By Susan Taylor Martin
(ZNDA: Damascus) When President Bush, a born-again Christian, launched the 2003 war against Iraq, he probably didn't expect one result - that Iraq, once a secular nation, would become especially dangerous for Christians.
Islamic extremists have bombed churches. They have burned liquor stores and killed their Christian owners. They harass Christian women who don't shroud themselves in black.
The president probably didn't expect another result - that Iraqi Christians would find refuge in Syria, a country that he often criticizes but that has a strong record of religious tolerance. In the past two years, Syria has taken in as many as 20,000 Christians fleeing violence and persecution in their native land.
Among them: Sabah Guryal.
"Christians in Iraq paid twice after coalition forces entered," says Guryal, until recently an executive of the Middle East Council of Churches in the northern city of Mosul.
"First, the Iraqi Muslims accused the Christians of supporting the coalition because we are Christians like the American soldiers. This is why they insult us, because we are "unbelievers.' And we pay the second time because the American forces consider us all Arabs, not Christians."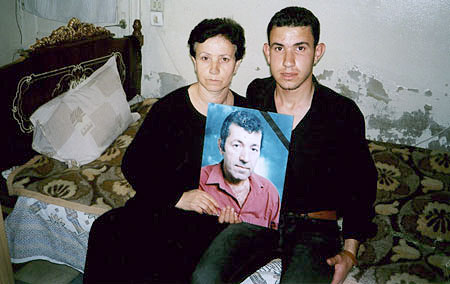 Iraqi Christians Jalila and son Rami hold a photo of Jalila's husband, Najeeb, victim of a gunman. She considers Syria a way station to the West. Photo by Susan Taylor Martin.
Anonymous callers warned Guryal to stop working for the council or he would be killed. His 22-year-old son, an interpreter for coalition troops, twice escaped kidnapping by men with guns.
"There are hundreds of stories like this," Guryal says. "Hundreds of families have been threatened."
By last summer, he had enough. With nothing but their clothes, he, his wife and their four children took a taxi to Damascus, where they share two rooms in a modest area of the city that has become home to many other Iraqi Christians. Left behind: A car. A spacious house. A lifetime of achievement.
"We leave everything," Guryal says, "just to be alive."
Christians from Iraq have gone to other countries, but most choose Syria because of cultural similarities and ease of entry.
Unique in the region, Syria allows any citizen of an Arab nation to enter for up to six months without a visa. President Bush says this "porous" border makes it easy for insurgents to cross into Iraq from Syria, but it also makes it possible for Christians to flee the dangers that have swept their country since the United States occupied it.
"From the time of independence in 1946, Syria has always opened its doors for every refugee who comes - Armenians, Palestinians, Sudanese and now Iraqis," says Archbishop Isidore Battikha, patriarch of the Greek Catholic Church in Damascus.
"They are all welcome in Syria, and the government asks us to help them - we open our churches, our meeting rooms, our schools, and help by money or finding money."
Christians also feel more comfortable in Syria than in Iraq's other neighbors, the overwhelmingly Muslim countries of Jordan, Iran, Turkey, Kuwait and especially Saudi Arabia. There, "religious freedom does not exist," the U.S. State Department says.
By contrast, about 10 percent of Syria's 18-million people are Christians, who worship freely in an atmosphere rich in history and tolerance.
It was on the road to Damascus that St. Paul converted after his vision of Christ. It was in Syria that disciples were first called Christians. And it was here on a recent Sunday morning, not far from the magnificent Omayyad Mosque, that hundreds prayed for their new pope, Benedict XVI, under the soaring stone arches of a Greek Catholic church.
"Christians and Muslims have lived in this country for 1,500 years," says Father Toufic Eid. "Relations are very good in that people are used to living together."
As tourism grows, Syria proudly notes its wealth of Christian shrines, including St. Serge Church, site of the world's oldest altar in continuous use (more than 1,000 years); and St. Teckla's Monastery, named for one of the earliest saints. Both are in predominantly Christian villages in the mountains north of Damascus, where 18,000 people still speak Aramaic, the language of Jesus.
"We did not realize there were so many Christian places here," says Jamila, an engineer from Mosul who was visiting St. Teckla's grave, in a rocky grotto high on a mountainside.
She and her sister, an engineer, have remained in Iraq only because of their jobs. Last year, their brother Abdel, manager of a TV station, moved his family to Damascus after several churches were bombed in Mosul and Baghdad.
"Iraq is dangerous for Christians," says Abdel, who did not want his last name used because he fears for his relatives there. "Here, there is security and freedom."
Syria's constitution requires a Muslim to be president, but the ruling Baath Party was founded by a Christian who believed in secular government. Christians also benefit from the fact that Syria's most recent leaders, members of the minority Alawite sect, have embraced other minorities as a way of strengthening their power.
A similar situation existed in Iraq, where the Baath Party ruled until 2003. As a Baathist and a member of the Sunni minority, Saddam Hussein had a secular government that included Christians - among his best-known advisers was the Christian deputy prime minister, Tariq Aziz.
Like all Iraqis, the million or so Christians suffered under Hussein's tyrannical rule. They were forced to give their children Arab names. Spies attended church to see if priests were sermonizing against the regime. But Christians were generally tolerated and allowed to worship freely.
That changed after the invasion as the insurgency flared and Islamic fundamentalism grew stronger. Once unthinkable events became routine. A bishop in Mosul was held two days before his church paid a $40,000 ransom. A Christian woman had to disguise herself in black cloak and veil so she could safely flee the country after kidnappers killed her husband.
Iraq now has a democratic government, but Christians often feel like outcasts. The Kurds - America's closest Iraqi allies - are denying jobs to Christians unless they join a Kurdish party, according to Father Arkan Yako.
An Assyrian Christian, Yako recently gave an interview on CNN in which he complained that even under current Iraqi law, the sons of Christian women married to Muslim men automatically become Muslims themselves. His comments led to death threats that prompted Yako to temporarily leave Iraq; he is now in Damascus.
"We are third- or fourth-class citizens in our own country," he says.
Life in Syria is by no means idyllic for Iraq's self-exiled Christians. This is a poor nation with high unemployment. As "visitors," the Iraqis are not legally allowed to work here, though some find jobs in the underground economy as laborers and shop clerks.
Jalila, a small woman in black whose face looks forever drained of happiness, is one of many Iraqi Christians who regard Syria as a way station, hoping they can one day move to a country in the West.
Shortly after U.S. forces entered Baghdad in April 2003, Jalila's husband, a salesman, was killed by an unknown gunman. Two weeks ago, her brother was struck in the heart when he got caught in a crossfire between insurgents and soldiers.
Jalila blames both deaths on terrorists, not the Americans. She has adult children in many places - California, Turkey and Holland - and has applied for visas for her and her 19-year-old son to move to Australia.
Never again will she live in Iraq: "I'd like to go to any country, just as long as it's outside our country."
Iraq is not the only area of the Middle East where the Christian population is dwindling. Thousands left Bethlehem, the birthplace of Christ, during years of violence between Israelis and Palestinians. Tens of thousands more fled Lebanon during its 15-year civil war.
Battikha, the Greek Catholic archbishop, says Christians are increasingly divided about their future in this troubled part of the world.
Some feel that "God put us here; this is our land, and we have to continue our mission. Others feel they have only one time to live, so why lose their lives living with problems. They prefer to go where there is more dignity, more peace, more freedom, more opportunities."
Battikha understands the latter view but is saddened by the number of Iraqi Christians in Syria who want to move on. After 15 years in Rome, he realized that he felt happiest here, in the land of his birth.
Rome "didn't offer the kind of warm relationships between persons, so I don't accept it when somebody asks me for help to get a visa to go outside. I know we have economic and social problems, but we have a lifetime of experience between Islam and Christianity. I think the whole world needs this kind of experience."

Zinda: Susan Taylor Martin can be reached at susan@sptimes.com. We urge our readers to write directly to the western journalists and thank them for their courageous reporting of the Assyrian events, social and political dilemmas, and cultural heritage.

Virgin Mary Church Opens Doors After 25 Years in Turkey
Courtesy of the Turkish Daily News
25 May 2005
(ZNDA: Diyarbakir) The 1,700-year-old Virgin Mary Assyrian Church in Diyarbakır, Turkey has reopened its doors after a major restoration.
Assyrians nationwide gathered for the first ceremony to be held in the church in 25 years, many of them weeping from the emotion.
Metropolitan Samuel Aktaş and Diyarbakır Deputy Governor Canan Hançer Baştürk officiated at the ceremony. Other attendees were Diyarbakır Mayor Osman Baydemir, Sur Mayor Abdullah Demirbaş, Kayapınar Mayor Zülküf Karatekin, Dicle University Theology Faculty Dean Abdülkerim Ünalan, Diyarbakır Mufti Muhittin Sarıkaya and nearly 250 Assyrians.
Baydemir delivered a speech and said his administration is ready to help migrant families return to their homelands in southeastern Anatolia.
Betül Hiçbezmez, who migrated from Diyarbakır 25 years ago, cried and said her father had served the church. "My childhood was here. I tried finding some neighbors and relatives but couldn't. I miss it here so much."
The participants enjoyed breakfast in the church garden.
Assyrian Youth Society Organizes Election Campaigns in Lebanon
(ZNDA: Beirut) Candidates loyal to Lebanon's assassinated former prime minister have posted giant campaign billboards bearing his picture, hoping a wave of sympathy will bring them to power in Lebanon's first elections in decades that are free from Syrian domination.
The elections will take place in four stages beginning tomorrow (Sunday). Hariri's killing, which sparked mass protests that ultimately forced Syria to withdraw from Lebanon, appears to be the driving force in the vote.
Groups united in the vocal opposition to Syrian control seen after Hariri's killing in February are widely expected to win a majority in the next parliament. Syria was accused by the opposition of having a hand in the assassination, a charge Damascus has denied.
The Assyrian Youth Society in al-Suryan Quarters of Beirut, Lebanon's Ashrafiyya district, are organized a political rally for the four candidates on the slate of Rafiq al-Hariri in the Lebanese elections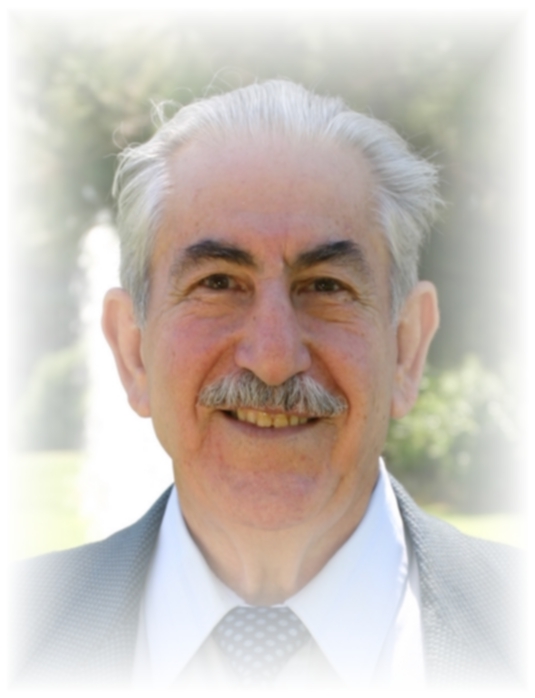 Modern Assyrian Language Guide
Volume I
by
Tobia Giwargis
(209) 667-6697
88 Pages
U.S. $15.00
(add $2 per book for shipping in the U.S.)
To Order Your Copy Contact:
Assyrian Club of Urhai
Education Committee
P.O. box 577762
Modesto, CA 95357 USA

A large crowd welcomed the four candidates who will represent the first circuit in the Lebanese elections. The four candidates are Solanje al-Jmaiel, Mishal Fir'aon, Jibran Twayni, and Nabeel de Frej.
Mr. Ibrahim Saliba, President of the Assyrian Youth Society, welcomed the four candidates for the first circuit and praised their unity to save Lebanon. Ms. al-Jmaiel stated in her speech that "the al-Suryan Quarters is the quarter of love, resistance, and harmony."
Mr. Twayni saluted the community that did not withhold "when time for sacrifice and Lebanese resistance called upon them to protect Lebanon and keep it proud." He added: "We must vote so we could prove that we exist in al-Suryan quarters and in Beirut."
Mr. Fir'aon described the people of the al-Suryan Quarters as the "beating heart of al-Ashrafiyya" and "have sacrificed much of blood for Lebanon." He added that these elections are a gesture of loyalty to the late Prime Minister al-Hariri and another slain prime minister, Mr. Bashir al-Jmaiel.
Hariri loyalists are determined to carry out his agenda of opposing extremism and rebuilding the country. They also want to ensure a thorough investigation of his killing.
The former prime minister's son, Saad Hariri, 35, is leading a 19-member list of candidates named after his father in Beirut's three districts.
In urging Beirut's more than 400,000 eligible voters to turn out to show loyalty to his father, Saad Hariri billed the Beirut election as "the day of safeguarding Rafik Hariri's course (and) Rafik Hariri's blood."
Nine of his candidates have won uncontested seats and 10 others, including Saad Hariri, are competing for the remaining 10 seats in the capital. The competition is so lopsided that people are being urged to vote anyway if only to show Hariri's numerical dominance.
The election will be the first without foreign forces since the pre-civil war parliament was elected in 1972, three years before the 15-year conflict erupted.
Lebanon's democratic tradition, although manipulated during civil war and 29 years of Syrian control, dates back to the Arab country's independence from France in 1943 and sets the country apart from the rest of the mostly autocratic Arab world.
But unlike Western democracies, the issues in Lebanon have focused on the interests of the 18 diverse Muslim and Christian sects and how much each can carve for its own in attempts to protect its identity. Loyalties are to families, clans, the sect and - less often - to a political party.
Although the country is shackled by high debt, the economy barely swings the vote.
Outside Beirut, there is a wider array of candidates and alliances competing for the 128 legislative seats that are split equally between Muslims and Christians.
Even within the opposition, there are sharp differences as the factions forge electoral alliances.
Christian leader Michel Aoun split with Hariri and Druse leader Walid Jumblatt. Aoun, a staunch anti-Syrian who returned from 14 years' exile May 7, is joining pro-Syrians in some districts. The Hariri-Jumblatt ticket is also allied in Beirut with Hezbollah, the pro-Syrian Shiite Muslim militant guerrilla group.
Hariri, a Sunni Muslim, is expected to be the leading politician in the Sunni community countrywide. Jumblatt is expected to dominate his small Druse sect. Christians are splintered into several factions.
Hezbollah and the pro-Syrian Amal, Shiite rivals who have joined hands, expect to scoop the seats in their strongholds in southern and eastern Lebanon.
More than 100 foreign observers from the European Union and the United Nations will be watching the vote for irregularities, the first time Lebanon has permitted foreign scrutiny.
Solace for U.S. Soldiers in a Mosul Monastery
Courtesy of the News Tribune
By Matt Misterek
23 May 2005
Photo by Peter Haley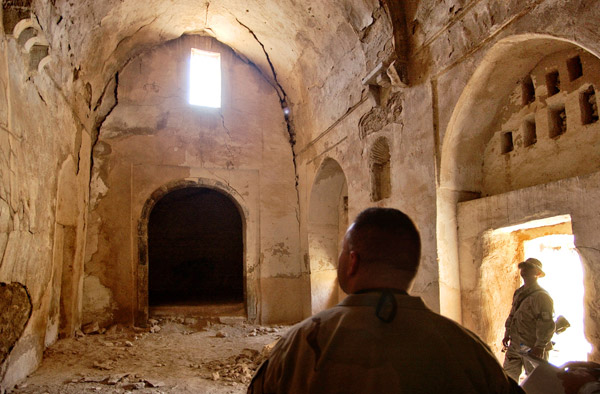 Capt. James Pennington, left, a Stryker Brigade chaplain, and Sgt. Michael Pena tour the 1,400-year-old Monastery of St. Elia, near Mosul, Iraq, on Sunday.
(ZNDA: Mosul) When Spc. Jennifer Guay and Sgt. Noribelle Starck decided to re-enlist for five more years in the Army, they wanted to hold the ceremony in a special place – a location with some good karma.
The two Stryker Brigade medics chose the courtyard of a 1,400-year-old Christian monastery that lies on the south end of Forward Operating Base Marez.
"It's a powerful spot, and doing it here shows respect for the country where we are serving," said Guay, surrounded by fellow soldiers from the 25th Brigade Support Battalion on Sunday.
The Monastery of St. Elia is an architectural treasure that survives across the road from a graveyard of Saddam-era tanks, overlooking rolling hills where U.S. forces are slowly blowing up decades worth of unstable Iraqi Army explosives. It's set apart from the developed part of the base, so soldiers and other visitors have to drive or hike to get here.
Capt. James Pennington, the chaplain of the support battalion, helped lead an Easter sunrise service here this year that drew nearly 200 people.
Pennington has researched the domed structure with crumbling outer walls and learned that it was founded by a Chaldean Christian monk during the reign of a Persian king in the late 6th century. It remained a thriving monastic community until the 18th century, when its inhabitants were wiped out by a Muslim warlord, he said.
Some restoration work was done in the last 100 years, including marble framing attached to the doorways of some of the inner chambers.
The presence of coalition forces has kept the compound free of looting and vandalism, except for a Screaming Eagle emblem that someone from the 101st Airborne Division painted when the unit took control of Mosul after the 2003 invasion. The wall has been sandblasted, but a discoloration remains.
Mosul is predominantly Muslim and Kurdish, but it also is the most Christian of Iraq's large cities. That's what makes the ancient monastery so meaningful to Pennington, a Southern Baptist preacher.
"To me, it's a wonderful piece of history," he said. "As Americans, we don't think of this as a Christian part of the world, but it is. It predates Islam.
"It also reminds us how blessed we are as Americans to live in a place where we don't have to fortify our churches."

Zinda Magazine contacted Mr. Misterek on the historical accuracy of the point made regarding the 6th century Chaldean monks. The Chaldean Catholic Church was formed in the second half of the 16th century. The author graciously acknowledged the error.
U.S. Soldiers Find Faith in the Face of Fire
Courtesy of the News Tribune
By Matt Misterek
23 May 2005
Photo by Peter Haley
(ZNDA: Mosul) Gathered together in the renovated shell of an old Iraqi Army pistol range, a few dozen Fort Lewis soldiers and civilian military workers joined in singing Hymn No. 212 from the Baptist Hymnal.
"Souls in danger, look above, Jesus completely saves.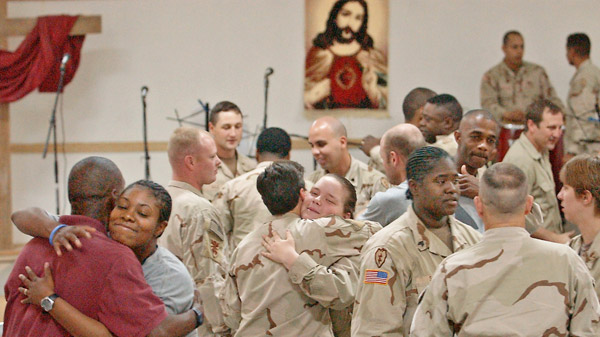 At a contemporary worship service at Forward Operating Base Marez in Mosul, Iraq, participants greet each other during "fellowship time" in the Transformation Chapel. Almost everyone is from the Stryker Brigade, which is also known as the 1st Brigade, 25th Infantry Division from Fort Lewis. The brigade is deployed here and at other bases around Mosul.
He will lift you by his love, out of the angry waves.
Love lifted me, love lifted me
When nothing else could help, love lifted me."
It was a declaration of religious faith and an acknowledgement that they can't go it alone. And on a day when they would learn two of their Stryker Brigade comrades had been killed overnight, they could use the lift they get each week at Transformation Chapel.
Sitting in church on Sunday morning provides a spiritual sanctuary but not a physical one for these men and women who deployed from Tacoma in October. Twice last fall, enemy mortar rounds struck near the chapel during services, peppering the side of the building with shrapnel and breaking eight window panes. Sheets of plywood with cutout crosses now cover those gaps.
Sgt. Anita Shaw is still amazed that no glass shards fell on worshippers inside. She says it was "God's way of showing off."
"You know he's here to protect you," said Shaw, who works in the 25th Brigade Support Battalion's supply shop. "Even though you always have your buddy on your left and your buddy on your right, God gives you overall protection."
Transformation is one of four chapels operated by Stryker Brigade ministry teams at Forward Operating Base Marez, the most populous U.S. installation in northern Iraq. Army chaplains and lay religious leaders seek to give comfort and spiritual counsel to soldiers, many of them young and confronting questions of life and death for the first time.
The 1st Battalion, 5th Infantry Regiment – the unit known as "The Bobcats" – has many soldiers who identify themselves as Christians. There are also two Jews, two Muslims and a handful of Wiccans among the battalion's 700-some infantrymen. Then there is the vast middle ground.
"A huge chunk is 'no preference' – I'd say about 30 percent – which is what you'd expect with 18- to 20-year-olds who haven't worked out their religious life yet," said Capt. Donald Carrothers, the chaplain for the 1-5.
"I call them the superstitious ones," he added. "They'll come by and ask me for Celtic-style crosses. Some of the Stryker drivers really like carrying those. But you won't see them at chapel."
Officials with the 1st Brigade, 25th Infantry Division – Fort Lewis' second Stryker brigade – have taken steps to accommodate the religious needs of soldiers outside of the mainline Protestant denominations.
A Catholic priest roves among the U.S. bases in Mosul and celebrates Mass at Marez on Saturdays and Sundays. A reconciliation booth, or confessional, is set up at Transformation Chapel, behind the stage where a contemporary praise band plays.
A group of Mormons meets on Sunday afternoons. And the support battalion recently converted a building into a place for Muslim soldiers to practice their beliefs, complete with prayer rugs.
Even so, Carrothers conceded that resources for many religions are lacking, and Islamic and Jewish faith leaders only pass through a few times a year.
"There are only about 5 or 6 Muslim chaplains in the whole Army," said Carrothers, whose background is Southern Baptist. "The same with rabbis; they are in very short supply."
Saihou Jobe, a 22-year-old Stryker mechanic, is believed to be the only devout Muslim in the 1-5 Infantry. He said that his superiors in the vehicle shop have been good about giving him the time he needs for his five-times-a-day prayers. In fact, sometimes they remind him to pray.
Jobe's unit took part in the coalition offensive in Fallujah last fall, which coincided with the holy month of Ramadan. His bosses offered to give him downtime in his tent during the day so that he could observe the pre-sundown fast, but he chose to keep working because his colleagues needed him.
"I would wake up in the middle of the night to eat just so I would be strong the next day," said Jobe, who was raised in the African nation of Gambia, where his grandfather was an imam.
Jobe carries his red prayer rug – the same one he's had since basic training – in his CamelBak backpack. His Holy Quran is stored safely in a black zippered bag.
"This is where I go for answers," he said, holding the book gently in the break room of the Stryker shop. "This is my guide."
Many Christians on base are equally committed to practicing their beliefs in a combat zone. Spc. Edwin Gonzalez, 28, a supply specialist from Puerto Rico, even waited to come to Iraq to be baptized. Outside Transformation Chapel last fall, he and three other soldiers were immersed in a 3,000-gallon canvas bag used for storing water.
"I just have this feeling that Jesus walked somewhere around this part of the world," Gonzalez explained Sunday morning, after packing up the bass guitar he plays in the praise band.
And with that, he put on his armor vest, picked up his rifle from the chapel gun rack and walked out into the morning sun.