Iraqi Activists Call for A Democratic Constitution
A Press Release
Iraqi Campaign for a Democratic Constitution
8 June 2005
A campaign to promote writing a permanent democratic constitution in Iraq, laying the basis for a modern Iraqi state based on the rule of law and institutions, was launched at a meeting attended by about 120 Iraqi democrats earlier this month at the Kufa Gallery in London.
The "Iraqi Committee for a Democratic Constitution" is aimed at promoting active participation by all Iraqi democrats, of all tendencies and affiliations, in writing the permanent constitution in Iraq, and lobbying support for a number of principles including:
Establishing a democratic, pluralistic, parliamentary and federal republic.
Adherence to the principle of citizenship and establishing a state of law, institutions and justice, and ensuring political pluralism and peaceful transfer of power.
Separation between executive, legislative and judicial powers.
Separation between religion and state: respecting the Islamic identity of the majority of Iraqi people and ensuring the rights of other religions and sects.
Adopting the International Declaration of Human Rights, stressing on civil and political freedoms, the freedom of expression, demonstration and organization (as stipulated in the Transitional Administrative Law – the interim constitution).
Equality between women and men, abiding by all international covenants concerning the rights of women and children.
Prohibiting all forms of discrimination on the basis of belief, race, gender, color, or ethnic and religious affiliation.
Ensuring the rights of nationalities, religions and sects.
Securing federalism for Iraqi Kurdistan, and national and cultural rights for all the constituents of the Iraqi people, including Turkomans, Chaldeo-Assyrians, Faili Kurds, Armenians, Azedians, Sabians, Shabak, Christians, Jews. Adopting a decentralized form of administration for the provinces and their relationship with the central government.
Ensuring social and economic rights for all citizens: the right to education, health and work, and ensuring social security, and complying with relevant international covenants.
Ensuring cultural freedom and respect for ideological, political and national pluralism in our national culture.
Subjugating security forces to elected constitutional institutions and their allegiance to the homeland.
Developing an effective constitutional mechanism for control over the natural resources, especially the oil wealth, to ensure that it is used to serve the interests of the people and development of national economy, and prevent the plunder and manipulation of this wealth.
The meeting also launched a campaign to collect 1,000 signatures on a memorandum calling for adopting the above-stated principles for writing the permanent constitution. The memorandum will be presented to the National Assembly committee tasked with drafting the constitution, as well as the Iraqi President, Prime Minister and Chairman of National Assembly.
The meeting set up a committee, of 18 democrats and activists, to implement the proposed plan of action during the next few weeks. The Committee includes: Salam Ali, Dr. Najm Ghulam, Ansam al-Jarrah, Dr. Reiadh al-Zuheiry, Samir Tabla, Souad al-Jazairy, Dr. Sabah Jassem, Areej Sultan, Dr. Sabah al-Sudani, Kawa Bisarani, Nadia Haider, Amanuel Yaqoub, Dr. Abdul Hassan, Dr. Sabah Mar'I, Dr. Leonard Jacob, Dr. Kamel Hassan, Ali al-Shawket, Manar Sabri.
The program of future activities includes organizing specialized seminars, talks and meetings, for the purpose of discussing the principles of the permanent constitution, based on Iraqi reality and making use of democratic experiences of other countries and peoples. In addition to an active media campaign, the "Iraqi Committee for Democratic Constitution" will encourage writings about the constitution, and issue a bulletin for relevant studies and research material.
Thousands of Stolen Iraqi Artifacts Found
Courtesy of the Washington Times
3 June 2005
By Betsy Pisik
Free Public Summer Tours at the Williams College Museum of Art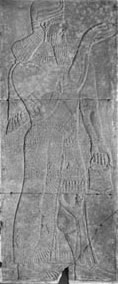 King Ashur-nasir-pal II, from the Palace at Nimrud of Ashur-nasir-pal, 880 B.C. Gift of Sir Austen Henry Layard through Dwight W. Marsh, Class of 1842


Williams College is located in the center of Williamstown, along Route 2 (Main Street), next to the junction of Routes 2 and 7 in the northwest corner of Massachusetts.
(ZNDA: New York) Roughly half of the 15,000 items looted from the National Museum of Iraq in 2003 have been recovered, said the Assyran archaeologist and museum of Baghdad director, Dr. Donny George, who thanked American officials for assistance in restoring the building.
Dr. George said law-enforcement and customs officials in the United States had intercepted at least 1,000 artifacts stolen from the museum in the chaotic days after the fall of Baghdad.
Another 3,000 or so artifacts have been found and secured in Jordan, Syria, Italy and other nations, said the museum director, an Iraqi-born Christian. However, he said, the governments of Iran and Turkey -- both neighbors with porous land borders -- have failed to respond to legal and diplomatic inquiries.

Many stolen Iraqi artifacts or their counterfeits still are advertised on EBay and change hands through channels known to collectors. U.S. law-enforcement and customs agencies say they are on the lookout for antiquities but cannot provide current information on interceptions or prosecutions.
U.S. troops, journalists and contractors returning from Iraq are among those who have been caught with forbidden souvenirs -- mostly paintings and small seals and cylinders that can be carved exquisitely and hidden easily.
"We are grateful to our friends and dear brothers" for intercepting the artifacts, Dr. George said last Tuesday evening during a slide presentation to the National Arts Club in New York.
Much of Baghdad was plunged into chaos after U.S. troops captured the capital on April 9, 2003. As Iraqi troops fled, looters and professional thieves quickly overran the museum, which was left unguarded.
Dr. George -- like many Iraqis and much of the American press -- blamed U.S. military planners at the time for ignoring the history and culture of the country they had come to liberate.
But the museum director was much more conciliatory at the National Arts Club, where he told a well-heeled audience that he was "satisfied" with the level of financial and technical support to rebuild the shattered museum.
Asked whether the Pentagon had offered an apology for failing to guard the museum, Dr. George said U.S. assistance allowed his staff to rebuild the museum's offices and galleries, install new security systems and create computer networks where there had been none.
"I will take that as an apology," he said.
Dr. George, the director of research for the State Board of Antiquities under Saddam Hussein, was installed as director of the National Museum of Iraq by the U.S.-run Coalition Provisional Authority that governed the country from early 2003 until last summer.
He remained in that post under the interim government and has been retained by the transitional government of Prime Minister Ibrahim al-Jaafari. He also has the support of the international antiquities specialists.
"He's a real professional, one of the archaeologists in the Middle East," said McGuire Gibson, a professor of Mesopotamian archaeology at the University of Chicago's Oriental Institute who visited Iraq's museum and archaeological sites in 2003 for the United Nations Educational, Scientific and Cultural Organization and the National Geographic Society.
Dr. George said much of the thievery was done by insiders, but told The Washington Times this week that Iraqi and museum authorities have made little effort to find the culprits.
"I am asking [U.S. investigators] to tell me who they have caught," he said with a shrug.
The museum is trying to establish a database of the looted artifacts, in part to make them more difficult to sell. The FBI, Interpol and many museums also have put up images of the missing artifacts.
In the meantime, Dr. George said, he has asked governments to document and hold on to what they intercept until Iraq is more stable.
Thousands of missing pieces are presumed to be inside Iraq, where a corps of mostly untrained volunteers has been scouring markets in search of the missing antiquities.
The museum also has been fortified with tall concrete walls and welded gates that enclose the galleries, but Mr. George said it is not safe to reopen the doors to visitors.
Donny George's Lectures in New York About Iraq's Antiquities
Courtesy of the Palastine Chronicle
9 June 2005
By Sonia Nettnin
(ZNDA: New York) The Director General of the Iraq Museum, Baghdad, Dr. Donny George, spoke about the April 2003 looting, the recovery of antiquities and the museum's restoration initiatives at a lecture hosted by the Field Museum.
"I saw everything as an eyewitness," he said.
George is the Director-General of Research and Studies in the State Board of Antiquities and Heritage, Baghdad. He participated in the Nineveh excavation project, as well as the Babylon restoration. His association with the museum began in 1976 and he became the museum's director in 2003. Dr. George is Assyrian.
The Iraq Museum is "the only museum in the world that has history and culture of mankind in one spot," George explained.
After the museum looting, over 20 international archaeologists wrote a collection of essays for the book, "The Looting of the Iraq Museum, Baghdad – The Lost Legacy of Ancient Mesopotamia," filled with 190 color illustrations. The book reconstructs the museum's collection and George wrote the forward. The inside cover of the book explains: "Iraq is a country of firsts: the earliest villages, cities, writing, poetry, epic literature, temples, codified religion, armies, warfare, world economy, and empire." Hence, Iraq is the Cradle of Civilization.
According to the book's front cover, a portion of the royalties from the sale of the book will be donated to the Iraqi State Board of Antiquities and Heritage.
In April 2003, looters plundered over 15,000 antiquities from the Iraq Museum and 5,000 of them were most precious objects, such as jewelry and figurines. Within two years looters unearthed over 8,000 artifacts from the country's 12,000 archaeological sites. The looting of archaeological sites is an ongoing problem, especially in Southern Iraq.
After his slide presentation, George showed an aerial photo of Umma - an archaeological site of eight square kilometers. The landscape contained thousands of pits. "These are from people digging there for antiquities," he added.
Although the new police system has recruited 1,700 people, they lack communication systems and cars.
The Museum Looters
How much money is in the antiquities market? According to one of the book's essays, "Theft of Time," by Angela M. H. Schuster, antiquities smuggling is "a multibillion-dollar business… ranks third in international monetary terms, behind drug smuggling and weapons sales."
"There is a market for this material," George said. "There is a demand." He explained that there were three kinds of looters in the museum: people who took computers and TVs from the administrative area; people who had a good knowledge of antiquities; and finally, people who looted the storeroom, which contained boxes of cylinder seals and pottery.
The second category of looters knew which statues were authentic and which statues were replicas because they left some of the reproductions alone. Based on the museum team's findings, if a looter came for a specific antiquity in mind and he found the showcase empty, he shattered it. Perhaps, out of anger. "We believe it was planned…to get these important pieces…" George added.
Looters smashed numerous antiquities including a terra-cotta lion from Shaduppum / Tel Harmal, from the early second millennium B.C. Moreover, they beheaded statues, such as the Statue from Hatra. The body is on a rectangular pedestal, but a deep crack runs diagonal above the toes of the right foot. Finally, looters knocked statues into pieces, including a statue of King Nebuchadnezzar from the Assyrian Period. A photo shows the statue strewn across the museum floor - stone bits in between five broken pieces.
When the attacks on Iraq began, George could not return home for three days. On April 8, 2003 around 5 A.M. rows of shooting tanks surrounded the area. By 9:30 A.M. there were three people left in the museum and George was one of them. Although they prepared to descend into the museum's storerooms where it was safer, Iraqi militia were on the museum's front lawn.
After the three men locked the doors to the museum they crossed the Tigris River with the intention of coming back. By 3 P.M., they tried to cross the bridge but the shooting was so bad that people could not cross it safely. Helicopter gun ships flew above the museum.
In the interim, the museum team established headquarters at a hotel. While listening to the news, George heard about the looting of the museum.
During his lecture, George paused for a moment. He looked at the podium and he continued.
On Sunday, April 13, George and his colleagues met with U.S. officers, asking that the museum be protected.
"Is there anything left?" the officer asked.
They replied yes.
Three days later, on April 16, around 7:30 A.M., tanks rolled into the area and surrounded the museum.
What happened, over the course of two days, inside the museum that housed antiquities covering 10,000 years of human history?
The looters entered the building through high glass windows surrounded by fences. George and his colleagues found glasscutters, so it was clear that people had intentions of looting the museum. They smashed holes into doors and they trashed files that contained archival documents, negatives, slides, and photos. The museum's corridors looked like deserted areas.
From the Islamic galleries they pillaged wall paintings, but smashed other paintings. They took wooden door panels from Samarra, cuneiform tablets and important ivory. The cylinder and stamp seal collection – 5,800 objects total – pilfered by the looters.
Another major problem was flooding. Whenever there is any impact to the Central Bank, water flows. As a result, groundwater, insects, fungus and wet, wrapping material damaged the artifacts housed in the Central Bank's storage rooms. One example is the Mona Lisa of Nimrud, from the 9th – 8th century B.C., which suffered severe head damage.
Antiquity Recoveries, Restoration and the Effects of Military Occupation
Despite the rampant looting some Iraqis recovered stolen antiquities and brought them back to the museum. With Colonel Matthew Bogdanos in charge of the recovery, they established a "no questions asked" policy for people who returned objects.
Two young, Iraqi boys told George that he could depend on their good honor. Soon after, they brought nine artifacts back in a van. Another man brought back the "fragment of a male statue with an inscription of Naram-Sin, copper alloy from near Bassetki, c 2250 B.C."
George explained that the artist used the wax technique for this statue, but looters took it then greased it and then they suspended it in a septic tank. Upon its return to the museum, it was still covered in grease. George showed the audience photos of the statue before and after archaeologists removed the oily lubricant.
From March through May 2005, an Iraqi youth organization called the Protectors of Antiquities traveled the Iraq provinces. They gathered 2,000 looted objects, including 400 clay tablets. Some of these antiquities were from the Iraq Museum.
In June 2003, several Iraqi men returned a piece known as the Warka Vase. According to Diana McDonald's essay, "The Warka Vase," the 4,300-year-old alabaster antiquity "…is one of the most important objects in the Iraq Museum because it is one of the first illustrations of the ritual and religious practices that were the basis of Mesopotamian society, and come from the most important city in Mesopotamia in the fourth millennium B.C. – Uruk, the modern Warka and biblical Erech." Looters damaged part of the pictorial designs near the top of the vase and the bottom of its cylindrical base.
The destruction of artifacts at this level affects what people learn about the evolution of humankind. In her essay, "The Ravages of War and the Challenge of Reconstruction," Selma Al-Radi explains that the significance of safekeeping antiquity collections "…is of vital importance, for without provenance an object loses its point of reference, its history, and its context."
Basically, how can people understand human development and communication if they lose historical objects?
Through the United Nations Educational, Scientific, and Cultural Organization (UNESCO), Interpol and ICOM, international customs agencies seized 300 objects in Syria, 1,300 most precious objects in Jordan and 300 tablets in Genoa, Italy. Iraq's Ministry of Culture seeks cooperation from Turkey and Iran in the location of smuggled antiquities and they await feedback from these countries.
During wartime, the loss of antiquities is the occupying power's responsibility. Artifacts that sustained damage from flooding, looters' gashes and blows need restoration. U.S. tanks blasted a deep hole into the "Assyrian Gate" of the Iraq Museum, so it needs rehabilitation also.
"We need to arrange these buildings in a way that these buildings will defend themselves," George said.
The museum has twenty galleries and security implementation is extensive. At present, there is still shooting on Haifa Street, located behind the museum. From time to time, they shoot at the museum guards. The museum remains closed to the public.
"We have to think of other ways to protect the antiquities in a way that can be most effective," he said.
According to Zainab Bahrani's essay, "The Fall of Babylon," the American coalition's construction of a helipad in the Ruins of Babylon caused severe damage. A couple examples are: "between May and August 2004, the wall of the Temple of Nabu and the roof of the Temple of Ninmah, both of the sixth century B.C., collapsed as a result of the helicopters. Nearby, heavy machines and vehicles stand parked on the remains of a Greek theater from the era of Alexander of Macedon."
Together with the World Monuments Fund, UNESCO and the Getty Center, George works to train Iraqis in conservation and restoration. In collaboration with Iraq's Ministry of Education, antiquity conservation involves educational programs for school-age youth, which will teach them how to protect their archaeological and cultural heritage. The Packard Foundation donated computer hardware to the museum used for the virtual construction of the museum's database; and the U.S. State Department provided funding for the restoration project.
Current museum projects include research potential, collection catalogues and security, as well as display design.
At present, more than half of the looted antiquities, which spanned 10,000 years of humankind, are still missing.

To Register & For More Information Please Click the Image Above.
Hundreds of Detroit-area Chaldeans Battle Deportation
Courtesy of Metro Times
8 June 2005
By Joseph Kirschke
(ZNDA: Detroit) The way Tony Yousif sees it, the deportation order the U.S. government is trying to impose on him is the equivalent of a death sentence.
"If I smell like I lived here in America, I'm dead. No question about it," the Iraq native says.
Yousif, 30, is among about 600 Iraqi Christians living in the Detroit area who are facing deportation to their war-torn homeland. Yousif came to this country five years ago seeking refuge from the dictatorship of Saddam Hussein. By that point, Iraq's minority Christian population — Chaldeans and Assyrians who speak the ancient Aramaic language — and other non-Arabs had suffered for decades under a program known as "Arabization." Many were forced from their homes and relocated; others had to change their names as part of an attempt to undermine their cultural identity.
Yousif says he sustained an even harsher fate, claiming he was tortured by government agents after initially refusing to join Saddam's ruling Ba'ath Party. He fled shortly afterward, and was smuggled through Turkey and South America before entering this country illegally in 2000. He's been seeking asylum here ever since.
Now, with Hussein sitting in a jail cell and a new government elected, the U.S. Department of Homeland Security is trying to deport Yousif and other Iraqi Christians seeking asylum. There are no figures indicating how many such people nationwide are being affected.
The tragic irony of all this, according to Yousif and others, is that conditions for Christians in Iraq are even more treacherous than those that compelled these refugees to leave during Saddam's long reign of terror.
Daily news stories reveal an Iraq in chaos, with Muslim insurgents producing a steady stream of suicide bombings and other attacks. In the midst of this carnage, Iraq's Christians say they are particularly at risk.
"The Iraqi Christian community has been under attack for the last two years," says Dr. Eden Naby, an adviser to the Assyrian Academic Society in Chicago. "They are seen as automatic allies of the U.S.-led coalition. Anytime there is an insurgency — especially an Islamic insurgency — the easy targets, when there aren't Westerners, are Christians."
Which is why those like Yousif, now being threatened with deportation, are in such a state of high anxiety.
"These people are sitting on pins and needles," says Steven Garmo, of the Southfield-based Chaldean Federation of America. "Every day they wonder when immigration will come and pick them up."
None of these asylum-seekers has been deported yet, U.S. officials say. But that's not because of a lack of effort.
There are five categories that qualify someone for asylum, says Rob Baker, field office director for Detention and Removal Operations for Immigration Customs and Enforcement in Detroit.
"Persecution based on race, religion, political activity, membership in a social group and nationality," Baker says. "It doesn't have to be at the hands of the government."
To this point, though, neither the Department of Homeland Security, which administers immigration policy, nor the judges evaluating asylum claims have recognized Iraqi Christians as being especially in danger.
Those targeted for deportation have been wending their way through the legal process, climbing the appellate ladder as they battle to stay in America. But for many, the final rung is fast approaching, and the U.S. government is showing no sympathy for their plight.
"We're just enforcing the law as it's written," Baker says.
Iraqi Christians like Yousif, a casino dealer who lives in Harrison Township, are at a unique disadvantage, says Bill Frelick, refugee program director for Amnesty International. "Because the system works so slowly, you have people who initiated their asylum claims while Saddam Hussein was still in power," Frelick says. "Now the U.S. is in the position where it can argue there is a change in country conditions and these people can be sent back."
It is an odd position for the U.S. government to hold since conditions are so perilous in Iraq. As Frelick says, "It's still too dangerous to assess the situation and corroborate what's going on."
However, those familiar with the situation in Iraq say Christians there are being targeted for kidnappings and murder. Their homes, businesses and churches are being bombed, ransacked and occupied.
Assassination and attacks "are a fact of life for these people," says Edward Odisho, a professor of linguistics at Northeastern Illinois University and a consultant on Chaldo-Assyrian affairs for the U.S. State Department. "The threat is not coming from a highly organized political party. It's coming from a total lack of security. Thousands of Christians have fled since Saddam fell."
No one knows for certain how many of Iraq's 800,000 Christians have left that country since the U.S.-led coalition invaded two years ago.
Just last year, however, following a string of church bombings in October, more than 40,000 Iraqi Christians fled to Syria, says Shamiran Mako, an analyst with the Council for Assyrian Resources and Development in Toronto.
Among those who've fled are Yousif's mother, brother and two sisters, who escaped to Syria. They left after the security situation in their predominantly Christian neighborhood in Baghdad became intolerable. The final straw came when Islamic militants firebombed a neighbor's house. Like other Iraqi Christians trying to escape the persecution, their application for asylum in the United States has been denied.
The plight of his family produces even more stress than the prospect of his own deportation, says Yousif, who dreads the phone calls attempting to explain to his relatives why they are not being allowed into this country.
"I'm not so much worried about me so much as for my family," Yousif says. "Whenever they call, they keep asking if there's something I can do. I can only talk about the situation to my brother. I'm afraid I'll have to hear my mother cry."
Robert Dekelaita, a Chicago immigration attorney who represents Chaldo-Assyrians in Michigan and Illinois, sees politics as the reason these asylum requests are being denied.
"It seems to be the willingness for people to say, 'Look, if it's good enough for the U.S. soldiers, it's good enough for you.' And that's absurd," Dekelaita says.
Rhonda Shore, a spokeswoman for the Bureau of Near Eastern Affairs at the U.S. State Department, says America is working closely with Iraq's transitional government to ensure a better future for Chaldo-Assyrians in Iraq.
"Iraqi community leaders have called for a government that respects the rights of all its citizens; this respect should include a guarantee of freedom of religion for all Iraqis, including non-Muslims," she says.
"The U.S. government does not provide assistance to particular religious groupings. However, it is our understanding that the Chaldo-Assyrian community has benefited from approximately $33 million in assistance programs to their communities."
But that aid provides little comfort to asylum-seekers such as Fahrida Hirmiz.
Hirmiz, 78, first tried to flee Iraq in 1996 when her son, working as a sentry for the U.S. military in the northern part of the country, was evacuated. That effort was thwarted, however, and it was not until 2002 that she was able to slip across the Iraqi border into Jordan. Once there, a group of fellow Iraqi Christians helped her obtain a tourist visa and a plane ticket to Detroit. Since then she's been living in Dearborn with her son, Eliya Nissan.
Hirmiz, who suffered a stroke several years ago, doesn't have to look far to provide an example of how dangerous life is back in Iraq for her fellow Christians. In June last year, she says, her niece and uncle, along with five other Chaldeans contracted by the military to provide food and laundry services for U.S. troops, were gunned down by insurgents. None survived.
Last year an immigration judge ruled that, while Iraq "is a dangerous place," Hirmiz could not prove that she would be singled out for reprisal because of her religion. Her case is now pending before the Board of Immigration Appeals in Falls Church, Va. That board is her last hope of staying in this country. If her appeal is denied, she will be placed under final order of deportation and returned to Iraq.
Time is running out
"The Bush administration has not acknowledged there's a problem," immigration attorney Dekelaita says. "And I'm afraid it's not going to do so until it's too late."
For Hirmiz, the prospect is chilling.
"If they send me back to Iraq, I'll be executed," she says, dabbing tears from her eyes with a folded tissue. Along with this fear, however, is her faith.
"I believe in the power of prayers," she says, speaking through an interpreter. "I have faith in God. God will protect me."

Iranian Pastor Acquitted by Islamic Court
Courtesy of Compass Direct News Service
9 June 2005
(ZNDA: Istanbul) An Islamic court in Iran acquitted Rev. Hamid Pourmand, a former army colonel, who was charged with apostasy and proselytizing Christianity, declaring, "Under sharia [Islamic law], there are no charges against you." Rev. Pourmand's wife is Assyrian.
During a May 28 court hearing in the southern port city of Bandar-i Bushehr, Pourmand's judge declared he was acquitting Pourmand, a former Muslim who converted to Christianity 25 years ago, because he had "done nothing wrong" according to Islamic law.
Pourmand's surprise acquittal in a single hearing was reported May 29 by the Farsi-language ISNA news agency, quoting the jailed Christian's lawyer as its source.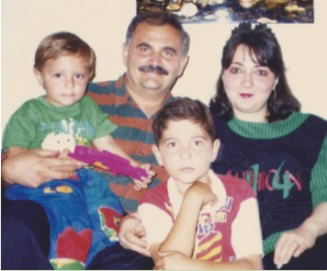 Rev. Hamid Pourmand and his Assyrian wife, Arlet, and two sons, Immanuel & David. Photo taken before his arrest last September.
Even so, the acquitted pastor remains imprisoned, serving out a three-year jail sentence for a separate military court conviction also linked to his religious conversion.
Pourmand, 47, was arrested last September by the Iranian security police while attending a church conference near Tehran. An army colonel, he also was serving as lay pastor for an Assemblies of God congregation in Bandar-i Bushehr.
After five months of interrogation in strict solitary confinement, Pourmand was arraigned in February before a military court, accused of "deceiving the Iranian armed forces" by not reporting his conversion to Christianity. Despite what Compass described as "clear-cut evidence to the contrary," he was ruled guilty, dishonorably discharged and given the maximum three-year prison sentence.
After spending the next two months in a group cell at Tehran's Evin Prison, Pourmand was transferred to a prison in Bandar-i Bushehr May 16 to stand trial before an Islamic court on separate apostasy and proselytizing charges.
For the past nine months, the lay pastor has been subjected to repeated pressures to recant his Christian faith and return to Islam in order to escape execution for apostasy, as required under the theocratic laws of Iran.
Pourmand's lawyer has appealed the military court conviction on the basis of written documents signed by the former army colonel's superiors proving that they knew he had become a Christian. The military tribunal which convicted Pourmand in February had rejected the documents as falsified.
Sources close to the case admit there is little assurance that Pourmand's military conviction will be overturned by Iran's Supreme Court. But they expressed hope that his sentence might be reduced to one year or less. "He has been under arrest for more than nine months already," one Iranian Christian observed, "so if his sentence is reduced, he could be released very soon."
Commenting on his two weeks of confinement in Bandar-i Bushehr, Pourmand reportedly confirmed he had been jailed there with common criminals, including gangsters, murderers and drug dealers. "But now I'm back with the so-called 'spies' at Evin," he joked after arriving back in Tehran May 29.
Since February, the lay pastor had shared a group cell with journalist Akbar Ganji and other prominent political dissidents jailed at Evin Prison for expressing their pro-reform views. U.S. and European governments have urged Tehran repeatedly to set free the journalist and other known prisoners of conscience, including Pourmand.
Over the weekend, unprecedented protests continued in front of the Iranian Parliament building, where students and civic leaders staged sit-ins and raised placards and banners demanding the release of Ganji, now seriously ill after five years in prison. On May 30, 10 days into a hunger strike, Ganji yielded to the advice of his lawyer, Nobel peace prize laureate Shirin Edabi, accepting emergency medical leave from prison to receive hospital treatment.
"We don't know what will happen about Pourmand in the next few weeks," according to one Iranian source. "But we have absolute proof of his innocence, and there are very strong international pressures right now, as we are close to electing a new president."
Surrounded by police as he was escorted into Evin Prison, Pourmand smiled and waved to his family, saying, "Don't worry about me. This prison is like my home now, you know!"
Pourmand and his wife Arlet have two teenage sons, Immanuel and David.