Christian Evangelicals Building a Base in Iraq
Newcomers Raise Worry Among Traditional Church Leaders
Courtesy of the Washington Post
23 June 2005
By Caryle Murphy; Special correspondent Bassam Sebti contributed to this report
(ZNDA: Baghdad) With arms outstretched, the congregation at National Evangelical Baptist Church belted out a praise hymn backed up by drums, electric guitar and keyboard. In the corner, slide images of Jesus filled a large screen. A simple white cross of wood adorned the stage, and worshipers sprinkled the pastor's Bible-based sermon with approving shouts of "Ameen!"
National is Iraq's first Baptist congregation and one of at least seven new Christian evangelical churches established in Baghdad in the past two years. Its Sunday afternoon service, in a building behind a house on a quiet street, draws a couple of hundred worshipers who like the lively music and focus on the Bible.
"I'm thirsty for this kind of church," Suhaila Tawfik, a veterinarian who was raised Catholic, said at a recent service. "I want to go deep in understanding the Bible."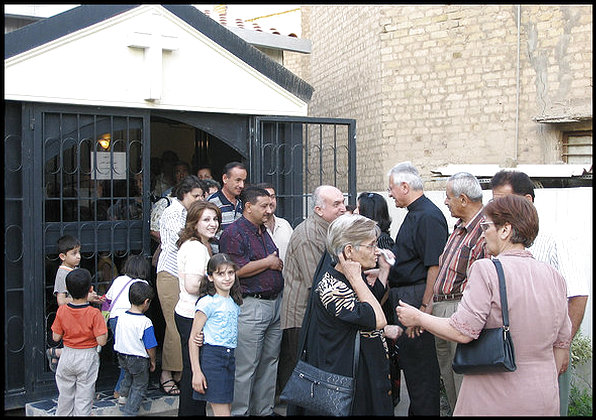 Pastor Nabil A. Sara, dressed in black at right, greets members of the congregation after Sunday services at National Evangelical Baptist Church. Photo Credit: By Caryle Murphy -- The Washington Post
Tawfik is not alone. The U.S.-led toppling of Saddam Hussein, who limited the establishment of new denominations, has altered the religious landscape of predominantly Muslim Iraq. A newly energized Christian evangelical activism here, supported by Western and other foreign evangelicals, is now challenging the dominance of Iraq's long-established Christian denominations and drawing complaints from Muslim and Christian religious leaders about a threat to the status quo.
The evangelicals' numbers are not large -- perhaps a few thousand -- in the context of Iraq's estimated 800,000 Christians. But they are emerging at a time when the country's traditional churches have lost their privileged Hussein-era status and have experienced massive depletions of their flocks because of decades-long emigration. Now, traditional church leaders see the new evangelical churches filling up, not so much with Muslim converts but with Christians like Tawfik seeking a new kind of worship experience.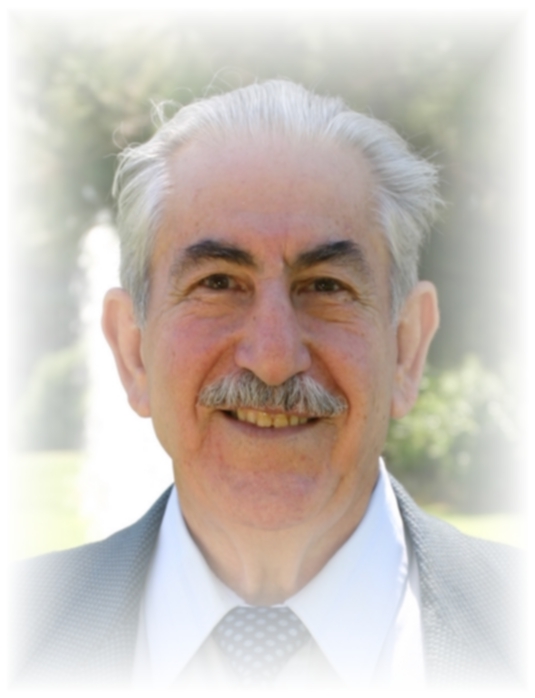 Modern Assyrian Language Guide
Volume I
by
Tobia Giwargis
(209) 667-6697
88 Pages
U.S. $15.00
(add $2 per book for shipping in the U.S.)
To Order Your Copy Contact:
Assyrian Club of Urhai
Education Committee
P.O. box 577762
Modesto, CA 95357 USA

"The way the preachers arrived here . . . with soldiers . . . was not a good thing," said Baghdad's Roman Catholic archbishop, Jean Sleiman. "I think they had the intention that they could convert Muslims, though Christians didn't do it here for 2,000 years."
"In the end," Sleiman said, "they are seducing Christians from other churches."
Iraq's new churches are part of Christian evangelicalism's growing presence in several Middle Eastern countries, experts say. In neighboring Jordan, for example, "the indigenous evangelical presence is growing and thriving," said Todd M. Johnson, a scholar of global Christianity at Gordon-Conwell Theological Seminary in Massachusetts.
Nabeeh Abbassi, president of the Jordan Baptist Convention, said in an interview in Amman that there are about 10,000 evangelicals worshiping at 50 churches in Jordan. They include 20 Baptist churches with a combined regular Sunday attendance of 5,000, he added. The organization also operates the Baptist School of Amman, where 40 percent of the student body is Muslim.
While most evangelicals in Jordan come from traditional Christian denominations, Abbassi said, "we're seeing more and more Muslim conversions, not less than 500 a year" over the past 10 years.
Iraq's Christian population has been organized for centuries into denominations such as Chaldean Catholicism and Roman Catholicism. While Hussein's secular regime allowed freedom of worship, it limited new denominations, particularly if backed by Western churches.
During the U.S.-led invasion in 2003, American evangelicals made no secret of their desire to follow the troops. Samaritan's Purse, the global relief organization led by the Rev. Franklin Graham -- who has called Islam an "evil and wicked" religion -- and the International Mission Board of the Southern Baptist Convention, the country's largest Protestant denomination, were among those that mobilized missionaries and relief supplies.
Soon after Hussein's fall, they entered the country, saying their prime task was to provide Iraqis with humanitarian aid. But their strong emphasis on sharing their faith raised concerns among Muslims and some Christians that they would openly proselytize.
Then the security environment deteriorated in Iraq -- four Southern Baptist missionaries were killed, Westerners were kidnapped and at least 21 churches were bombed -- forcing most foreign evangelicals to flee. But Iraqi evangelicals remain.
"For Christians, it's now democratic," said Nabil A. Sara, 60, the pastor at National Evangelical Baptist. "It's not like before. There is freedom now. Nobody can say, 'Why do you start a new church?' "
Some church leaders, however, are asking that very question.
"Evangelicals come here and I would like to ask: Why do you come here? For what reason?" said Patriarch Emmanuel Delly, head of the Eastern rite Chaldean Catholic Church, Iraq's largest Christian community.
In interviews, Delly and Sleiman were torn between their belief in religious freedom and the threat they see from the new evangelicalism. They also expressed anger and resentment at what they perceive as the evangelicals' assumption that members of old-line denominations are not true Christians.
"If we are not Christians, you should tell us so we will find the right path," Delly said sarcastically. "I'm not against the evangelicals. If they go to an atheist country to promote Christ, we would help them ourselves."
Sleiman charged that the new churches were sowing "a new division" among Christians because "churches here mean a big community with tradition, language and culture, not simply a building with some people worshiping. If you want to help Christians here, help through the churches [already] here."
Still, the Roman Catholic prelate said he could not oppose the evangelicals because "we ask for freedom of conscience." He also said he respected how they appear "ready to die" for their beliefs. "Sometimes I'm telling myself they are more zealous than me, and we can profit from this positive dimension of their mission."
Some Iraqi Christians expressed fear that the evangelicals would undermine Christian-Muslim harmony here, which rests on a long-standing, tacit agreement not to proselytize each other. "There is an informal agreement that says we have nothing to do with your religion and faith," said Yonadam Kanna, one of six Christians elected to Iraq's parliament. "We are brothers but we don't interfere in your religion."
Delly said that "even if a Muslim comes to me and said, 'I want to be Christian,' I would not accept. I would tell him to go back and try to be a good Muslim and God will accept you." Trying to convert Muslims to Christianity, he added, "is not acceptable."
Sheik Fatih Kashif Ghitaa, a prominent Shiite Muslim leader in Baghdad, was among those who expressed alarm at the postwar influx of foreign missionaries. In a recent interview, he said he feared that Muslims misunderstand why many Christians talk about their faith.
"They have to talk about Jesus and what Jesus has done. This is one of the principles of believing in Christianity," said Ghitaa. "But the problem is that the others don't understand it, they think these people are coming to convert them."
Robert Fetherlin, vice president for international ministries at Colorado-based Christian and Missionary Alliance, which supports one of the new Baghdad evangelical churches, defended his denomination's overseas work.
"We're not trying to coerce people to follow Christ," he said. "But we want to at least communicate to people who He is. We feel very encouraged by the possibility for people in Iraq to have the freedom to make choices about what belief system they want to buy into."
Sara said that if Muslims approach him with "questions about Jesus and about the Bible," he responds. But the white-haired pastor said there was plenty of evangelizing to be done among Christians because, in his view, many do not really know Jesus. "They know [Him] just in name," he said, adding that they need a better understanding of "why He died for them."
His church appeals to dissatisfied Christians, he said, adding, "If you go to a Catholic church, for example, there is no Bible in the church, there is no preaching, and just a little singing."
National congregant Zeena Woodman, 30, who was raised in the Syrian Orthodox Church, agreed. "Praising Jesus Christ in this church is not as traditional as other churches," she said. "It's much more interesting here."
Sara, a former Presbyterian who started an underground evangelical church in his home after having a born-again experience, began working openly during the U.S. occupation. In January 2004, he was ordained pastor of his church in a ceremony attended by more than 20 Baptist pastors and deacons from Iraq, Jordan, Lebanon and the United States. Baptist communities in these countries financially support National Evangelical, Sara said.
The church's name and a white cross are visible from the street. The pastor said that no one has threatened the church and that it has good relations with its Muslim neighbors.
In fact, said Sara, "Muslims across the street came and asked us to pray for their mother."
Democracy for Iraq and Autonomy for Kurdistan

Zinda: The following are excerpts from the acceptance speech by Mr. Masoud Barzani, the first President of the autonomous Kurdish region in north Iraq, delivered at his inaugural ceremony in the Kurdistan National Assembly in Arbil, on 14 June 2005. In his speech Mr. Barzani emphasized the formation of the new autonomous region as "Kurdistan" and guaranteed the creation of a new economic, social, and political infrastructure independent but integrated within a federal Iraqi arrangement. These excerpts were selected for their importance relative to the current Assyrian conditions in north Iraq.
It is time now to rebuild a new Iraq on the basis of federalism, democracy, pluralism, in which the rule of law is supreme. The new Iraq should be based on voluntary coexistence between the two main nationalities, Kurds and Arabs. All Iraqi citizens, whatever their ethnicity and religious persuasion, should feel this country is their own in which their rights and responsibilities are clearly stated.
The safety, dignity, and property of all Iraqis must be protected. Iraq should occupy its proper place in the international community. We fully support all efforts conducive to this end, and stand by any government committed to these goals.
In the Kurdistan region there is no discrimination of its citizens, no matter what their ethnic or racial origins may be. They are all equal in both rights and responsibilities. Turkomen and ChaldoAssyrians are our respected brothers and sisters, and we will do whatever is within our capability and authority for the sake of their well-being. We all live together on this land. Our destiny, our joys and sorrows, are common. We consider ourselves their advocates and defenders of their rights.
All our various religions and sects should be respected. In Kurdistan, all religions are fully free and are viewed equally.
A comprehensive plan should be developed to reconstruct the villages of Kurdistan, provide essential services, and help rehabilitate their economies. The Iraqi regime, aiming to direct a crushing blow to our revolution and to Kurdistan's economy, razed thousands of villages and deported their inhabitants because they were sanctuaries and bases for the peshmerga and our revolution.
As for the question of Kirkuk, a genuine solution has been stipulated in the Transitional Administrative Law (TAL). We will not agree to any other solution. This is an agreement, signed into law by all of us. It must be applied without further delay. Article-58 of the TAL is a serious issue and we will not accept retreat in this regard. Similarly, all other detached areas should be returned because they are integral parts of Kurdistan.
Writing the new constitution is an important step, and all Iraqi constituencies should participate in its drafting. The constitution should also be founded on agreement and consensus to reflect the federal democratic identity of Iraq.
will do everything in consultation and exchange of views with my respected brother Mam Jalal. He may be in Baghdad and I here, but that does not mean we do not communicate and we are unaware of each other. On the contrary, neither will take a unilateral step.
World Monument Fund Names All of Iraq as an Endangered Cultural Site
Courtesy of Voice of America
21 June 2004
By Barbara Schoetzau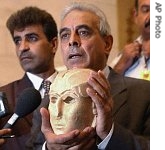 Mufeed Muhammad Jawad Al Jazairee holds the "Warka Mask," a 3100 BC Sumerian artifact which was looted from the Iraq national Museum in the final days of Saddam Hussein's regime (later returned by police)
For the first time ever, the World Monument Fund has named an entire country, Iraq, to its watch list of the world's most endangered architectural and cultural sites.
The preservation group says every significant cultural site in Iraq is at risk today and there are no ways to effectively mobilize protection. As a result, World Monument Fund president Bonnie Burnham says the group decided that listing the entire nation seemed a reasonable response.
"It represents a range of sites and situations that we are concerned about today," she said. "Looting at the archeological sites around the country, direct conflict as with the minaret of Samara that was bombed because of snipers using the site, recovery from years of isolation and jeopardy for the monuments and sites such as Babylon, which has also been occupied recently by military forces and looting of the monumental remains at Nineveh, the great Assyrian capital."
Iraq's deputy ambassador to the United Nations, Feisal Amin al-Istrabadi, says Iraqis take the issue of cultural heritage seriously.
"We have been subject to decades of mismanagement and wars and repeated instances of looting," he noted. "So the efforts of organizations such as the World Monument Fund are imperative to us to preserve not only our heritage, but truly the heritage of the world."
Many of the sites listed on the 2006 watch list encompass entire areas instead of particular structures, including Egypt's Valley of the Kings, the historic town of Massawa in Eritrea, a terraced town on the banks of the Yellow River in China, and the historic center of Mexico City. Ms. Burhham says the 2006 list also includes the oldest mosque in Afghanistan and traditional houses on stilts in Indonesia that survived the tsunami in spite of being located close to the earthquake epicenter.
"We hope that the fact that these buildings came through the earthquake will help to encourage the local community to take a greater interest in replicating and preserving these buildings," she added.
The 2006 Watch List also puts an uncommon emphasis on preserving 20th century structures that Ms. Burnham says deserve better recognition. Included are a controversial museum in New York designed by the architect Edward Durrell Stone and the studio and home of Russian architect Constantine Melnikov.
"With the escalating real estate values in Moscow and the lack of regard by the city administration even to protect some of the city's older monuments, there has been a great deal of destruction of what we consider to be primary architectural sites," he said.
The World Monument Fund was set up in 1965 in response to floods that threatened Venice, Italy. The group began its Watch List, which it issues every other year ago, 10 years ago to call attention to architectural and cultural sites in peril and help attract financial and technical support.
Mystery Shrouds Iraq's Missing Artefacts

Courtesy of Agençe France-Presse
23 June 2005
By Charles Onians
(ZNDA: Damascus) Archaeological sites in southern Iraq have been systematically looted for over two years, but experts say the dig will have to go much deeper to find out where thousands of lost artefacts have ended up.
"The complete lack of knowledge is devastating," says Professor Elizabeth Stone, of Stony Brook University, a US researcher who has spent years excavating the Old Babylonian city of Mashkan Shapir.
"One article said that a billion Iraqi dinars worth of artefacts had been smuggled to Syria, but that's absurd. We just don't know what's gone," she says.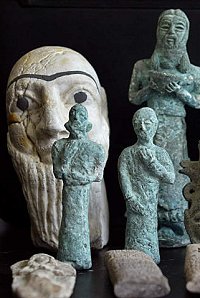 Jordan, which shares a large border with Iraq, has seized 1347 looted Iraqi antiquities like these since the war (Image: Reuters/Ali Jarekji)
The mystery has emerged as new site protection forces finally begin to make a dent in thefts from the cradle of civilisation, rampant since the US-led invasion of March 2003.
But experts say it may be years before the riddle is solved.
Meanwhile, artefacts are surprisingly absent from the ever-hungry illegal market.
"Artefacts aren't turning up yet," says Assistant Professor Seth Richardson, a historian at Chicago's Oriental Institute.
"The market's too hot. People don't want to trade them, for good reasons and bad.
"We'll probably have to wait four or five years for this stuff to turn up. And it could be anywhere: London, New York, Geneva, Tokyo."
What is known is the breadth of looting, with satellite images showing ancient sites turned into chessboards of square-shaped holes.
Guarding Babylon
Polish soldiers guard a multi-national brigade base near a palace built by Saddam Hussein at the ancient Iraqi site of Babylon (Image: Reuters/Nikola Solic)
"There's been more dirt moved after the [2003] war by looters than there ever was by archaeologists and looters combined before the war," says Stone.
On the ground, archaeologist Abdal Amir Hamdani, in charge of antiquities for Dhi Qar province, home to some of Iraq's most famous archaeological sites, says his focus has shifted from looters to smugglers.
Hamdani uses what he calls a "hunting dog", a former looter turned paid informant, who follows up rumours and goes out with a digital camera and global positioning system (GPS) equipment to locate and mark smugglers' houses.
Italian carabinieri forces disguised as Bedouin then go with Hamdani to carry out often fruitful raids.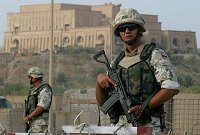 Polish soldiers guard a multi-national brigade base near a palace built by Saddam Hussein at the ancient Iraqi site of Babylon (Image: Reuters/Nikola Solic)
"This is the war within the war, the forgotten war," he says of his dangerous job.
A dangerous mission
Last October, eight Iraqi customs officers were found dead and their recently seized cargo of antiquities disappeared on the road to Baghdad.
Al-Fajir, 100 kilometres north of Hamdani's base in Nassiriyah, is rife with smugglers and dealers, he says, and 60 suspect homes in the small town of 10,000 have already been identified.
Hamdani shows photos of seized artefacts: Parthian glasswork, Sumerian statues and erotic images on temple tablets, hundreds of coins, gold jewellery and bowls inscribed in ancient Aramaic, some clumsily glued together, damaged forever.
"I don't know how much they're worth to a dealer," says Hamdani. "To me, they're priceless."
He laments what he says are lax sentences of two or three years handed down to smugglers.
"It's not enough. They should be getting 10 years or more. I would like to kill them, but then what happens to human rights in this country?"
Keeping it in the family
Stone says that families in the area have been selling artefacts for generations, but the lawlessness of recent years combined with increased demand from the West, Japan and Israel has made them more daring.
"You can see the purposefulness of it. People are very well-organised. They come with food and water and guns. That's different from what Iraq has always had, farmers and villagers coming to take something to sell at the local souk.
Assyrian bull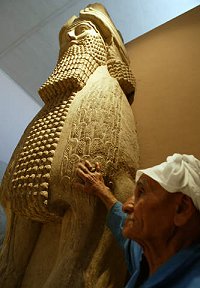 Iraq is full of archaeological riches. Shown here Iraqi guard Abed Atiya al-Shemari leaning on an Assyrian human-headed winged bull at Baghdad's National Museum (Image: Reuters/Faleh Kheiber)
Iraq is full of archaeological riches. Shown here Iraqi guard Abed Atiya al-Shemari leaning on an Assyrian human-headed winged bull at Baghdad's National Museum (Image: Reuters/Faleh Kheiber)
"The assumption is that they won't have to hold onto it for 100 years. But some families have been doing it for generations and might think their grandchildren will sell it. There must be warehouses bursting with the stuff," she says.
"It will start coming onto the market when people decide authorities can't be bothered to prosecute anymore."
While the director of the Iraq Museum in Baghdad, Donny George, says that an object sold by a farmer in Baghdad for $US50 dollars can fetch "US$200,000 to US$300,000 dollars in New York", the financial loss pales in comparison to the cultural one.
"The frightening thing is objects going to private collectors, where they are hidden, just for investment, like hoarding gold," says George.
He says ill-informed buyers in the West, such as the man who paid US$80,000 dollars for a non-descript cylinder seal, are also inflating prices and inspiring more thieves.
"They've been taking out at least 3000 tablets a week, by the truckload. That's got to be 400 to 500 dissertations," says Richardson, adding that some looters die when the tunnels they use collapse, becoming artifacts themselves.
Iraq currently has 12,000 registered archaeological sites, but once the whole country has been surveyed, that number will jump to 100,000, says George.
Hamdani says there are 800 sites around Nassiriyah alone, with 200 site protection forces to patrol them in just seven vehicles.