An Open Letter to His Holiness Mar Emmanuel III Dally
William Warda
California
Your Excellency:
We were delighted to see you side by side with Honorable Mar Dinkha, the Patriarch of the Church of the East. It gave us hope that finally the estrangement between the Chaldean Church and other Assyrian Churches in Iraq will come to an end. Your sentiments, that 'we are one people', made us believe that you no longer consider members of the Chaldean church to be a different ethnicity than those of the Church of the East and the Syrian Orthodox Church.
Furthermore, some members of your own denomination appealed to you and Mar Dinkha to meet and agree on how the Chaldean and Assyrian organizations and churches can make a unified stand on the new Iraqi constitution. Then we learned that you wrote a letter to the Arab and the Kurd officials demanding that Members of your Church be recognized as a separate nationality, also to be mentioned in the Iraqi constitution and official records separately as the third most important people of Iraq, after the Arabs and the Kurds. To say the least we were shocked and perplexed by such a contradiction.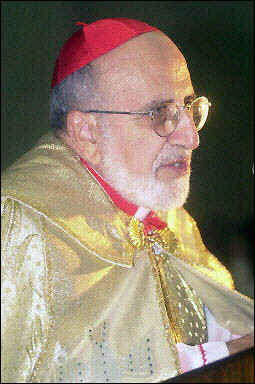 Mar Emmanuel III Delly, Patriarch of the Chaldean Catholic Church
In our presence you agree that we are one people but where it counts you claim members of your church are a nationality other than Assyrian, and ask for special privileges for them. Your letter to the Iraqi officials can only cause disunity and long lasting damage to the brotherly relations between your Church and the rest of us. It will result in dividing the Christians of Iraq and force them to compete for the disappointing pittance Arabs and Kurds are willing to give them which will cause inequalities, lack of opportunities, and unhealthy conditions that may hasten their migration from our ancestral land. That clearly is not to the best interest of the Chaldean Church nor its members.
For those of us who know something about our history, of last few centuries, this seems more like another attempt by the Chaldean Church to reject and disown its brethren of other Churches. This brings to mind the injustices your denomination has inflicted on them in the past with the help of the outside powers. Here is one of many reports by the western historians of how the Chaldean Church was established in the Plain of Nineveh and its treatment of those who refused to join it:
The 19th century writer; Henry Lobdel after describing how the Latin missionaries established the Catholic Church in the plain of Nineveh and defined it as Chaldean, asserts that: The Patriarch of the Valley [Yohannan Horozed] had gone over to Catholicism and those who followed him were called Chaldean. They had the possession of the " churches and the schools, the convents the revenues all the ecclesiastical property, so long as the fugitives adhered to the faith of their fathers [Church of the East] they could expect neither charity nor justice. They were denied the needful food, raiment, and shelter. Nay they were even refused burial in the churches that were properly their own." They were forced to take shelter into mountains where they would be free from the wrath of their Catholic brothers but even there they were pursued according to other documents. (Rev. w. S. Tayler, "Memoir of Rev. Henery Lobdel (Mission of the American Board at Mosul)", 1895)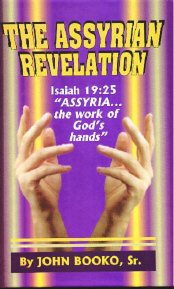 375 pages, $20 + S/H
To order your copy write to:
200 S. Hooker Ave
Three Rivers, Michigan 49093, USA
or call 269-279-2672

It is truly amazing that a Christian Church will treat its own people who belong to another with such injustice. This was clearly against the teachings of the Lord when he said: "Inasmuch as ye have done it unto one of the least of these my brethren, ye have done it unto me:" and He went on to say; "42, For I was an hungered, and ye gave me no meat: I was thirsty, and ye gave me no drink: 43, I was a stranger, and ye took me not in: naked, and ye clothed me not: sick, and in prison, and ye visited me not." Yet this injustice seems to continue today when the Chaldean Church claims its denominational name as its ethnic identity to disown and reject other churches and seeks to profit at their expense. Such advantages are at best illusory and contrary to the teachings of Christ.
By rejecting its Assyrian identity the Chaldean Church in reality undermines our historical claim to the Assyrian homeland and saps the strength of the Christian of Iraq, makes them adversaries rather than brethren. In the long run, it is not the Chaldean Catholics who will have advantage for this but those who seek to undermine all Christians in the Middle East. When you claim your Church members descended from the ancient Chaldeans rather than Assyrians, it emboldens the Kurds to falsely claim that the plain of Nineveh has been their homeland historically. This could have dire consequences for all of us. Surely the Catholic Church and the new Pope whose goal it is to reunite all Christians can only harm Christian unity and Christianity.
Your Excellency, we surmise that you have been forced to write the previously mentioned letter and have probably been pressured by a few extremists who only care about their personal profit at the expense of everyone else. We beseech you to refuse to follow their lead and pray to our Lord for guidance on the Christian thing to do in this matter. Your church's denial of its Assyrian ethnicity will not bring honor or advantage to the long-term interest of our people. It will instead deprive them of their rights as the indigenous people of the plain of Nineveh. Let us not confuse religious affiliation with national identity. There is wisdom in the saying, United WE Stand and Divided WE Fall.
Yonadam Kanna in Dubai
Muna Albert
Dubai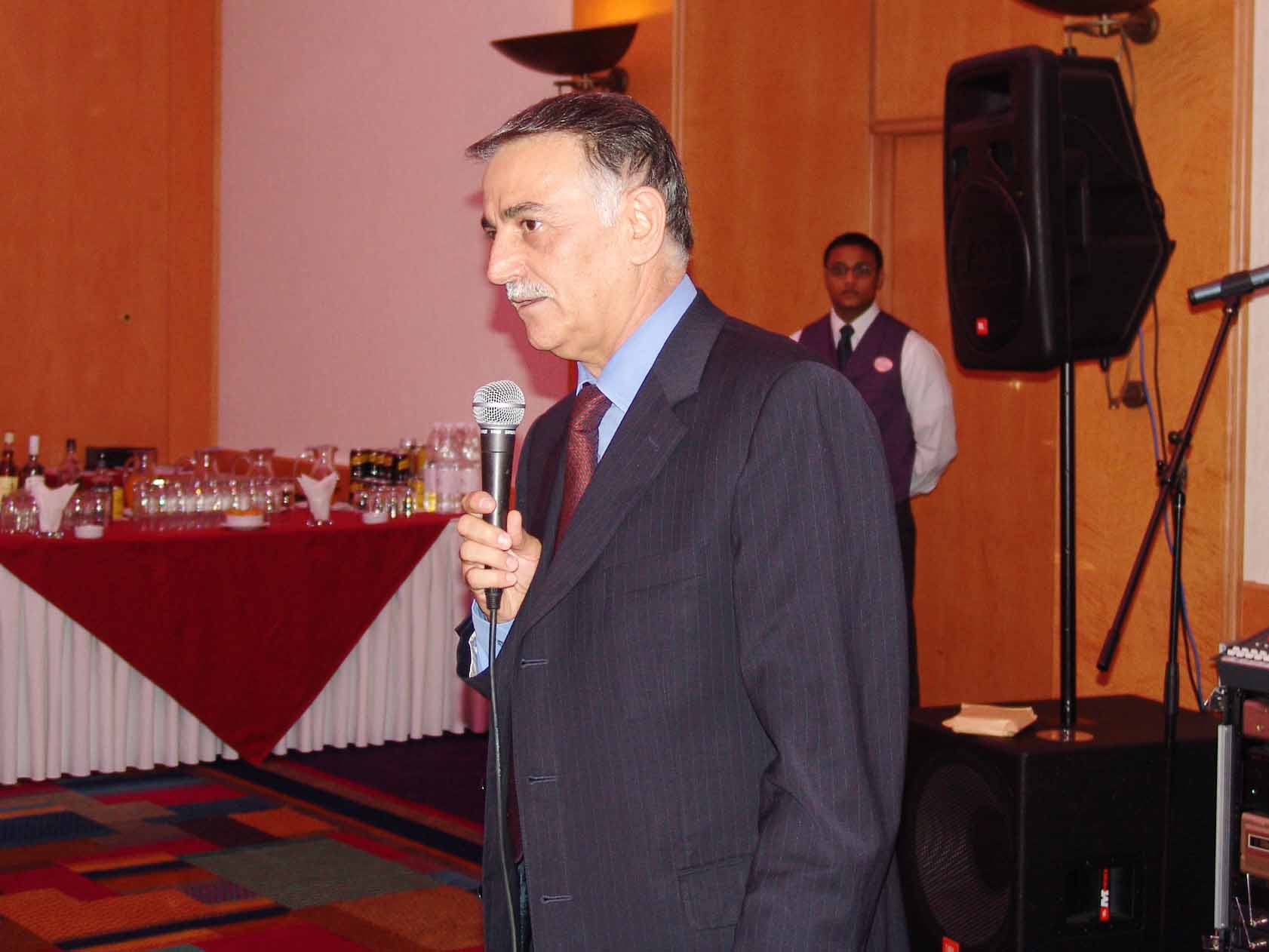 Mr. Yonadam Kanna, a representative in the Iraqi National Assembly and chairman of the Reconstruction & Public Services Committee of the Assembly speaks at a gathering of the Assyrians in Dubai.
On Thursday the 23rd, June, a group of Assyrians in Dubai had the pleasure of meeting with Mr. Yonadam Kanna, The General Secretary of the Assyrian Democratic Movement, Representative of the ChldoAssyrians in Iraq and Chairman of the Reconstruction and Public Services Committee of the National Assembly, Republic of Iraq. Upon requisition of the Assyrian Community in Dubai Mr. Kanna made a stopover for two days in Dubai while he was on his way to Iraq returning from an official visit to Japan.
A committee comprised of Mr. Clifford Kelaita, Mr. Ward Zai, Mr. Emanuel Kelaita and Mr. Aprim Shapera organized a dinner evening at the City Centre Hotel – Sofitel, and the participants of this event had the opportunity to meet and listen to Mr. Kanna. At the beginning, a welcoming speech was given by Mr. Emanuel Kelaita. On behalf of the Assyrian Community in Dubai, he expressed their grate appreciation and thankful to Mr. Kanna for sparing a day from his very busy time to meet Assyrians in Dubai.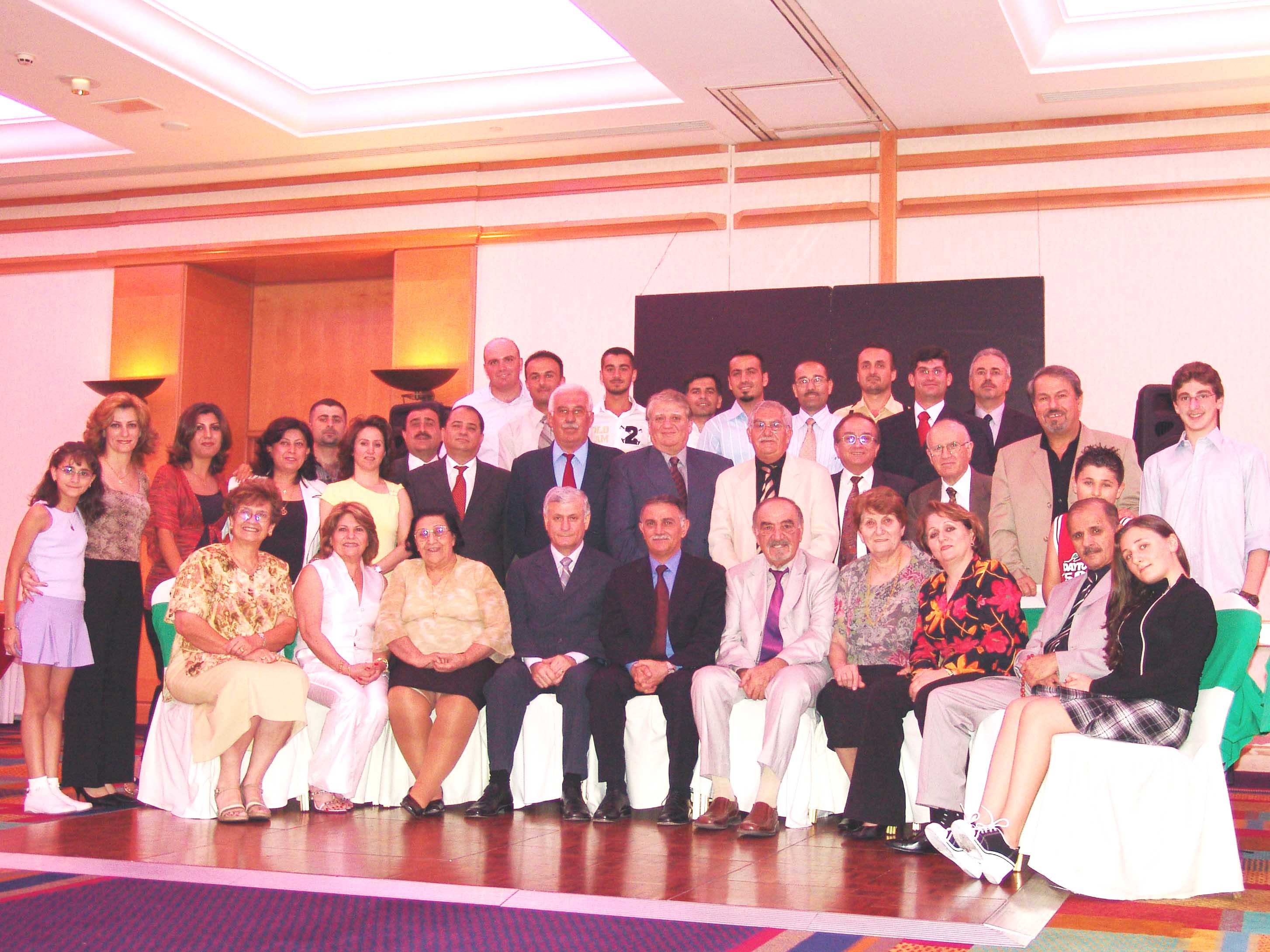 Mr. Kanna sitting among the Assyrians who attended a dinner meeting in his honor in Dubai, United Arab Emirates.
In his speech, Mr. Kanna explained the democratic process in Iraq, paradoxical incidents and ambiguities that adhered to the Iraqi elections, the roll of our people and their national rights, and the prospective of security and stability in Iraq. This dissertation was very welcome, as some of us did not quite understand all that is involved in the whole process. He also explained what is more important to us, the situation of the Assyrians in the different villages, towns and regions of Iraq. Mr. Kanna took time in answering very clearly some questions posed to him by different persons.
He later spent some time at each table, meeting old friends, answering abashed questions, greeting acquaintances and getting to know other members of the Assyrian Community in Dubai.
It was a memorable evening in which Assyrians had the opportunity to socialize, learn more about their brothers' circumstances in the Homeland, about Iraqi current situation and enjoy drinks and the excellent food that the buffet provided.
I hope that we will be able to meet again with Mr. Kanna, not in Dubai but in Bet Nahrain and continue learning firsthand about the situation of our Assyrians in the motherland.
Where is Mar Delly?
Ekrem Kas
France
During His Beatitude's trip in France, Mar Delly was in the French media everyday
- on national TV: France 2 - France 3 - LCI - Itélé, KTO...
- on national radios: RTL, Radio Notre dame...
- on national diaries: Le Figaro, La Croix...
His visit to France was a national event: he had a meeting with President Jacques Chirac and with all the French clergy.
Since Mar Delly left France, we have no news from him.
Every monday and every Friday I open Zinda hoping to get some news, but the only information I get is his critical of the US evangelists in Iraq.
I am frustrated because I want to know what did Mar Delly in the US, how many time he stayed, who he met, what he said, when he lived, where he is now (Australia, New Zealand, Iraq?).
Mar Delly visiting the diaspora around the world is an important event.
Please Zinda and Zinda readers, inform us !
A Reminder that This is not an Ideal World
A Response to Ann Margaret Younan
Fred Aprim
California
This is a short response to Ann Margaret Younan's piece titled "Pride and Prejudice" posted in the last issue of Zinda.
Allow me to begin by stating that if Ann Margaret found the title of my article "The Hallucination of the so-called Moslem Assyrians," offensive, then I wish I knew the degree of its offensiveness because if that fact is seen as offensive then I would have liked to know the way to kick it a notch further. I do not think that one can fool the educated readers of Zinda by applying idealism in a world that is non-ideal. Ann might apply her idealism within the premises of her home; however, the reality on the ground is completely different.
Ivan Kakovitch's MOUNT
SEMEL
Now in FARSI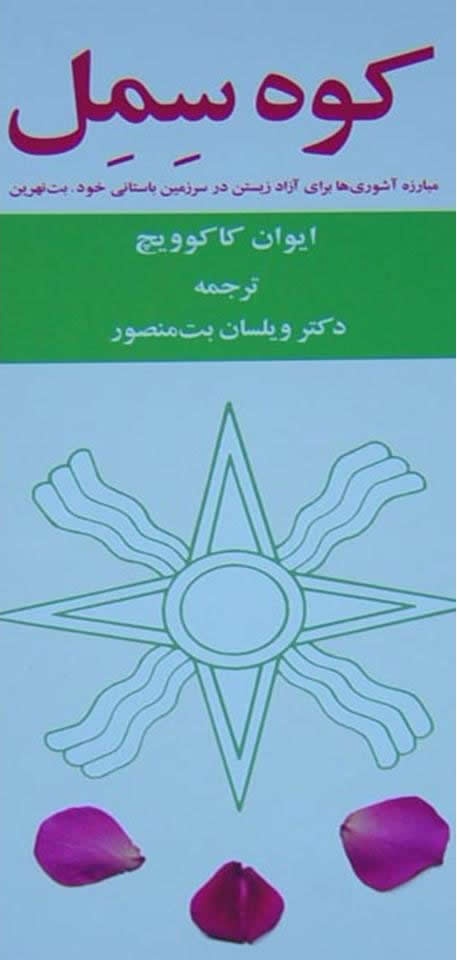 Assyria struggles for its place in history, its identity and its survival on the dawn of World War I (1915), culminating with the Massacre of Semele by the Royal Iraq Forces on August 8, 1933. (400 pp. Pub. 2005, Iran History Publishing Company, Ltd. Teheran, Iran. Trans. by Dr. Wilson Bet Mansour).
ivankakovitch@aol.com
ENGLISH: (hardcover) $40.00
FARSI: (paperback) $18.00
The intention of my article was not to compare between religions or to show that one particular religion was better than the other was since I made that clear from the beginning. However, I just wanted to make sure that we kept certain historical facts into consideration when addressing the Assyrians' picture during Islam. The 50,000 or 100,000 Arab Moslems who came out from the Arabian Peninsula and stormed the Fertile Crescent some 1,360 years ago, did not wave white roses at the predominantly Christian, atheist, or pagan population. They had a clear objective. The objective has been met since Christianity (and many other religions) has almost completely disappeared from that region. That does not reflect the idealism of Ann Margaret; that is the unfortunate reality.
I could foresee what those few ultra liberals would say next; they are going to remind us of the Crusaders. Well, the topic at hand is Assyrians, their experience with Islam, and the claim that so-called Moslem Assyrians existed. That is the subject. Nowhere in my article I claimed that only Christians were good people. Why did Ann bring that issue? Nowhere in my article I claimed that all Moslems were bad. Why did Ann bring that issue? Ann spoke about love and the message of peace and no one would raise any objections there. Still, she needs to be reminded that the reality is that our world is far from being there. Ann goes on to manipulate what I stated and insinuates that I do not understand that there is non-Arab Moslems, which was silly. The reason for mentioning the Islamic based Arab culture in particular was because Assyrians lived in northern Mesopotamia and initially they had to deal with that culture after Islam spread in Mesopotamia. Still, I need to remind Ann that the Mongols had Nestorian Christians among them and they tolerated the Nestorian Christians in Mesopotamia. However, the moment the Mongols converted to Islam, they began to persecute and massacre those same Nestorians whom they tolerated earlier. How does Ann explain that?

Here are few simple and non-complicated questions for Ann Margaret:
Did you really understand the history of the Middle East in the last 1,360 years and the affect of Islam on Assyrians?
For all practical purposes, are there Christian Turks in Turkey? Are there any Christian Arabs in Saudi Arabia? Since there are not, why?
What happened to the Christian Arabs in Iraq and the Syrian Desert? Why were they not left alone to remain as Christian Arabs? Why did they have to become Moslems?
What happened to the majority of the non-Arab ethnic people of Libya, Tunisia, Algeria, and Morocco for example? Why weren't they left alone to be who they were and to practice their pre-Islamic religion? Did the forefathers of these people convert to Islam voluntarily?
The point of my article, and the above questions, was centered on the historical facts that have proven that in the final analysis, none Moslems could not survive under the direct rule of Islam. One must understand Islam and the concept of Moslem nation and its relation to Arabs (again, I understand the presence of non-Arab Moslems around the world) in order to be able to answer the above questions. My concern is only with the Assyrian experience and not other nations. Ann claims that in Iraq today, millions call for a secular Iraq. Whether that is the case or not means nothing, one must not confuse history with politics. One must not confuse the policies dictated by the USA or policies intended to polish certain images with what had happened in the last thirteen centuries. It is funny that Ann refers to Rev. Joseph who claims that millions of educated Iraqis are calling for a secular government; however, she does not quote what Rev. Joseph has been warning from all along, i.e., an Islamic state in Iraq based on Islamic Shari'aa. It is funnier that Ann continues to claim the possibility of coexistence of the three main religions in Iraq. Still, she then brings the example of the Jews fleeing Iraq, which proves my point as Judaism disappeared from Iraq and Christianity is following. Whether that disappearance was due to modern politics or not is beside the fact. The fact is that Islam and Arabism go hand in hand; they are synonymous. All religions in Iraq beside Islam will disappear whether through the prior reason or the latter unless something drastic takes place. Finally, Ann builds a scenario of secular Assyria when answering my concerns, a scenario that does not exist. Therefore, all her answers are non-practical and theoretical.
Here are few of Ann Margaret Younan's most outrageous claims and false statements ever expressed. I will leave it at that and ask the reader to think about them:
"… that they [all religions] are all the same in their message, and all are rooted in the ancient Assyrian belief system."
"We can say all [religions] came from one source and one place: our beloved nation, Assyria."
"Ultimately, this code [Hammurabi's] gave rise to Judaism, Christianity, Hinduism, Islam, and Buddhism."
"If the people of Mesopotamia were all one, as Genesis tells us, then Assyrians of today are Moslems, Christians, and Jews."
"…(Christianity, Islam, and Judaism) will one day co-exist peacefully."
"When you have Moslem Assyrians, Jewish Assyrians, and Christian Assyrians in a society, you essentially have a Shari'aa Law that is ineffective."
In the end, I just wonder in what world Ann Margaret Younan is living. I am sure though that it is not the earth.