Statement of the APP-National Stream
For Immediate Release
Assyrian Patriotic Party – National Stream
Iraq
28 May 2005
The changes which have occurred in the Iraqi political arena in general and the Assyrian one in particular lead our parties into political peril as a result of their complete deviation away from their paths. We designate here the Assyrian Patriotic Party. It's not hidden for those who are aware of the Assyrian Patriotic Party's political program, how there was a great transformation in its position leading to a complete deviation away from its original path. This wasn't a result of the painful reality which is lived by our Assyrian Nation, nor did it come from differences in opinion as some of the leaderships in some Assyrian parties like to boast, rather the change was the result of narrow party interests, the leaderships struggle over positions as well as the hot race over vacant seats in the Iraqi National Assembly, in addition to other individualistic interests which pushed these parties to take a risk and choose falling into an abyss as a remedy to their political stumbles rather than perseverance and strife until the realization of what's written in their political programs which are supposed to be the constitutions which direct their paths.
CAN YOU SEE YOUR TARGET
IN THE ASSYRIAN MARKET?
Then Advertise Your Business in the
GOLDEN PAGES
Assyrian Business & Professional Directory
2005-6755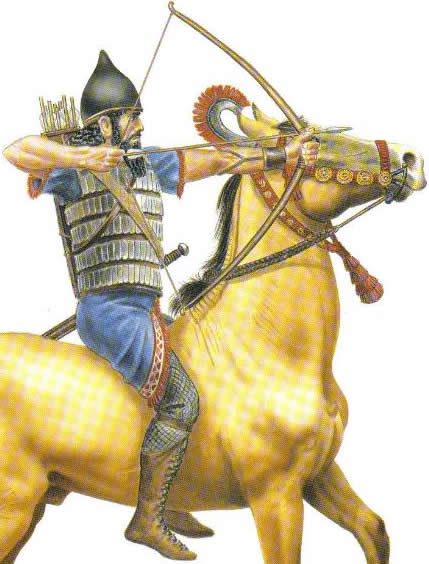 Call Vasili at (847) 982-5800
vshoumanov@yahoo.com
A Service of the
Assyrian Academic Society
8324 N. Lincoln Avenue
Skokie, IL 60077 USA
Following all the years of scarcity, the APP leadership preferred to follow the desires of those parties which are considered to be Assyrian, beginning with the ill reputed national conference to the Iraqi elections where as Assyrians we didn't gain any thing except disappointment and failure.
The APP leadership had its bet on the elections and the Iraqi National Assembly to guarantee its presence on the Iraqi political arena, thus it ran around behind the novelty people and relinquished all that it had called for over the past years, jeopardizing in the process the Assyrian name as well as the Assyrian national existence, which are the main points in the party's political program. This can be considered a treachery to the principles which the APP was founded upon.
The APP leadership deformed its constitution when it blocked its ears to all the calls of its members in Iraq and the world, which shows its obstinacy and tyranny in opinion and a violation of the party's calls for democracy. Had these calls been answered, the leadership wouldn't have fallen into the swamp of stagnant novelties which they are trying to embellish with some bulletins and publications so that they may seem to be on the path of deliverance leading to the Assyrian rights.
The APP leadership has declared its political bankruptcy the moment it deviated away from the Assyrian national path, and we are sure that it's unable to keep pace with the changes which are overcoming the political arena, thus its swinging bulletins are the best proof, because what's considered as a possibility in the art of politics doesn't necessarily mean to change with the changes and completely stray away from one's beliefs and faith. The possibility though is to firmly stand to face the changes and strife for one's beliefs and faith.
Therefore, we in the Assyrian Patriotic Party – National Stream, see that the present APP leadership has completely deviated away from its political program and left its path. It even went further when it overlooked its own people in the Assyrian slate and went on to hold deals as well as suspicious coalitions so that it may have a seat in the honorable assembly, not to forget the random and wrong decisions which were the result of its actions. The party had to endure all this paying a price through its members and supporters against its will, thus this leadership doesn't represent the party in any form nor is qualified to lead it.
We in turn urge our brethren who had resigned or went into seclusion away from political tasks and those members whom we expect will resign, as a result of the bad leadership of the APP, we call them to join the Assyrian Patriotic Party – National Stream in order to straighten the party's path into the right course leading to the Assyrian rights, may God grant us success.
Group Seeks Protection
Courtesy of the Star Newspaper
31 May 2005
By Brigid Harkin
(ZNDA: Sydney) The plight of Chaldo-Assyrians in Iraq was highlighted in Federal Parliament last week, but community groups fear little can be done to help their oppressed relatives.
Prospect MP Chris Bowen introduced a petition to Parliament from the Chaldo-Assyrian community requesting the Australian Government establish a policy to protect the Iraqi minority group.
The motion was seconded by Calwell MP Maria Vamvakinou and passed on Monday 23 May.
Victorian Chaldo-Assyrian Council treasurer and Campbellfield resident David Chibo believes the Australian, United States and British governments were responsible for the deaths of more than 1000 innocent Christian Assyrians in Iraq since the start of the war.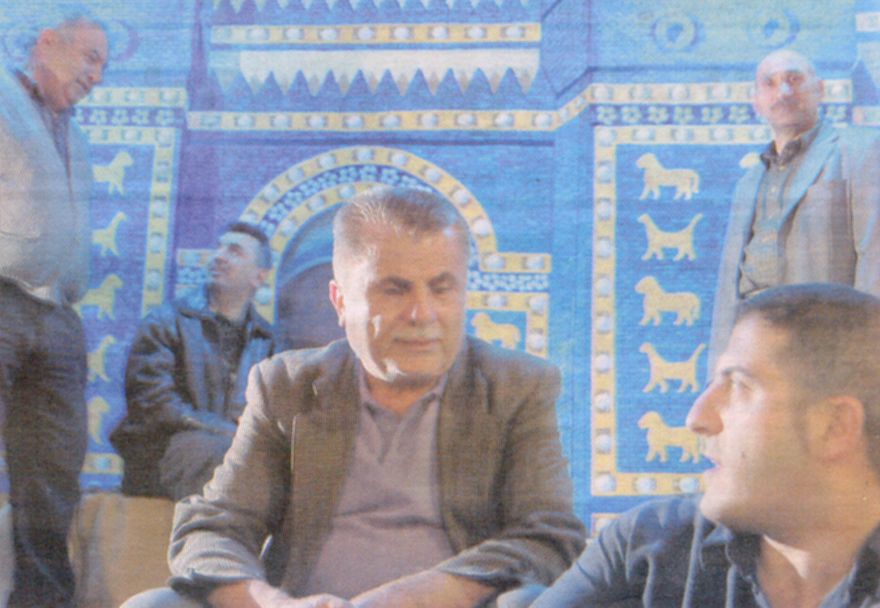 Fears for family...Members of the Chaldo-Assyrian community (from left) Charib Kunda, Walid Bidweed, Yousif Fransis, Mikhael Hozi and David Chibo are concerned about the plight of the community in Iraq. Photo by Damjan Janevski.
"They were also responsible for a further 50,000 Chaldo-Assyrian fleeing their homelands," Mr Chibo said.
He said Federal Government had recognised the community's problems, but it was a far cry from addressing the problems.
The Hume based Assyrian-Chaldean Women Association (ACWA) said it was glad the issue on the agenda, but questioned how it would stop the massacres in Iraq.
ACWA treasurer Lyda Dankha questioned the government's commitment.
"It's just a motion. Who is going to enforce it?" she said.
She said since last August about 100,000 Chaldo-Assyrian people had fled Iraq and were stranded in surrounding countries such as Jordan or Turkey.
"A solution would be if the issue was put on the Department of Immigration's agenda to look at the thousands of people stranded," Ms Dankha said.
"Some of those people have been stranded for 11 years with no health or education rights, just hiding within communities.
"But we are not really getting our hopes up."
Mr Chibo suggested the [Australian] government needed to remove its troops from Iraq and provide economic assistance to rebuild Iraq's infrastructure.
He also suggested that Chaldo-Assyrian refugees who had fled Iraq as a result of the [Australian] Government's actions should be granted special status.
"We pray for peace in our homeland," Mr Chibo said.
Calwell MP Ms Vamvakinou said in recent months and years, churches and monasteries had been attacked and people had been killed.
"We are talking about terrible atrocities which would undermine any community," she said.
"It is important that the practice of ancient [Iraqi] customs, language and traditions be maintained and that all minority groups in Iraq be allowed freedom of expression and freedom of religion."
Fraudulent Home Builders Banned in Australia

Courtesy of News.com (Australia)
30 May 2005
(ZNDA: Sydney) The names of some 80 builders who have been using fake qualifications to carry out work throughout Sydney was revealed on 30 May. Among these are a few Assyrians, including the long-time representative of the Assyrian Democratic Movement in Australia, Mr. Fredrick Auraha.
The Office of Fair Trading released the list to name and shame the builders found to have obtained their building licenses fraudulently (click here).
The builders' licenses were cancelled after ICAC uncovered a scam in which TAFE records were altered to replace the names of people who'd passed courses with the names of others not even enrolled.
In some cases, it was revealed the "builders" paid up to $30,000 for the fraudulent licenses
So far authorities have established that the fake builders worked at 94 sites across Sydney, but admit "there may be more".
The scam uncovered 134 builders with fake qualifications, with official records revealing about 80 still had licenses
The fake builders - and electricians and plumbers - mainly worked on new units, duplexes and villas in Sydney's west and south-west, at Merrylands, Punchbowl, and Padstow.
A special investigation by The Daily Telegraph last year found that 115 licensed builders have been banned for life or had their licenses suspended for shonky work.
A further 407 were found to be illegally operating in a two-week blitz on New South Wales building sites.
Fair Trading Minister John Hatzistergos told The Daily Telegraph authorities last year received 6200 complaints about builders and tradespeople's work.
The Office of Fair Trading is awaiting the ICAC's findings on whether to recommend criminal charges.
Music of Hope
Courtesy of the Arizona Republic
2 June 2005
By Daniel González
It's a safe bet that Saddam Hussein would hate Dali Sabih's new music video.
Some Arab television stations don't like the video clip either, although it's a hit with many Iraqis both inside and outside Iraq, thanks to the power of the Internet and satellite TV.
The video, which Sabih, a 28-year-old Iraqi exile living in Phoenix, directed and co-produced, features none of the violence and gore viewers get from nightly news accounts of the war in Iraq, which has killed thousands.
advertisement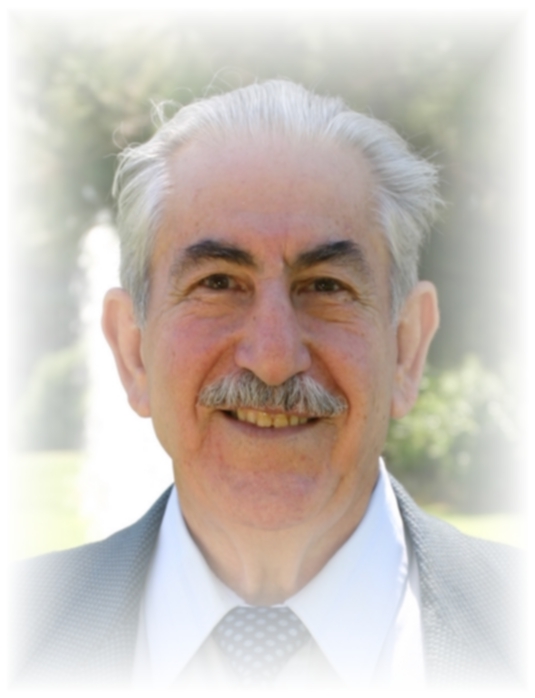 Modern Assyrian Language Guide
Volume I
by
Tobia Giwargis
(209) 667-6697
88 Pages
U.S. $15.00
(add $2 per book for shipping in the U.S.)
To Order Your Copy Contact:
Assyrian Club of Urhai
Education Committee
P.O. box 577762
Modesto, CA 95357 USA

Instead, the video, sung in Arabic with English subtitles, is filled with warm and gauzy images layered over a soaring Western pop-music soundtrack. It is Sabih's way of celebrating Iraq's freedom from three decades of Saddam's rule, and it expresses hope that the Iraqi people can live in unity again.
Filmed in Phoenix and Scottsdale, the video tells the story of an Iraqi painter living in exile. After watching the toppling of Saddam's statue on television, the artist returns to his homeland, where he is tearfully welcomed by his parents and finds the country's splintered ethnic and religious groups living harmoniously in freedom.
"I wanted to say, 'Saddam is gone and there is a new life for Iraq,' " Sabih explained.
Like many Iraqi exiles in the United States, Sabih supported the U.S.-led invasion of Iraq and the overthrow of Saddam's regime. He believes the insurgency, which reportedly has killed more than 620 people since Iraq's new government was announced April 28, is being carried out by a minority of former Saddam supporters, joined by outsiders from other Arab dictatorships who view democracy as a threat.
The video is titled Ana Hurra, Arabic for "I'm free," and is sung by Baghdad-born Linda George, a striking Assyrian-American singer and songwriter from Modesto, California, who is known internationally. The video's release in January coincided with the Iraqi elections on January 30, when millions of Iraqis risked death to cast ballots for the country's first democratically elected government in modern times. George has recorded the single, which was released Wednesday.
The video's message of freedom, however, has not guaranteed the song airtime in Iraq. Sabih said he is frustrated because some Arab TV stations in the Middle East have dismissed his video as U.S. propaganda and have refused to show it. In much of the Arab world, the U.S. occupation of Iraq is viewed as a war on Islam rooted in American imperialism.
One satellite station in Jordan with a wide audience in Iraq told Sabih that the station wouldn't consider broadcasting the video until he removed a scene showing the toppling of Saddam's statue.
Sabih refused. For many Iraqis, the collapse of the statue symbolized the end of three decades of tyranny and repression. Other stations told him that even if he removed the scene, they wouldn't broadcast the video. The problem is that many of the people working at Arab stations outside Iraq are Baathists who supported Saddam, Sabih said.
"I told them it was Saddam who occupied Iraq for 35 years, and I think Iraq is free now from Saddam," Sabih said.
Sabih has had better luck with satellite TV stations based in the United States and with the Internet. The video has been broadcast on Dandana TV, a 24-hour Arabic music channel in Rochelle Park, N.J.; TV Orient, a Middle Eastern satellite station based in suburban Detroit, and Al-Hurra TV, a U.S. government-funded Arabic satellite television station produced in suburban Washington, D.C. Aljeeran.net and other Iraqi and Arabic Web sites also have posted the video.
Favorable response
After the video was broadcast on TV Orient, the station received several telephone calls and e-mails from Iraqis asking the station to show it again, program director Suha Qassim said. That was unusual because viewers rarely call unless they really like something, Qassim said.
"It's a wonderful song," Qassim said. "The message says, 'Iraqis are free and this is what every Iraqi dreamed about.' "
Al-Hurra TV, which the U.S. government launched in 2004 to counterbalance anti-American reporting from Arab news sources, also received about a dozen telephone calls and e-mails after broadcasting the Ana Hurra video three times in February, said senior producer Ali Abdul Ameer. Ameer said the subject of the video represents a political and musical milestone for Iraqis.
"It's the first song celebrating the freedom of the Iraq people," said Ameer, a native of Iraq who was the former music critic for Al Funoun, an influential Arabic magazine.
Under Saddam, only music glorifying the Iraqi dictator was broadcast in Iraq, Ameer said. Some Iraqi singers living in the Middle East have denounced the war. But inside the country, many Iraqi singers are beginning to write songs celebrating freedom and democracy, Ameer said. Ana Hurra is more sophisticated because singers in Iraq don't have access to high-tech recording studios and video equipment, he said.
"It's got the whole package: good music, good lyrics and good video clip," Ameer said.
Inspired by dad
Sabih said the story of the video is based on his father, Kadam Sabih Aldakhal, an Iraqi painter and opposition party leader living in exile in Sweden. (The younger Sabih is named after Salvador Dali, the Spanish surrealist painter.)
Dali Sabih studied software engineering and made educational programs for Arab Radio and Television in Baghdad. In 1998, he was prompted to leave Iraq after he was interrogated by Saddam's security forces about his father's political involvement.
He moved to Jordan, where he edited commercials, music videos and educational programs in Amman, the capital. He came to Phoenix in 2002 with hopes of eventually moving to Hollywood.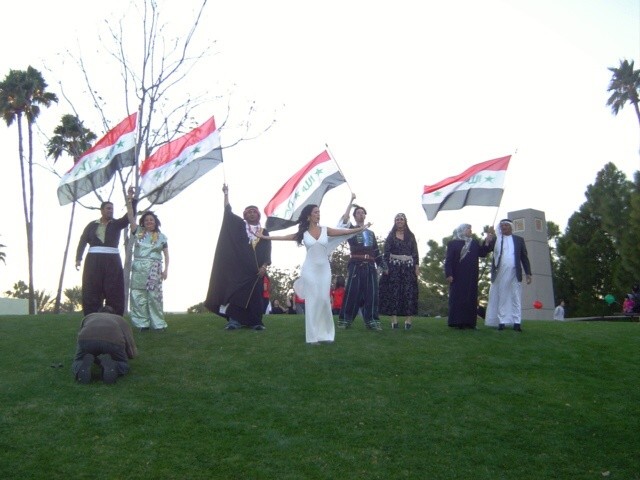 Linda George (center) at the filming of the Al Hurra video in Arizona.
In Phoenix, he got a job editing and shooting commercials for the Bryan Media Group. In his spare time, he began taking courses in the motion picture/television program at Scottsdale Community College.
Sabih filmed Ana Hurra last December as part of an advanced film course.
Katherine Atwell-Herbert, chairwoman of SCC's motion picture/television program, said that Sabih is among her best students and that his video impressed her.
"His intentions were very noble: to get Iraqis to join together and look to the future," Atwell-Herbert said. "It moved me."
Sabih said the idea of creating an Arabic-language video about the future of Iraq came to him after watching the toppling of Saddam's statue on television. He shared his idea with James Darmo, 36, an Assyrian-American friend born in Iraq. Darmo suggested Linda George, 36, who is well-known among Assyrians all over the world. Sabih listened to some of George's recordings and liked what he heard. The only problem was that George usually records in Aramaic, the language of the Assyrians, not Arabic.
In 2003, Sabih met with George, who was in Phoenix performing at an Assyrian-American wedding. That night, George sang some songs in Arabic, and Sabih was convinced that she could do the video.
Sabih, a Muslim, and George, a Christian, talked after the show, and Sabih pitched his concept about making a video. George told him she already had a song in mind about Iraqi freedom. She had even written some of it. Sabih then asked another Iraqi friend, Toronto-based playwright Mohamed Al-Jorane, to finish the lyrics. Meanwhile, Darmo agreed to co-produce the video, which was recorded with top Arabic musicians at a studio in Beirut. Darmo's brother-in-law, Phoenix convenience-store owner Robert Shawil, helped bankroll the recording.
As the project evolved, Darmo and Sabih came up with the idea of filming the video with people representing Iraq's many different ethnic and religious groups.
"We tried to show the union of the Iraqi people and the hope of working together for the future," Darmo said.
Filmed in Scottsdale
Sabih filmed most of the video at the Scottsdale Civic Center Mall with 50 members of the Valley's Iraqi-American community, which over the past 15 years has grown to more than 15,000 people, according to community leaders.
The video features George dressed in a white gown as a sort of modern-day Iraqi princess surrounded by men, women and children, some wearing traditional Assyrian, Kurdish and Arabic clothing representing Iraq's different ethnic and religious groups.
"I'm free," George sings, against the backdrop of the painter returning to friends and family in Iraq after years of sadness and suffering. "And I will live free, in my homeland, I will forever be free."