Frankly Speaking
Ashoorina Youabb
California
In a time and world where everything seems so fast paced and almost all political reporting by the media seems so altered and biased, it is nice to have such a straight-forward and wonderful magazine such as Zinda.
I have come across many articles that have been published in Zinda that have taught me a great deal about my Assyrian heritage and, that have at the same time, intrigued me.
In my political studies I have referenced many articles that have been published in Zinda and I am very grateful for such an informative and well thought out magazine.
Keep up the excellent work.
It's Time to Form Our Own Think Tank
Nenus Younan
Canada
It has been sometime since I have taken the time to express my gratitude to your hard work and dedication in the service of our nation. Although I do promote Zinda on a regular basis in Paltalk where a cross section of our ChaldoAssyrians from around the globe gather on a regular basis.
The media, in all its forms has become an ocean of information requiring full time analysts to gather the the necessary information and digest it to produce a foresight into the future, which is required in order for any Nation to be able to take the necessary steps to advance its political and economic security.
It's only a suggestion, yet I feel it must be a requirement. I am speaking of a full time, paid professionals from amongst our Nationalists who have the intellectual capabilities, proven by past performance and academic related qualifications to be the analysts, feeding our political and religious leaderships with direction based on the aforementioned "political and socio-economic analysis based on current events".
To name a few, in my opinion, is a duty and an obligation of each of us and to support this project if acceptable by more than one person.
I for one am suggesting the following persons to be amongst a group of 12:
1. Dr. Ashur Moradkhan
2. Rabee Alfred Dooman
3. Rabee Ninos Aho
4. Dr. Yosip Bet Yosip
5. Rabee Fred Aprim
6. Mr. Michael Youash
I am certain there are at least 1000 intellectuals in our nation and to attract 12 from amongst them as full time political and socio-economic analysts for the task will be an achievable and needed element in our national struggle.
Again my congradulations to you Z-Staff.
Posting A Murderer's Photo Not of Good Taste
Sargon Peera
Michigan
I was troubled to observe in your last publication the photo of the conference in Iraq, including in that photo the picture of the murderer of the late Mar Eshai Shimmun XXIII, who was seated first row, second from right, next to a priest.
I thought it was published in a poor taste. At least Zinda could have refrained from publishing the photo out of respect to the family of the late Patriarch, and respect to the Church and to the 60 years of firm and dedicated service to the Lord and His nation. The murder is still fresh in our mind and His blood stains are still not dry on the pages of our History.
We are not in business of judging people, for "judgment and vengeance is His", but we as Christians and Assyrians do not want the representations of a murderer of an innocent holy man, either publicly or privately. I must add (for the records) that HH Mar Dinkha initiated this man's acceptance in public with honor, by inviting him to the head table in one of His Holiness' events in Chicago.

The name"Assyria" will Stay For Ever
Eddie Shamasha Gewargis Beth Benyamin
Chicago
The author sitting next to a dusty automobile with the licence plate "Nineveh 8853" on a hot day in central Iraq.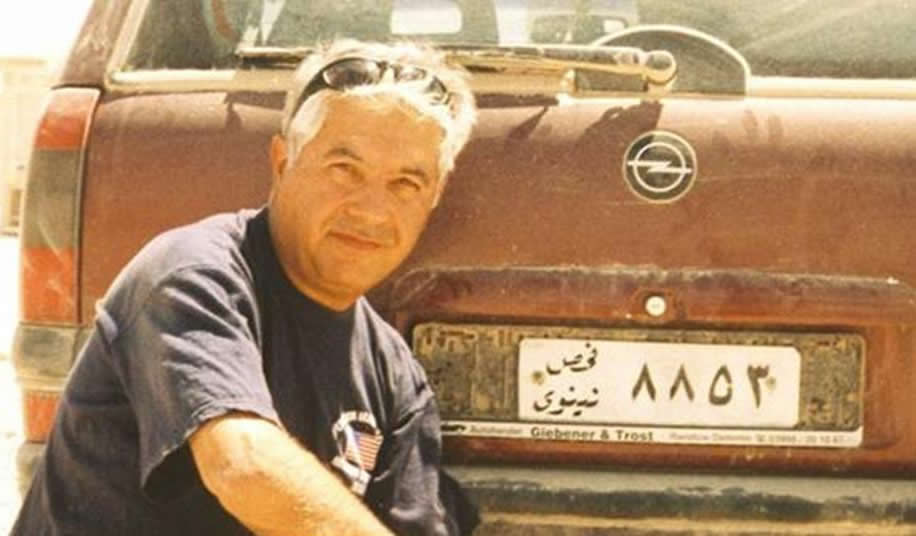 I was born and lived in Nineveh for 18 years. Geographically speaking; Tigris River splits the northern Iraqi metropolitan city of Mosul into two sections almost equal in area and population. The Southern section is called Mosul, and the Northern section is called Nineveh. These names were called by its inhabitants for centuries. In the Northern section, the tomb of Prophet Jonah (785 BC) up on a Nineveh hill is well preserved, behind it there are well kept remnants of King Sennacharib's palace. Next to it is his son, King Essarhaddon's palace. A few blocks to the west are the ruins of King Ashur Banipal's palace, King Essarhaddon's son. A few kilometers northwest of that area, we will find the ruins of King Sargon II's palace, Dur Sharooken (house of Sargon). Father of King Sennacharib, the most favorable and the main tourist attraction in that area, close to it is centuries old great monastery of Mar Gewargis (Nabi Jargees), which is also visited by a multitutude of Christians and non Christians year round, especially the monastery's old library.
I can assure all Zinda readers and my fellow Assyrians, the name "Nineveh, Assyria, Jonah "co exists with each other, all will stay forever as long as it is written in the Old Testament, in the New Testament, and in the Qur'an al kareem, chapter 37. All that land, which covers 32,308 square kilometers from town of Semel to the north, to the district of Nimrod and town of Ashura to the south, is called "Nineveh province". Regardless of any circumstances, the name "Nineveh" will prevail, along with "Assyria" and "Mosul".
A few weeks ago, Kurdish legislators of the city of Arbil (Arba' Ello), Northern Iraq, Tried to change the name of "Arbil" to "Hawlair," but they failed.
Eddie is sitting next to dusty car with "Nineveh 8853" license plate in central Iraqi hot desert last year.
Raabi Yacoub Bet-Yacoub and His Schools
Mikhael K. Pius
Editor
HUSCA (Habbaniya Union School & Community Association)
I'm afraid I can't let Raabi Eddie Shamasha Gewargis Bet Benyamin's rebuttal of my claim that the late Raabi Yacoub Bet-Yacoub was founder and headmaster of three Assyrian schools go unchallenged. (See ZINDA issues dated July 13 and July 23, 2005.)
Raabi Eddie, Raabi Yacoub DID found and teach school (or classes) for some 150 Assyrian pupils, mostly Sarranayeh, in a tent in Baquba Camp #1 in 1919 for two years, [or (my words) till the closure of the refugee camps at the end of 1920 when most of the refugees were moved up north to Mandan Camps near Nineveh for several months before those camps were also broken up.]
This fact is mentioned in Raabi Yacoub's short biography by the late Julius N. Shabbas, former Nineveh Magazine Editor for 20 years. If your late father mentions in his book a Raabi Youkhanan De Baz teaching in Baquba, Raabi Youkhanan must have been teaching in another section of the Camp, for the huge Camp contained more then 45 thousand refugees, with probably many of the more than ten thousand children needing schooling.
1939: Raabi Yacoub with his family, following the graduation of his eldest child, the late Raabi and Scoutmaster (1939-43) Ammanuel Jacob (back), from American High School for Boys in Baghdad; Wife, Mirvart, younger son the late William and youngest daughter, Shammeran (Samira), now Mrs. Sargon Hermis. Samira indicates that this was her fatherís favorite family picture.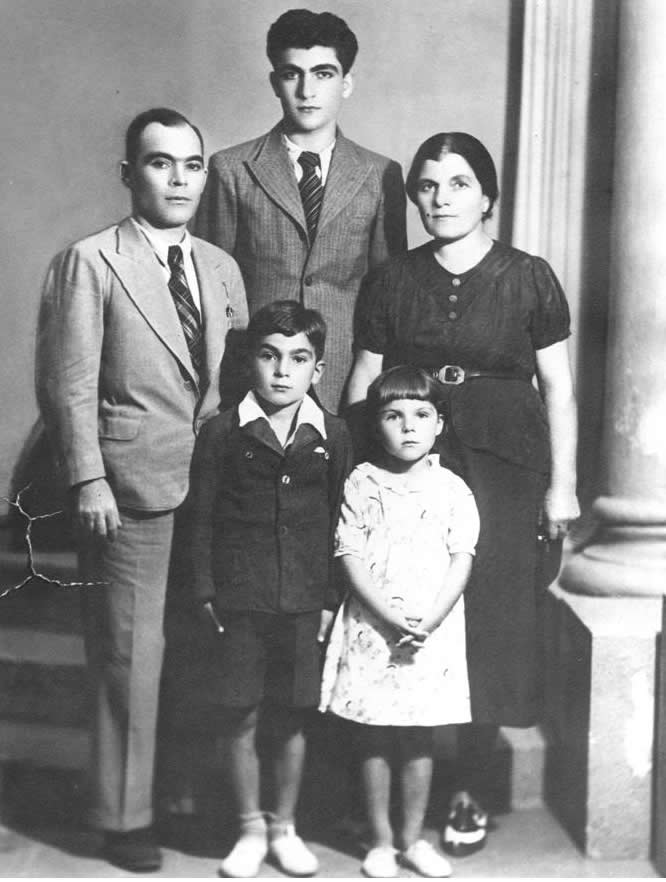 Raabi Yacoub also DID found a school in Kota Camp at RAF Station Hinaidi, in 1924 which lasted till 1937 when the RAF evacuated Hinaidi base and relocated to a newly-constructed air base at Habbaniya. This school lasted from 1937 through 1944, when the school was nationalized and taken over by the Iraqi Ministry of Education.
True, these schools were under the administration of the British, but it was Raabi Yacoub who founded them and headed a score of school faculty staff for a total of more than two decades. To put it in your exaggerated terms, it was Raabi Yacoub who founded and administered these schools with his "sweat, tears, and hard work." much more so than you did "to establish the school [or was it just teaching one or more Assyrian classes?] at Mar Sargis Church" (presumably for a few years) for which you picked up a bunch of your half-frozen Assyrian pupils from the street in your "large Cadillac Sedan de Ville."
In your remarks "Yes indeed, the photos Mr. Pius displayed clearly showing the teachers and students were all well dressed and well fed, thanks to the British Administration," smacks of insinuation that the school and its faculty were a product of British charity. Let me assure you that although RAF may have met some of the school expenses, these school children all paid a tuition fee as well as the cost of their books, the food they ate and the nice clothing they wore and their fathers worked very hard for many years for the RAF for the paltry salaries they were paid. The tens of thousands of our people—among them I would assume your late father and older members of your family together with a sizeable number of Armenians—did live on British charity for a few years at Baquba and the Assyrians later at Mandan refugee camps, for which charity our people expressed an undying gratitude. But this was in fact a consolation privilege the British afforded our people for the trials and tribulations they went through, the tens of thousands of souls along all of their lands and property they lost as a result of fighting during the Great War on the side of their eventually victorious "Christian" allies, the British, the French, and the Russians, from whom they expected not only relief and protection but also economical and military supply support to regain their lost lands and property from their defeated enemies.
As British Brig-Gen. H.H. Austin, the late Baquba Camp Commandant, writes in his 1920 book "The Baqubah Refugee Camp," "Up to the time I left Mesopotamia, our policy seemed to be to placate the Kurd [who, incidentally, is once again the darling of the British (and the American) authorities] at the expense of the Christians—those who had fought against us rather than those who fought for us and had lost their all in so doing. To me this attitude looked so unjust and incomprehensible that on several occasions I put forward protests; and tried to awaken the authorities that they were 'backing the wrong horse,' and that they would probably realize this before long."
There you have it in a nutshell—a guilty conscience of an honorable man for a wrong done our people being set at ease on behalf of His Britannic Majesty's Government!
Every sincere Assyrian concerned with the progress of his nation, is grateful to and proud of all the names you mentioned who founded, or taught in, Assyrian schools, for their dedication and work. But did anyone of them found and establish a school on his own, using his own economic or financial resources?
Didn't Qasha Khando Yonan do it with financial help from his congregation and students as well as with charity from the American Missionaries? What about your father's cousin Qasha Odisho Beth Benyamin, or Qasha Eskhaq Rehana, or His Holiness Mar Dinkha, or Zowaa, or His Grace Mar Melis, or Qasha Gewargis Bet-Rasho, and even Qasha Yosip Kelaita? Weren't they all supported and helped by their congregations, communities, Assyrians in general, or one source or the other, just as Raabi Yacoub was helped, to some extent, by the British and parents of his student body?
I do appreciate that these educators used their initiative and educational resources and hard work to teach or establish schools to help our people educate themselves. And this, I am sure, is appreciated by all Assyrians. But if they did this by "hard work, sweat and tears," so did Raabi Yacoub!
I have taken note of the praise Mr. Shlimoon Youkhanna has heaped upon you. Before I investigated, I thought you deserved the accolades because I assumed that he knew you better than I did. But it turned out that Shlimoon doesn't know you well enough, but "it was just a simple expression of encouragement of a young kid for the work--however trifle --he did at Mar Sargis Church to teach a few students."
I have also noted your email picture in which you are posing, with a big smile, with General Abi Zaid, the commander-in-chief of the American forces in Iraq. I know other Assyrians have had their picture taken with big personalities, such as generals, UN Secretary-General, Pres. George Bush, etc. It is very impressive for an Assyrian to pose with such high-ranking persons, though you don't tell me the occasion and the reason for the honorable privilege. And I understand that you have taught (presumably in the church school), but I'm not so sure what classes and for how long. From what I have learned, I am afraid I need convincing that you ARE a school founder.
Raabi Eddie, I had the honor of meeting your late father only once, oh, maybe in the late sixties or early seventies in Baghdad when I had something to consult him about. I really can't remember what it was about. Most of us Assyrians have a great deal of respect for him and his educational background and literary work (may God reward him in His Kingdom) as we have for some other members of your family, who likewise are learned and well-known active Assyrians. But excuse me in saying that I don't think your late father was "Father of all Teachers." He WAS one of the top Assyrian literary figures and teachers, but he was a teacher for the school of "The Father of all Assyrian Teachers," who was the late Qasha Yosip Kelaita.
As far as Assyrian language was concerned, many of those who had schooled under Qasha Yosip turned out to be Assyrian literary scholars like your father, as well as gained a sound base of the English language. There is no doubt about it. But if you take those educators who have served one section of our nation's youth (including some Armenians) in general education, and culture, and served them well for a long time with an Assyrian patriotic dedication I would probably place Raabi Yacoub above Qasha Yosip Kelaita too.
A fact that is not known to many Assyrians, and Armenians, is that Raabi Yacoub was born of an ARMENIAN father (who died three months before Raabi Yacoub was born) and an Assyrian mother who raised her orphaned son in her father's Assyrian home. His name Yacoub is the equivalent of his father's Armenian name "Hacob." Although he spoke and wrote Armenian, was married to an Armenian widow since Baquba days, and had always a great deal of affinity to his father's race, he always identified himself as Assyrian rather than Armenian and was a passionate Assyrian patriot with a very sound knowledge of both Assyrian, Armenian and Turkish as well as English languages, along with a spattering of French, Farsi and, I believe, Arabic. Raabi Yacoub served under General Agha Petros and Agha Mirza in the Assyrian artillery division in 1918 and was involved in the battle of Ushnuk Saboulach. Even at the expense of taking up a little more space, let me cite some of Raabi Yacoub's qualifications as an Assyrian educator and artistic man of letters: Raabi Yacoub was not only the founder and headmaster of three combined Assyrian and Armenian schools, but was a writer, orator, and according to the late Raabi Nanajan Youkhanna (one of his early teaching staff) a composer of Assyrian poems and national songs, a musician (violin, banjo and mandolin) and music composer. He was also an actor, a playwright and had translated several of Shakespeare's plays into Assyrian, plays such as Othello, Romeo and Juliet, Hamlet, Merchant of Venice, and few others, three or four of which were staged in Hinaidi and Habbaniya, costume-designed, directed, and staged by him and played mostly by his students and community members, with himself in a couple of lead roles. Raabi Yacoub's pep-talk morning speeches to the assembled student body were a source of ringing inspiration in attentive ears and his annual school graduation and commencement exercises were the pride of both his students and parents alike and his sports fields were the training cradles that produced sports champions among them soccer national stars like Aram Karam, Youra Eshaya, Ammo Baba, Youel Gewargis, Edison Eshay David, Sargis Shallou and several others as well as other champions in other fields.
But perhaps another important, if not the most important, aspect of his achievements was the establishment in 1939 of the Habbaniya Boy Scout and Girl Guide movement, with assistance from some RAF former Scouters. The movement was placed under the Scoutmastership of his eldest son, the late Raabi Ammanuel Jacob, from 1939 through 1943. Following the nationalization of the school in 1944, when Raabi Yacoub left the teaching profession, the movement was transferred to the supervision of RAF British Scouters. During the next ten years the movement developed and grew, independently, to be the finest of its kind in the world—and certainly the best in the Assyrian world! During the forties, contingents of Habbaniya Boy Scouts and Girl Guides were invited to Qasha Khando's school, to the British Institute in Baghdad as well as to various Iraqi school national jamborees in Baghdad and Dulaim Liwa to give demonstrations of their knowledge and skill in their field and to train and teach their Iraqi counterparts. Above all, Raabi Yacoub was an efficient administrator and a teacher who inspired and goaded his students to greater achievement for two decades.
Of course, like most of us, Raabi Yacoub was not without his faults and foibles. But though small in stature (5' 1") he was a giant of a man. He had an aura of awe about him that commanded attention, respect and admiration—and even reverence.
How many of the Assyrian school founders have so many talents and capabilities and how can you dare discredit a man like that?