In Memoriam of Rab-Khamshi Odisho Moshe
Gaby Kiwarkis
Australia
Rab-Khamshi Odisho Moshe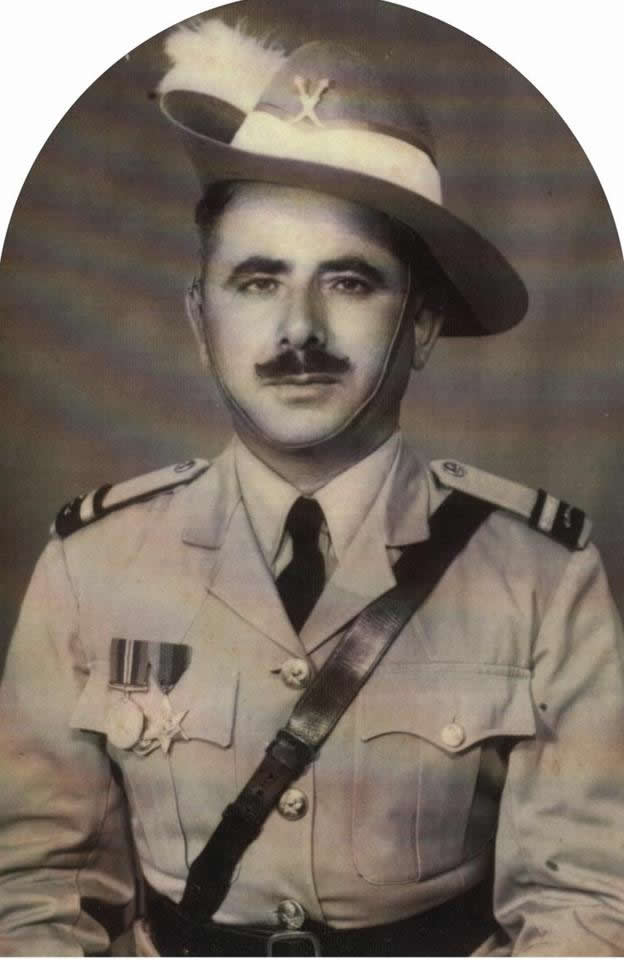 I regret to announce the passing away of Officer Odisho Moshe in Fairfield, Sydney. Rab-Khamshi Moshe died earlier this week and was buried on Thursday, August 25th.
Mr Odisho Moshe was born in 1919 in Baqubah, Iraq. He joined the Iraq Levies in 1937 as a private and rose through the ranks until the disbandment of the Levies Force in 1955 and was discharged holding the rank of Rab-Khamshi. In 1941 as a Corporal he was engaged in the defense of Habbanyia and the subsequent decisive attack on Falluja by a contingent of Assyrian Levies. His bravery was not limited to his youth. During the Iran- Iraq war, as a civilian, he was awarded a bravery medal for surveying a bridge vital to Iraq under heavy artillery fire. At the age of 84 he led the Assyrian contingent in the annual ANZAC [veterans] parade in Sydney for three consecutive years.
A true officer and a Gentleman, he will be sadly missed.

The term "Rab-Khamshi" refers to a platoon commander, the leader of 50 Levy fighters.
Assyrian National Council of Illinois Election
Polous Gewargis
Chicago
A 15-member committee of the Assyrian National Council of Illinois will be elected this Sunday, who will then elect a president and vice president from among themselves. Every Assyrian or half-Assyrian over 18 years of age and living in Illinois may vote.
I will appreciate if you would please publish these names at your magazine as soon as possible ... so your respected readers from Illinois can have a clear idea who they will vote for. The names are:
1) Salomon Abraham #1
2) Adad Ashurseen #4
3) Hanny Baba #5
4) Peter Bobo #6
5) Zaya Daoud #9
6) Nina Dekelaita #10
7) Ninos Lazar #16
8) Sheba Mando #17
9) Sargon Marano #18
10) Agnes Merza #20
11) Aprim Rasho #22
12) Sabah Shamoon #24
13) Ben Toma #25
14) Samir Younan #27
15) Ashour Zaia #29
The Assyrian Church of the East at Work
Isho Callo
California
Hear yeh, hear yea, a dream has come true!
Last Sunday was a historic day for all of us in the greater Los Angeles area. Beloved Assyrians from all over the area, other parts of California, other parts of the United States, and even from abroad, rocked St. Mary's Assyrian Church of the East in Tarzana. White doves and colored balloons covered the blue skies of the City of Angels. The sounds of cheering, Dawoola and Zoorna, and ringing church bells indicated an extraordinary occasion taking place at the church. Indeed, this was a great new beginning and a new chapter in the history of our lives.
His Holiness, Mar Dinkha IV, our beloved Patriarch, had flown in from Australia a few days prior to Sunday. He had opened a new school there, and now, he was opening another one right here in Los Angeles. Truly, it was a great moment to see His Holiness cutting the ceremonial ribbon and blessing us with the very first Assyrian school in the United States of America.
In the evening, His Holiness told us about his busy schedule and his trips to various countries, in particular, a church in the Australian diocese that has been very hard at work. On this evening, he reiterated one of the more common of his themes; that if there is obedience and trust, there will be progress. We the people and members of St. Mary's Assyrian Church in Los Angeles are eyewitnesses of this fact. The history of our beloved parish is living proof that obedience and trust have momentum.
Much more can be said, but this properly serves our purpose. Whoever has ears, let them hear!
Mar Dinkha IV, Patriarch of the Assyrian Church of the East blesses the students attending the academic year 2005-2006 at the Assyrian Christian School opening ceremonies (photo courtesy of Lena Mushell).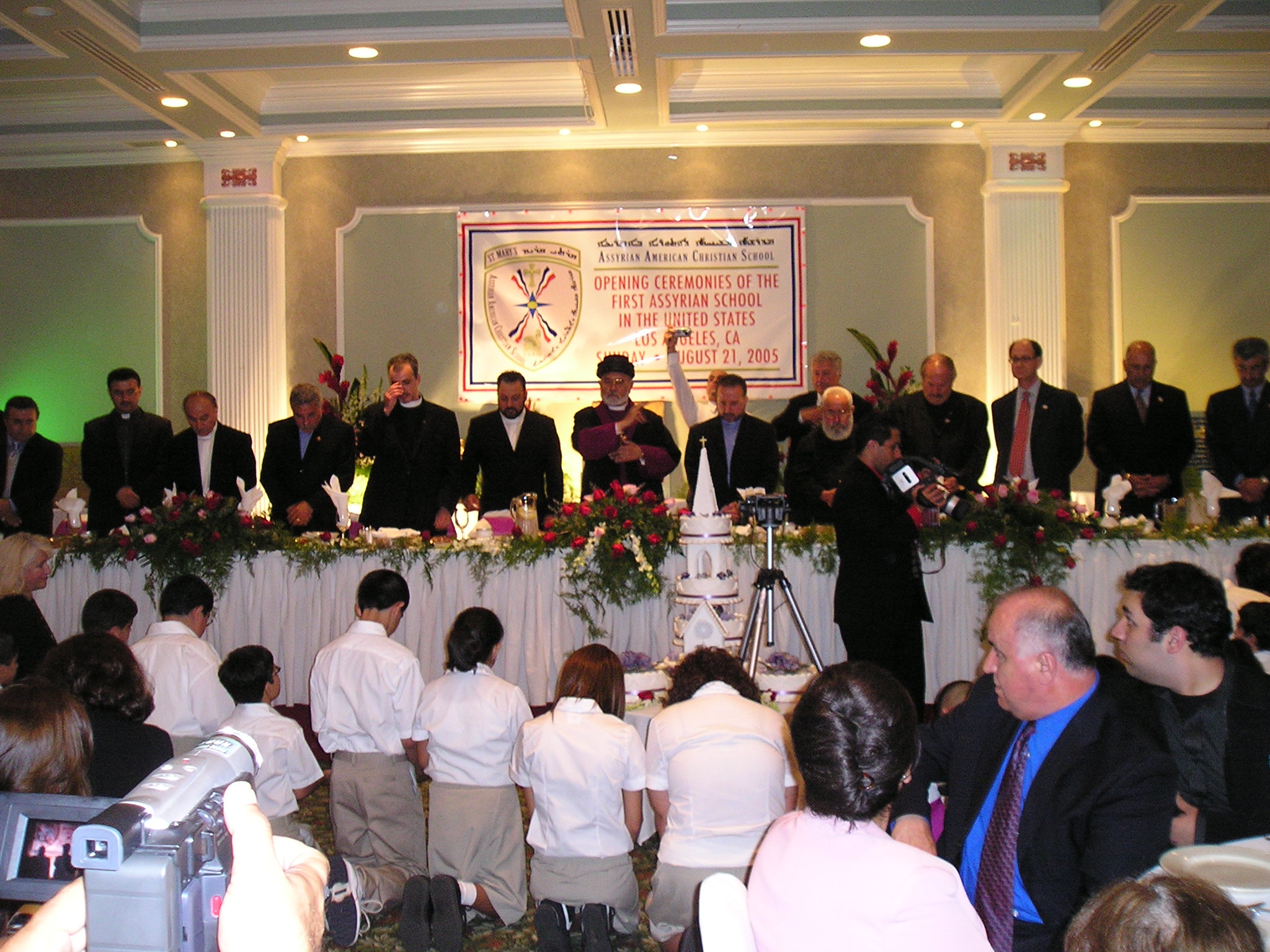 Tired of Photo-Op Politicians
Tony Kilaita
California
The article by Emanuel Kelaita was very inspiring, daring and truthful. It is time to wake up and ask the Church leaders of all religious denominations to lay off leading political agendas by provoking certain people in this political party or the other.
We are no longer in the Middle Ages, there are situations nowadays such as the critical political events in Iraq requires political leaders to run the policy and to lead the effort in getting our national rights. Please lead the churches by preaching the word of God. Please call on unity of churches as we have one Christ.
Also, I ask all the ChaldoAssyrians to support political parties who are presently on the field struggling in Iraq such as ZOWAA and others. We are tired of Photo-Op political organizations such as AUA and others in Diaspora.
We have really one chance left, I am referring to the Assyrian Chaldean Syriany unity unity in the upcoming constitution election / referendum"ONE VOICE, ONE PEOPLE". Please do not listen to anybody when it comes to politics, please use your common sense.
New Iraq Constitution Must Protect Christians
Alda Benjamen
Canada
The fate of millions of Iraqis hangs in the balance as politicians appear poised to introduce a new constitution for the country.
This constitution represents freedom for the Iraqi people from more than 30 years of oppression and injustice under the Ba'ath Party and marks the birth of a new society based on equality.
The constitution is not merely words on paper. Rather, its application is what will truly define it and will make Iraq a free and democratic country, a rarity in the Middle East.
Its success will be measured not in the amount of time it takes to finish, not in the number of votes it receives, and not in the successful party who adopts its principles, but in its application.
It is when the human rights of an individual, regardless of religion or ethnic background, are protected by this constitution that we can declare it successful and democratic.
It is when an Assyrian (also known as Chaldean or Syriac) woman living in her homeland in northern Iraq is free to wear a Christian cross around her neck and knows that she has just as much right to life as the Shiite woman who wears the Islamic veil.
Tickets Available Now!
As a corporate sponsor of this event, Zinda Magazine is offering special student tickets at $100 (over 65% discount) to full-time Assyrian students with valid proof of enrollment at a high school or college. To obtain your tickets contact Zinda Magazine at narsai2005@zindamagazine.com. Bon apetite !
For it is the Assyrians, the indigenous Christian people of Iraq, who most need this constitution to be successful.
It is they who have been butchered, not only under Saddam Hussein's rule, but also by the Ottoman Empire of Turkey and the Kurds for generations, simply because of their separate religious and ethnic identity.
It is they who, to this day, are singled out and treated as less than human; when their churches are destroyed, their women forced to wear the Islamic veil, their villages uprooted and their businesses targeted by extremists.
Amnesty International has noted many of these injustices, which also include assassinations of political leaders and the slaying of nuns and priests. This constitution will not only be necessary to secure the basic human rights of the Assyrians but is essential for their survival in the country.
As the indigenous people of Iraq, we have suffered from the forced Arabization drives of Saddam's regime. Further back in time, our people were killed alongside the Armenians and Greeks during the 1915-1918 genocide by the Turkish and Kurdish forces of the Ottoman Empire, the first recorded genocide of the 20th century.
Close to 750,000 Assyrians, or two-thirds of our population at that time, were slaughtered in what is internationally recognized as the Armenian genocide.
Yet again, more than 3,000 villagers were massacred in 1933 in Simile, north of Iraq by the Iraqi army. Attacks targeting our people are still being carried out today.
Between August and October of 2004, more than nine churches were bombed in two separate incidents. Many parishioners were killed and others injured during these terrorist attacks.
Because of these attacks and constant threats, rapes and abductions, more than 40,000 Assyrian Christians have fled Iraq for Syria.
It is now obvious why this is such a crucial time for the Assyrians of Iraq.
Will the constitution acknowledge people who suffered under the former Iraqi regime, other than the Kurds and Shiites? Will it guarantee seats for our people in the National Assembly and give us appropriate representation?
Will it ensure that we no longer remain a voiceless community that has been forcibly kept as an under-represented part of the Iraqi population?
Given the magnitude of the brutality against Assyrians, it is crucial that our rights to practise our religion and teach our Syriac language be guaranteed. It is also necessary that the Assyrians secure an administrative region in Iraq as stated in the Transitional Administrative Law, Article 53(D). This law guarantees the administrative, cultural and political rights of our people and other minority groups in Iraq.
Assyrians now stand at the crossroads. We do not want history to repeat itself. We need to remind ourselves that although it is the majority that rules in a democracy the voices of the minority cannot be ignored.

Ms. Alda Benjamen is a member of the Assyrian Chaldean Syriac Student Union of Canada. Her letter also appears in the August 23rd edition of the Toronto Star.
Why Not Just Iraqi Christians?
Stafford Clarry
New York
Would not the term 'Iraqi Christian' (IC) be the best collective term to use? 'IC' would distinguish and maximize a group in Iraq with common interests, their faith and the right to conduct themselves and their lives in a manner consistent with their faith.

Trying to determine and apply an ethnicity term appears to be very controversial and divisive. Some Christians agree, some disagree. Both sides have their reasons.

IC is a unifying term. It includes all Christians, not just Chaldeans and Assyrians and Syriacs. It would also include Roman Catholics (RCs) and Armenians and all other Christian groups that may be residing in Iraq.

More effort needs to be expended on unifying the Christian community and not entertaining controversial terms that divide them.

No doubt, ICs have issues to be addressed. So do other people and groups in Iraq. In order for ICs to draw attention and get their particular issues properly addressed it seems to me they have to become united on the one feature they can agree on and which distinguishes them from other groups who have different issues to be addressed, and that is their faith, not their ethnicity.

For example, whatever their ethnicity may be, the Shabak, Kakayee, and Yezidi distinguish themselves based on their faith. Why not the Iraqi Christians?

Since ICs are located throughout Iraq from Basra to Baghdad to Zakho they need to be united and represented in a manner so that their interests and lifestyles are promoted and protected, and their issues are properly addressed.

Because ICs are scattered throughout Iraq, though concentrated more in some places, I have a hard time understanding how the establishment of a distinctive safe area will promote and protect their interests, and get their issues addressed. Does this imply that some ICs will leave their homes and homelands where they have resided for decades and centuries and emigrate to a strange haven?

In some secure and stable areas of Iraq from which ICs have emigrated this is now a most opportune time to return and invest before prices rise too much and opportunities vanish. In the mountains there are many empty Christian areas which are now more accessible than ever.

These areas are beautiful and prime country for resorts, spas, private schools, orchards and vineyards, upscale enterprises like gourmet fruit and milk products, fine wools, etc. that would distinguish the Iraqi Christian community and provide them with very lucrative incomes. The areas are vast and just waiting to be developed.

Delegations should come and urgently visit the safe, secure, and stable areas and make assessments and plans to return, invest, and prosper.
Click Image for Latest Edition (in PDF)

Looking For My Roots
Samuel Yalap
France
The Assyro-Chaldeans have been dispersed on earth for decades. We maintain close relations to Turkey, Iraq, Syria or Iran; while we live at the fine places in Illinois in the United States or in some Parisian suburbs in France. What also happens to us is that we lose the traces of our close relations. Sometimes, our grandparents forget entirely to tell us. Sometimes they forget such and such member of the family who is at the other end of the planet. They know and it is not very important for them. But for us, that becomes quickly existential.
Khoudeda Toma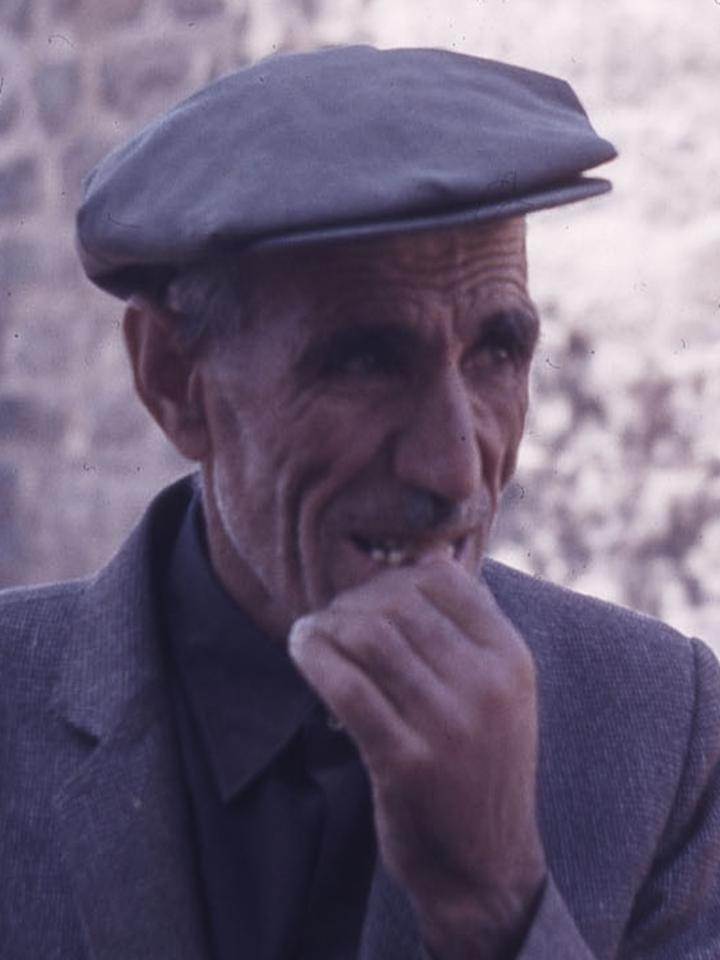 And a time comes when we need to find our roots. It is in this situation that I find myself. I tell you my history: my paternal grandfather, Khoudeda Toma from the village of Eschy (in the southeast of Turkey), left us at the age of 93, carrying with him priceless secrets of our history, but also our close relations are dispersed in the world. A few weeks ago, Bahho, the brother of Khoudeda on my paternal side (since Toma had married three different women), thought us during a family meal that they had another brother whom we never knew nor intended to speak of. The young people of the family were surprised of this astonishing news!
I am thus looking for my roots. I am looking for the children of my great-uncle Isho, son of Varde (which was the mother of my grandfather Khoudeda but also of my great-uncle Isho). Varde was Belwayta (from the village of Bellon). Varde would be the paternal aunt of Mar Raphaël 1st Bidawid, former Chaldean patriarch of Babylon, which was also from the village of Bellon.
Two sons of Isho would have visited Father Aziz Yalap in 1992 in Istanbul, Turkey. They were accompanied, according to Father Aziz, by a young woman who was the daughter of the one among them. They were on holiday in Istanbul and had benefited from these holidays to visit Father Aziz who was their cousin and who was at the hospital following a serious illness. These cousins of Father Aziz appeared in Istanbul and they left this city without giving news never again. We do not know if they returned to Iraq or if they left elsewhere.
I write all this in Zinda Magazine because I am convinced that Zinda for Assyro-Chaldeans is more invaluable in a human being: eyes, ears and mouth! I am persuaded that Zinda will be a reliable means to find us among ourselves like I knew to form this virtual nation!
I am looking for all details which could be useful for me in the search for my roots. I would be very happy to be able to contact people from Bellon. Here is my e-mail: antoni_yalap@hotmail.com.

Last year a similar letter was posted on the Russian edition of Zinda Magazine. A few months later two families, separated for nearly four decades, found each other on the opposite poles of the planet - one in California and the other miles away from Moscow. They plan to meet in the near future in Russia. Perhaps the resources at Zinda Magazine can be used to bring our lost relatives and friends closer - as we move farther away from our origins and one another. Are we onto a brilliant idea here?
I Had to Laugh
James Y. Rayis, P.C.
Georgia
I had to laugh when I read about Christian televangelist Pat Robertson's new "fatwa" against Venezuelan President Chavez. Those representing groups suffering under conditions of militant fundamentalist and radical Islamic groups just had to laugh.
My image was one of Robertson not as he is, an already ridiculous little-boy-mind in man's clothing rambling over the sweetly-sincere tele-hypnotized evangelized flat screen, but rather now in black robes and an over-sized turban coming to us from outside a cave in taped video from Al Jazeera network.
How wonderful for this great American nation to hoist highest the banner of freedom and democracy for all with this annoying business/religious figure of our own to now show us the better way. I merely must have missed the part of winning a free trip to my very own Valhalla with a buttered-up pile of young ladies waiting for me there if I commit the deed? I apologize to those who follow Mr. Robertson sincerely but I really have to laugh.
I also know how this will be played in the Mosques from Los Angeles to Hamburg to Fallujah to Mecca. I know that violent radicals worldwide will take this news not as the ramblings of an off-balanced but wildly wealthy preacher, but as firm American policy. I'm certain this will be pointed to as evidence of Western hypocrisy, decadence and immorality; in fact, although such a fatwa is commonly issued by such radical mullahs, these same people will point to Robertson's act – which would be more amusing if not so disgusting - as evidence of American corruption and barbarism.
There is one overriding truth in this: zealotry and extremism in any form, religious or ideological, is antithetical to good government and the public weal. America's own history of dealings with native and African Americans, just as Britain's with the Queen's colonial subjects and Australia's and on and on, evidences that a valid democracy exists only in conditions of toleration and equal freedoms for all people. President Chavez is a misguided and possibly deranged person, but human nonetheless. My reading of Christianity does not allow for such an act to be committed for any reason. Islam itself would not call for an assassination of a leader because of political acts unrelated to or unaffecting religious practice.
Well, at least I had a laugh.

In an interview with CNN last October, Robertson said God had told him the war in Iraq would be messy and a disaster. When he met with Bush in Nashville before the war Bush did not listen to his advice, Robertson said, and believed Saddam Hussein was an evil tyrant who needed to be removed. Christian Broadcasting Network, Inc. ("CBN") uses mass media, especially television and visual media, to prepare the world for the Second Coming of Jesus Christ and the establishment of the everlasting kingdom of God on earth. According to MinistryWatch, CBN, 700 Club, and Mr. Pat Robertson's other media ministries received nearly 380 million dollars in donations from listeners and viewers from around the world in 2004.