Iraq's Draft Constitution and the ChaldoAssyrians
Michael Youash
Washington D.C.
WASHINGTON -- In an unprecedented move, the U.S. administration is attempting to whitewash the division of Iraq's Christian ChaldoAssyrians along sectarian lines in the recently tabled Iraqi constitution. This effort, driven by Kurdish authorities, facilitated in part by the complacence of the Bush administration, only makes the U.S. guilty of aiding and abetting in the perpetuation of a Saddam era program of cultural genocide against this ethno-religious, indigenous group.

Saddam Hussein and previous Iraqi regimes worked to nurture artificial rifts in the indigenous ChaldoAssyrian people of Iraq in order to dilute their ability to assert their religious, political, economic and human rights in the country. The name ChaldoAssyrian is in the Transitional Administrative Law (TAL) and reflects a compromise among the representative leadership of this Christian community. In the few remaining hours before the constitutional deadline, behind closed doors, Kurdish officials altered the wording in Article 122 of the constitution from ChaldoAssyrian to "Chaldean, Assyrian" as two separate peoples. This undermines the best intentions of the U.S. in Iraq vis-à-vis the most vulnerable of minorities.
U.S. officials must intercede on this matter and reverse something that will entrench one of Saddam's most heinous human rights abuses, instead of abolishing it. ChaldoAssyrians are neither Arabs nor Kurds. They speak the language of Christ and have kept that language alive despite Saddam's best efforts. They are one ethnic group who are also Christians from an array of denominations. Their values are so aligned with those of Americans and other western societies that they have little trouble assimilating when forced to flee Iraq. They are the most ardent pro-democracy community in Iraq. ChaldoAssyrians are presently slated to be governed as a religious minority in accordance with Islam's principles.
COMING THIS FALL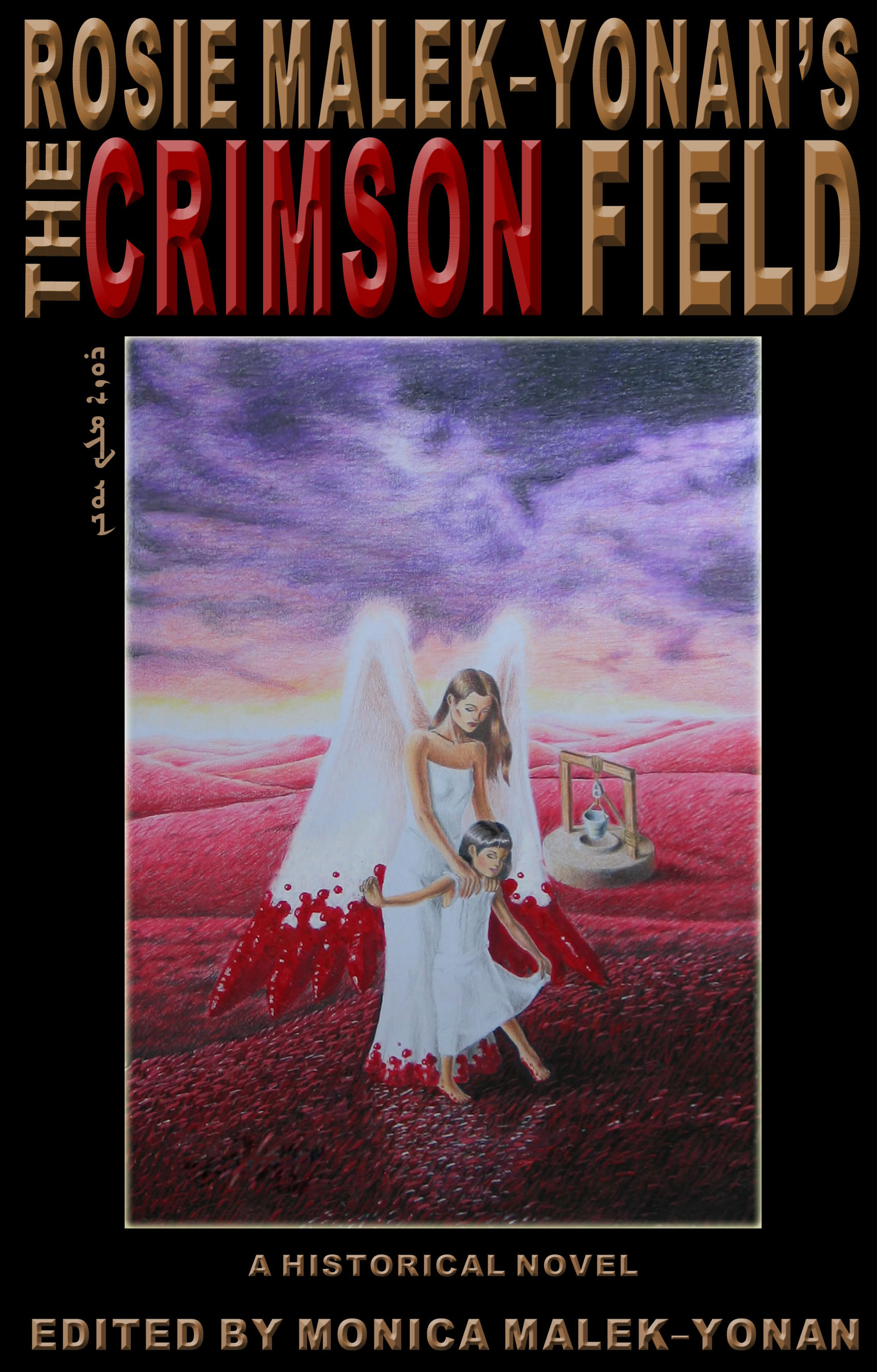 Few people within the mainstream American culture even know the Assyrian people still exist. Fewer know anything about the Genocide perpetrated against them. Almost three million Assyrian, Armenian and Greek Christians were murdered by the Islamic Ottoman Turks during World War I because of their ethnicity and faith.
The Crimson Field assigns faces and names to the victims of this dreadful chapter of history. It captures the plight of an Assyrian girl, helplessly caught up in the turmoil of her surroundings.
Malek-Yonan's work shines a terrible light on an overlooked study of Islamic violence during the 20th Century. It is a must read for any person interested in learning about the personal cost of Islamic Jihad.
Lee Enokian, Contract Editorial Columnist, Illinois
nwitimes.com
illinoisleader.com

The U.S. must intercede and have the language corrected to reflect the Christians' ethnic unity if it wants to avoid laying the foundations for the exodus of these indigenous people from their homeland.

Chaldeans are simply ChaldoAssyrians who happen to be Catholic. Through its silence, the U.S. is condoning religious-based principles of constitutionalism by identifying a people for being Catholic. This flies in the face of the very core principles the U.S. itself has been ostensibly trying to promote during the deliberations. In this framework, religion does have a place in governing people constitutionally.

The impact of this is profound. It will sustain the efforts by Kurdish Authorities (already suffering a public relations disaster as their human rights violations come to light in mainstream Western media), to weaken this community in order to eliminate them politically. This will worsen the conditions they are enduring under a Kurdish drive to seize land and accelerate their refugee exodus from Iraq. In this formula, the U.S. will be presiding over something no Islamic and/or tyrannical regime could achieve for millennia: the elimination of the indigenous Christian ChaldoAssyrians from their homeland. How sad and ironic for this President and his nation, at this hour.

The best reflection of the massive unrest created from this lapse by the U.S. in protecting Iraq's Christians from domination and tyranny is the outright opposition to it by the ChaldoAssyrians' only independently elected representative in the National Assembly, Mr. Yonadam Kanna. He was and remains an ardent supporter of the U.S. in its liberation of Iraq. Regrettably, even he has been expressing his total disappointment over this one central issue to the future of his people. He is also calling for immediate U.S. intervention on this matter.

ChaldoAssyrians, living under Islamic domination for over a millennium, recognize that this step is against the will and decision of their people in Iraq and all over the world. At the same time it is a step to bring ChaldoAssyrians down from an ethnicity or a nation to a denomination. Then they will be dealt deal with through reference to Islamic principles and effectively become second class citizens. They will become 'ahlul dhemma' as mentioned in Islam's principles and governed as a denomination only.

The ChaldoAssyrian Christian communities are protesting this move to undermine their cohesiveness as one group tied by a common language. This is unavoidably reflected in their shared language, Aramaic, the language of Christ and enshrined in Article 4(1) and 4(4) of the constitution. During the weekend, massive protest marches took place in ChaldoAssyrian towns involving the clergy and lay persons.

This situation is most ironic in that much of the Bush administration's rhetoric has certainly alluded to the desire to protect religious freedoms. If these peoples' ethnic identity is torn down, so goes their ability to protect their towns and villages from encroachment by Sunni Muslim Kurds and other non-Christians. The result is already being witnessed with the growing tens of thousands who have already fled to Syria, Jordan and Turkey from northern Iraq since the liberation of Iraq.



Michael Youash is Project Director of the Iraq Sustainable Democracy Project, a Washington, DC based project focusing on the condition of minorities in Iraq's democratic transition. To read Mr. Youash's previous article in Zinda Magazine click here.
Mar Bawai Soro: His Vision, Wishes, & Roadblocks
Fred Aprim
California
In an interview on Ashur TV on August 6, 2005, Edward Michael asked His Grace Mar Bawai Soro certain questions regarding his vision and thoughts regarding the Assyrian Church of the East and other topics that are being circled around in the Assyrian community.
Here is a summary of that interview:
Answering a question about the truthfulness of rumors that he had asked attorneys to write his letters to His Holiness Patriarch Mar Dinkha IV, Mar Bawai stated that he had many regular correspondences with the patriarch. He wrote these correspondences personally and that no attorney was involved in them. However, in the last six to nine months, some problems and unrest have occurred in our community. In addition, Mar Bawai stated that he has received threats against his life and other means of scare tactics from a known source. Since these problems are happening in our community and have certain links to these threats, it was necessary to inform the local and federal authorities about them in order to keep a legal record just in case something wrong should happen. Both authorities are interested in such events because they have responsibility towards the safety of the citizens. We must remember, stated Mar Bawai, that 30 years ago, Patriarch Mar Eshai Shimun was assassinated here in San Jose. Therefore, the authorities are interested with what is going on today in our community in San Jose. They have a complete file about the said assassination and they need to stay on top of things.
Mar Bawai stated that all correspondences between him and the patriarch are private, however, a copy of correspondence that is related to the issue at hand has with discretion been given to the attorney of the church, in the context of the attorney/client privilege. Mar Bawai added that he is surprised how these reports and discussions are finding their way to the public and how people knew about them. These threats, continued Mar Bawai, are coming from members of our church. Those people are being motivated by others because of Mar Bawai's stance and position on certain issues, which those people do not like and hence they are inciting these problems.

When asked about the rumors that the patriarch was not allowed to visit the church in San Jose, Mar Bawai stated that the patriarch is the head of the church and that all churches are open to him. He added that we have welcomed him in the past and we will always accept and welcome him and that will not change; Mar Dinkha is our patriarch and is the leader of our church and he is welcomed any time he wants to visit. Mar Bawai continued to state that bishops might have differences of opinions, but they solve these issues among themselves. All churches are open to the patriarch and we will not dare tell the patriarch not to visit his church. Mar Bawai added that what we hear about us not allowing the patriarch from visiting his church in San Jose is nothing but a rumor and is not the truth.
Regarding his vision and philosophy in life, Mar Bawai stated that life experiences, as a priest and bishop for more than 20 years, has developed these main objectives:
1. Advance the Unity of our Churches:
Mar Bawai stated that today our churches are divided into three segments: Assyrian Church of the East – New Calendar, Assyrian Church of the East – Old Calendar, and the Church of the East of the Chaldeans. These divisions in our church happened first 450 years ago and again for the second time 40 years ago. We are very apart and sometimes different; however, to many of us we want to see unity replacing divisions because in unity we satisfy God. How this unity is going to come about is the responsibility or the task of the three synods, the three patriarchs, all bishops, priests, deacons, and all believers. Mar Bawai stated that he is here to preach and promote unity and not to determine how it is created. All of us must seek unity but at the end, the respective authorities in the three churches shall make it happen.
2. Promote the Unity of our People:
As a bishop who preaches the word of God to the people of God and who has all this love for his nation, people, and church, Mar Bawai stated that his goal is to see a national unity among our people as well. Our people are spread in many countries, under many names: Assyrians, Chaldeans, Suryaye, who to him are his own flesh and blood. Hence, Mar Bawai is not dictating how this unity to come about, but he is saying that unity must happen in order to prosper and ultimately survive. While church unity complies with God's will, national unity will save our existence in our homeland and enhance our communities elsewhere.
3. Restore Spiritual Life among Assyrians:
Thirdly and foremost, Mar Bawai stated that he wants to create a spiritual revival in his people. He wanted to bring Jesus Christ as the sole authority in our church and make Jesus the center of our lives as our forefathers have done for 1950 years.
When asked about the obstacles that stand in the path of accomplishing these three goals, Mar Bawai gave the following main reasons:
1. Misunderstanding of Church:
Our people do not envision the church correctly; they look at church as a civic institution where they can go and pray in. They are not aware that church is the "House of God" and that it is completely sacred. Only people with spiritual consciousness and those who have been touched by the grace of God and His Word could understand the true meaning of what a church is and what it represents. Such people will surely understand that the church is a spiritual institution and not a secular one. Therefore, Mar Bawai added, we need to increase religious education among our people.
2. Lack of Clarity and Accessibility of Church Canons:
Canon Law of the church must be clear and available to the believers and to the public so that ambiguity in certain affairs in the church will be removed from the life of the church. Furthermore, legality in church, said Mar Bawai, is very important. Accountability to church laws must start from the head of the church and all the way to the lowest rankings in church because when the members of the church see their church leaders are respecting church laws and are being held accountable, they too will begin to respect those laws, thus live a stronger Christian life.
3. Delayed Liturgical Reforms:
Many people do not understand their liturgy. When people do not understand what is being stated during the mass, they begin to attend the church more or less for non-religious or spiritual reasons, thus missing the opportunity provided through the liturgy, which is the salvation of their souls.
In short, Mar Bawai regretted rumors that are being spread by certain naïve people. He emphasized love between all the segments of our one nation, spirituality in church, and finally advocacy of a religious and a national unity. He did not state how to accomplish either unity, but that we had to get it done for our own benefit. He believes that we must understand what the church stands for; understand its teachings and laws; and everybody in church including its hierarchy, clergy and laity, to be held accountable for these laws, which at the end are set for the protection and the survival of the church as a whole. Mar Bawai concluded, when we understand and everything is clear, it is very likely that we will successfully overcome any challenges facing our community.
For the Erased
Diamanda Galás commemorates victims of a long-forgotten Turkish ethnic cleansing
LD Beghtol
The Village Voice
29 August 2005
Ages ago at college in her native California, singer, composer, and cultural provocatrice Diamanda Galás abandoned the study of science to pursue her true passion: experimental music. But biochemistry's loss is our gain; over the last two decades, her controversial works have earned her a place high in the avant-garde music pantheon. Fearlessly outspoken, frighteningly knowledgeable, and dangerously openhearted, Galás dedicates her latest work, Defixiones: Orders From the Dead to the estimated 3 million to 4 million victims of the Armenian, Assyrian, and Anatolian Greek "ethnic cleansing" committed by the Ottoman Turks between 1914 and 1923.
Since 1999, Defixiones has been performed to near unanimous acclaim at prestigious venues the world over, from London's Royal Festival Hall to the Sydney Opera House, from the Athens National Opera to Mexico City's Universidad del Claustro de Sor Juana. Its New York premiere (presented by the Lower Manhattan Cultural Council's "What Comes After: Cities, Art + Recovery" international summit) is scheduled for September 8 and 10 at Michael Schimmel Center for the Arts, Pace University—appropriately enough, just across from City Hall, mere blocks from ground zero.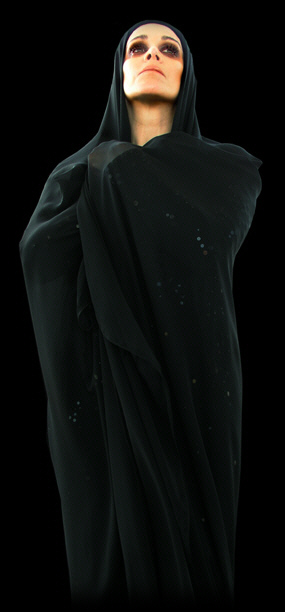 Lower Manhattan Cultural Council and the 2005 What Comes After: Cities, Art and Recovery International Summit present: Diamanda Galás: Defixiones, Orders from the Dead, A New York Premiere
A haunting work of mourning and catharsis, excavating the memory of the Armenian, Assyrian, and Greek genocides
September 8 & 10, 2005 @ Michael Schimmel Center For the Arts, Pace University
The word defixiones refers to warnings engraved in lead placed onto graves in Greece and Asia Minor, threatening desecraters with grievous harm. Galás uses this term in a broader memorializing sense, urging us to remember the forgotten dead, the "erased," the massacred. Her epic performance for solo voice, piano, and electronics speaks for the poet-author in exile—both far from home and in his homeland—as well as for "born outlaws," as Galás calls homosexuals, echoing Genet.
Informed by excerpts from the Armenian Orthodox liturgy and the traditional amanethes, or improvisatory lamentations sung at Greek funerals, Galás 70-minute masterwork showcases both her astounding vocal technique and her enormous capacity for rage, compassion, defiance, and ferocious emotionalism. Though at times truly fearsome in its raw, insistent pathos—familiar to those who know her crushing Plague Mass (1990) or Schrei X (1996)—Defixiones' real power lies in those seductively lyrical, quiet passages that occur just before Galás wail of existential anguish erupts in reverberant majesty. Iraqi artist-scholar Selim Abdullah notes, "The sentiment, strength . . . and sensitivity contained in this Saturnian representation go back to the very aspects the Greeks gave to a whole Occidental culture." Awash in blood and tears, and haunted by images of unspeakable (and until now, largely unspoken) butchery, Galás funeral mass is cathartic, but neither glib nor sentimental. Any redemption is hard-won.
I spoke with Miss Galás who has lived in the East Village for the past 10 years, on two occasions in mid August. Over multiple cappuccinos—caffeine being her current drug of choice—she dazzled me with her famous intelligence and often barbed wit. Onstage she's a mythic figure come to life; in person she is perhaps even more mesmerizing.
Few people in America, other than those of Greek, Armenian, or Assyrian descent, seem to have heard of this horror. Why is it so unknown? This country discusses one or two genocides and markets them in very contrived ways. They don't write about them truthfully, the way [author and concentration camp survivor] Primo Levi did. Think of Spielberg and the legions of mediocrity he has propagated.
And there's the conflicting numbers, and . . . What does it matter if it was 6 million or 2 million or 200? Genocide is genocide. Every culture has its particular way of killing and torturing its enemies. And the Turks are still trying to cover it up by calling it deportation, but that's just another word for "death sentence."
You're perceived as the voice of the fallen and forgotten. Is that something you've chosen? No—I hated being the poster girl for the AIDS epidemic. It had to be done, but I hated it. I never meant to be political— I'm an artist. An artist can only speak for herself. But if you get particularly good at something it has a sort of universality, and then it has a certain audience, and you're answerable for that. Like Adon [Syrian-born poet Adon Ali Ahmed Said]—a great, great poet—who is seen as the voice of a "leftist movement" of some sort, but he's only writing about what is truth to him.
How did you come to create Defixiones? My father is an Anatolian Greek. All my life he's talked about how the finest Greek culture was from Anatolia—home to Assyrians, Armenians, Greeks, and Jews, who for centuries traded languages, songs, ideas, histories—and how many of these cultures are indistinguishable from one another. So the notion of racial purity there is just absurd. He also told me about the atrocities committed by the Turks against Greeks from Asia Minor. But the direct catalyst was an interview I saw with Dr. [Jack] Kevorkian, who said, "I'm Armenian, I know what torture is all about. I know the difference between homicide and helping people end a life of misery." He was so articulate, and he was discussing Greek Stoic philosophy and the Armenians in the same breath, which I found very unusual at the time. So in 1998 I said to myself: It's time to do this work.
Later I read Peter Balakian's book Black Dog of Fate, which talks about what being an Armenian in America means—it means you're invisible. It's the same with the Greeks. Most people think of Greek culture as a dead culture: Socrates and Aristotle and the statues . . . And they think Assyrians are the same as Syrians.
Then, as a fellow at Princeton in 1999, I studied texts by Giorgos Seferis and others in preparation for a performance at the Vooruit Festival at the Castle of Ghent [in Belgium].
Defixiones was more a song cycle then, with [the underground Greek protest music known as] rembetika and works by Paul Celan, Henri Michaux, and César Vallejo. I concentrated on exiled poets like the Anatolian Greek refugees of the 1920s—my father's people. The premiere was on September 11, 1999, which marked the anniversary of the reign of terror under Charles V, who persecuted homosexuals, women thought to be witches, and other heretics.
Defixiones is somewhat a work in progress? Yes. Currently I'm using texts by Giorgos Seferis, [who] is like my bible—and Nikos Kazantzakis, who people will know from his novel The Last Temptation of Christ. And Pier Paolo Pasolini, whose poem is addressed to the people who survived. Everyone just hated him. And Yannis Ritsos. And "The Dance" by Siamanto, with its description of brides being burned alive. And the pro-genocide poem "Hate," which was published by [the Turkish newspaper] Hürriyet and broadcast by the BBC in 1974, right before the invasion of Cyprus—about why the Turks should decapitate the Greeks.
September is such a politically charged month . . . Yes, starting with the destruction of Smyrna in September 1922. And Black September 1955, when Turkish officials waged a disinformation campaign stating that Greeks had bombed the consulate in Thessalon resulted in the desecration of Greek churches and the mutilation and murder of priests and other men. And the Black September of Ariel Sharon's going into Lebanon in '82. He was doing a real con job. And then the situation in America in 2001 . . .
Your aggressive style and disturbing subject matter automatically put you outside the mainstream. Yet your music has a surprisingly broad appeal. Well, I've been creating sacred masses, which are not exactly a popular art form in this country today. But they're meant to be, literally, for the people. The American idea of a populist art form is rap. Some of it is good, but most is appalling in that it promotes stupidity and the abuse of the same groups that monotheist totalitarian governments persecute: women, homosexuals, and anyone who doesn't speak precisely your language.
You must get tons of hate mail. Fundamentalists of all sorts despise me. I'm attacked by my own people too—American Greek men who are homo- phobic and think everything I say is heresy. I got shit recently from a Jewish promoter about doingDefixiones in Mexico. She asked me if I really believed people would be interested. And I thought: "Please don't insult my intelligence—or theirs. They'll understand the concept of genocide as it has occurred and continues to occur to so many people around the world . . . "
I want to perform Defixiones in Istanbul and Smyrna. The psychic manifestations of violence can be just as devastating as the physical acts—especially when people refuse to recognize them. It's depersonalizing. I have a line in INSEKTA: "Believe me, believe me." Not being believed can kill.
Who are your fans? People who find it necessary to think for themselves in order to survive, because they're damned by the fact they don't agree with the mediocrity that society shoves down their throats. They rise above this by continuing to educate themselves. This is especially true of homosexuals, who are born outside the law anyway. They're still figuratively and literally buried alive by the Egyptians and Turks. Here in New York they're visited upon by the Aesthetic Realism Foundation and treated with electroshock. In Iran, they hang teenage "infidels." It's unbelievable that ethnic groups still shut out those who can be so disciplined and organized, and who can do great things. [Gay men] either disappear completely or they address the situation. They've had to—to save their own lives. They are great fighters. I say these are the first soldiers you should enlist, not the last. This is the man to whom you should say, "Will you be my brother? Will you help me?"
Will the Turkish government ever admit these atrocities? I think it will be forced to, through the ongoing work of their own scholars, both old and young, and by artists and writers who want to be part of the rest of the world, despite the horrific censorship that the Turkish government exercises over them. My website is listed as a hate site, which is completely ridiculous. I do not hate the Turkish scholars who are trying to address true events in the world. There are many Turks who want to see things change, but they're not given the opportunity to express themselves. When they do, they get sent to prison or mental asylums. Midnight Express is absolutely the truth.
But until the government officially apologizes, there is no reason for it to be accepted by the European Union. You must admit what you've done—it shows that your present actions will be mandated by the apology for your past actions. But until this happens there can be no trust at all.
Two Historical Documentaries Premiering at the
Assyrian American National Convention in Boston
September 1 - 5, 2005


By Lina Yakubova & Artac Avdalyan