Assyrian College Student Murdered In Mosul
(ZNDA: Mosul) She was running errands after leaving the local internet office when Anita Tyadors, 21, an Assyrian college student, was murdered by roaming thugs in the Zohoor region of Mosul, Iraq on August 5, 2005.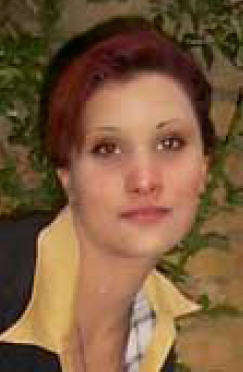 Anita Tyadors
Ms. Tyadors was targeted by Muslim extremists because she studied and spoke English and wore jeans.
She had just exited the local internet office and was making her way back home when three cars abruptly stopped in front of the building, blocking her way.
An unspecified number of men rushed out of the cars and chased Ms. Tyadors with the intent of assaulting her. She ran very fast.
The assailants fought to keep pace, but found themselves under a barrage of foul language and spit, much of which landed in their faces.
Finally catching up to her, the assailants pistol-whipped Ms. Tyadors and threw her limp body into the trunk of one of the vehicles. She was driven to a remote location where she was
brutalized beyond recognition.
All of the assailants jumped out of their vehicles and proceeded to beat Ms. Tyadors. She was very resilient and strong. She fought them off to the best of her ability, at which point they
began stabbing and knifing her.
The assailants bludgeoned and gored her and then shot at her lifeless body and finished the job with a resounding final bullet to the head. Her broken body was discarded and left in the streets.
When she did not return home on time, friends, family members and neighbours went
searching for her at local hospitals and in the streets. They found her on the following Sunday.
Ms. Tyadors is survived by her mother, a brother and several relatives in Baghdad and
Toronto.

Zinda Magazine thanks Ms. Susan Benjamin (Canada) for contributing to this report.
Islamic Group Confesses to Killing of Mosul Christians
(ZNDA: Mosul) Last week in Mosul, Iraq, Major Ahmad Abdullah Al Jabouri of the Mosul General Police Directorate said that his department has arrested two members of the most radical Islamic groups called the "Muslim Land and Mosul Disinfection Group". The group specializes in the manufacturing of the remote control explosives.
According to reports the two arrested members had in their possession the maps of targeted locations for future operations. The Mosul Police also found lists of Christian and Yezidi persons targeted for assassination or execution by this or other specialized groups. The two criminals confessed that their group has conducted 23 assassinations and 11 explosions of cars in Mosul and its suburbs.
They also confessed that their team wrongly killed a Muslim family of a husband, wife and three children one of whom was an infant. On 2 June 2005 they attacked the family car with heavy fire thinking that the car belonged to a Christian engineer working in a Mosul pharmaceutical companies whose name appeared on their list of unbelievers and traitors.
Major Ahmad Al Jabouri confirmed that the said engineer was previously exposed to assassination operation and survived last year, but he disappeared with his family and he is believed to have escaped with his family leaving his business and home. His brother-in-law was one of the victims of the explosions in the churches in Mosul on 1 August 2004.
Concerning the protection of these individuals Major Al Jabouri excluded the possibility of providing special protection for every engineer and considered this matter impossible. He noted that such a task requires the recruitment of an army of investigators and police enforcement. An officer of the Mosul Directorate who preferred not to mention his name commented: "In this phase I believe that it is very wrong to deal with any of such criminals in a civilized way, because they only understand their language that is killing and the revenge language. They allow themselves to terminate a Muslim innocent family and calmly holding Koran they read for their souls in the Prophet's Mosque in the same city."

Zinda Magazine thanks Mr. Jihad Yousif for his assistance in the translation of this article.
ADO's Statement on the Iraqi Draft Constitution
Assyrian Democratic Organization
Political Bureau
Statement on the Issuance of Iraq's Draft Constitution
On the 25th of August, and after long waiting, Iraq's permanent draft constitution has been declared. On the 15th of October it will be put forth to general referendum and ratification by the general assembly. As a matter of fact, the declaration of the draft constitution was a great disappointment and blow to the ambitions of out Chaldean Assyrian Syriac people as it completely disregarded the unity of its national identity and has split them into two people.
The preamble of the draft constitution has intentionally ignored Iraq's history, civilization and its many symbols. No mention of the Sumerian, Babylonian, and Assyrian civilizations of Hammurabi and Ornamo's code, of Sargon the Akkadean and Nabukhad Naser Ashour Banibal and Sanharib and many others. No mention of our people as being one of the components of Iraqi people alongside the Arabs, Kurds and Turkmen, further, no mention of Christianity, Sabeia and Yezidism as religions that existed and preceded Islam in the area. Furthermore, article 135 of the draft constitution has come as a poisonous dagger dividing our one nation into two people by inserting the dividing conjunction AND between two of our people's principle designations Chaldeans AND Assyrian, aiming at showing them as two separate independent and different people. In fact, this article comes to falsify non-negotiable historical truth and reality about the unity of our people as one nationality historically, culturally, linguistically, in spite of the fact, that the three known designations Chaldean, Assyrian, Syriac has been used during the course of its long history.
As a matter of fact, the passing Iraqi regime as well as the transitory constitution both did our people more justice than the this draft constitution. In 1972 a decree was issued recognizing the unity of our people in terms of its identity, culture and language. Moreover, the transitory constitution, adopted by the Iraqi governing council under the supervision of Bremer, approved of a unified name for our people, the "ChadloAssyrian'' designation was agreed upon by all religious, cultural and political institutions of our people during Syriac, Chaldean Assyrain general conference in Baghdad held between the 23rd and 25th of October 2003.
We, in the Assyrian Democratic Organization, consider the draft Iraqi constitution, with what it involves of plans for partitioning our people, a flagrant violation of its rights and reality in his homeland, Iraq. It is an open plot aiming at weakening its national identity through establishing and encouraging separation and division amongst them, a condition that would lead up to a feeling of frustration, despair and prejudice as regards the fulfillment of their legitimate national aspirations in the Iraq of tomorrow, and eventually would push them to abandon their lands and homes and to immigrate.
Hence, we hold the following parties responsible for partitioning our people in the Iraqi draft constitution :
1-Head of the religious institutions who have dispatched one memorandum after another to the various relevant authorities in Iraq, demanding that each community and nationality be mentioned by its separate and independent naming. Not only this, but some of them, only few months before the declaration of the draft constitution, completely gave up their nationality and declared their affiliation to the Arab nationalism.
2-The representatives of our people in the Iraqi National Assembly as well as in the constitution drafting committee who having failed in their efforts to introduce the unity of our people in the draft constitution, they should have announced their withdrawal from the said committee as a protest. 3-Some extremist organizations of our people, in Iraq and diaspora, whose extremist and fanatical stance concerning the naming, as well as their memorandums filed to the Iraqi authorities rejecting the unified naming, have helped to marginalize our people's role and break up its unity.
Finally, we in the ADO, as staunch believers in our firm national principles, strongly reject the articles and clauses in the Iraqi draft constitution that do great prejudice against our people and its national identity. We further, call upon all our institutions and organizations in the Homeland or Diaspora to work together in appealing to the Iraqi authorities and patriotic forces as well as the international community to do justice to our people. Moreover, we call upon our people to say No to the draft constitution in the generals referendum unless it is amended to include the rights, unity and the identity of our Chadean, Assyrian, Syriac people.
Iraq's Ancient Kingdom Cities Vanishing
Courtesy of the Middle East Online
By Talek Harris
(ZNDA: Babylon) The last remains of some of mankind's earliest cities have virtually disappeared through unprecedented looting triggered by the US-led invasion of Iraq, experts said.
Lawlessness and instability have accelerated a process that started in the 1990s but has now reached critical levels, with dozens of archaeological sites plundered to extinction in the past year.
And the presence of US-led troops in one of the world's most glorious ancient capitals has not helped either.
The ancient people of Iraq, often described as the cradle of civilisation, are credited with inventing the wheel, writing and mathematics and developing a culture and history which has resonated through the ages.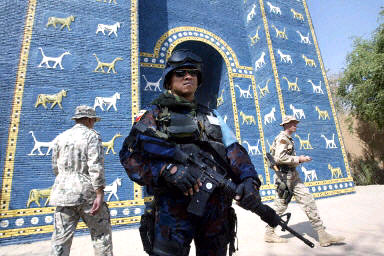 Babylon is now a camp for 2,500 multinational troops
.
"It's one of the major, major tragedies around the world. We have basically lost most of the ancient cities of Sumer," said Chicago-based professor McGuire Gibson, referring to one of man's earliest civilisations which dates back to around 3,000 BC.
"There's a culture of looting which has never been on this scale before - it's totally unprecedented. In this last year we have lost more sites than ever before."
Gibson, who has been visiting Iraq since the 1960s, said an Istanbul conference on the destruction last month was "shocked" by aerial photographs showing the desecration of sites in the months after the invasion.
"Everybody is shocked at what happened. They couldn't believe the pictures we were showing of the damage to the sites," he said, adding that "dozens" of sites had been lost.
"These are capitals of early kingdoms. It's an incredible loss," Gibson said.
Chiara Dezzi Bardeschi, an Iraq cultural expert with the United Nations Scientific and Cultural Organisation (UNESCO), said the situation had reached a crisis point.
COMING THIS FALL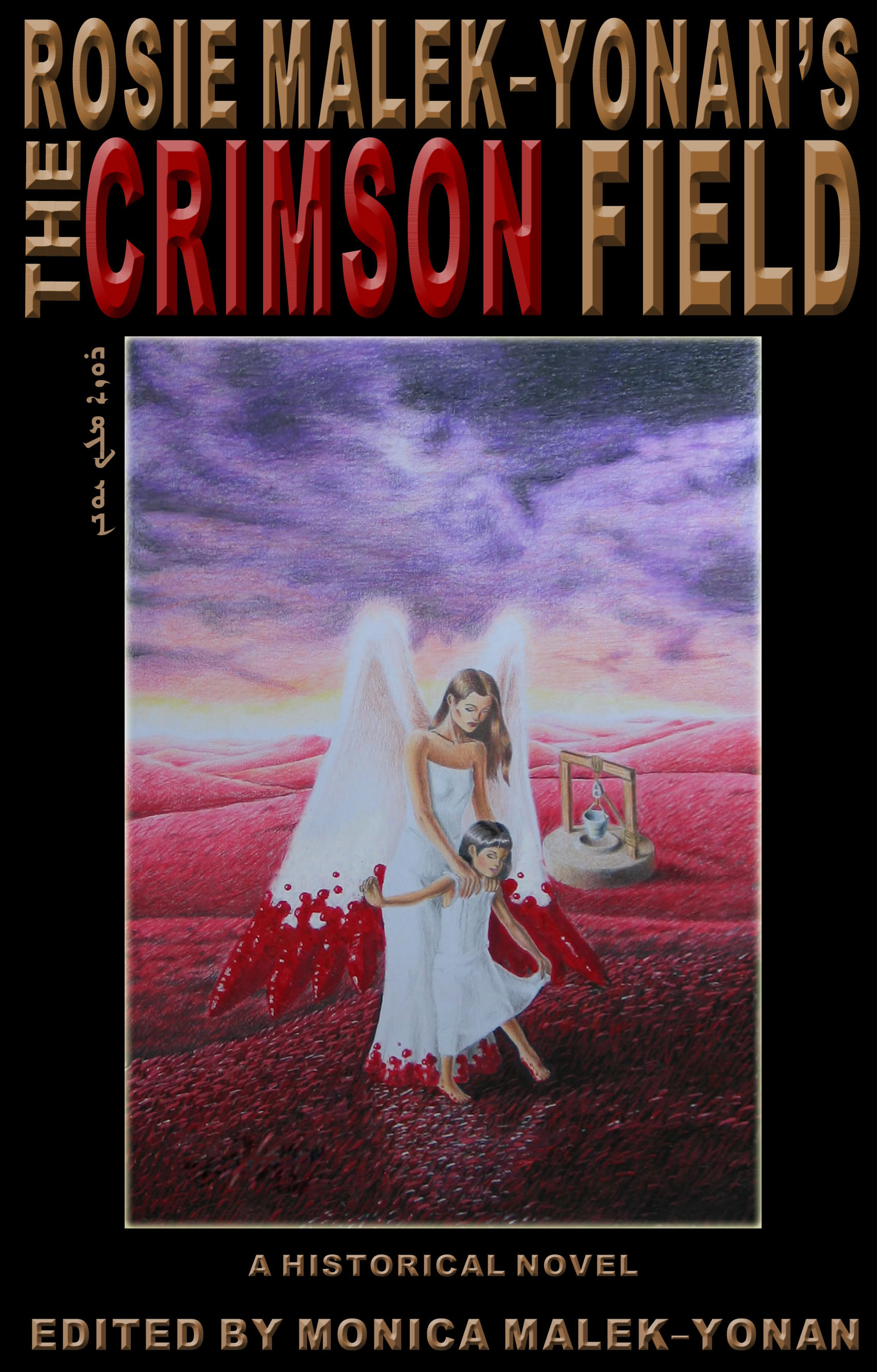 Few people within the mainstream American culture even know the Assyrian people still exist. Fewer know anything about the Genocide perpetrated against them. Almost three million Assyrian, Armenian and Greek Christians were murdered by the Islamic Ottoman Turks during World War I because of their ethnicity and faith.
The Crimson Field assigns faces and names to the victims of this dreadful chapter of history. It captures the plight of an Assyrian girl, helplessly caught up in the turmoil of her surroundings.
Malek-Yonan's work shines a terrible light on an overlooked study of Islamic violence during the 20th Century. It is a must read for any person interested in learning about the personal cost of Islamic Jihad.
Lee Enokian, Contract Editorial Columnist, Illinois
nwitimes.com
illinoisleader.com

"After the recent war the condition of sites is really critical," she said.
"It wasn't something that was completely new but the dimensions of this process are completely unexpected."
The war has also had a direct impact on some areas.
Babylon, home of King Nebuchadnezzar, the Tower of Babel and the Hanging Gardens, is now a camp for 2,500 multinational troops.
The partly restored ancient city has been closed to visitors after Iraqi archaeologists found American marines had bulldozed a 100 square metre (0.1 hectare) plot of land, above the buried remains of ancient homes, to create a helicopter landing-pad.
"You can see mounds of earth on both sides (of the landing pad) and I think it's very big damage," said Lukasz Oledzki, a resident architect employed by Polish troops now based at Babylon.
"You can see ancient pottery and bricks on both sides. I know they destroyed something from the sixth or seventh century BC."
The damage revelations have hastened the troops' withdrawal from the site, due by the end of the year, but Gibson rejected their argument that they were protecting Babylon from looters.
"It's like Vietnam - you have to destroy it to protect it," the professor said.
"Having an army sit right on an archaeological site is absurd. They should never have been allowed to do that."
He said Babylon's problems were just a small part of a country-wide pattern of destruction accentuated by the war and fed mainly by European dealers working with middlemen in Baghdad, Amman and Kuwait.
"I'm told that the world market is depressed because there's so much Iraqi stuff on the market," he said.
UNESCO's Bardeschi said Iraq's unrivalled cultural legacy had been hard hit by the war, with the national museum losing about 15,000 items in three days of looting in April 2003.
The organisation was spending 500,000 dollars documenting what had already been lost and restore museums and libraries, listing Iraq as a top priority, she said.
Wine Production Begins in Midyat
Courtesy of the Turkish Daily News
9 September 2005
(ZNDA: Midyat) Assyrians living in Mardin's Midyat district in southeast Turkey have begun to prepare their annual vintage wine, for which there is a huge demand at home and abroad.
The villagers are expecting to produce nearly 20 tons of red wine, with most of it destined for export.
Yusuf Uluışık, 55, has been making wine since he was 14 and says that a few years ago they were producing wine for their own consumption. "I'll make five tons of wine this year. Last year we produced one ton. We're getting orders already, and I'll make the wine with my 80-year-old mother Peyruze Uluışık. People love our wine because of its good taste."
Uluışık added that it is possible to produce one ton of wine from one-and-a-half tons of quality grapes while lower quality grapes produce 1 ton from two-and-half tons of grapes.