Bishops, Commission Plead for help for Iraqi Christians

Say half a million have fled their homes because of Muslim attacks

The United States Commission on International Religious Freedom, an independent federal agency, has asked government officials to address the "dire situation" facing members of Iraqi religious minorities who have fled their country, especially the Chaldo Assyrians and the Sabean Mandaeans.

Officials said the letter went to Under Secretary of State for Democracy and Global Affairs Paula Dobriansky, and followed by just a few days an earlier expression of concern over the same issue by the U.S. Conference of Catholic Bishops' Committee on International Policy, whose members wrote Secretary of State Condoleeza Rice.

The Iraqi Christians are facing, officials said, beheadings, rapes, crucifixions, and other torture.

"The Commission urges Under Secretary Dobriansky to create new or expand existing options for allowing members of Iraq's Chaldo Assyrian and Sabean Mandaean religious minority communities to access the U.S. refugee programme, and to urge (the United Nations High Commissioner for Refugees) to resume full refugee status determinations for all Iraqi asylum seekers and assess all claims without delay," said Felice D. Gaer, the chairwoman of the USCIRF.

The United States has not made direct access to the U.S. Refugee Programme available to Iraqi religious minorities, taking the position that ChaldoAssyrians and Sabean Mandaeans are subject to generalized violence in Iraq. This position is not supported by the facts," she wrote.

Iraqi ChaldoAssyrians and Sabean Mandaeans represent approximately 40 percent of the refugees who have fled Iraq over the past three years, according to the UNHCR, even though they make up less than three percent of the Iraqi population. Half a million have gone into Jordan, Turkey, Syria and Lebanon.

USCIRF said in its 2006 annual report that "minority communities, including Christian Iraqis, are forced to fend for themselves in an atmosphere of impunity, and lack any tribal or militia structure to provide for their security."

The result is that members of these communities continue to flee the country in the face of violence, in an exodus that may mean the end of the presence in Iraq of ancient Christian and other religious minority communities that have lived on those same lands for 2,000 years.

A car bombing with a dozen fatalities, a priest beheaded and a teenager crucified – all recent attacks against the historically Christian Assyrians in Iraq – also recently prompted the head of the U.S. Conference of Catholic Bishops' Committee on International Policy to seek help from U.S. Secretary of State Condoleeza Rice.

"We deplore the sectarian violence engulfing the Shi'ai and Sunni communities in Iraq," that letter said. "We are especially and acutely aware of the deliberate violence perpetrated against Christians and other vulnerable minorities."

The attacks have left the Christian population there, estimated at about 1.2 million before the war, in the range of about 600,000 now, officials said.

"The growing and deliberate targeting of Christians is an ominous sign of the breakdown in Iraqi society of civil order and inter-religious respect and represents a grave violation of human rights and religious liberty."

The bishops committee noted a recent beheading of a Syriac Orthodox priest in Mosul, the crucifixion of a Christian teenager in Basra, the frequent kidnappings for ransom of Christians including four priests – one of whom was the secretary of Patriarch Delly, the rape of Christian women and teenage girls, and the bombings of churches.

All those attacks are "indicators" that the situation has reached a crisis point, the committee said, which said it would like to see a new "administrative region" in the Nineveh Plain Area that would "provide Christians and other minorities with greater safety and offer more opportunity to control their own affairs with assistance from the Central government."

A review of the economic reconstruction aid as well as the refugee policies also could ease some of the problems, the bishops said in a letter signed by Bishop Thomas G. Wenski of Orlando, Fla.

The Assyrian International News Agency said the attacks "escalated explosively" during the recent Muslim Ramadan events, with the contending parties Shia-Muslims, Sunni-Muslims and Kurds.

"In the middle of the chaos … there is another war, or to be correct a hunt, going on. The ones that are being hunted are the defenseless Christians," the report said.

Such instances:

On Oct. 4, 2006, a car bomb detonated in a Christian area and killed nine people. Among the killed was Georges Zara, member of the Assyrian Chaldean Syriac National Council.

Father Paulos Eskandar, of Mor Afrem Syriac Orthodox Church, was kidnapped on Oct. 9, 2006, by fanatic Muslims. Two days later the Muslims had decapitated the priest. They did this although the Christians fulfilled their demands by posting a text on the church doors that condemned the pope's statement about Islam.

A 14-year-old boy was murdered in a barbaric manner in Albasra. He was crucified and after that the barbarians stabbed the boy in the stomach, just as it was done to Jesus.

On Oct. 21, 2006, in Baquba a group of veiled Muslims attacked a workplace where a 14-year-old boy named Ayad Tariq worked. The men asked the boy for his identity card. After seeing in his identity card that he was Christian the men asked Ayad whether he was a "dirty Christian sinner." Ayad answered: "Yes, I am Christian, but I am not a sinner." The rebels yelled that he was a dirty Christian sinner and continued to grab him and to scream "Allahu, Akbar! Allahu, Akbar!" After this Muslim ritual they decapitated him in the most brutal and disgusting way, the report said.
The news agency said the Christians in the region speaking Aramaic, profess Christ and are the only indigenous people of Iraq, having lived in their ancestral lands in North Iraq since 5000 B.C.

The report said they've lived for centuries under severe persecution by Muslims, and since 630 A.D. there have been about 30 recorded episodes of genocide against Assyrians by Muslims.

Today, it continues, the report said:

Sept. 25, 2006: Two Assyrian churches attacked in North Iraq in response to Pope's speech

Sept. 24, 2006: St. Mary's Cathedral in Baghdad, home of the Patriarch, is bombed

Jan. 29, 2006: Four Assyrian churches bombed in Baghdad

Nov. 29, 2005: Joseph Nabil Ishmael and George Brikha Youkhana are shot and killed in North Iraq

Sept. 23, 2005: 4 Assyrians Killed in Assassination Attempt on Former Iraq Assyrian Minister

Sept. 13, 2005: Anita Tyadors is brutally murdered by Muslim extremists in North Iraq

Aug. 27, 2005: Nabil Akram Amona murdered By Kurdish militia in North Iraq

March 24, 2005: Zahra Ashour (female student) is beaten to death by Mehdi army personnel in Basra

Dec. 21, 2004: Three Assyrian churches bombed in North Iraq

Dec. 7, 2004: Two Assyrian churches bombed in Baghdad

Nov. 8, 2004: Two Assyrian churches attacked in Baghdad

Oct. 16, 2004: Five Assyrian churches bombed in Baghdad

Aug. 26, 2004: Nabil Akram Ammona is gunned down by Kurds

Oct. 16, 2004: Five Assyrian churches are bombed

June 7, 2004: Four Assyrians murdered in a drive by shooting in Baghdad
An organization called AssyrianChristians.com is working to help the Assyrians.

"The Assyrian Christians are one of the last remaining Christian communities in the Middle East," said Rev. Ken Joseph Jr., of the Assyrian Christians organization.

Text of the Letter written by the U.S. Conference of Catholic Bishops'
Committee on International Policy
Department of Social Development and World Peace
3211 Fourth Street
Washington, DC 20017-1194

October 26, 2006

The Honorable Condoleezza Rice
Secretary of State
Department of State
2201 C. Street, N.W.
Room 7327
Washington, DC 20520

Dear Madame Secretary:

On behalf of the United States Conference of Catholic Bishops, I am writing to you to express our deep concern and growing alarm at the rapidly deteriorating situation of Christians and other religious minorities in Iraq.

We deplore the sectarian violence engulfing the Shia and Sunni communities in Iraq. We are especially and acutely aware of the deliberate violence perpetrated against Christians and other vulnerable minorities. Christians continue to decline from a pre-war population of over 1.2 million to a current estimate of about 600,000. The growing and deliberate targeting of Christians is an ominous sign of the breakdown in Iraqi society of civil order and interreligious respect and represents a grave violation of human rights and religious liberty.

The recent beheading of a Syriac Orthodox priest in Mosul, the crucifixtion of a Christian teenager in Albasra, the frequent kidnappings for ransom of Christians including four priests-- one of whom was the secretary of Patriarch Delly, the rape of Christian women and teenage girls, and the bombings of churches are all indicators that the situation has reached a crisis point. The United Nations High Commission for Refugees estimates that approximately 44% of Iraqi refugees are Christian, even though they represent only about 4% of the total population of Iraq.

While thousands have fled to Syria, Jordan and Turkey, the remainder in Iraq are increasingly
leading lives of desperation. Many no longer feel safe gathering in churches and Christian
institutions, resulting in the closing of parishes, seminaries and convents. Others are fleeing to
the north of Iraq in search of some measure of safety and sanctuary.

The vulnerability of Christians and other religious minorities is dramatic evidence of the serious and growing security challenges facing the entire nation of Iraq. Efforts must continue to end all sectarian violence and to make Iraq secure for everyone. At the same time, we also urge you to take several specific measures to improve the particular security situation of Christians and other minorities in Iraq. First, we hope that the U.S. government will consider the creation of a new "Administrative Region" in the Nineveh Plain Area that would be directly related to the central government in Baghdad. This could provide Christians and other minorities with greater safety and offer more opportunity to control their own affairs with assistance from the central government. Since the Kurds are key to any real efforts to stabilize Iraq and many Christians and other minorities are fleeing to the north of Iraq, we ask that the U.S. government work with Kurdish authorities to ensure the safety of Christians in the Plain of Nineveh and to provide adequate protection and assistance for religious minorities in areas controlled directly by the
Kurds.

We also believe that an urgent review of economic reconstruction aid programs is needed to make sure that the aid is distributed fairly so that all elements of Iraqi society are able to rebuild their communities. Finally, we urge the U.S. government to adopt a more generous refugee and asylum policy, including the possible resettlement of at-risk cases to the United States, and to work with the governments of Turkey, Jordan and Syria to grant visas to allow Iraqi Christians and others compelled to leave Iraq access to economic, health and other necessary assistance and help until they are able to stabilize their own situation, return to Iraq or make other plans for their future.

Thank you for your attention to this important concern. We would be happy to meet with you to discuss this urgent and dangerous situation further.

Sincerely yours,

Bishop Thomas G. Wenski
Bishop of Orlando
Chairman, Committee on International Policy
Turlock Elects An Assyrian Mayor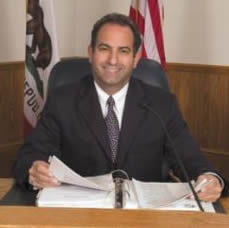 John Lazar, newly elected Mayor of Turlock
(ZNDA: Turlock) Last Tuesday nearly sixty percent of the voters in the city of Turlock elected John Lazar to the office of the Mayor. Mr. Lazar is the first Assyrian to be elected to the office of Mayor of any U.S. cities.
All other Assyrian candidates were defeated in the remaining elections involving an Assyrian candidate.
Here's a quick review of last week's election results.

Zinda Magazine endorses all Assyrian candidates. In 2006 our technical staff developed election websites for two candidates: Mr. Kanno and Mr. Elias as our contribution to their candidacy.
| | | | | |
| --- | --- | --- | --- | --- |
| Candidate | State | Office | Party | Result |
| Ben Elias | California | Union City - City Council | | Lost |
| John Kanno | California | Congressional Representative - 18th District | Republican | Lost |
| John Lazar | California | Mayor of Turlock | | Won |
| Ashur S. Odishoo | Illinois | State Senate Representative - 11th District | Republican | Lost |
AUA on Recent UNPO Meeting in Taiwan
For Immediate Release
Taipei, Taiwan
31 October 2006

As part of its intensive campaign to promote the Assyrian cause on the international level, a delegation of the Assyrian Universal Alliance (AUA) attended the General Assembly of the Unrepresented Nations and Peoples Organization (UNPO) in Taipei, Taiwan from 27 to 29 October 2006. Assyria's delegates were Mary Younan (Canada), Hermiz Shahen (Australia), and Youra Tarverdi (United States).

During the 3-day meeting, the Assyrian Universal Alliance delegates presented the critical conditions of the Assyrian people in the Middle-East, with particular focus on Iraq.
The Assyrian Universal Alliance introduced a resolution (included below) that calls the UNPO General Assembly to support an autonomous status (self-administered region) for the Assyrians in Iraq. The resolution triggered a comprehensive debate on the issues it was presenting and was adopted unanimously by the UNPO General Assembly.
Also, the General Assembly received overwhelmingly the World Peace Network (WPN) project as introduced by the delegation. Established in 1997, the WPN is a communication system that would enable different ethnic and indigenous groups to share and preserve their culture and working as a social and economic platform to UNPO's 65 members.
The AUA would like to take this opportunity to thank the previous UNPO Steering Committee and wishes the newly elected Presidency all the success in its forthcoming mandate to foster the knowledge, cause and struggle of unrepresented and oppressed member nations.

Lastly, the AUA wishes to thank the Government of Taiwan for the hospitality and in particular the Taiwan Foundation for Democracy for supporting and sponsoring this successful UNPO VIII General Assembly.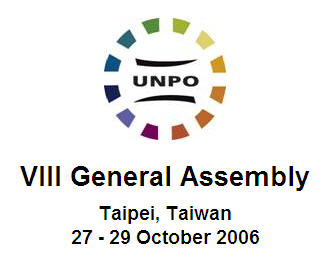 ASSYRIA - RESOLUTION

Whereas, in recognition of the needs of the Assyrian people in their historical homeland (Assyria), expresses its concern about the political, national and human rights situation of the Assyrian people,

Recalling the beheadings, kidnappings, assassinations, exodus, and internal displacement of the Assyrian people in Iraq,

Recalling the bombings of Assyrian churches, kidnappings and killing of religious figures,

Recalling that Assyrian national rights are not constitutionally recognized in Iraq,

Expressing concern of Iraq's new constitution because of the absence of secularism, rights and freedom of the Assyrian people as per international declarations and covenants,

Recalling that Iraq's constitution fails to assign a quota of seats in the national assembly for the Assyrian people nor the right and guarantee of having self-chosen representation in the government,

Recalling the prevention to vote in recent elections in certain Assyrian populated cities,

Reaffirming the Assyrian people are the indigenous people of Iraq,

Reaffirming the unity, sovereignty, and territorial integrity of Iraq,

Expressing our strong condemnation of acts of terrorism,

We hereby resolve that international support should be granted for:

An autonomous status (self-administrated region) to the Assyrians on the land of their ancestors "Assyria" in the north of Iraq (the territory located between the greater Zab and the Tigris River), under the jurisdiction of the central government of Iraq and the protection of the United Nations.
Specific attention to Assyrian human rights abuses, specifically in Iraq and generally in the Middle East.
Monitoring the upcoming census in Iraq by international and human rights organizations to safeguard the rights of the Assyrian people.
Specific measures to ensure the restoration of Assyrians villages and churches.
The Assyrian rights to return to their homes and villages in Iraq.
The guarantee of the right of autonomy and self-determination for the Assyrian people as per international declarations and covenants.
The establishment of a unified, democratic, secular, pluralistic and parliamentarian government in Iraq that will guarantee human rights and equality for all citizens, which is multi-ethnic and based on the rule of law and free from all militias.
The allowance, practice and preservation of the Assyrian language, culture and customs, without any form of persecution.
Assyriska No Longer in Superettan League
By Afram Barryakoub, reporting from Sweden
(ZNDA: Stockholm) The Assyrian football (soccer) team Assyriska FF lost its premier standing in the Superettan League last Sunday, Sweden's second national football league.
The final blow came during last Sundays game against Bunkeflo IF, a game Assyriska failed to win. An individual in the last minute of the game entered the arena and tried to knock down the referee. The incident was soon followed by the arrival of the police and halting of the game for thirty minutes.
According to the Assyrians in the audience the referee had been acting unprofessionally and has been known for making fatal misjudgments against Assyriska in the past, thus provoking the Assyrians in the audience.
The incident has made big headlines in the Swedish media and rendered a blow to Assyriska's otherwise good reputation in Sweden.
In the next season Assyriska will play in Sweden's Third League in the First Division. The team has thus stepped down two years in a row, first from Allsvenskan (First League) and now from Superettan.
The turbulence and bad performance of the team is now backlashing on Assyriska's board of directors. In a long letter on svenskafans.se the board is criticized heavily by prominent fans who accuse the board members of bad management and lack of genuine interest for the club, demanding the resignation of the entire board.
Australian Fugitive Wants to go to Iraq
Courtesy of Fairfax Digital
10 November 2006
(ZNDA: Sydney) Accused murderer Raphael Joseph, wanted for an execution-style killing in Australia almost four years ago, asked to be deported to Iraq, US authorities say.
It was a request that made officers from America's Immigration and Customs Enforcement (ICE) agency curious.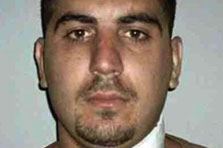 Accused Murderer, Raphael Joseph
At the time of his arrest in San Diego, ICE officers were unaware Joseph, 30, was the focus of a worldwide manhunt for the December, 2002, killing of a man outside Sydney's Sefton Playhouse hotel.
The gangland murder of Dimitri Debaz led to a spate of retaliatory crimes in Sydney's south-west, including drive-by shootings, kidnappings and attempted murders.
At first, ICE thought Joseph was only an illegal immigrant in the US.
"When we first arrested him, he was given his deportation options," ICE spokesperson Lauren Mack told AAP.
Joseph, she said, was keen to leave the US with little fuss.
"He wanted to be expedited, in lieu of court, to be deported to Iraq," Mack said.
"He was eager to get out of our country.
"It was kind of curious."
When US authorities examined Joseph's fingerprints and checked with Interpol it was revealed he was wanted on suspicion of murder in Australia, and was one of the most wanted men in NSW.
Joseph's arrest came after America's Drug Enforcement Agency (DEA) tipped off ICE that he could be an illegal immigrant.
ICE, which is the US Department of Homeland Security's investigative arm, raided the San Diego coffee shop on October 20 and took Joseph, who allegedly told officers his name was Tony Toma, into custody.
Toma, 33, is currently on remand at Sydney's Long Bay Jail after his arrest by Middle Eastern Organised Crime Squad detectives for drug offences in June.
When contacted in Sydney, surprised police said Toma had spent the past four months in jail and asked US authorities to email a photograph of their prisoner.
That photograph and subsequent fingerprints confirmed Joseph's identity.
Joseph was charged with immigration violations after admitting he was in the US illegally, Mack said.
"He told the agents he had been smuggled from Iraq to Mexico and from Mexico to the US border.
"He said the pipeline he came through was from Iraq, to Turkey, to Greece to Thailand and Mexico."
Joseph also allegedly told US authorities he paid a Mexican smuggling organisation $US3,000 ($A3,910) to get him across the US border.
It is believed Joseph had been working in his brother's San Diego liquor store.
Joseph is being held at the ICE Detention Facility in San Diego and is expected to appear in a US Immigration Court next week.
The US plans to deport him to Australia, although Joseph could choose to fight his deportation.
"He has been placed in deportation proceedings," Mack said.
"He does get due process here in this country to contest any deportation charges."
If Joseph agrees to be deported, he could be escorted back to Australia by Australian authorities in "three to four weeks".
"Once an order is granted, we are planning to turn him over to Australian authorities," Mack said.
Joseph and a co-accused, Ramon Youmaran, were named in 2004 as being the subjects of arrest warrants for the alleged murder of Mr Debaz.
Youmaran, 28, of Mount Pritchard, was arrested in June this year in a drug raid in Sydney, and charged with Mr Debaz's murder. He has been remanded in custody.
Joseph has been linked to a Sydney Assyrian crime syndicate known as the "dlasthr" (the last hour) gang.
105-year-old Assyrian Realizes Dream of Citizenship
Courtesy of the Los Angeles Times
26 October 2006
By Teresa Watanabe

(ZNDA: Los Angeles) Sona Babai counts good health, a loving mother-in-law and 10 children as the biggest blessings of a long and fruitful life.
But there was one more thing she wanted: American citizenship.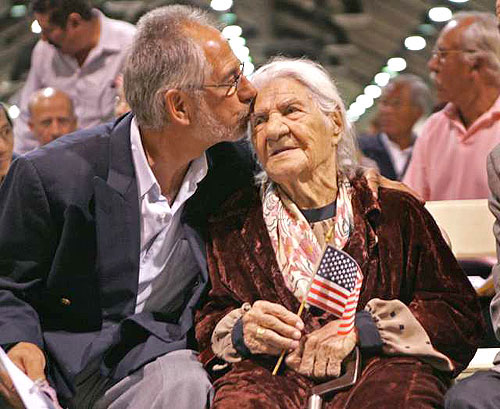 Sona Babai and her son, Antoine. Sona was 14 years old when the Assyrian Genocide took place in Iran (then Persia) and Turkey.
So the native of Iran placed her hand over her heart, pledged allegiance to the flag and Wednesday became one of the nation's newest citizens to be sworn in.
At 105 years old, she is also one of the oldest.
Before a stage festooned with American flags, Babai joined 7,000 others from 132 countries who became American citizens at naturalization ceremonies Wednesday at the Pomona Fairplex. But the petite woman with clear brown eyes and snowy white hair cut a distinctive figure as several news cameras recorded her slow walk to the front of the cavernous hall, stooped but steady, unassisted except for a cane.
When a ceremony official announced, "Excuse me, we have a lady that's 105 years old — and she's walking!" the crowd erupted in claps and cheers.
Babai said she wanted to naturalize as a sign of gratitude to America for embracing her children, four of whom live here, and allowing their families to thrive as restaurateurs, business consultants, architects, engineers, dentists and other professionals.
"America is a big umbrella that lets a lot of people underneath to be safe," Babai said in her native Azari language, which was translated by her son, Antoine Babai. "Because of the good hearts of American people, I want to be part of them."
Marie Sebrechts, spokeswoman for the U.S. Bureau of Citizenship and Immigration Services, said research indicated that Babai was the fourth oldest person ever to naturalize. The oldest, she said, was a 117-year-old Armenian immigrant who became a citizen in Los Angeles district ceremonies in 1997.
Antoine Babai said his mother still threads needles, has 20/20 vision and needs no hearing aid. Her mind is still so sharp she can tell her daughter in Tehran in exactly which cabinet in which room to find a particular household item, he added.
Both nature and good nurturing account for her longevity, the family said. Her eldest brother lived to age 117, and her younger siblings range in age from 95 to 101.
Growing up in the unpolluted environment of a rural farming village in northwest Iran also helped, Antoine Babai said. In her native Gharahbagh, a 400-person village of vineyards and almond trees, Babai's family grew their own food, slaughtered their own livestock for meat, churned their own butter and heated their ovens with patties of animal dung.
"There were no preservatives, no chemicals, nothing," Antoine Babai said. "I believe one reason she's lived this long is that the foundation of her life was natural."
Babai herself says as much when asked the secret of her longevity. "Clean air, fresh food and good family," she said.
But Babai also endured hardships. She lived through three major political upheavals in Iran, including the Islamic Revolution that she criticizes for using religion to justify such acts as seizing private property. Many of her relatives were killed in the eight-year Iran-Iraq War, she said.
As a child, she used to hide in water wells to escape murderous tribes who would ravage her village.
She was even kidnapped at age 12 as a bride for a distant relative smitten by her beauty, according to her son. But the adventure had a happy ending. She produced 10 children over an 84-year marriage and grew to love her mother-in-law so much that she still kisses her picture every night at bedtime.
Her link to America began as it has for so many immigrants: through a desire to give her children a first-class education and unlimited opportunities.
Neither Babai nor her husband Mokhtar, who died in 1991 at age 103, ever learned to read or write. But they knew the value of an American education, so Antoine and another son came to the U.S. to study advertising design and engineering, respectively, at Louisiana State University.
The two brothers eventually settled in Palm Desert and opened a French restaurant. Two sisters followed and settled in Irvine. Today, Babai boasts six children, 13 grandchildren and three great-grandchildren.
The children obtained a green card for their mother and brought her to Palm Desert six years ago, after their father died in Tehran.
Her request to become a citizen surprised Karan Kler, executive director of Coachella Valley Immigration Service and Assistance Inc.
But he said Babai told him: "By becoming a citizen, I can show to the world that it is never too late to give back."
Because of his client's medical conditions, Kler managed to obtain waivers excusing her from the English and civic tests required of most prospective citizens. But Babai sailed through her interview with immigration officials — telling them, among other things, that she would bear arms to defend the United States.
War was not on her mind Wednesday. Asked what she would do as a new citizen, Babai replied:
"I'm an American. I'm going to vote."