To My Nephew, Frank S. Khosho
Francis K. Khosho
Arizona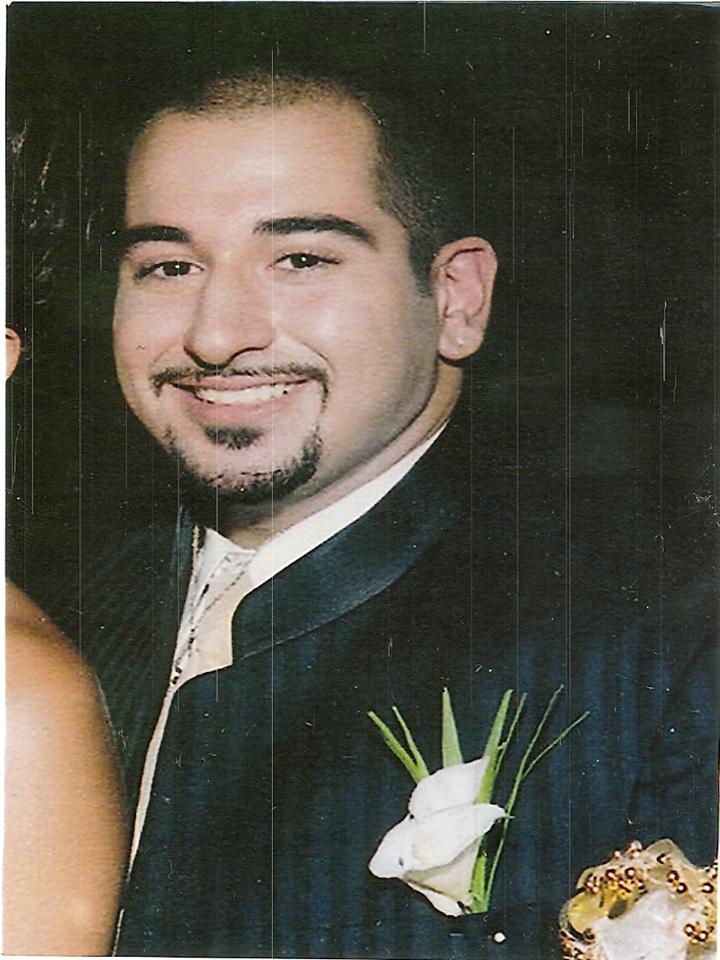 Frank S. Khosho, 22, was killed while on duty working at Cindy's Market, 15444 N. Greasewood St., Surprise, Arizona. Another Assyrian employee, Ramsin Hirmis, 24, sustained injuries.
Again, with unexpected suddenness and deep sadness, death has come among us. It was just three weeks after the murder of his cousin, Basam Polis Kalo Khosho, who was killed in his work place in Phoenix, AZ at the age of thirty-six.
Frank had his life taken away from him on January 21, 2007 at the very young age of twenty-three. He has been taken away from us and obliged to move through the Celestial Gate to enter that bourn from which no traveler returns.
We can only bow our head to the will of God and His Son Jesus Christ, the Father of us all, and say to ourselves: Is there beyond the silent night an endless day? Is death a door that leads to light?
We cannot say.
In his passing, it is difficult to put my feelings into words, but I will try to tell you what my nephew Frank meant to me. Frank was the youngest son of my brother Slewo Kalo Khosho of the town of Mangeshi. Frank was incredibly kind; he had such a beautiful nature about him that endeared him to all who crossed his path. I will never forget his infectious smile, his beautiful brown eyes, his sense of humor, his charm, and most importantly his innocence, sincerity and kind words that touched our family in more ways then anyone will ever know. His parting creates a void that will never be filled and he will forever be remembered by our family. I like to think that Frank is with us in spirit, lives in our minds and will endure in our hearts for eternity.
Frank was such a loveable soul; we, his father, mother, brother, sisters, cousins, relatives, friends and Chaldean/Assyrian community of Phoenix, Arizona, who admired him and loved him so much, simplify his ceremony in an expression that has never left my mind. It speaks volumes: " You never lose what you love if you love what you lose."
May God bless you and keep you. We miss you and love you Frankie, and we always will.
Your Uncle
A Betrayal of Trust
Shmouel Warda
Former Secretary General
Assyrian Universal Alliance
Australia
I joined the Assyrian Universal Alliance in 1968 under the first Secretary General, the late Dimitri Petros Eloff who accepted my membership, and became the first member of the AUA in Australia, and am very proud of all those founders of this once very effective organization. It was no doubt the most awakening organisation in its nationalistic spirit for a sleeping nation which had no political leadership for over 2000 years.
In my 30 years as a member of the Assyrian Universal Alliance I met and worked with many great individuals from our nation, Assyrians, Suryanees and Chaldeans nationalists all over the world, and am also very proud to say that I was elected eighteen years later as the Secretary General of the organization which took place in Sweden.
During my long membership I also took part in creating, establishing and presenting the Assyrian flag to the Nation. In 1998 I retired and at present I don't hold any position in AUA or any other political party, but I am proud to say that I am a staunch supporter of our only serious party, the Assyrian Democratic Movement or Zowaa, with its strong leadership and our only hope.
The AUA was the only Assyrian international organization and the umbrella that could drive the hope of our Nation by creating political parties to unite us and get our political rights in the land of our forefathers, Bet Nahrain, at present Garbia (north) of Iraq. Unfortunately now it has been vigorously trying to split our nation in cooperation with the Assyrian Church of the East 's leadership in arrogantly calling for the Assyrian name only and forgetting about our brothers and sisters from the Suryanees and Chaldeans, thus trying to split our nation. On the contrary the great leadership of Zowaa realised our nation's weakness, and in their famous 2003 conference in Baghdad adopted the three names for one nation and it was unanimously accepted that of the ChaldoAssyrianSuryanee name to face the challenges ahead, and in demanding the Nineveh Plains and once for all to free our nation from the clutches of our church leaders and our enemies who have been trying to split us.
FOR ALL OF YOUR
REAL ESTATE NEEDS IN CENTRAL CALIFORNIA
YOU CAN COUNT ON
RENEE ESHOO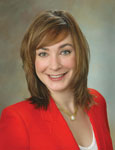 Prudential California Reality
600 East Main St. Suite #300
Turlock, CA 95380
Mobile (209) 380-2034
Office (209) 633-2745
Mention this Zinda ad & receive a
FREE HOME WARRANTY ($350 Value)
when you buy or sell with me.
Most of the cofounders of AUA were trustworthy people and held the aims of the organization and so it carried on that loyal trust to fulfil the aims of our nation at any cost. It grew up in the mind of so many thousands of our people all over the globe. The leadership took that oath, and reminded all their members not to miss use the trust of our nation for their own selfish personal gains.
The main objective of AUA was to support at any cost our people in Iraq in fulfillment of the objectives of the founders of the organization to take a stand with our brothers and sisters in Iraq especially in times of need and with their political struggle which happens to be right now.
The present leadership of the AUA should be ashamed of their present stand in openly supporting the stooges of the KDP and opposing the leadership of the only Assyrian nationalist party on the ground in Bet Nahrain which have given quite a few Martyrs. The only Assyrian party that was twice democratically elected with a staggering 80% of the votes.
Since no member of the present leadership of AUA in Diaspora will ever think of selling his house and moving to Iraq. Then who gives them the right along with these newly invented parties that were created after the liberation of Iraq in 2003, in dictating and contradicting our national demands in Washington and elsewhere, and also in criticising our respected and Hon. Congresswoman Anna Esho, because most of those half a dozen numbered parties were working FOR the Baath's or the KDP parties. Yes, Zowaa too was proudly working WITH the KDP in opposing the brutal regime of the dictator Saddam. So please do not mislead our nation with the standing of Zowaa in the last quarter of a centaury. Try to differentiate between the two words FOR & WITH.
Any political party should work at times with other parties to gain their rights and its rights from a brutal dictatorship, but never FOR, like our present puppets in Iraq and particularly the open relationship between the AUA's leadership along with the Assyrian Church of the East 's leadership with the KDP to tie up the 'Dishted Nineveh' to the KRG region instead of the Central government of Iraq, Any decent person in Diaspora should support ADM morally and financially and respect the will of our people in the homeland and our unanimously elected party.
AUA's political stand and its position of today is a clear betrayal of that trust. Today they are standing against the Assyrian, Chaldean, and the Suryanees people in Iraq and around the world and undermining the only democratically elected Assyrian leader and a member of Iraqi Parliament Hon. Yonadam Kanna. The wish of our nation has been totally ignored by the present leadership of the AUA.
My only concern for the time being is about AUA, because I spent over 30 years of the best part of my young life in a political struggle to reach to this great day of our people in Iraq and yet I see a clear betrayal of the trust that we all worked for and stood for many years.
I kindly request the Secretary General's office to reconsider the AUA political position concerning the will of our people in Iraq and to stand united with our only real political struggle in Iraq under the leadership of our ADM, stand with a brave face and give what ever they need in Iraq.
The political role of all those who are not in Iraq is limited and will finally end because the political reality is in Iraq, those who are on the ground under fire are the real Heroes of our times and not we who chose to live in the comfort of the west, we did what we could when our people were living under the dictatorship of Saddam in Iraq.
Remember the future of a nation depends to those who live in the fatherland with out them there is no home land and all our dreams will die.
A Homeless Nation
Retort to: Ripped Apart, Patched together
Sargon B Yalda
Chicago
Last week, on my way to work on a wintry Chicago dawn, where people can literally see their own breath, I noticed a Homeless man that has made it a habit to wake with the early morning commuters in the Windy City and beg. Normally this man does not draw my attention, but since I had just read the Zinda magazine article "Ripped Apart, Patched together" it dawned on me that if we were to asses our situation as a nation, we are very much in the same boat as he; A Homeless Nation.
Contrasting Mariam S. Shimoun, I want to take into account the Big Picture before focusing on the details, as it is the natural order. Ask anyone with an idea, a proposal or a scheme and they will tell you; once we have a clear plan of our direction and destiny, then we can start working out the details.
In her article; Ripped Apart, Patched Together, Mariam S. Shimoun writes "indeed the former Roman Catholic Pope was a proud Polish man - but he did not turn the Roman Catholic church into a Polish nationalist entity. He left that to Lech Walesa". Ms. Shimoun is neglecting a very crucial fact that there is a country called Poland that needs to be properly administered by politicians, when we, the Assyrians, have a country called Assyria; the scenario will be a different one I am sure.
Traditional Pashmina Shawls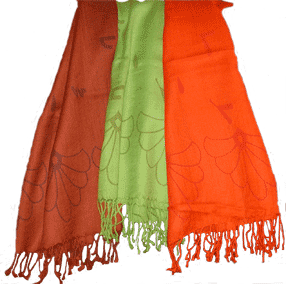 Buy Yours Today. Click Image Above
Meanwhile, a more proper analogy would be versus the Copts of Egypt. Today there are over 10 Million Copts in the World (five times the estimated Assyrian population), all of whom are Coptic Orthodox, under the headship of HH Pope Shenouda of Alexandria. You will hardly find Copts that are non Coptic; the Church services are conducted in the ancient Coptic language. Copts politics are integral with their country's politics, and they have produced some great politicians, among which Boutros Boutros Ghali (Former Secretary General of the United Nations). You will never hear of renegade bishops in their community, nor will you hear constant false accusations against their Church leadership to justify incompetence.
Ms. Shimoun continues "rather than relinquish authority to the political parties that can do these things – they are trying to "transfer" authority to the Kurds, who keep them as the overseers, the representatives, of the Assyrian people". This is another classic misinterpretation of intention, in fact here is where the Pope analogy would have been more appropriate; Pope Benedict's visit to Turkey last October, do you suppose that there was a hidden agenda there? Or was it merely a head of a Church visiting his flock? We should learn to stop complicating matter needlessly.
HH Mar Dinkha's visit to Northern Iraq was well over due, and for the hundreds of thousands of his flock it was a dream come true. Until today, I still remember Mar Shimoun's visit to Iraq in the early Seventies, and I know first hand the effect such a trip will have on people back home. It serves to strengthen their faith and to bolster their alliance, and nothing more.
I am pleased to see that ZOWAA leadership is attempting to distant themselves from Church politics generally and ex-bishop Bawai specifically. I do agree that Church and Politics should not mix. Ms Shimoun writes: "As an added protection, Mr. Yonadam Kanna and Mr. Ninos Bithyou, in their recent public speeches in the United States, have both said the same thing about those who put the former Bishop on the same platform as the Party - the supporters are not wanted."
This is clearly a step in the right direction; however the message should be disseminated to lower party ranks and followers. What is also becoming clearer to the masses is that ex-Bishop Bawai is pounding the same wedge that the American and European missionaries started in our Nation during World War I, under the banner of 'Reform and Unity' though his ultimate goals are proving to be particularized.
Today, we groups categorized as sociopolitical entities interpreting their party messages through their social programs and attempting to polarize their followers along invisible borders. How many radio stations have we heard introducing themselves as "… the voice of ABC club, and ABC movement?" So before we blame ACOE, we have to take a deep and hard look at what we are spreading through the airwaves to the Assyrian public, as there still exists a major disconnect between Party leadership and the Localized representation, this is mainly to our stubborn mentality and lack of accountability, and that is a major flaw that we need to improve upon.
The Nineveh Plains proposal is a grand idea; it is one that will entail a lot of sacrifice and hard work. Our political parties must learn to interact, coexist and respect each other, just like in any other modern nation, before this dream becomes realty. I laud Mr. Aghajan for this endeavor and I pray that our political parties seize this opportunity and work together on making this a reality, let us not devastate another chance.
I will always pray, as I will always search the Bible for answers, but until I can set my foot on a piece of land within the borders of Assyria, the Assyrian Church of the East will be my sanctuary, as an Assyrian born and raised.
Lastly, a very dear friend of mine E-mailed me the following wonderful Bible versus that are so fitting for this article.
My people have been lost sheep;
Their shepherds have led them astray and caused them to roam on the mountains.
They wandered over mountain and hill and forgot their own resting place.
Whoever found them devoured them;
Their enemies said, 'We are not guilty, for they sinned against the LORD, their true pasture, the LORD, the hope of their fathers.' (Jeremiah 50:6-7)
May God bless us all, may He protect our Nation, and show us the path to everlasting peace and prosperity.
The Unspoken Consequence
Waleeta Canon
Chicago
In December of 2006, I appeared on Dan Rather Reports to discuss what an early US pullout from Iraq would mean. I, and Assyrian-Americans in general, I suspect, are torn about this issue. As an American, and as a Democrat, I was fully against an invasion of Iraq by the Bush administration, suspecting it would end in disaster rather than peace. As an Assyrian, I was eagerly awaiting the removal of the vicious Saddam Hussein, when my people could finally, freely, call themselves "Assyrian" again, when my family, living there still, could be free of political and economic brutality, of violent consequences to personal opinions contrary to that of the Ba'athist state, and the unimaginable horrors of Assyrian suffering under a brutal dictatorship for decades, where the closest relief they had was either escape to neighboring countries, or at the very least escape to Northern No-Fly Zone above the 36rd parallel.
As I listen to new contenders for the 2008 Presidency, the latest being Senator Barack Obama, the speeches are filled with "Bring the Troops Home" rally cries, with crowds of cheering Americans, eager to save the young lives of American troops caught in the crossfire of what is essentially a civil war. Americans across the country are growing more and more wary of Iraq, the necessity of our presence there, and the reasons we went in the first place.
As an American, I am completely sympathetic to the desire to bring our troops home. I agree with it. I hate seeing young American men and women dying, spilling blood in Iraq because they believe they are there to protect Iraqis and American interests, when all it seems to result in is creating more backlash against American presence in Iraq. Although I recognize that this issue is perhaps being usurped by Democrats to differentiate themselves from Republicans, the reality is - they are American politicians, and will do what Americans want if the support for it is overwhelming. And the support for U.S. pullout is becoming overwhelming. It is a golden ticket to 2008 election.
As an Assyrian, the thought of a U.S. pullout is terrifying. With Bishops being beheaded, Assyrian children being crucified, Assyrian women being raped, Assyrian men being forced into Islam with threats of murder against their families, Assyrians fleeing church bombings and acts of violence, I wonder what will happen to my people should America leave?
And I remember, the fall of the Ottoman Empire, as the borders of the Empire were receding and they were losing World War I, what happened to Assyrians. The now infamous "Seyfo" (Sword), the Assyrian Genocide of 1915, where 3 out of 4 Assyrians were massacred, is to this day denied by Turkey. My father's parents were children. They were each the only survivors of their entire families.
I remember the early 1930's, when the Assyrians in Iraq begged the British to give them land, some sort of protectorate in Iraq, before their Mandate ended in 1932, as the Assyrians were sure a genocide would ensue. In August of 1933, the very first official military act of the new country of Iraq was to order a massacre of Assyrians in the northern city of Simele. Thousands were killed in a matter of days. Assyrians still observe this massacre each year in August. This act was meant to be a warning - stay quiet, be loyal, don't talk of "Assyrianism or Separatism", unless you are willing to suffer these consequences. It worked.
Since then, the Assyrians of Iraq have been paralyzed into fear. "Don't say anything about our suffering, please!" our relatives beg of us back home - "you will only make things worse for us here." So we remain quiet, while they continue to be targeted, for their ethnic identity, and for their Christian faith. We are bound to quiet because we are afraid of incurring the wrath of Islamists - as I write these words I wonder, "should I say Islamists? Should I rather say "insurgents"? What if they read this in Iraq and use it as an excuse to bomb another church? Attack another Assyrian woman? Behead or kidnap another priest?" But even when we remain silent, our Assyrian families are still targeted, still killed, still raped, tortured, kidnapped. We are stuck here wanting to scream but afraid at the reaction - while they are stuck there suffering the consequences of both our silence and our loud cries for help.
As an American, I think of our soldiers, men and women who did what I couldn't - joined a military force to protect this country. I think about whether we have the right to ask them to do what we won't, or can't, as civilians.
As an Assyrian, I thank the United States for every drop of blood spilled in Iraq to prevent an all out genocide in the country - against all Iraqis, including the Assyrians.
For my Assyrian people in Iraq, I want to scream from the rooftops of the United Nations, of the U.S. State Department, of the House of Commons - "DO NOT LEAVE US THERE. There will be no Assyrians left on their own indigenous lands - we will be massacred, we will be murdered on land we have lived on for 7000 years and left scattered around the world. Please, please...do not leave us there."
For my American people here, I want them to understand - yes, this war may have been illegal. Yes, we want to save our young soldiers from what was a meaningless war. Yes, we are caught in a nearly impossible situation in Iraq that is increasingly difficult to solve. But we ignored Rwanda. We are doing nothing in Sudan. We left Palestinians to fend for themselves. We have a rare opportunity to separate politics from humanitarianism - we have a rare opportunity to say "We do not support this war. But we will not leave Iraqis with our mess. We will support what is now a desperate humanitarian effort." This is not supporting President Bush. This is not supporting the 2003 invasion. This is, in true American fashion, supporting Iraqis, and helping them to survive. Yes, at the expense of American soldiers. Iraqis have given tens of thousands of lives in the last 3 years - believe me, both sides have paid their price. If the U.S. leaves, we will have paid in full - the Iraqis will continue to pay with their lives until there is no one left. No one innocent, at least.
We have to redefine what it means to stay in Iraq. It doesn't mean Bush "wins". It doesn't mean Republicans were right to invade. It is above politics. It is now a desperate human rights issue. To my fellow Assyrians, I don't know how to help you, without hurting you. To my fellow Americans, the hardest choice is almost always the right one. Don't leave Iraqis at the mercy of violence. Don't let Assyrians disappear from their native lands. Don't allow a humanitarian issue become a political one.
Rebuttal to "The Unholy Alliance" Inaccuracies
Baito Malek Chikko
Chicago
With all due respect to Zinda Magazine readers, I would like to take this opportunity to respond to parts of the "The Unholy Alliance" article that was published in Issue 27 on January 29, 2007. Even though the article in its entirety is based on false and manufactured information, I specifically would like to respond to Ashur S. Solomon's (the author's) fabricated and imagined information regarding my uncle, Martyr Hormiz Malek Chikko, and my late father, Gewargis Malek Chikko, and their relationship with the Barzani family. In addition, I want to refute the comments that the author attributes to me in his article.
Before I begin, I am compelled to mention that I have deep respect for the rest of Solomon family members, whom I consider to be highly regarded and much respected in the Assyrian community. Having said that, I want the readers to know that I have never had any kind of relationship with Ashur Solomon. In fact, I can only recall seeing him twice during the past 30 years. Both times were on separate occasions where I was paying my respects to the families of departed acquaintances. Apart from acknowledging Ashur Solomon's salutation (shlama) to the entire group of mourners, I have never had a conversation with him, let alone talked with him about politics. Therefore, I want the readers to know that his contention that I made some confirming statements to him is patently FALSE.
I want to add that my steering clear of Ashur Solomon over the years was not accidental. I have deliberately avoided him. I am well aware of his past political history and former affiliation with the, now dead and buried, dictatorship regime of Iraq. For me, it would be unethical and immoral to be associated in any way with such individuals, who have jeopardized and even caused harm to my fellow Assyrians living in Iraq at that time. This, certainly, was my father Gewargis Malek Chikko's view, as well. Thus, it would have been extremely out of character for my father to have spoken with, or otherwise been affiliated with, someone like Ashur Solomon. Accordingly, I have no doubt that his supposed conversation with my father more than thirty years ago NEVER TOOK PLACE.
Furthermore, I invite the readers to consider the following facts which cast even further doubt about the accuracy of Ashur's recollections.
In his article, Ashur Solomon mentions that during my father's so-called "mission to the U.S.A." occurred in 1975. Actually, my father's visit to America took place in 1973. Ashur Solomon is off by two years.
Ashur Solomon referred to my father by the nickname, "Geo" as if to imply that they had a close, friendly relationship. In reality, only family and close relatives called my father by this name. Ashur Solomon is neither.
Ashur Solomon claims that my father professed that Mullah Mustafa Barzani told my father that… "this is your (Assyrian's) opportunity, because after I am gone, you are not going be treated well by my son Mas'ud". To this fib, I reply that at the time that Ashur Solomon claims that this imaginary conversation took place, all indications pointed that Mullah Mustafa Barzani's heir apparent was his eldest son, the late Idris Barzani. The notion that the younger son, Massoud, would become his father's successor is so contrary to established Kurdish custom, that it is ludicrous. In the late 1970's, no one, including Mullah Mustafa Barzani, could have envisioned that Massoud would be succeeding his father into becoming the President of Kurdish Democratic Party and later the President of the Kurdistan Regional Government.
In traditional tribal families such as the Barzani family, when leadership passes from father to son, there is no abrupt change in policy. Rather, custom demands that the son continue to carry out the policies established by his father in exactly the same manner, unless there is some compelling reason for change. This practice has ensured leadership continuity and stability down through the generations. To deviate from one's father's policies would be unthinkable, and would be viewed as bringing great dishonor to the father's legacy. Thus, Ashur Solomon's contention that Mullah Mustafa Barzani would have warned anyone that his own son planned to radically depart from his policies once he assumed power, is ridiculous and an insult to his own family. If the father's policies were favorable to the Assyrian people, then there is no doubt that his sons (whether Idris or Massoud) would continue to treat Assyrians in the same manner.
Finally, the relationship between the Malek Chikko family and the Barzani family is more than a century old, dating back to the beginning of 1905. Throughout the decades, the relationship between the two families has been characterized by deep trust and mutual respect. Those who knew my father could attest to his honor and integrity. He would never have made a disparaging remark about the Barzani family to anyone. The idea that he would casually gossip about a loyal friend —to someone he barely knew in a momentary conversation—is preposterous. When you consider the fact that my father did not perceive Ashur Solomon to be an honorable or trustworthy man makes this story so unbelievable, it is almost laughable.
I have no intention of listing all the hard work and sacrifices that my family has endured since 1920, when my grandfather Malek Chikko first settled in Kora Gavana, until the present time. Suffice it to say that the Chikko family has paid dearly for our love and devotion to our Assyrian Nation. No decent and honest Assyrian person will dispute the fact that my uncle, Hormiz Malek Chikko, lived as a hero and died as one. His deep love for the Assyrian Nation, and its sacred cause for freedom and independence, obligated him to fight bravely against oppression and tyranny. He passionately believed in the righteousness of forming an independent Assyrian State in Nineveh. To this end, Martyr Hormiz Malek Chikko and his brave Assyrian friends formed an alliance with the Kurds. From the late 1950's through the early 1960s, the Assyrians fought side-by-side with their Kurdish allies in many heroic battles against the Iraqi and Syrian armies. Martyr Hormiz Malek Chikko offered the ultimate sacrifice, his life, when he died while fighting for his beloved nation and his people. Anyone who has served in battle with others knows of the bond that develops among comrades in arms. Thus, it is absolutely ludicrous and almost comical to infer that my uncle was actually assassinated by the Kurds—the very same men who had been fighting alongside him for so many years! This allegation is just another fabrication of Ashur Solomon's distorted mind.
My father, the late Gewargis Malek Chikko, was a different type of a hero. Like his brother, he also spent most of his adult life fighting for his Assyrian nation and its sacred cause, however, not with weapons. My father was so devoted to the Assyrian nation that he sacrificed the future of his family, by giving up his career and possessions over and over again. My father was incarcerated, prosecuted, harmed and eventually forced out of Iraq by Saddam Hussein's government. He sacrificed everything because he would not renounce his Assyrian heritage and the Assyrian Church of the East and side with the Baath Party. Even on his deathbed, my father was lecturing to his attending physicians and nurses about the past splendor of the Assyrian Empire, the current suffering of its people, and the urgency of securing a just and sustainable future for his beloved Assyrian nation.
In closing, I do not understand the motives behind Ashur Solomon's false allegations and imaginary "truths". Perhaps his writings are simply the distorted musings of a bitter man. Or, perhaps, more likely he is still serving as the mouthpiece for other cowards with devious intentions.
As I think about this inflammatory article, I cannot help but recall two legendary Assyrian sayings that will be familiar to many readers. The first saying would be translated as something like this: "You cannot smear someone with dried crap." And its corollary, the second saying, goes like this: "You cannot hide crapwith snow... Eventually the snow will melt and the crap will be exposed."
In essence, the first saying teaches us that a deceitful person cannot truly damage the reputation of a decent and honest person with lies and fabricated stories. The second saying indicates, in this case, that a person cannot conceal his past and present unethical actions behind fictitious allegations. Eventually, the truth will always be revealed. Knowing that this is true gives me a measure of peace.
So, my recommendation for Ashur Solomon is to stop trying to hide his own "crap" by throwing it onto others. Let him take the crap back to his coward masters and let them know that their dirty games have not worked in the past and will not work now.
We, the Assyrian people, have come so far and have endured too much to allow individuals like Ashur Solomon to deceive us with shadowy lies that distract us from the truth. Let us pay them no mind. For now is the time for the Divine light of truth, peace and justice to shine upon the Assyrian people forever more. Let us work together to make the vision that our ancestors envisioned become a reality.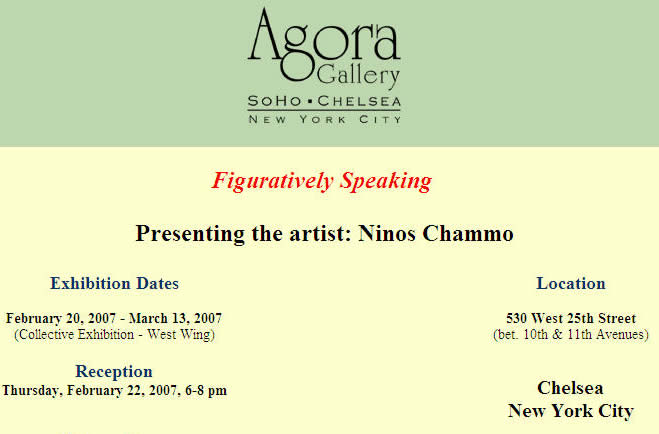 To view Ninos Chammo's official website
click here
.
What Does it Take to Be Assyrian?
Jennifer and Jolene Will
Scotland
My name is Jennifer Will and I am writing this letter with my younger sister Jolene. We are the very honored to be daughters of Mrs. Sharleen Will, a true and proud Assyrian. Anytime people want to attack our mother they always pick up on the fact that her name is firstly not Assyrian and secondly because she married a Scottish man, someone who was not Assyrian. It is true that my sister and I are only half Assyrian but, that does not make us any less patriotic or proud of our heritage and history. We would never deny who we are to anyone. I think as a "half breed", as we have been called, we are seen as neither one nor the other, an outsider, which makes it hard to fit in and feel part of a society.

In Scotland and worldwide there are a lot of people who do not fully understand or comprehend who the Assyrian people are. No fault of their own but instead because of their poor teaching or lack of it. My sister and I have at times been out-casted by Scottish people for not speaking or looking like a Scot. With this in mind it made us cling on even harder to our Assyrian roots. However at the same time, because we are half Scottish we get shunned by Assyrians and my mother gets insulted. This only reminds us that we are Scottish born and to never forget to be proud of it! This angers my sister and me because no one should ever feel that they have to deny who they are. I repeat, we are proud of where we came from for it has helped us become the strong individuals that we are today.

I ask then why do people do this? Why can't they accept people for who they are? My mother said, "We Assyrians may not have our country but God gave us so much more. He gave us the world!" What is it to be called a true Assyrian? Do you have to be born in Assyria and speak the language fluently? Then why are there Assyrians born all over the world, speaking other languages, taking on other traditions? I find us being segregated unfair and unjust when clearly it is evident that there is no one true definition of an Assyrian person and that everyone is different in one way or another.

On top of this another factor that adds to the insults my mother has accumulated has been because of the support she has given to Bet-Nahrain and Sargon Dadesho. I want to remind people that my mother supported him because he supported the Assyrian identity. She would support anyone and everyone that stood for the Assyrian cause. How anyone would want to change a seven thousand year old name is beyond me but at the same time I understand that times are changing and that unity is slowly dwindling from our grasp.
Silk Scarves with Assyrian Letters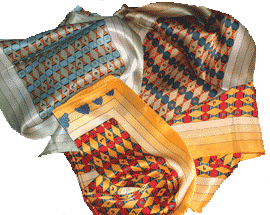 Buy Yours Today. Click Image Above
Now again the Assyrian nation is dividing in the sense of the Catholic bashing which I hope most, if not all, would believe not to be very Christian like. Sargon Dadesho should be ashamed for letting the Catholic name be bullied on his television station when he should really be concerned with what he promotes, hate, and what he does to his supporters. You cannot judge a whole race or society of people on some that lose their way. Instead we should all respect the different ways of belief as Jesus never promoted hate but love. Promote discussion Sargon not anger! My mother supported Sargon Dadesho and is now being segregated because of her Church, her faith. He tries to make her look like a fool but bigger the fool you Sargon Dadesho. You are hurting people, your people who you loved when you needed them for something. You need my mum and people like her to look good as you cannot do it yourself. Looking at who you have beside you at the moment tells us a lot about you, people like Shemiram Denali and her brother? Need I say more?

Through my years of studying I, Jennifer, learned an important factor that plays within man-kind. What is right to one society does not necessarily mean it is right to another. By saying that I mean that we should be open-minded and accept that there will be others who will have different opinions when compared to ourselves. At the same time, I raise the issue that people do not discuss anymore, they argue. However when asked questions and people are able to answer they are told to shut up! People speak and are then told to keep quiet! People fight rather than admit when they are wrong! People humiliate so as to feel strong and their opponent weak! Those things do not make a bigger person all they do is cause hate, division, and nothing is learnt. It is healthy for a person to be proven wrong so as we can then learn from our mistakes, move on, so as to correct them but more importantly, the difference in conflicting views helps a society to progress.

Again I ask, what is it to be an Assyrian? I believe I am an Assyrian because of the virtues, philosophies and moral upbringing that my mother has taught me and which I believe, and hope, are Assyrian even though I am not seeing it in the Assyrian people who have been hurting my mother. My mother has taught me to always push myself to learn as much as I can in this life so as to be powerful yet merciful, to stand up and be heard while listening out for others, and to never, ever judge because only God can judge. To always fear God and be strong in my faith. The problem with some Assyrian people today is that so many are talking but few are listening, the ones that are talking are doing so in their own best interest and are not even making sense thus making it hard for people to listen. This is crushing the Assyrian spirits of people like my mother who do speak and do make sense through their questioning and comments.

I support my mother because she stands for honesty. She stands proud for what she believes in with proof of what she says. Question her and she will answer you not beat around the bush or try to confuse you into another argument. She questions people but instead of answering her all they do is argue and cause fights to change the conversation and divert from the question on hand. I want my mother to know that she is loved by those who matter and that what she believes and stands for is love, unity, honesty, pride and respect what I believe a true Assyrian to stand for, which I believe anyone strong in their moral and value system to stand for.
God bless All Assyrians!
Long live Assyria!
Faithful to our mum!
New Assyrian Youth Center in Khabour
Church Committee
Church of the Virgin Mary
Tel Nasre
Syria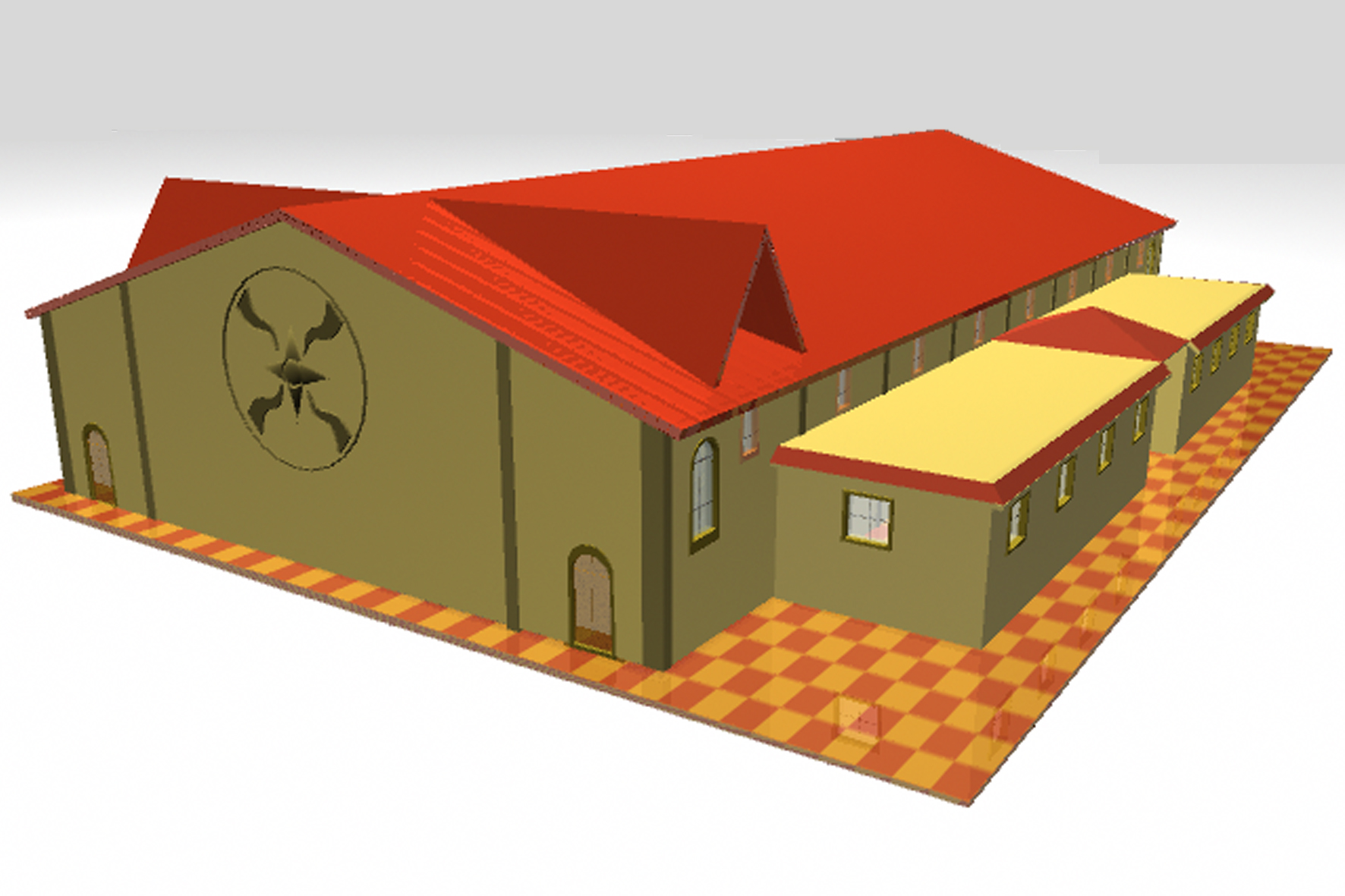 A mock representation of the future Youth Center in the village of Tel Nasre.
The Assyrians of the Khabour [river] region in Syria have decided to build a youth centre so the young can have a place to gather. Living in some 37 villages along the small Khabour river the twenty thousand or so Assyrians are determined to remain in Syria despite many hardships. One way to do this is to help the youth to have a meaningful leisure time.
There is today nowhere for the children from the 37 Assyrian villages to gather and play sports or have other activities. But a youth centre is planned to change that.
Preparations have already taken place for the youth centre which will be located in the village of Tel Nasre, next to the Church of the Virgin Mary.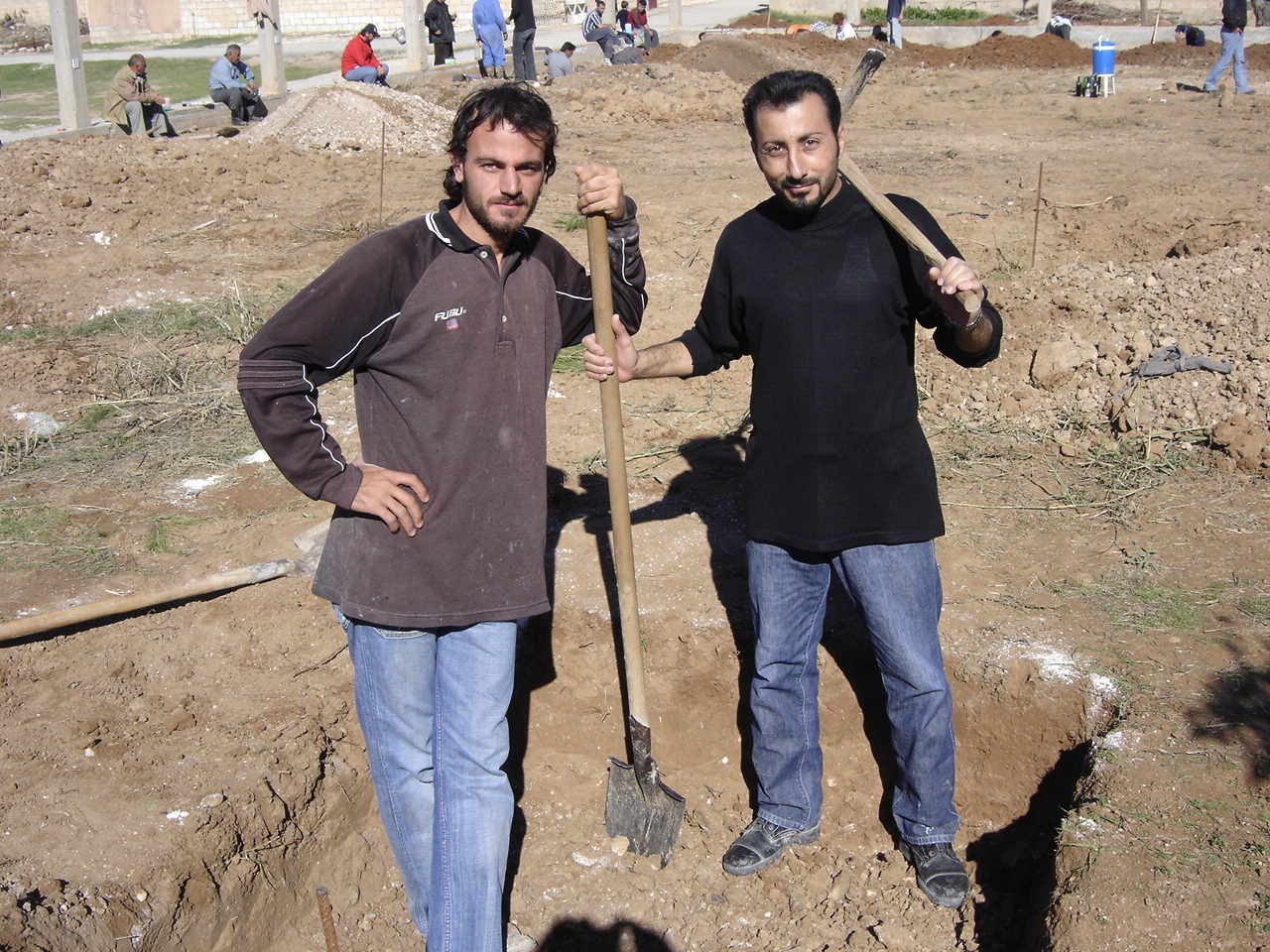 Assyrians villagers preparing the land for the construction of the future youth center in Tel Nasre.
The project is managed by the Committee of the Church of the Virgin Mary in consultation with the rest of the Assyrian villages in the Khabour area. When the youth centre is finished it will offer the children the ability to play basketball, indoor soccer, handball or volleyball. It will also have space for a stage where theatre plays can be conducted and rooms that can be used for computers and other learning.
The Assyrians of the Khabour region are not able to finance the total project which is calculated to cost approximately US$ 40,000 (forty thousand U.S. dollars) and are therefore asking Assyrian organizations or individuals to help in realizing this project.
Any organization or individual wishing to help the Assyrian of the Khabour region to complete this project should contact Zinda Magazine, which will put you in contact with the Church Committee in charge of the project.
Annual Assyrian Design Fashion Scholarship Competition
Rosie Malek-Yonan
California
He is a humble man of very few words. He has a quiet dignity about him. He is kind, sincere and generous. An Assyrian, originally from Syria, Mr. Jean Kardously now calls Southern California home. He is the sort of man whom you can't turn down when he requests your involvement in a project. You just want to do it because his sense of patriotism is so contagious. His goal is to cultivate national awareness and in so doing, he inspires us to work for our Assyrian identity through actions and not just words.
The Annual Assyrian Design Fashion Scholarship Competition is the brain-child of Mr. Kardoulsy who wholly sponsors and organizes it through Woodbury University's Design School in Southern California and prints a book of the entire event.
In 2005, I was f ortunate enough to be invited to judge and be the presenter of the event. So when in 2006, the invitation was extended once again, I was elated to participate with two other fellow judges, Dania Abraham and my sister, Monica Malek-Yonan.
30 First-Year students from Woodbury University's Design School participated in the 2006 Assyrian Design Scholarship Competition which was held once again at the Assyrian American Association of Southern California.
In preparation for their designs, participating students were required to research the history of Assyrian costumes and textiles and submit a written essay discussing their work. Students were also required to include an Assyrian-inspired theme or element within each of their designs that clearly marked the presence of an Assyrian influence. Contestants were judged on design concept, originality, research paper, and overall presentation.
The winners of the 2006 Scholarship Competition were Ani Abramian ( 1st Place), Paige Ishida ( 2nd Place), and Angelina Jaimenez ( 3rd Place).
Woodbury University faculty attendees included Penny Collins, Department Chair, May Routh, Adjunct Faculty, and Louise Coffey-Webb, Assistant Professor.
Before the afternoon concluded, Mr. Ninos Aho took the stage and read an inscription from a plaque: "For Service And Inspiration To The Assyrian People." On behalf of Mr. Jean Kardously, he presented a special award to Mr. George Malek-Yonan in recognition of his lifetime achievements and for his inspiring and tireless work on behalf of the Assyrian nation.
I have a debt of gratitude to my dear friend Jean for inviting me to be a part of a wonderful experience. I am also very proud and appreciative of the tribute paid to my father.
Request for Assyrian Music Information
Catherine Nona
Australia
My name is Catherine Nona living in Sydney - Australia. I am currently studying (at the University of New South Wales Sydney) in the music field for Bachelor of Music and Bachelor of Music Education. It will take me four years to obtain my degree, and right now I am in my second year of the course.
I am one of the violin students of The Assyrian Church of the East Youth Orchestra conducted by Maestro Rabie Alexander Shoora Michailian. Rabie Shoora's passion for Assyrian Music, has inspired me to look into our Assyrian folktunes. I am keen to collect information including poems, olds songs, sheet music and books concerning our Assyrian Folklore Music. I have heard about late Rabi William Daniel, composer Nebu Issabey, late composer Paulus Khafri, but I am not able to obtain some of their music and their compositions. I hope to intensely study our Assyrian music through analysing the different composers, different decades, and beautiful Assyrian tunes.Your guide to direct me to get some of the above composers work will be much appreciated as it will help me to learn from these "Music Maestros", meanwhile I will be able to contribute towards our Assyrian nation in regard to music, as we Assyrians are in much need to keep it alive.
Thank you and God Bless.
You can contact me through my email catoona_19@hotmail.com.
Thanks again. Music is my life.
A Request for Assyrian Materials
Sargon Donabed
Canada
I have recently begun 2 projects pertaining to the Assyrian people and would like to request the aid of Assyrian related materials. Currently I am working on my dissertation on the Assyrians from 1960-1991 in Iraq. Secondly, I am finishing a book to-be-published on the Assyrians and the birth of the Iraqi State. I would ask for any Assyrian who has photographs from any of these periods to contact me ASAP. I would be grateful to use any material provided if it is pertinent to the study. I will of course reference the family or person the documents or pictures belong to, or in cases where people wish to remain anonymous, I will honor that request also.
A list of wanted materials:
1. Pictures or documents pertaining to WWI Assyrians in fighting attire. Rare black and white photos.
2. Pictures or documents pertaining to the Assyrian Levies
3. Pictures or documents pertaining to the Massacre of Simele
4. Pictures or documents pertaining to the Anfal Campaign
5. Pictures or documents of villages destroyed in 1978 (especially in the Barwari Bala Region) both pre and post destruction
6. Pictures or documents from the entire region of North Iraq showing villages, families, important personalities, churches and monasteries
If there are people interested in helping with such documents, I would be very grateful, and the service would be helpful for the publication of more Assyrian related material.
Please contact me by email at: sargon.donabed@utoronto.ca
Thank you all for your interest in Assyrian history and culture.