The Missing Christmas Present
A Christmas Short Story
Mikhael K. Pius
California
As Yaqu strolled on the street, snowflakes crunched under his shoes. But his attention was not on the snow. His eyes and mind were focused on a big house at the far end of the coarsely-paved street.
It was Christmas morning, approaching noontime. The weather was somewhat chilly, but sunny and bright. It was a perfect day for a holiday; for rejoicing in the birth of Christ Child, the Redeemer; for dispensing love and goodwill; for feeling at peace with himself and the world.

Yet as he walked his thoughts were not of Christmas but of the big house and the people it had sheltered. He was also not really feeling at peace with himself, for there was a strange feeling in his heart. He did not know exactly what it was. But it was a mixture of longing, anticipation and disquiet. It nibbled at his heart and tugged at his heart strings the way a little fish nibbled at his bait, gently tugging his fishing line.

The warm rays of the glowing sun were already beginning to melt down the snowflakes that had fluttered down during the night and formed a thin white blanket on the ground. Yaqu could feel the strong sunrays filtering warmth into his body too as he walked. And yet there was this strange sensation in his heart, this tingling, chilly feeling that made him tremble ever so slightly, from the inside.

An hour earlier he, his wife, his 15-year-old son and his two younger daughters had returned home from church, having heard Mass and received The Sacraments. They all had sheepishly embraced and kissed each other on both cheeks, wishing each other a Merry Christmas. Then his wife had prepared breakfast and they all sat down to enjoy a special Assyrian holiday treat of fried eggs, kada [1], kellaicheh [2], goupta toumerta [3], takheen [4], date molasses and lawasha [5], washed down with rose-colored sweetened tea, in little glasses that tinkled when stirred like tiny bells.

Some years earlier, he recalled, he and his growing family also lived in the big house he was going to now. The house was in Dawwasa neighborhood of Mosul, the second largest city in Iraq and close to the ruins of his ancestors' historical city of Nineveh. They lived amongst a flock of kin: his father Iskhaq and mother Miriam (Mary); a younger married brother, Issa, and his wife and two children; two unmarried sisters and another brother, Havel, followed by their unfortunate youngest sister, a lovely girl, with big brown, soulful eyes, who was born with a deformed left foot. All of them lived together in the same house as one traditional Assyrian family.
The house was a two-storey, burnt-brick structure with six bedrooms, a large sitting room and halls and corridors. It usually hummed and vibrated with a variety of noises: talk, murmur, soft laughter, yelling. And sometimes it rumbled with sharp resounding noises and lusty voices. They were mostly sounds of joy and laughter, but there were also loud, angry words and occasionally screams and tears. But most of the time they were homey sounds of a big vibrant family that lived happily together, loving and supporting each other despite the occasional differences of opinion or outbursts of emotion. It had been like that for many years as the family gradually almost doubled from eight to fifteen members. Then suddenly things began to change. And Yaqu made the first change himself.

One morning he woke up and decided that he no longer wanted to live with his extended family. It wasn't a sudden decision. He had been contemplating it for some time. But that morning he made up his mind.
Despite his parents' pleadings to dissuade him, he soon rented a smaller house farther up on the street and went with his wife and purchased some furniture and placed it in it. He then came with a hired truck to remove his family's personal belongings from his parents' home.

After he and his wife, helped by the driver, had loaded their beddings and other personal things into the truck, Yaqu stopped for a moment and looked at his parents, who were standing by, with long, pale faces, watching him.

His aged father had his hands in his pockets. He looked tense and moved around awkwardly like a restless animal, not knowing what to do next. Likewise, his petite and gentle mother stood beside him, wringing her hands. With a misty shine in her eyes, she gazed from him to his father and back again as though expecting a last-minute miracle to cancel out the changing situation.

The sight broke Yaqu's heart. He knew his parents were well set and had no real need for material support from him. He also knew they needed his moral support and wanted him as their first-born to stay with them. But the house had become too crowded for the whole family and the occasional domestic friction between women and between children was disrupting their lives. He therefore felt the only way to ease the situation was for him to move out. Moreover, he felt his parents depended more on his younger brother than they did on him to take care of them, in their declining years.

When all their belongings were in the hauling truck, Yaqu approached his parents to say goodbye. He was feeling tense and nervous and dreaded the moment more than he did the time when his teacher asked him for the first time to recite a poem in class, when he was ten years old. He wondered if he could manage now to deliver his message as he did then without choking.

He stepped forward and shook hands with his father. "Remain in peace, my father" he said in Assyrian language. "And I thank you…thank you very much…uh… for everything you have done for us," he ended with a querulous voice, embracing his father

He then hugged his mother. Sobbing, she pressed him hard to her breast and kissed him on both cheeks, wetting his face with her tears. He could not manage to say anything to her.

"My son…my son, you are brouna boukhra d'baitan," [6] his father stammered with emotion in a last hope to reverse the situation. "Why…why are you leaving us in our old age?" he pleaded.

Yaqu stood for a moment, speechless, gulping down the big lump that was choking him.

"My father, I will still be close to you," he tried to comfort him. "uh...and Issa my brother... he will take good care of you and my mother…uh…better than I," he mumbled in a tremulous voice as he stumbled away to join his departing wife and children.

From then on other changes followed one on the heel of the other. First, some months later, his brother Issa found a well-paying job in Baghdad. After a couple of months of living alone, much to his own sense of remorse and to the distress of his parents he had to take his family down and settled in the Capital. Shortly thereafter, his eldest sister was married. She moved in with her husband and parents who lived in their neighborhood and the young couple were blessed the next year with a very pretty baby girl. She was baptized Mary, after her grandmother.

Before Mary could toddle, Yaqu's other sister was betrothed. She was married some months later to a distant cousin living in Kirkuk. And a year later, war broke out between his country and the neighboring Iran. His youngest brother Havel, barely out of his teens, was called up for military service and after only a very brief training period, he was dispatched to serve at the southern city of Basra.

Although the Iraqi Army was on the offensive, Basra was often targeted by enemy rocket shelling across the Shat al-Arab estuary separating the two countries. The Iraqis were sustaining heavy casualties. This impending dread from war hung over the family's heads month after month like a guillotine that was about to come down.

And one day, like a guillotine, it finally descended, mercilessly!

Havel was killed, like thousands of other young and helpless Assyrian and other Christian conscripts and countless other Moslem Iraqis who were forced to fight in the senseless war waged by Saddam Hussain, the brutal Iraqi dictator.
As if this wasn't enough pain for the family, some months later his mother became ill with a mysterious disease. Aggravated by her unrelenting grief for her dead son, her illness wore her down rapidly despite the good medical attention she received, and she finally succumbed to her illness, stunning the whole family a second time and leaving her aged husband and teen-aged handicapped daughter to manage the big house and to cope with its echoing emptiness and the haunting memories its empty chambers held.

Yaqu's mother was a neat, pretty woman. She was kind, gentle, affectionate and a devoted wife, mother and grandmother. And she was still in her middle-age, much younger than her aged husband. Yaqu loved his mother dearly. Losing her, hit him very hard.

In fact both of his parents were dedicated and loving persons. Barring trifling inter-family squabbles and tiffs, they both cared for each other and their children and grandchildren very much. But both of them were shy and were not given too much to open display of affection. But they did cuddle their grandchildren and embrace and kiss their grown up children on special occasions, such as Christmas and Easter. Yaqu and most of his siblings had inherited their parents' coyness.

Parents as a rule bought their children new clothes for Christmas and Easter and sometimes purchased toys or small presents for their younger ones. But it was not his people's traditional custom to exchange presents between adults on these holidays. But they did exchange social visits and kisses. There was a great deal of fraternization among family, relatives, friends and neighbors in the community. People would visit each other's homes to greet each other, to chat, eat and drink together, and to enjoy each other's company and bask in the warm spirit of the holiday.

It was his family's custom also to observe these special days in a private way too. All the siblings, their wives and or husbands and their children would gather at his parents' home one evening of the holiday and they would all share a dinner feast. They would drink and make merry throughout the evening, enjoying each other's company.

Unlike the boisterous merrymakings of earlier years, however, Yaqu expected this Christmas celebration to be quiet and somber due to the recent loss of his mother.
Ever since the day he "separated" from his extended family, Yaqu had made it a habit to drop in on his parents often to see how they were faring. He would also visit them first thing after breakfast on every

Christmas and Easter Day to wish them beforehand a happy holiday. This was the first Christmas visit he was making to his father and his youngest sister, the only remaining occupants of the big house, following the death of his mother three months earlier.

The thought intensified the mysterious sense of anticipation and apprehension he felt inside him. What was it, he wondered? Was it an inner sense of guilt, guilt because he had not honored the residency bond between parents and their first-born? Or was it because he felt things might have been different if he had been living with them?

As he approached the door, his train of thought was interrupted when he spotted his father standing behind the window, staring out. He could also perceive his little sister standing behind him, two deprived and lonely people in a big empty house.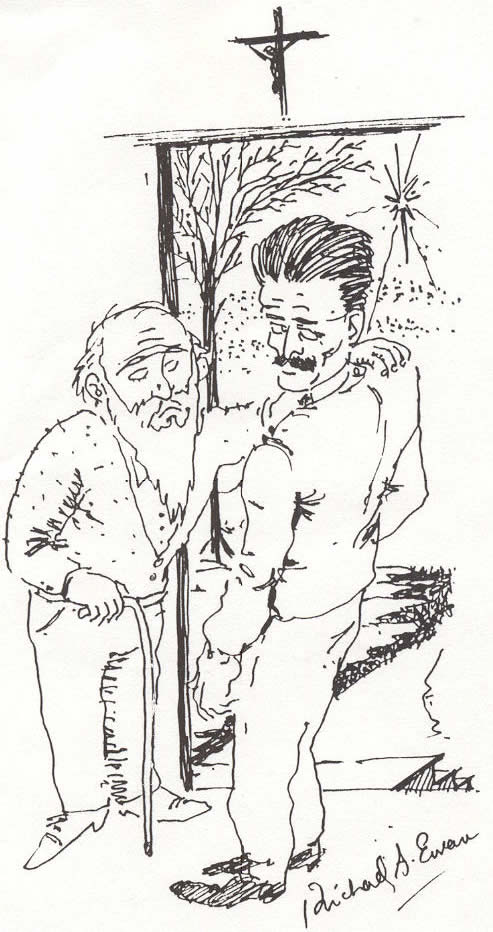 As he felt his father's hand rest upon his shoulder, Yaqu stood and stared for a long moment at the empty seat where his mother would always sit, a strange, tingling sensation coursing through his body... It was vacant and his mother was not there.
He remembered his father in earlier years. Though getting on in years, he was robust and healthy and usually happy and proud especially when surrounded by his wife, children and grandchildren. And to continue to be living during old age with a son or sons, especially with the first born, was every Assyrian parent's privilege and pride.
But as he saw his father staring out of the window, all alone with only a handicapped daughter for company, Yaqu suddenly realized how lonely, forlorn and really old his father was. The realization added to the tremulous disquiet he felt in his heart.
He drew in a deep sigh and mounted the three familiar steps he had so often climbed. But as he lifted his hand to knock, the door squeaked open. His father stood in the doorway. He was stooped with age, his face wrinkled and his long beard almost white. He was steadying himself with his walking stick as he smiled wistfully.
Yaqu gazed at his father intently. His father looked back at him, still smiling. Then they both moved forward hesitantly and embraced, wishing each other Merry Christmas.
In their mutual awkwardness, Yaqu's kiss landed on his father's eyebrow instead of his cheek and his father kissed him on the chin.

His little sister then limped with effort toward him, smiling timidly through her soulful eyes.

"Edakh breekha, Khaati," [7] he greeted her in a hoarse voice, hugging her warmly and kissing her on both cheeks.
He then absent-mindedly turned as though to meet and greet a third person. His gaze fell on the family-room sofa on which his mother would always sit. It was vacant and his mother was not there.
Yaqu then remembered that his mother was no longer there to rise up to meet and greet him with her shy and gentle smile as she had done on previous Christmases and Easters; to give him his holiday present—a warm kiss on each cheek.

He felt a sudden overwhelming sadness! He also felt lonely and confused like a little boy who expects a Christmas present that isn't there.

His father's hand then rested upon his shoulder, as though to comfort him. Yaqu stood and stared at the empty seat for a moment, a strange, tingling sensation coursing through his body. He then felt his throat tickle…and the sofa swam before his eyes.
Standing stock-still for a long moment to catch his breath and check his emotion, he looked deeply into his father's eyes and said: "My father, my family and I…we are returning…uh… to live with you again!"
Before his father could comprehend his meaning and reply, Yaqu heard a pattering of little feet. He glanced sideways and saw his three-year-old niece Mary running towards him and crying out "Khaalu! Khaalu!" [8] She was followed by her mother who apparently had preceded him for a Christmas visit with her father and sister.

Yaqu was very fond of his niece. She was a cuddly little girl, affectionate and cheerful and he often pampered her. She had a pretty round face that looked every day more and more like his mother's, he thought.

Bending down, he scooped her up into his arms. She wrapped her little arms around his neck and planted a warm and moist kiss on each cheek.

Smiling through his tears, Yaqu looked at his father and his two sisters. All of them were beaming back at him through shining eyes.

Yaqu had found his missing Christmas present!
* * * * *
A big inch-thick oval or round Assyrian pastry baked from a mixture of flour dough, butter and egg yoke and stuffed with mirtukha, another mixture of flour fried in butter and sometimes sweetened with sugar.
Small oval-shaped cakes made with mixture of milk, white flour, butter and yeast and stuffed with either a thick mixture of dates, water
and cardamon or a thick mixture of sugar, walnuts, water and cardamon and baked in oven.
Lumps of white ground cheese stored in the ground for months in an earthenware jar sealed with cloth plastered with mud.
An unsweetened butter made from crushed sesame seeds, somewhat like peanut butter, but darker and more liquidy, with a different taste.
A large oblong sheet of thin bread made from whole wheat dough, baked in a special earthen oven.
First-born son.
"Merry Christmas, my sister."
"Uncle! [maternal] Uncle!"
Trilogoy of Murder: Conspiracy & Beyond
Courtesy of the Turkish Daily News
15 December 2007
Orhan Kemal Cengiz
Turkey
Let us look at the Father Santora, the Hrant Dink and the Malatya murders from a different perspective. Santora was a Catholic priest in Trabzon. Hrant Dink was of Armenian descent and a well-known intellectual but also he belonged to the Orthodox community. As everyone knows, the missionaries who were brutally killed in Malatya were Protestants. Basically three sets of murders eliminated people who belonged to three different sects of Christianity. If you are a person who likes conspiracy theories you could produce really complicated and plausible conspiracy theories in the face of these murders.
Imagine there are some "deep state" elements within Turkey who follow the Ittihat ve Terakki (Union and Progress) mentality which prevailed in the falling Ottoman Empire. If you assume the existence of this kind of central power/deep state apparatus which wishes to manipulate Turkey and its political atmosphere, and their involvement in these murders, then the whole meaning and the context of these man slaughters would be changed.
The message of the murders
Let us continue our conspiracy instruction process. What would these murders then mean? What would be the target of these moves? What kind of purpose would these murders possibly be serving? Three murders from three Christian sects in Turkey. You are sending very strong message to the every individual member of these sects that they are not wanted in Turkey. In this way you would be one step closer to your final goal of getting rid of the remaining handful Christians and you would contribute to the ethnic/religious "purification" of Turkey. What else? These moves will also have the potential to block the European Union process. Do not forget that just last week a Syriac priest had been kidnapped and a journalist of Greek descent have been severely beaten by "unknown" people, both of which indicate that, if there is such a conspiracy, it is still unfolding. If you want to continue this conspiracy theory you can go even deeper and make it more sophisticated still.
Trabzon and Malatya
Santora was killed in Trabzon which is very cosmopolitan and full of potential for conflict between different sectors of society who are sharply separated ethnically, religiously and culturally. Likewise, Malatya has a similar demographic structure. Dink was killed in Istanbul but his murder was a huge conspiracy on its own. As you see this chain of murders have the potential to serve multiple purposes at once. The Christian population will be got rid of. The seeds of huge conflicts will be sown in some cities that have huge potential for internal conflict between different sectors of the society and another obstacle between Europe and Turkey will be put in place. I could continue this conspiracy producing process but I think this is far enough!
People in Turkey like conspiracy theories a lot and most of the time they tend to think that "foreign intelligence services" have had a finger in these kinds of events in order to lead Turkey into an unknown position. Our people, however, are not aware of the fact that what has been happening in Turkey has a huge potential to create implausible, well supported conspiracy theories about Turkey's internal power balances, as I indicated above. Let us put conspiracy theories aside for a while and look at some concrete facts and try to evaluate them in this trilogy of murders
If we leave aside speculations, what we have in our hands is the following: These are typical hate crimes aiming at eliminating some people because of their thoughts and their religious affiliations. In spite of these murders there has been no punishment or a prosecution for the ongoing hate speech campaigns toward minorities on the Internet and in media in Turkey. There is no awareness whatsoever on the part of the judiciary about their duty to stop these kinds of "hate speech campaigns," instead they still press charges against intellectuals who publicly discuss the existence of minorities in Turkey. Basically legal provisions, similar to their western counterparts, aiming at protecting minorities against hate speech are used to punish those who claim that there are certain minorities in Turkey. This is really unbelievable but unfortunately a routine practice.
What about the court cases that continue right now?
... It would constitute a conspiracy theory to allege that all these murders are centrally planned and coordinated.
... A Syriac academic, who was reportedly working on Armenian and Syriac genocide related issues, was killed when his throat was slit and as you all know a catholic priest was stabbed in the stomach while he was conducting a religious ceremony in İzmir. After each incident I kept saying that these incidents would not be the last ones.
I was in Malatya just one day after the massacre of three Christians there and I held a press conference together with the leaders of the Protestant community in which we said, we know this will not be the last incident. And it was not. Murder of the Syriac academic and the assault on the catholic priest will not be the last ones either. This will continue. Maybe until Turkey faces a series of pressure from the outside world!
I still do not believe any central planning for these attacks. What I do believe, though, is not less serious than these conspiracy theories about the central power's notorious acts in Turkey. I believe there is a deep-rooted institutionalized racist attitude among the security forces in Turkey. I believe a significant portion of Turkish society somehow identify themselves with the murderers not with the victims. I know many people believe that Christians, especially missionaries, are extremely dangerous and their only aim is to divide this country for the Western powers!
There are many books, thousands of articles about these kinds of "clandestine" missionary activities. The National Security Council, which includes our big, big generals, seriously put the threats posed by the missionaries on its agenda. Our generals have discussed many times the dangerous activities of the missionaries who were able to convert at the most 2,000 Muslims to Christianity so far. Our population is 70 million and we have the second biggest army within NATO, yet we are still deeply afraid of handful Christians. Of course if these big, big generals discuss this issue seriously, ultra nationalist, violent youth start to consider the matter as a life or death problem. When these youngsters decide to handle the problem in their own way, our security forces turn a blind eye to their activities, and many people applaud these youngsters after such incidents. Affiliations of the security forces some times go well beyond ignorance of the preparation processes. Some officials and some people who have links with officials whisper into the ears of these youngsters: "Look our country is in great danger! Someone should stop these Christians! Our hands are tied by laws, we cannot do anything, and someone should do something."
There are thousands upon thousands of youngsters out there who are ready to kill someone on the slightest indication that the person concerned is doing something against Turkey. These murders will continue unfortunately, because all necessary conditions exist and there is no plan, action whatsoever to stop this man eating machine.
The government's responsibility
For a long time the Recep Tayyip Erdoğan government has benefited from our infamous, notorious, unique, so-called division between the "state" and the "government." This division indicates that you cannot be in power in Turkey just by being elected by the people because there are some other self appointed central powers. This is true to some extent. However, it is not a good excuse for the Erdoğan government for doing nothing in the face of these attacks over Christians. They not only are the government but also got the second man in the AKP elected as president. They may not be controlling the army but they have full control over the police forces. In all these murders, when you dig enough, you can trace the links of the murderers both within the police and the gendarmerie. Another institution, which is fully under control of the government, the Directorate of Religious Affairs, spreads discriminative and provocative propaganda against Christians in this country. It is high time for Erdoğan and his friends to put aside this role of helplessness and innocence. These attacks are strong wake up calls for the government. They preferred not to hear and to compromise against what happened in Şemdinli in which soldiers were caught red handed after bombing a bookstore. However if they continue this way, they may find themselves in a nightmare on Elm Street after which they may not be able to wake up again.
I think Erdoğan government has no excuse anymore! If they do not take the necessary steps, they will have the full responsibility of these shameful acts! I hope they will wake up soon!
God Revealing His Name
Pastor Henry Andrius Shaheen
United Kingdom
pastorhenrybaz@aol.co.uk
Introduction
If God, the creator of heavens and earth, has a Name then who would know it and how? Would this God accept the name we, sinners as we are, give to Him? Can the created give a name to his creator? Do we give names to our parents? Would any name we may choose be suitable of His nature, Person, Character of holiness, righteousness, justice and all His other attributes, all that He is? If we don't and can not know Him then how can we name Him? The simple answer is: No; no one can unless He reveals Himself and His Name to us.
In this article I will attempt to help fellow believers in Jesus Christ within our nation to understand the meaning of the Name of God, that He (God) revealed to Moses as we read in (Exodus 3:13-15), within the context of the whole Bible, and how that meaning is powerfully revealed, fulfilled and manifested in the Name above all names, in the Person of our Lord and Saviour Jesus Christ – Emmanuel (God with us Matthew 1:23).
a) Jesus Christ and the Scriptures: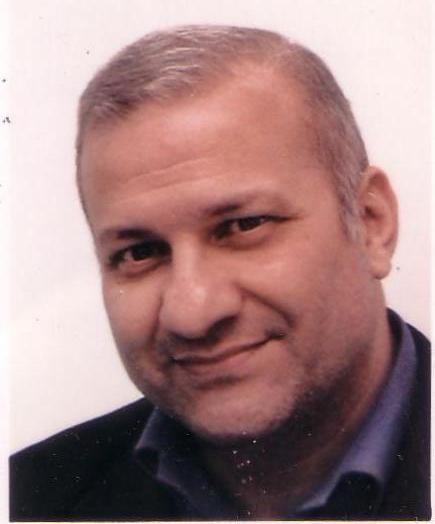 Rev. Henry Andrius Shaheen
For all believers in our Lord and Saviour Jesus Christ, Jesus Christ is the Lord God (John 20:28) whom God the Father sent as the Saviour and Redeemer and the present and future Judge, to all nations of the earth to save them by His Grace revealed in Jesus (John 1:16-18) from Sin (John 1:29; Romans 3:9), and grant those who believe in him eternal life (John 20:31), and judge those who don't believe accordingly (Acts 10:42).
Jesus is the subject and interpreter of the Scriptures in both Old Testament (OT) and New Testament (NT). Now because Jesus is the climax, full and final Revelation of God and His glory (John 1:1, 14; 2 Timothy 5:16), then the key to understand OT Revelation is the person of Jesus Christ, his Words and Works and ultimately in his death on the cross and resurrection and ascension, and the descent of the Holy Spirit. Jesus Christ is himself The Revelation of God. He alone fulfils all Scriptures and all Prophecy (Matthew 5:17). The OT is the book about the Lord Jesus as he himself taught, preached and attested (Luke 24:25-27, 44-45) & (John 5:39-40). Jesus says that the Law, the Prophets and the Psalms, all predicted his suffering and glory. Jesus speaks of Moses as a real historical person who wrote about Jesus coming (John 5:45-47), and Moses wrote by the Holy Spirit of Christ's sufferings (Hebrews 11:24-27). Therefore the Scriptures (from Genesis to Revelation) are our final and ultimate Authority in matters of faith and life, as well as in matters of interpretation and understanding the living Word of God the Word of the Holy Spirit (2 Timothy 3:16; 2 Peter 1:19-21). The fundamental rule is that Scripture interprets Scripture because it is one book and about the Person of Jesus Christ.
Therefore, we listen first to Jesus our Lord, and secondly to his witnesses (the Apostles and the Prophets in the OT), and last of all sift what men and women, sinful as we are, say about biblical matters of Christian faith. We listen to our Lord and to his disciples how they quoted the OT Scriptures as being fulfilled in Jesus Christ the Saviour; and the NT is full of such quotations; but this article is not the place to discuss this subject in details.
As believers we must be well educated and armed in the Word of God in both Testaments and ready to answer any one about our faith and hope (1 Peter 3:15). For some Christians the Word of God seems difficult to read and understand, but we forget that it is written for the normal person and not only for theologians or the most educated people in the society. Also, what helps in biblical studies is knowledge of the original languages of the Bible, namely Aramaic, Hebrew and Greek. We, the Aramaic speaking nation, are privileged to know Aramaic (if not then we aught to).
b) Understanding stories in biblical Revelation:
One of the main principles in reading, understanding and interpreting biblical stories is this: the Bible is God's Revelation of Himself in time and space in the history of mankind. He describes and explains the significance of His actions with individuals and among all nations on earth. The biblical formula I would suggest when reading any biblical story, is what I have learned from a dear Christian believer, friend, theologian and preacher (Rev. David Jackman), and here it is:
Event + Divine Explanation = Divine Revelation
A good example is Luke 9:28-36 where Peter, John and James witnessed our Lord Jesus Christ in his eternal divine glory on the mount of transfiguration. Two other figures appeared with Jesus, namely Moses and Elijah. The Disciples saw something (the event) and they misunderstood its meaning when Peter made the wrong suggestion by making three shelters for each one of them, as if all three stand on the same level of importance and allegiance. But then the voice of the Father (the Explanation) came from heaven explaining what and why this happened, and what they should do about it. "This is His beloved Son" whom should be obeyed alone (proper demanded response) because he is the True Leader who will lead his flock after completing his mission in Jerusalem on the cross (Luke 9:31).
The Bible is God's progressive Revelation of Himself. It is the story of God's plan of salvation, His acts of salvation and judgement among all nations of the earth (none is excluded for God does not show favouritism Romans 2:11) since the Fall when man sinned and rebelled against God and His Word, as we read from Genesis chapter 3 onwards. It is about God the Father establishing His everlasting righteous kingdom (and not the kingdom of a specific nation; it doesn't belong to any nation) and gathering people from all nations (since all have sinned and fall short of the glory of God Romans 3:23) by His Grace into this kingdom, without discrimination, where those chosen ones are created anew (a new creation), and transformed by the power of His Word and the Work of the Holy Spirit into Christ likeness, through faith in Jesus the King and His atoning death on the cross. He will rule through his cross. The Cross of Christ is central to the whole Bible.
c) Who can know God's Name?
According to the biblical story (Genesis 6-10) only 8 people were saved from the universal flood judgement on sin and sinners (salvation in the midst of judgement). God saved Noah and his family by His Grace (Genesis 6:8); thus they have had the knowledge of the True God. In chapter 11 of the book of Genesis we read about the second universal judgement on mankind because of its rebellion against God in the story of the tower of Babel, where people had one language (all descendents of Adam from Noah after the flood) and tried to stay united and make a name for them other than the Name of God; they acted against God's Will. The divine judgement was to confuse their language and make them speak different languages and then disperse them on the face of the earth. The knowledge of the True God and although was propagated through all succeeding descendents and generations, it became distorted from one people to another, and thus people according to nations began to create images from their own imaginations of this God. Some began even to classify gods and worship them accordingly. The history of all nations witness to this and world museums have these gods on their display for all to see and read about.
Whenever and wherever God revealed Himself and communicated His messages, He had spoken to (inspired) the Prophets in the language they and their people understood. For example, we know our Lord Jesus spoke (beside other languages) the Galilean dialect of the Aramaic language, and in his days the classic Aramaic was the lingua-franca of the day in the Fertile Crescent. The Revelation (message) is more important than the medium (the language).
d) The meaning of the biblical words "Ehyeh Asher Ehyeh":
In Exodus (3:13-15) God revealed His glory and His Name to Moses on mount Horeb in the flame of fire out of the midst of a mountain bush. It was an awesome sight that Moses couldn't bare to stare at and look, that he covered his eyes and face, especially when God's voice was heard; Moses was standing unconsumed in the presence of the Holy God.
God's holiness is central to His being and His love as well. The word Holy in the Hebrew language (qodesh) (and I think also in Aramaic) implies the separation. God is separated from His creation because He is the creator; He alone is the God of glory. He is the ethical standard and the basis and the Reference of all moral distinctions; i.e. any thing good is that which He wills, and any thing that resists this divine will is evil and sin. He is the righteous, pure, good and just. Both Testaments witness to these attributes.
In this encounter, God reveals to Moses what He is about to do for His people the descendents of Abraham – the sons of Israel (Israel being the name which God gave to Jacob son of Isaac, son of Abraham). It is a crucial moment in the history of God's plan of salvation for mankind, as we shall see later in this article, and also discover who the real children of Abraham and God's people are. When Moses understands that he is chosen to take this message to the people and to Pharaoh, he asks God of His Name. He is aware that both fellow Israelites and Pharaoh will question him. Then God says to Moses (in Hebrew script): "

- Ehyeh Asher Ehyeh" is My Name; and "

- Ehyeh" is My Name.
In Aramaic it is written like this:

. But why did God use these specific words and what do these words mean?
We have here two words both in Hebrew language, namely: "Asher" and "Ehyeh", and form the biblical text (Exodus 3:13-15) we can clearly see that God's Name is emphasised and revealed in relation to the word "Ehyeh" and not "Asher", and shortly we will discover why.
The word "Asher" in the biblical Hebrew language is a relative pronoun (made of three consonants only, Alap, Shen and Resh) and could be translated in our Aramaic language as either: "that -

لأ " or "which –

" or "who –

" (in Arabic

، ) depending on the context of the sentence (who or what is referred to). These are the only meanings of this word in any (OT) biblical text and Hebrew language. When the Old Testament Hebrew text was translated into other languages then the equivalent pronoun (of God) in those languages was used. Some translations kept the original Hebrew phrase as in our Aramaic Bible, since translators saw that that is revering to God, but the original meaning remains unchanged.
This word "Asher" must not be confused or replaced with the word "Ashur". In biblical Hebrew the word is

"emphasis on s and therefore some times is written as Asshur" (in Aramaic is

) which is a noun. In the Hebrew language the word "Ashur" as seen above is made of five consonants Alap, Shen (doubled with a dot inside), Waw and Resh (see Genesis 10:11, 22; two descendents of Noah named Asshur, one from Ham and the other from Shem). Linguists, and biblical scholars in particular would never attempt to impose the noun meaning within certain language over the pronoun meaning (or borrow the noun meaning from another language), because this will have impact on grammar and text meaning throughout the biblical text, and will render absurd grammar, translation, interpretation and meaning of text.
The second and more important word for our understanding of the Name of God is the word "Ehyeh". It is a verb, the first person singular imperfect conjugation form of the verb

(Hyh – in past tense), and the meaning (present tense) is: come to pass, become, be" (in Aramaic

) and (in Arabic

). In the present tense of the Hebrew verb is written as
(in Aramaic

) and (

- in Arabic ) and it means "to be" or "to become". In the Bible "Be" is often used with the subordinate idea of becoming: exist or be in existence; the meaning relates to origins and beginnings (Ethothah

) and of (Shorayah

).
Thus, the word

Ehyeh reflects also a state of being or existence, and of being active (working always) according to original or existing nature of God.
Therefore, "Ehyeh" means either: "I AM", or "I will be".
Thus the literal translation of these words is (in English): I AM WHO I AM, or I WILL BE WHO I WILL BE, or I AM THAT I AM.
In Aramaic:

In Arabic:

In Exodus 3:15 God says

– tell the people Yahweh (Yhwh) sent me; (

in Aramaic); (in Arabic

) and grammatically this is the proper noun from the Hebrew verb "Hyh" mentioned above.
[It is clearly seen now that God chose the verb word "Ehyeh" as the meaning of His Name, and this word actually conveys who He is eternally. He is who He is and who was and will be always. He is the unchanging God from eternity to eternity and by choosing this verb then He reveals that He is not a passive and alienated God from His creation and human beings, rather He is active in His creation and in the history of mankind according to His Will and purposes as revealed in the Bible from Genesis to Revelation. He is revealing and declaring independent existence, Will and determination].
Now that we've covered the literal meaning of these words, we shall resort now to the immediate and wider context of the book of Exodus and the Bible for deeper understanding of the meaning of God's Name through God's character, Word and Works; who He is, eternally that He is. The as a whole will help us to understand who He is (i.e. His Name). We already understood that He is the Holy God; holiness is His nature.
First we will look how God revealed the meaning of His Name among His elect according to the Old Testament and then we will look how that meaning was revealed gloriously in the New Testament among His elect, the Church; so please be patient with me.
1) God's Name seals the Covenant with His chosen people:
Listen to what God says to Moses and to the Israelites when He revealed His Name: I AM the God of your fathers, the God of Abraham, the God of Isaac and the God of Jacob. God is revealing His Name (who He is) in relation to these three patriarchs, why and what relationship? It is the Covenantal Relationship which God has initiated with Abraham by His Grace, years and years ago when God made Divine promises to Abraham and his descendents (although Abraham was still childless), promises that which He (God) will bring to fulfilment. Through this Covenant Abraham and his descendent will become God's people (His possession or property) and Him their God. Later in the article (point 3) we will understand who the true children of Abraham are. The blood of sacrifices which Abraham prepared as God commanded him sealed this Covenant, and was consumed by God (which means accepted by Him) (Genesis 15). In Genesis 12:1-3 (and repeated in following chapters too) we read about the threefold promises God made to Abraham: 1) God will make Abraham a great Nation; 2) God will give him a special Land and; 3) God will bless all nations of the earth through Abraham. Thus, the first aspect of the Name God is linked with His Will and what He has determined to do in accordance with His initiated Covenant. This promise was confirmed to Isaac (the son of the promise born miraculously to Abraham and Sarah), and to Jacob as we read it in (Genesis 26:1-5; 35:9-15); He didn't make a new Covenant with Abraham's descendents yet.
He is the God of the Covenant and by this action people will have relationship with God in this Name (with who He is). Have you noticed God is simultaneously linking His Name with each of the patriarchs individually (… the God of Abraham, the God of Isaac and the God of Jacob …), and with the descendents collectively? He is, simultaneously, God of the individuals and God of the people; that is what He is always. He is the personal God who creates a relationship with persons (individuals) and people of His choice; the Creator is with His people on earth.
At the time when God appeared to Moses, God have already fulfilled His first promise to Abraham, that He will make him a great Nation (We know God changed his name from Abram - the high father, to Abraham -father of many, Genesis 17:4-5). Please note also (Exodus 1:7) in the beginning of Exodus book where the children of Israel have multiplied and are still increasing in the Land of Egypt even though under persecution; but it is not their land and it is not the Land promised to the forefathers. But now God is about to fulfil His second part of His promise and take His people in a journey into the Promised Land. God is faithful to His Word of promise because that is His nature: He is faithful and His Name is linked with His faithfulness.
So, God is the Covenant God who is Holy and faithful to His promises, who has willed and is determined to fulfil all His promises; this is who He is and how He acts from eternity to eternity; unlike sinful human beings, He never broke a promise He made to His elect.
2) The Name that Save His chosen people:
In (Exodus 3:7-8) of this chapter God says to Moses: "I saw and heard the cry, the suffering and humiliation of my People in Egypt and therefore "I came down" to rescue/save them: I came down to be with them; not that He wasn't with them until that moment otherwise His first promise of great nation wouldn't have been fulfilled. Rather it means that God feels with and for His people in their suffering. He is compassionate about His people and this is another attribute of His character and nature. He has forgotten neither His promises nor His people. He moves with compassion towards His chosen people. In (Exodus 34:5-7) God reveals more about His nature, that He is loving, kind and merciful and full of Grace. By His Grace He chose Noah, Abraham and Isaac and Jacob and Israel, not because of their goodness or piety. In (Deuteronomy 7:7) God says to Israel I have chosen you because you are the least of all nations, and He acted as such because He is the loving God who is faithful to His promises made to the fathers (the Patriarchs).
The Egyptians sought persecuting and destroying the people upon whom God chose and bestowed His Name those to whom the promises were made. The attack led by and under Pharaoh's name and power is actually an attack on God's Name and Word of promise and Will, on who He is. There is nothing that thwarts the Will of God from fulfilment and no one who can stop the Grace of God from achieving its works. In response to Pharaoh's attitude towards the Israelites in Moses days, we know that more than 400 years had elapsed since Joseph and his family settled in Egypt. The new Pharaoh is either ignorant of his nations' history, or (most probably) chose to refuse to recognize what this God saved Egypt and his forefathers from the famine through Joseph for Egypt.
In the book of Ezekiel (36:20-21, 22) God speaks with compassion about His Holy Name and how He does everything for the sake of His Name (who He is). God is about to judge and punish the land and the people who try to defy and humiliate His Name, Work and Will, those who seek to destroy His people, and in the midst of this judgement He will save His people; Salvation in the midst of Judgement; salvation and judgement through signs and wonders in heaven and on earth. "I will come down and I will bring them up", from the land of captivity and slavery to the land of freedom to worship "Me", the Lord alone and live under and My law; the people of God in the land of God and under God's rule and kingship.
Moses says to God in V.11, who am I to go to Pharaoh; he is afraid, but God had already said to Moses: I AM sending you and I AM with you and I AM saving the people; not you Moses! He already said: I will come down; I will be with you; I will be with the people; I AM saving them and not you. It is as if God is saying to Moses: My Name is with you and with the people and against Pharaoh; I AM doing it for My Name. My Name is above yours and Pharaoh's and above any other man's given name under the sun.
Through 10 plagues and with the eleventh when Pharaoh and His whole army drawn in the sea, salvation was completed. God's Name was revealed in powerful acts of salvation and judgement.
Thus, God wants His people to know, to remember and to teach and to proclaim Him as such, from one generation to another; that He is the loving gracious merciful God, who is the Saviour and Judge of all (even His own people when they rebel against Him), who keeps and fulfil every Word of promise that came from His mouth, because He is the only True God. This is His Name; I AM WHO I AM and He does every thing for His Holy Name (for who He is the Holy One).
3) The glory of God's Name and the New Covenant in Jesus Christ:
According to the book of Genesis chapter 3 and when Adam and Eve sinned and rebelled against God in the Garden of Eden the place of rest, harmony and peaceful relationship with the Holy God, God made a promise to both of them (Genesis 3:15) that one of their descendents (referring to a child/person in the singular) will come and will crush the serpent's (Satan) head, and bring salvation to mankind (descendents of Adam & Eve, which means all nations are in view) and restore peace and rest with God. Satan enticed mankind to sin and thus were separated from God; sin became the barrier between the Holy God and sinful man (Isaiah 1:1). In Genesis 12:7 God reveals more about this promise of the special and unique descendent to Abraham the patriarch. A descendent (the word in this verse appears in the singular form, too) will come through whom the whole nations of the earth will be blessed. This is also confirmed (the descendent in the singular) by the Apostle Paul in his letter to Galatians (3:15-18). When we read about Adam's descendents in Genesis 5, we note the phrase "… and he died …" repeated again and again of Adam and his children and grandchildren. Adam was eagerly waiting to see this descendent who will save him and all his family, from his/their sins and restore that lost relationship with the Holy God, and bring blessings. It wasn't Able (who was killed) or Cane or Seth or Anosh or Noah or any of his children after the flood. It wasn't Abraham nor Isaac nor Jacob or any body else, not even David or Solomon! They all died and their graves are witnesses to that till this day; they didn't bring that great salvation to mankind, because a sinner cannot save sinners! Then who is he this child?
Those who knew God and believed unto and were faithful to Him (like Simon in Luke 2:22), those whom God revealed Himself to them waited in hope for the coming of this child; they looked forward to meet him generation after generation. They lived by faith in God's Word and Promise to see him. Who is he and how can we know him?
Brothers and sisters, this child and person is the one in whom God will reveal all His eternal deity, glory and power and Grace, in him God will reveal the fullness of His Deity. In him God will reveal His mercy, steadfast love, salvation and judgment. In him God will reveal His Name and the power of His Name for salvation and judgement; to him alone will be given the Divine Name. This descendent will reveal who God is.
This child brothers and sisters is non-other than our Lord and Saviour Jesus Christ as we find on the pages of the New Testament. In (Matthew 1:17) we read about all generations from Abraham to Jesus Christ which confirm that no one had ever filled this role, other than Jesus who is the Saviour. He is the blessing for all nations (Galatians 3:14). It is also worth noting that the Name of Christ is linked with captivity in Matthew (1:17). Spiritually all humanity is a prisoner and in the captivity of sin, and dead spiritually and eternally; all mankind is in need of this Saviour.
In (Matthew 1:21-23) we read of the good news and tidings of the birth of Jesus. The angel says that the child in the Blessed Virgin (Luke 2:48) Mary's womb is conceived by the Holy Spirit and that the child is a boy and he must be named "Jesus" (which means Saviour in biblical Hebrew) for he shall save his people from their sins. He is the Son of the Most High; he is the Son of God the Father; he is The King who will rule forever. His Name is Jesus (

) because he saves (Matthew 1:22). Then and in accordance with Isaiah's prophecy his Name is "Emmanuel" which we all know means "God with us". God the Saviour is Himself here now with us in the flesh.
Unlike the Gospel writers and witnesses Matthew & Luke who wrote about Jesus earthly birth (in time and place), John by the Holy Spirit writes and reminds believers of the eternal existence of the Son of God Jesus Christ within the Holy Trinity. In (John 1:1,14) the Apostle writes of the Word of God who was with God and is God and that this Word of God became flesh and dwelled among us and showed his glory that which of the Father. He revealed God the Father to mankind (John 1:18). He also says in (John1:17) that Grace and Truth were in Jesus Christ. He is greater than Moses. "He came down" and emptied himself from his glory to save those who believe. And here we see more of the revelation of the Name of God and about God Himself. The Holy Trinity was not known to those believers of old, but now God reveals more about His existence, about who He is – The Holy Trinity, The Father and The Son and The Holy Spirit.
Paul writes to Timothy in (1Timothy 3:16) and says with all believers: "great is the mystery of godliness: God was manifested in the flesh, justified in the Spirit, Seen by angels, preached among the Gentiles, believed on in the world, received up in glory". This person in whom God revealed all His Deity is Jesus Christ (Colossians 2:9). With the Apostle Thomas we say: "Jesus our God and Lord". He himself came down to save humanity from the deadly disease called sin; where? Not in a palace! But on the cross; How? First by bearing our sins becoming the Lamb of God the holy divine sacrifice; secondly by taking the judgement and its punishment and wages of our sins that is eternal death. And then he rose in glory from the dead as a proof of his divinity and assurance of sin forgiveness and the promise of eternal life. "This is our God the Servant King" as we sing it in the church, joyfully. He had risen! Indeed risen and his tomb is empty; Jesus Christ has conquered sin and death for the sake of those who believe in him, and the Father who sent him.
On the cross we see God's glory; we see salvation and judgement, mercy and love and justice. This is why we boast in and are proud of the Cross of Christ (Galatians 6:14). In his resurrection Jesus will bring those who believe up from their death into life, with him into his glory. "He will bring them up". Aren't these the same words of God to Moses! I came down to take them up. Referring to his death on the cross Jesus says "if I am lifted up I will attract all to me" (John 12:32-33); all those who believe in his Name. He is the only good Shepherd who will lead his flock into eternity.
In John 8:56-58 and speaking to the Jews our Lord reveals his eternal existence by saying: "Your father Abraham rejoiced to see my day and he saw it, and was glad. Then said the Jews unto him, Thou art not yet fifty years old, and hast thou seen Abraham? Jesus said unto them, Verily, verily, I say unto you, Before Abraham was, I AM."
Jesus says: IAM the Way, the Truth and The life; I AM the good shepherd; I AM the door; I AM the light of the world. I AM the Resurrection and the Life. And in the book of Revelation (1:8) he says: "I AM the alpha and Omega, the beginning and the end who is and who was and who is to come, the Almighty"; he is who he is eternally; He is Ehyeh
He is the God who is always with His people and will never leave them and who will take them to be with him forever in his second coming. Jesus is the Name above all names and before whom every knee shall bow whether as saved believers or condemned rebellious sinners (Gal. 2:9-11). There is no other name given under heaven for salvation other than the Name of Jesus.
Paul writes to the church in Philippi (2:8-11): … And being found in fashion as a man, he humbled himself, and became obedient unto death, even the death of the cross. Wherefore God also hath highly exalted him, and given him a name which is above every name: That at the name of Jesus every knee should bow, of things in heaven, and things in earth, and things under the earth; And that every tongue should confess that Jesus Christ is Lord, to the glory of God the Father.
But is the story over? No. Remember his name is God with us and this is his promise as we read in (Matthew 28:20) IAM with you for ever. How? He ascended to the Father and then sent God the Holy Spirit to be with the Church (all those who believe in him from all nations) and to save and judge and condemn people from all nations, those who don't believe (John 14). The Holy Spirit is with us, in us upholding us and changing us into Christ likeness through obedience.
Now who are the true people of God who are Abraham's descendents? Surely, they are not the descendents according to the flesh as Paul writes to the Galatians 3:26-29;
(… For ye are all the children of God by faith in Christ Jesus. For as many of you as have been baptized into Christ have put on Christ. There is neither Jew nor Greek, there is neither bond nor free, there is neither male nor female: for ye are all one in Christ Jesus. And if ye be Christ's, then are ye Abraham's seed, and heirs according to the promise; rather they are those who are according to the faith of Abraham ….). Can it be clearer than this? God's people, Abraham's children are not those who descended according to the flesh but born from God the Father by faith in God's Word, Jesus Christ the Word of God who is God. Abraham was justified neither by works, nor by circumcision nor by Moses Law; rather he was justified (made righteous) by God's Grace (act of God) (Romans chapter 4). Abraham is the father of all those who believe in the Word of God and justified by his work on the cross.
And what does the Apostle John says in the Gospel according to him in chapter one:
…. He came unto his own, and his own received him not. But as many as received him, to them gave he power to become the sons of God, even to them that believe on his name: Which were born, not of blood, nor of the will of the flesh, nor of the will of man, but of God.…. (John 1:12-13).
The children of God are those born of God through faith in Jesus His Son and his death and resurrection and second coming. Yes, brothers and sisters we are waiting and praying for his second coming as he commanded (Revelation 22:17 … And the Spirit and the bride say, Come. And let him that heareth say, Come. And let him that is athirst come) and promised to take us to the heavenly city, the eternal kingdom where there is no death or tear or sadness, rather joy forever. He is coming back to take his true church to be with him forever. If some one thinks that Abraham sought the earthly inheritance, then he should read (Hebrews 11:10). Abraham was looking forward to see not a man made city, rather the heavenly city whose builder and architect is God Himself.
Paul writes in Romans 5:1-2; therefore, having being justified by faith, we have peace with God through our Lord Jesus Christ, through whom also we have access by faith into this grace in which we stand, and rejoice in hope of the glory of God. And in Romans 3:21-31 we read:
But now the righteousness of God without the law is manifested, being witnessed by the law and the prophets; Even the righteousness of God which is by faith of Jesus Christ unto all and upon all them that believe: for there is no difference: For all have sinned, and come short of the glory of God; Being justified freely by his grace through the redemption that is in Christ Jesus: Whom God hath set forth to be a propitiation through faith in his blood, to declare his righteousness for the remission of sins that are past, through the forbearance of God; To declare, I say, at this time his righteousness: that he might be just, and the justifier of him which believeth in Jesus. Where is boasting then? It is excluded. By what law? of works? Nay: but by the law of faith. Therefore we conclude that a man is justified by faith without the deeds of the law. Is he the God of the Jews only? is he not also of the Gentiles? Yes, of the Gentiles also: Seeing it is one God, which shall justify the circumcision by faith, and uncircumcision through faith. Do we then make void the law through faith? God forbid: yea, we establish the law.
Salvation is by God's Grace in Christ and his works on the cross, his blood, his righteousness and not our works; we are saved to do good works, we do not do good works to be saved. He bestowed on us his righteousness to appear righteous before God the Father, all glory to His Name.
On the Pentecost day (Acts 2) the Holy Spirit descended and gave the disciples to speak all available known languages to unite believers under one Name, Jesus Christ, by preaching repentance and salvation in his Name. This was the reverse of the incident of the tower of Babel mentioned earlier; Grace unites people whereas sin separates them from each other.
Conclusion:
The Apostle Paul writes about the relationship between believers and both Old and New Testaments and Jesus, saying that we (the Church): "… are built upon the foundation of the Apostles and Prophets, Jesus Christ himself being the chief corner stone" (Ephesians 2:20); and this is the faith of the Church since its birth in Jerusalem on the day of the Pentecost, and over the passed 2000 years and till this day, and will ever be till Jesus' return. The church over the centuries preached the message of salvation in Christ Jesus Name as he himself preached it: "Repent for the Kingdom of God is near". Peter the Apostle commands all sinners to repent from their sins and be baptized in the Name of Jesus Christ for the forgiveness of sins, and call Jesus "the Lord our God" (Acts 2:38-39); this call is for each one of us.
The writer of the letter to the Hebrews says: Jesus Christ is the same, yesterday, today and forever (Hebrews 13:8); He is the never changing and the Great I AM.
As believers in the Bible we worship God the Father through Jesus Christ the Son (and his divine given biblical names) by the Holy Spirit, we pray as commanded in the blessed Name of Jesus; we are baptised in the Name of Jesus (Acts 19:5; Romans 6:1-14).
This is our God and this is His Name and the only Name found in the true and faithful church of Christ, before whom every knee ought to, must and shall bow in heaven, under the heavens, on earth and under the earth (Romans 14:11), either now for salvation or later for judgement. His Name is Jesus, the Rock of ages, and our Rock of Salvation and He will usher us into the everlasting Kingdom.
Book References:
The Bible – KJV & The Aramaic Bible & The Arabic Bible
New Dictionary of theology – IVP – Sinclair B. Ferguson & David F. Wright
A practical grammar for classical Hebrew – J. Weingreen
The New Brown-Driver-Briggs-Gesenius Hebrew-English Lexicon
Zarreera - Arabic – Syriac Dictionary

Pastor Henry Andrius Shaheen serves "The Assyrian Church" in London, England. He was born in Basrah-Iraq in 1959 and finished his university education with a B.Sc in Electrical Engineering-Computer science from Basrah University, Iraq (1980). He then completed a one-year Corn Hill training course in London, United Kingdom (1993). He holds a B.Sc in Pastoral and theological studies from Oak Hill College in London, United Kingdom (1996); and a post graduate degree in biblical linguistics-Hebrew language from the Cheltenham and Gloucester College of Higher Education in Cheltenham, United Kingdom (1997).
Ashurbanipal's Journey to Become a Hero
Eli Mansour
Australia
King Ashurbanipal (ca. 668-627 B.C.) was the ruler of ancient Assyria at the height of the Assyrian military and cultural accomplishments. He is known in Greek writings as Sardanapalus and as Asnappeer or Osnapper in the Bible. Ashurbanipal was not only a feared warrior but also a great patron of the arts.
Through military conquests Ashurbanipal also expanded the Assyrian territory and its number of vassal states. However, of far greater importance to posterity was Ashurbanipal's establishment of a great library in his capitol, the city of Nineveh. The military and territorial gains made by this ruler barely outlived him, but the library he established has survived partially intact. A collection of 20,000 to 30,000 cuneiform tablets containing approximately 1,200 distinct texts remains for scholars to study today. Ashurbanipal's library was not the first library of its kind, but it was one of the largest and one of the ones to survive to the present day. Most of it is now in the possession of the British Museum or the Iraq Department of Antiquities.
The importance of Ashurbanipal's Library cannot be overstated. It was buried by invaders centuries before the famous library at Alexandria was established and gives modern historians much information about the peoples of the Ancient Near East. The ancient Sumerian "Epic of Gilgamesh" and a nearly complete list of ancient Near Eastern rulers among other priceless writings were preserved in Ashurbanipal's palace library at Nineveh. Ashurbanipal's accomplishments are also of great importance to scholars of library history.
As a scholar Ashurbanipal reached greatnesss. His library was one of the largest and the first library modern scholars can document as having most or even all of the attributes one expects to find in a modern library. Like a modern library this collection was spread out into many rooms according to subject matter. Some rooms were devoted to history and government, others to religion and magic and still others to geography, science, poetry, etc. Ashurbanipal's collection even held what could be called classified government materials. The findings of spies and secret affairs of state were held secure from access in deep recesses of the palace much like a modern government archive. Each group of tablets contained a brief citation to identify the contents and each room contained a tablet near the door to classify the general contents of each room in Ashurbanipal's library. The actual cataloging activities under Ashurbanipal's direction would not be seen in Europe for centuries. Partially through military conquests and partially through the employment of numerous scribes there was significant effort placed into what modern librarians would call collection development.
Thus, centuries before the library at Alexandria, a library with many of the characteristics of a modern institution was in existence. Scholars of library history would be well served by further study of Ashurbanipal and his palace library.
Ashurbanipal succeeded his father Esarhadon in 669 BC. He achieved the greatest territorial expansion of the Assyrian empire, which included Babylonia, Persia, Syria, and Egypt, although Egypt was soon lost as a result of a revolt.
Soon after his departure Assyria fell to the combined forces of Babylonia and Media, on 612 BC due to the flood, which destroyed the Assyrian defences and left, them wide open for destruction by their enemy.
Interview with Ashurbanipal
Interviewer: Hello, I'm here with Ashurbanipal. First I'd like to thank Your Majesty for being here with me tonight.
Ashurbanipal: Thank you, happy to be here.
Interviewer: First, how did it feel to have been the leader and head commander of so many sieges that gave you such a massive empire?
Ashurbanipal: Well, first of all it was very hard to achieve these successes. But I think I had the faith of my soldiers, which is why I was so successful in my mission in life.
Interviewer: What do you mean by your 'mission in life'?
Ashurbanipal: My mission in life was one thing: to expand Assyria to the farthest reaches of the earth.
Interviewer: Why did you decide to learn to read and write in many languages even though so many kings before you didn't?
Ashurbanipal: I felt this could make me able to connect which the tribal leaders of Assyria and tribal leaders all over the world to make peace and share an understanding with them.
Interviewer: So how do you feel being called the greatest king in the Assyrian history?
Ashurbanipal: To tell you the truth it is quite a down-thing to hear it. I was just a man on a mission for the people. I did what I had to do to create peace and stability in the region. Since Assyria was a superpower it was my responsibility to work hard to achieve it.
Interviewer: The last question I have for you tonight is how would Your Majesty feel about a possible loss of your large empire after so many years of victory during your reign?
Ashurbanipal: It would be shocking, knowing that my country could have fallen and that I couldn't save the soldiers and the innocent people.
Interviewer: It was lovely to speak with you and ask Your Majesty these questions.
Ashurbanipal: It was a pleasure being here with you tonight and I trust my people will rise again and free themselves from Humbaba.
Bibliography
Biblical World
History of the World's Art
and information from my family


Mr. Eli Mansour is 13-years-old and lives with his family in Sydney, Australia. Zinda Magazine encourages our young readers to present book reports, original research, and social commentaries from our youth for publication in Zinda.
Assyrian Massacres in Ottoman Turkey and Adjacent Turkish Territories

The following is an exerpt from the book "Assyrian Massacres in Ottoman Turkey and Adjacent Territories" by Professor Anahit Khosroeva, an Assyrian scholar of the genocide studies, living in Yerevan, Armenia. This excerpt was first published in the Hetq Online, the official website of the Investigative Journalists of Armenia, on 10 December 2007.
Professor Anahit Khosroeva
Armenia

Throughout the history of the world, namely the 20th century, there have been numerous wars and much genocide to go along with them. So, the 20th century has entered into history as a century of genocides. In the history of mankind it had never occurred before that so many nations be subjected to physical extermination or the danger of it. The reality of the genocide has been one of the worst acts throughout the history of mankind.
The word "genocide" originally comes from the combination of the ancient Greek word "genos", meaning people or folk, and the Latin word "caedere", meaning slaughtering or destroying. The term "genocide" first appeared in scientific literature and political lexicon in 1944, with the right of authorship pertaining to Raphael Lemkin, a Polish lawyer of Jewish descent. This invention of Lemkin's is mainly due to two tragedies of the 20th century: the genocide of the Armenians in the Ottoman Turkey during World War I, and the holocaust of Jews in Fascist Germany during World War II [1]. As Lemkin has truly noticed, those were not the ordinary carnages or slaughters, but, qualitatively, a new phenomenon, which required a fundamentally new approach and assessment, and a new scientific definition. As a term and definition of crime, genocide was accepted by various international organizations, and first and foremost - by the United Nations, the most authoritative international body of today. On December 9, 1948 the General Assembly of UN adopted the Convention on the Prevention and Punishment of the Crime of Genocide, which is an international document of historical significance.

The International Convention of the Prevention and Punishment of the Crime of Genocide on December 9, 1948 set the United Nations definition of genocide

General Assembly Resolution 260A (III) Article [2]

In the present Convention, genocide means any of the following acts committed with intent to destroy, in whole or in part, a national, ethnical, racial or religious group, as such:
Killing members of the group
Causing serious bodily or mental harm to members of the group
Deliberately inflicting on the group conditions of life calculated to bring about its physical destruction in whole or in part
Imposing measures intended to prevent births within the group
Forcibly transferring children of the group to another group
Today it is very well-known sad fact that the first genocide of the history, which took place ninety two years ago was the Armenian Genocide in the Ottoman Turkey. But during the same period together with Armenians, some non-Turkish nations were subjected to or faced the risk of genocide, also. Let's particularly mention the Assyrians. Who are they?
The Assyrians are one of the most ancient nation of the world, whose ancestors stood at the cradle of the world civilization and made a great contribution to the development of world culture. More than two and a half thousand years have passed since the fall of the Assyrian kingdom (605 B.C.). The descendants of Assyrians, continuing to live on their historical land in ancient Betnahrain, which occupies the territory between the Persian Gulf, the Mediterranean Sea, Lake Urmia and the deserts of Mesopotamia, were consistently oppressed by Persians, Arabs, Mongols, Ottoman Turks and Kurds. Now this long-suffering people have refuged on the boundaries of Iraq, Iran, Turkey and Syria - on a limited territory of the Upper Mesopotamia.

During their centuries-old history the Assyrian nation passed a severe way of struggle for existence and went through quite a few fateful moments. In the second half of the 19th and at the beginning of the 20th century they were subjected to the oppressions carried out by Turkish authorities and fought against the Ottoman dictatorship. But the terrible ordeals that this nation underwent during World War I were unprecedented throughout the history of mankind. In 1914-1918, during World War I unleashed by the Great Powers, the traditional Turkish destructive policy reached its zenith. The Assyrians subjected to the severe Turkish yoke were murdered and died on the ways of deportation in the deserts of the Middle East.

What were the causes of the Assyrian genocide and was it possible to avoid it? In order to understand this we need to have some knowledge about the era of the late Ottoman Empire. Let's see why and how the genocide of the Assyrians happened in this area?

At the end of the 19th century the Ottoman Empire was a multinational state, in which along with Turks lived Arabs, Armenians, Assyrians, Albanians, Greeks, Bulgarians, Bosnians, Jews, Serbs, Kurds, and other nations. All the political, military and spiritual power belonged to the Turks and only served toward their interests. Under the circumstances, the Turks only managed to maintain the authority by violence. It was not accidental that the policy of slaughters, which scope increased in the 20th century and rose to the level of state policy, presented the most critical feature of the internal political and national life of the Ottoman Empire and the principal weapon in solving the national problems. Hence, the history of the Ottoman Empire of the 19th and early 20th centuries appears an infinite series of slaughters, tortures and demeaning the dignity of the Armenians, Assyrians, Greeks and the other non-Turkish peoples of the Empire.

At the end of the 19th century a number of Assyrian villages could be found in the Eastern parts of the Ottoman Turkey: in the Hakkari sanjak of the vilayet (region) of Van, in the vilayets of Erzerum, Diyarbekir, Bitlis, Kharberd (Harput) and Sebastia (Sivas) in Western Armenia, as well as on the territory of Lake Urmia in Iran, Mosul in Iraq and in the north-western regions of Syria. More than one million Assyrians with common language, culture and national traditions lived there. By their social and religious characteristics they were divided into several groups. In terms of religion Assyrians were divided into Nestorians, Chaldeans, Jacobites and Orthodox believers. Socially they were divided into two large castes: Ashirets (independent tribes) and Rayas (the subordinate people), who were mainly engaged in farming and cattle breeding. Ashirets paid only nominal taxes to the Turkish government, but Rayas constantly suffered from its pillages and lived in extremely poor conditions: they were almost starving, exposed to Kurdish forays and often were forced to serve in the Turkish army.

Many Assyrians studied in Turkish educational institutions, but getting the corresponding certificates could not fill public positions. They did not even have an opportunity to economically develop their regions. Turkish authorities dissolved the Assyrians among other nations in order to deprive them of the possibility of joining and putting up a united front. Eventually, as the subsequent historical events showed, the Assyrians suffered the same cruel fate as the Armenians and other minorities living under the control of the Ottoman Turkey.

In 1876, Sultan Abdul Hamid II (1842-1918) rose to the Ottoman throne, who governed with iron hand for 33 years, up until 1909. He kept in fear and horror everyone, both his advocates and opponents, all the peoples, even the Turks. The years of his reign went down in the history of the Ottoman Empire as years of "zulum" - horror and autocratic dictatorship. He introduced individual and mass murders into the Ottoman political "culture", as the best method to settle the problems the Empire faced. Mass murders of the non-Turkish peoples in the Empire a component of the new political "culture" by Abdul Hamid. It is known that the pivotal idea of Abdul Hamid's external and internal policies was Pan-Islamism, which aimed at joining together around Turkey all the countries and territories populated with Mohammedans, by no means excepting the oppressions of non-Turkish nations and repression of national liberation movements. Military and political authorities, Kurdish Hamidiye cavalry units, and Muslim mobs all participated in the crime. In this period along with hundreds of thousands of Armenians, tens of thousands of Assyrians also fell a victim to the mass slaughters, which were organized based upon this very political intentions.

In October 1895 the mass massacres of Assyrians started in Diyarbekir and, afterwards, spread everywhere in the Empire. The Assyrian slaughters reached unprecedented levels: horrible events happened in many places, during which a great number of people emigrated, were forcedly converted to Islam or murdered. About 100 thousand Assyrians from 245 Christian villages were Islamized2. Thousands of Assyrian young girls and women were forced into Turkish and Kurdish harems.
On October 20, 1895 in Amid (Diyarbekir) slaughters of Christians were perpetrated by Turkish and Kurdish rabble. The Assyrian Church of The Blessed Virgin gave refuge to many Christians: Assyrians, Armenians, and Greeks. Fortunately, this church was not exposed to aggressions which can hardly be said about the Assyrian villages most of which were ruined and plundered by Kurds. During those dire days several Assyrians went to their clerical leader suggesting making Armenians go out of The Blessed Virgin Church in order not to draw down Turk's anger. In response to this request the Assyrian priest answered to his people: "The people who cross themselves will stay in church to the end. Should we be killed, we will be killed together"[3]. 119 villages in Diyarbekir region were scorched out and ruined. 6 thousand Christian families, about 30 thousand people were killed[4].

The massacres of the Assyrians were continuing in every region of the Ottoman Empire. At the end of the 19th century as a result of the massacres organized by Sultan Abdul Hamid II in the Ottoman Empire along with 300 thousand Armenians 55 thousand Assyrians also fell a victim to the Turkish dictatorship[5]. During the Armenian slaughters these brutalities perpetrated towards the Assyrians added new pages to the bloody history of the Ottoman Empire. These were the total massacres, genocidal by nature. In fact the 19th century and especially the dreadful events of its last decade had baneful consequences for the Assyrians in the Ottoman Empire paving the way for even greater disasters.

So, the Ottoman Empire entered the 20th century as a backward dictatorial state, which organized mass slaughters of the nations inhabiting the Empire. The crisis, which involved the political, economic and social systems, still deepened. The massacres exacerbated the situation and bared the vices of the Ottoman state. In the eyes of all the peoples of the Empire, even in the eyes of the Turkish people, Sultan Abdul Hamid was an odious person, the symbol of their misfortunes, violence and torture. The idea of riddance of the bloodthirsty sultan was growing and maturing. The Young Turks were the ones to effect it. On July 23, 1908 the Committee of Union and Progress (Ittihat ve Terakki) organized a coup. Sultan Abdul Hamid was deprived of power; in 1909 he was dethroned.

The Young Turks came onto Turkish arena under the slogans of the French Revolution: "Liberty, Equality, Fraternity". All the nations in the Empire, Moslems or Christians, welcomed the overthrow of the "red sultan" with enthusiasm. The people believed in that a new era in the history of the Ottoman Empire had dawned. Yes, shortly after, it turned out, that the Young Turks were well disguised ardent nationalists, who continued the policy of oppressions and slaughters, carried out by the preceding sultans. They were advocates of the idea of assimilation of all the nations of the Empire to create a pure Turkish nation, never even stopping before mass slaughters in order to achieve that goal.

As Henry Morgenthau, the American Ambassador to Turkey 1913-1916, says: "The Young Turks were not a government; they were really an irresponsible party, a kind of secret society, which by intrigue, intimidation, and assassination, had obtained most of the state"[6].

It was stated in the Young Turks' party program: "Sooner or later all the nations under Turkish control will be turned into Turks. It is clear that they will not convert voluntarily and we will have to use force"[7]. During one of the secret meetings a Young Turkish ideologist Dr. Nazeem said: "The massacre is necessary. All the non-Turkish elements, whatever nation they belong to, should be exterminated"[8].

So, as we can see, the figures changed, new rulers came, the policy persisted. And the problem of minorities, racial and religious, had been to a large extent solved by the simple method of extermination[9].
On August 1, 1914 World War I broke out. World War I was a most tragic episode in the history of mankind, which, certainly, didn't go past the Assyrian nation. The Ottoman Turkey officially joined in the war on October 29, 1914. Turks thought that participation in the war will considerably raise Turkey's authority, satisfy their vanity and dignity. In fact this war was a good opportunity for Young Turks to test the viability of the all-Turkish ideas in practice, to realize their aggressive and wild plans, which met with support among the military-feudal, bourgeois, ittihatic-chauvinistic elite. Talaat Pasha, Turkish Minister of Interior, in a conversation with Dr. Mordtman, the dragoman of the German Embassy in Instanbul, said: "Turkey is intent on taking advantage of the war in order to thoroughly liquidate its internal foes, i.e., the indigenous Christians, without being thereby disturbed by foreign intervention"[10]. A central committee member Union and Progress Bahaeddin Shakir told almost the same: "We are in war, there is no threat of intervention by Europe and the Great Powers, and the world press either will not be able to voice a protest. Even if we do not succeed, the problem will become an accomplished fact, the voices will calm down, and no one will dare to express a protest. We should make use of this exceptional situation as much as possible. This kind of opportunity is not always available …"[11].

The subsequent events showed that Turks really were not afraid of the Great Powers' intervention and perpetrated massacres of a number of nations in the Ottoman territory. The Assyrians also did not elude the mass slaughters and forced emigration. The genocide of the Assyrians was perpetrated with unspeakable brutality. From May, 1915 mass murders and deportation of the Armenians and Assyrians began in the regions of Bitlis, Diyarbekir, Erzerum, Kharberd, Sivas and Van. The expelled Assyrians, attended by armed detachments of Turks, were exiled to the deserts of Syria and Mesopotamia.

The American Ambassador H. Morgenthau says: "When the Turkish authorities gave the orders for these deportations, they were merely giving the death warrant to a whole race; they understood this well, and, in their conversations with me they made no particular attempt to conceal the fact"[12].

The extermination of the Christians in Diyarbekir was controlled by the head of that region Reshid Bey. The Assyrians of Mardin, Midyat and Jezire regions were especially badly hit by the Turkish massacres. The priest of local Chaldean Assyrians Joseph Naayem reported that "since April 8, 1915 horrible massacres had taken place: Turks gathered men above 16, beat, tortured, killed them, and afterwards put turbans on their heads and photographed them in order to prove the world in future that Christians oppressed Mohammedans[13].

In September 1916 the American periodical "Martyred Armenia" translated from the "Original Arabic" an article by an Arab eyewitness of massacres, Fayez El Ghosein, where the author adverted to the slaughters of the Assyrians in Diyarbekir: "In Midyat and Mardin an order was issued to murder only Armenians, and not to disturb the members of all the other communities. Learning about the misfortune of their brothers (the Armenians) the Assyrians immediately took a position in three villages close to Midyat and rebuffed the Turkish army exhibiting bright examples of valour. …The Assyrians fully recognized that they were dealing with a deceitful state, which will tomorrow withdraw the promise of not disturbing them and will strike more badly those whom it had granted a pardon yesterday"[14].

Jevded Bey, the governor of the region of Van, a person with a number of negative characteristics, who was a master of misdeeds, conspiratorial plans and at the same time was specialized in lying and shamming, had a "butchers' battalion" comprised of 8,000 soldiers. Jevded organized horrible massacres of the Assyrians in this region never seen before. One of the striking examples of this was the terrible slaughter organized in Hakkari region in spring 1915, where Turks murdered about 60 thousand Assyrians. Then during the following years about 70 thousand Assyrians were annihilated: some of them were murdered, others starved to death or were killed in the battles against Mohammedans.
In early June 1915 mass slaughters of Assyrians took place also in the northern part of region of Van. The village Qochanis, which was considered the Assyrians' clerical leader Mar-Shimoun's residence, was totally destroyed. The patriarchy building was scorched out.

On June 30, 1915 Leslie A. Davis, the American Consul in Harput 1914-1917, wrote to US Ambassador H. Morgenthau: "Turks have found another way of exterminating the Christians - forced emigration. On June 18 it was publicly announced that all the Armenians and Assyrians should leave Harput within five days"[15].

Hundreds of children were bayoneted by the Turks and thrown into the Euphrates, and how men and women were striped naked, tied together in hundreds, shot, and then hurled into the river. In a loop of the river near Erzinghan, ...the thousand of dead bodies created such a barrage that the Euphrates changed its course for about a hundred yards[16].

Unfortunately, during the World War I the Assyrian massacres were carried out also on the territory of Iran, which had proclaimed itself a neutral country on November 2, 1914. On the Iranian side of the border a catastrophe took place during five months of Ottoman occupation in 1915 (January to May). Kurdish tribes and Ottoman troops moved in to an area characterized by anarchy. The Ottoman occupation of the Urmia was very bloody and the atrocities grew in violence once it became clear that the Russian army along with its Assyrians volunteers were returning. The first major massacre committed by Ottoman troop in Iran on defenceless civilians took place at the village of Haftevan at the end of February 1915. Assyrian males from the area between Dilman and Khosrowa were assembled allegedly for registration, but instead were slaughtered in very primitive fashion. In the town of Urmia Ottoman officials entered the French mission compound on February 12 and seized more than 150 persons. Sixty of these men were kept in jail. Some were hanged just outside the city gates and the rest were shot at Jewish Hill cemetery on February 23. The inhabitants of the outlying village of Gulpashan were massacred and plundered despite having paid "protection" money to authorities[17]. The actual number of deaths during this time has never been calculated, but they must have been enormous.

R. Stafford, an Englishman who was the former administrative inspector of Iraq's Ministry of Foreign Affairs, fairly observed: "It would be a great progress for Turks if they could show that regardless of what happened to the Armenians, another Christian community in Turkey (the Assyrians) is quite satisfied with its fortune"[18]. And what was their fortune?
The strategy of the slaughters, the way they were organized and carried out served as an irrefutable evidence of the slaughterers' decision to totally exterminate a nation whose striving for unity, the desire to be loyal to its national identity and the Christian religion was impossible to destroy or shatter for a long time. Doomed to a total extermination, this outcast nation could rely only on its desperate bravery. The Assyrians really did not let that villainous crime be committed in obscurity. Even though unarmed, they fought to the very end without a slightest hope of victory.

As it can be seen, the Assyrians, being a national and religious minority, were in a dependent position in the society they lived. This means that in the existing Ottoman regime, this nation had to suffer oppression and different forms of deprivation of rights. The antichristian oppressions became more acute especially because of the existing religious hostility towards this nation.

André Mandelstam, the first dragoman of the Russian Embassy at Constantinople wrote: "The Young Turk government was able to only partly carry out its plan to establish a radically turkified Ottoman Empire by way of profiting from the opportunities afforded by the Great War. Nevertheless, it succeeded in destroying approximately one million Armenians, and hundreds of thousands of Greeks, Lebanese, Assyro-Caldeans"[19]. In reality, as we know today 1,5 million Armenians[20] and 750,000 Assyrians were subjected to genocide during World War I.

In November, 1916 the New York Times published Dr. W. Rockwell's (Professor in Union Theological Seminary and member of American Committee for Armenian and Syrian relief) article entitled "The Total of Armenian and Syrian Dead", where telling about the Armenian massacres in Turkey the author wrote: "How many Armenians and Syrian non-combatants have died of disease, hardship, or violence during the last two years? ...The Armenians are not the only unfortunates; the Syrians (Assyrians) also have been decimated. Great numbers of them have perished, but no one knows how many"[21].

Another American periodical, newspaper the Atlantic Monthly wrote: "In six months the Young Turks succeeded in doing what the Old Turks were unable to accomplish in six centuries. The extermination of the Armenians is well under way. Thousands of Assyrians have vanished from the face of the earth"[22].

Thus, during the World War I in the Ottoman Turkey and the adjacent Turkish territories a real genocide was implemented according to the criteria of international law. The Ottoman Turkey and the Great Powers are guilty of the bloody massacres of both Armenians and Assyrians. With the criminal connivance of the Great Powers and taking the opportunity presented by the martial law Turkey committed the gravest crime against mankind - genocide. The criminal policy of Sultan Abdul Hamid II and the Young Turks against the Armenians and Assyrians permits us to conclude that at the end of the 19th - early 20th century the Ottoman state developed into a genocidal state and became the cradle of genocide.

But the tragedy of Assyrians did not come to the end with this. Both during the World War I and after it the Assyrian nation bled both from the Europe's incitements and from the slaughters and oppressions organized by Turkish, Kurdish, Iranian and Arabic tyrants.

So, as we could see:

The Assyrian Genocide was an alleged genocide against the Assyrian population of the former Ottoman Empire and Ottoman Turkey. Those supporting the genocide theses claim that the Assyrian population of the Eastern parts of Ottoman Turkey were forcibly relocated and massacred by Turkish and Kurdish forces during the years 1895-1896 under the regime of Sulat Abdul Hamid II and during WWI (1914-1918) under the regime of the Young Turks.

Reasons for the genocide vary. Since Armenians and Greeks also claim they were the subject of forced relocations and barbaric executions, some cite religious persecution against the Christian community of Anatolia as the cause. Others, including the Turkish government, claim that the Assyrians and Armenians sought autonomy from the Ottoman Turkey and joined the invading Russian army in the east. The Assyrian and Armenian communities, as Turkey claims, were seen as a threat and as a result were relocated to the Syrian Desert. Many deaths occurred on the "Death Marches" from starvation and dehydration, which Turkey claims was an accident.

The total death toll of Assyrians is unknown, but some estimates claim that 500,000-750,000 of them were killed.

The Assyrian question needs an international solution. This problem has so far been out of the limelight of the world community. For the reestablishment of justice, recognition of the national identities and cultural development it is essential that Turkey be condemned, as:

Since the proclamation of the Turkish Republic international laws have been ignored in this country.

A member of the UNO, Turkey implements decisions incompatible with the criteria it had accepted.
Turkey does not fulfill the obligations placed on it by international agreements.

Not recognizing the principle of "equality of rights and freedom of self-determination of nations and peoples" Turkey violates the rights of local Assyrians.

"Genocide" considered the greatest crime against the humanity by the UNO, is even now consistently implemented by Turkey towards the Assyrians.

Exiling Assyrians, qualified as a crime by the UNO, Is still the case in Turkey.

The UNO condemns national discrimination. Turkey continues the policy of assimilation adopted by its forerunners under the slogan "One nation, one language, on religion, one flag and one country".

The UNO condemns terrorism, but Turkey still continues to carry out a policy of terror against Assyrians destroying their spiritual and material values.

The Articles of the Universal Declaration of Human Rights adopted by the United Nations General Assembly do not reach the territory of Turkey.
---------------------------------------------------------------------------------------
1. In 1933 Dr. Lemkin was deeply disturbed by the massacre of Christian Assyrians in Iraq.http://www.europaworld.org/issue40/raphaellemkin22601.htm
2. Sargizov L., A Friendship Coming from the Ancient Times (The Assyrians in Armenia), Atra, N 4, St. Petersburg, 1992, p. 71. (Rus.)
3. Mkund T., Amita's Echoes, New York, 1950, p. 234. (Arm.)
4. The Armenian Genocide in the Ottoman Empire, A collection of documents and materials under the editorship of Prof. M. G. Nersisyan, Yerevan, 1966, p. 120. (Arm.)
5. Khosroeva A., The Assyrian Genocide in the Ottoman Turkey and the Adjacent Turkish Territories (late 19th and the first quarter of the 20th centuries), Yerevan, 2004, p. 44. (Arm.)
6. Morgenthau H., Ambassador Morgenthau's Story, New York, 1918, p. 11. (Eng.)
7. Lepsius J., Bericht über die Lage des Armenischer Volkes in Türkei, Potsdam, 1916, p. 220. (Germ.)
8. Rifat Mevlan Zade, The Dark Pages of the Ottoman Revolution and Ittihat's Plans of Extirpating Armenians, Yerevan, 1990, pp. 98-99. (Arm.)
9. Marriott J.A.R., The Eastern Question, An Historical Study in European Diplomacy, 4th ed., Oxford, Clarendon, 1958, p. 536.(Eng.)
10. Dadrian V., Documentation of the Armenian Genocide in Turkish Sources, London-New York, 1991, p. 112. (Eng.)
11. Der Zor, Paris, 1955, p. 258. (Arm.)
12. Morgenthau H., op. cit., p. 309.
13. Alichoran J., Du génocide à la diaspora: les Assyro-chaldéens au XX siècle, Paris, 1994, p. 370. (French)
14. Ghosein El Fayez, The Slaughters in Armenia, Cairo, 1960, pp. 19-20.(Arm.)
15. Leslie A. Davis, The Slaughterhouse Province. An American diplomat's report on the Armenian Genocide 1915-1917, New-Rochelle, NY, 1989, p.144.(Eng.)
16. Morgenthau H., op. cit., p. 318.
17. Gaunt D., The Assyrian SEYFO in Hakkari and Urmia, Assyrian Star, vol. LVIII, Number 2, pp.14-15. (Eng.)
18. Stafford R. S., The Tragedy of the Assyrians, London, 1935, p. 27. (Eng.)
19. Mandelstam A., La Société des Nations et les Puissances devant le probléme Arménien, Paris, 1926, p. 23. (French)
20. Kherlopian K., Genocidology, A Study of the Armenian Genocide, Beirut, 2006, p. 398.(Eng.)
21. Kloian R. D., The Armenian Genocide, News Accounts from the American Press (1915-1922), California, 1985, p. 188-189. (Eng.)
22. Ibid., p. 193.

A Special Report on the Assyrians of Iraq by Barnabas Fund - 26 October 2007
To View the Report Click on Photo Above