British Parliament Raises Question of Autonomous Region for ChaldoAssyrians of Iraq
(ZNDA: London) On 21 October, the following three questions pertaining to the ChaldoAssyrians of Iraq were tabled for written answers:
For Lord Hylton—To ask Her Majesty's Government what measures they are taking, in conjunction with the interim government of Iraq and the United States, to protect the lives of Chaldo-Assyrian Christians from murder, and their church buildings from destruction by bombs. (HL4609)
For Lord Hylton—To ask Her Majesty's Government whether they will consult with the offices of the United Nations High Commissioner for Refugees in Damascus and Amman to ensure that adequate assistance is afforded to Chaldo-Assyrian Christians who have recently fled from Iraq. (HL4610)
For Lord Hylton—To ask Her Majesty's Government whether they consider that an autonomous region near Mosul should be established for the Chaldo-Assyrian ethnic and religious minority; and whether they will ensure that special provision is made for this minority in any future constitution of Iraq. (HL4611)
The Jubilee Campaign, a Christian human rights organisation established in the United Kingdom, issued the following press release on 22 October:
At a meeting chaired by Stephen Pound, MP in the House of Commons on October 21st, the UK branch of Iraq's leading Christian political party, the Assyrian Democratic Movement and the Christian human rights organisation, Jubilee Campaign, called for an Administrative Region for the ChaldoAssyrian Christians of Iraq, which they can administer for themselves. Article 53 (D) of Iraq's Transitional Administrative Law guarantees the ChaldoAssyrians the right to administer their own region. It states, "This law shall guarantee the administrative, cultural and political rights of the Turcomans, ChaldoAssyrians, and all other citizens."
Stephen Pound MP and other speakers at the meeting, jointly organised by the Assyrian Democratic Movement (UK branch) and Jubilee Campaign, stressed that the British Government should support the creation of an Administrative Region in the ChaldoAssyrian heartland in the Nineveh Plains. The escalating attacks perpetrated against the ChaldoAssyrians by extremist and fanatical Islamic groups warrants the creation of such a region. The meeting also called on the British Government to strongly support the return of ChaldoAssyrian villages in the provinces of Nineveh and Dohuk, which the ChaldoAssyrian's Arab and Kurdish neighbours have encroached on. ChaldoAssyrians, who feel threatened, especially in Mosul and parts of Baghdad, could then move to the regions of Nineveh and Dohuk, rather than flee their ancestral homeland in Iraq.
Christians have been subjected to escalating violence in Iraq, including a series of bombs exploded at five churches across Baghdad early on Saturday 16th October. There were no casualties in that incident. Islamic extremists conducted lethal terrorist bombings on Sunday August 1st against 5 churches in Baghdad and the northern city of Mosul, which killed 12 people and injured many more. On July 4th, two ChaldoAssyrian children were killed in Baghdad at their home by Islamic terrorists. Raneed Raad, 16, and her six-year-old brother, Raphid, were shot dead. Since April 2003, the assassinations of at least 88 Christians have been recorded by ChaldoAssyrian organisations in Iraq. The most recent victim was a little girl who was brutally murdered by Islamic extremists. In the wake of the August church bombings and other anti-Christian violence, tens of thousands of ChaldoAssyrians have fled, further decimating Iraq's Christian presence.
The headquarters of the Assyrian Democratic Movement in Baghdad came under mortar attack in the early hours of Sunday morning, August 8th 2004. The Assyrian Democratic Movement is the leading political party representing the ChaldoAssyrian Christians of Iraq. One of this party's founders and its current Secretary General, Yonadam Kanna, was the only Christian member of Iraq's former Governing Council and is now one of four ChaldoAssyrian Christians serving in the Iraqi National Assembly. Over 95 percent of Iraq's Christians are ChaldoAssyrian and they are the indigenous people of Iraq, descended from the ancient Assyrians of Biblical times. Their language is Aramaic-based and similar to the Aramaic which Jesus spoke.
The meeting's speakers were Stephen Pound MP, John Michael, an Assyrian who is British representative of the Assyrian Democratic Movement, Professor Eden Naby, an Assyrian and specialist on the Middle East, Shamiran Mako, from the Council for Assyrian Research and Development and Human Rights Without Frontiers, and Wilfred Wong, Parliamentary Officer for Jubilee Campaign.
John Michael says, "If the International Community, specifically the governments of the U.S.A and U.K, want peace, stability and democracy to prevail in Iraq, thus spreading throughout the Middle East, then the security and continued presence of the ChaldoAssyrians in their ancestral homeland must be guaranteed. Therefore, it is imperative that the British government supports the ChaldoAssyrians in every respect, including the creation of an administrative region for the indigenous ChaldoAssyrian people, as granted under article 53(D) of the Iraqi Transitional Administrative Law."
All the speakers supported the meeting's call on the British government to urgently encourage and support the creation of an administrative region for Iraq's ChaldoAssyrians; financially support the reconstruction of ChaldoAssyrian villages and infrastructure; provide across the board political support to the ChaldoAssyrians; assist ChaldoAssyrians in their struggle to reclaim their towns and villages; financially support the return and resettlement of ChaldoAssyrian refugees and to facilitate the ability of those forced to flee Iraq by the Hussein regime, or exiled in recent months, to register to vote if eligible.
In his presentation to the meeting, Wilfred Wong stated, "There is no danger of the Kurdish or Arab community disappearing from Iraq but there is a real risk that one day soon the ChaldoAssyrian community may largely vanish from that country. Not only are the ChaldoAssyrians facing the usual risks of violence which all average Iraqis have to currently put up with in their daily lives, they are also having to deal with the additional violence of being targeted by Islamic fundamentalists simply because they are Christians and intimidation from their Kurdish neighbours because they want to grab ChaldoAssyrian land for themselves. The British government must support the forces of moderation in Iraq, which include the Christian community. Moderate Muslims would be much better able to oppose the Islamicisation of Iraq if they had the support of a strong Christian community and the British government should do all it can to empower Iraq's Christians."
Stephen Pound MP says, "This meeting is only the start of a process to bring the world's attention to the terrible suffering of the Christian communities in Iraq. By meeting today we not only raised the issue in the British Parliament but also sent a strong signal of support and solidarity to this persecuted minority. No one in Parliament can now say they are unaware of the sufferings of this beleaguered community. I'm very grateful to the UK branch of the Assyrian Democratic Movement and the Jubilee Campaign for organising this meeting."
Press Release of the Assyrian Church of the East
Press Release
Father George Bet Rasho
Press Secretary, Assyrian Church of the East
Western United States
21 October, 2004
"The Truth Shall Set You Free"
Prayers and blessings receive. We greet you all in the Name of our Lord and Savior Jesus Christ. May you be in the best of health and happiness, rejoicing in the blessings bestowed upon us by our Holy and Merciful God. We pray that this day and every day starts with His will, and that it continues under His Grace, complete with joy and happiness.
We humbly ask that the information that is provided here be used to build up the crumbling wall that embodies our Assyrian Nation and the Church. It is highly unfortunate that misleading statements and outright falsities have created division when we should all be united as one. These allegations and false assertions do not serve to anyone's benefit; rather, it causes nothing but pain and disruption. Character assassinations are for breaking down the ties that bind us, not for building them up. We appreciate and encourage a free flow of expression so that all may engage in honest debate, but it ought to be done in such a way so that no one is hurt and that all may benefit.
We have heard on some occasions murmuring and outright criticizing regarding the Patriarch of the Holy Apostolic Catholic Assyrian Church of the East and the location of his see. Contrary to some popular belief, the location of the see has not always been in Baghdad. History has shown us that the see has been moved on many occasions due to such calamities as discrimination, persecution and genocide. This was done not to protect the physical well being of the Patriarch at that time, but to preserve the office of the Patriarch and what it represents. Such decisions were made solely for the benefit of the universal church at large and not for any one person. We do believe the day will come, hopefully in the very near future, that the see of the Patriarch will one day return to the ancestral home of the Assyrian people. However, this is a delicate matter that absolutely cannot be rushed and should only be done at such a time that it serves the Church and Nation's best interests. We will recall when Mar Benyamin, one of the greatest leaders and martyrs we have ever known, was assassinated when he rushed to attend what he believed to be a peaceful meeting. We honor and respect his memory and what he stood for by engaging in such forethought.
There have been questions raised in regard to the celebration of the 28th Anniversary of the Consecration of His Holiness, Mar Dinkha IV. It is imperative for all to know that this celebration emanates solely from individual parishes. There is not a call from on high commanding us to engage in this event. Furthermore, it is not a party or a celebration in the customary sense. It is a spiritual celebration as we rejoice in the work of God in our church where we sing spiritual hymns. In addition, this annual celebration is a fundraiser for the Patriarchal Fund, the only one we do throughout the entire year, that supports our clergy studying abroad, at time provides help to fulfill some of the needs of our parishes in the Middle East, and many other pressing needs which we serve to meet through this very fund.
As to charges of the Patriarch and the bishops as a whole not caring about the plight of Assyrians in Iraq, nothing could be further from the truth. In fact, at this year's dinner, he declared that the upcoming rogation of St. George the Martyr, taking place this Monday, October 25th, through Wednesday October 27th is dedicated to the people of Iraq and to the peace and stability that is desired by all. When the bishops held their synod in Chicago, the plight of Assyrians in Iraq was discussed at great length. In fact, His Holiness has sent the following letter (please see attached) to Ghazi al-Yawer, the current President and chief of state of Iraq. Moreover, His Holiness is in constant contact with Mar Gewargis, his representative in Iraq.
The Church of the East is as strong as it has been for the past six hundred years due to the diligence and commitment of all our members and the leadership of our bishops and Patriarch. As we continue on our upward scale, we wish to bring our people together in harmony and love for one another no matter where in the world we are, but especially to those who are suffering through hardship.
Lastly, we recognize that the Church and our Assyrian Nation are symbiotic and we strive to do anything within our power to maintain a strength and dignity that can never be torn down by pettiness or condescension.
Ibrahim Baylan, The First Assyrian in the Swedish Government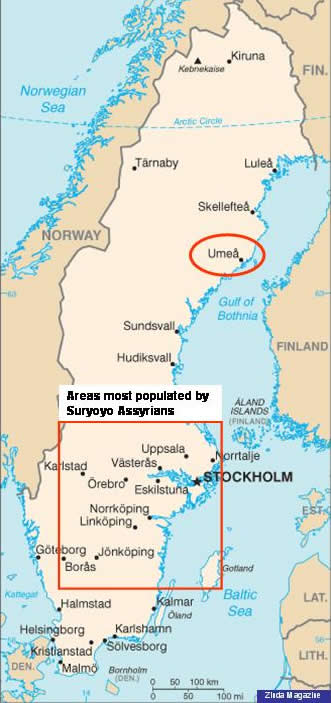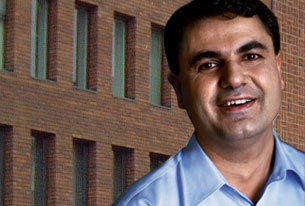 Ibrahim Baylan, the new Minister of Education in Sweden is that country's highest-ranking immigrant government office holder and a Suryoyo-Assyrian.
(ZNDA: Stockholm) After many years of hard work and dedication to the politics of Sweden, Mr. Ibrahim Baylan a native of Salah in South-East Turkey, this week became the first Assyrian in the Swedish government. The Swedish Prime Minister, Göran Persson, chocked and delighted fairly many Assyrians when he presented his new reorganization of the government. Responsible for the high school and public school education in Sweden, Ibrahim Baylan from Umeå, Sweden enters the absolute political top in Sweden. As the first minister with a non-european background he is given a huge responsibility and many expectations.
Ibrahim has a long political career behind himself, with both student union politics at the university and local school politics in Umeå (circled in the opposite map). In the last two big national elections in Sweden he has been close to both the Swedish Parliament (2002) and the European Parliament (2003). Both times he lost close to the goal line. But this time no election was even required, only the attention of the Swedish prime minister Göran Persson.
Ministry of Education and Science in Sweden is responsible for matters regarding pre-school education and child care for school children, pre-school classes, compulsory school and equivalent schools, upper secondary school, independent schools, adult education, popular adult education, post-secondary education, universities and university colleges, research, study support, student social issues and youth policy.
Göran Persson seemed to be relaxed and merry under the press conference when he presented his reorganization of the government. He was joking with the journalists and was very intimate with self-perspectiviness and a sense of humour. He called Baylan "Ibbe", and declared his confidence in him.
"There are a lot of expectations for the first minister with immigrant background, but we will support him", said Persson. Furthermore, Persson added that Ibrahim Baylan definitely was not elected because of his immigrant background. "Ibbe" himself was calm and gave a very serious impression and was careful with the answers he gave to the questions that were asked. But at one point he was very clear: "I belong to the Assyrian/Syriac minority", he answered on the direct question about his background.
On 19 October, the Swedish Prime Minister Goran Persson said that his country would support Turkey's European Union membership bid if it fulfills the EU's political criteria, especially those concerning human rights and minorities. Speaking after his meeting with Jacques Chirac, Persson said that Stockholm favored Turkey's membership.

[Zinda: The article is based on a piece written by Abraham Staifo, President of the Assyrian Youth Federation in Sweden and translated by our Zinda correspondent in Sweden, Mr. Tomas Isik. For a report by AINA click here. Zinda Magazine urges the Assyrian groups, federations and political groups around the world to extend their congratulations to Mr. Ibrahim Baylan on this significant achievement. Send your letter to:
Ministry of Education and Science
Drottninggatan 16
103 33 Stockholm
Tel: +46 8 405 10 00
Zinda readers can send their congratulatory messages here.]
Assyriska's Final Chance to Advance
(ZNDA: Stockholm) Assyriska, the Assyrian Swedish football (soccer) team, lost its final match against the leader of the Superettan League of Sweden (Bollklubben Häcken) on 23October (1-3). The final standings of the top three teams in the Swedish Superettan (Super-1's 16 clubs) are as follow:
1. Bollklubben Häcken wins the title with 65 points
2. Gefle IF in second place with 58 points
3. Assyriska in third position with 54 points
Out of the 30-games season, Assyriska won 17 games, lost 10, and drew even in 3 games.
Since Assyriska did not win the first two top positions (first and second) of the "Superettan" to advance automatically to the Swedish Premier League "Allsvenskan, it needs to go through a special qualification process to have a chance to advance. It needs to face the team in 12th position of the Premier League "Allsvenskan," which is still to be determined, and play it twice: home and away. The Swedish Premier League "Allsvenskan" is not concluded yet to determine the final standings; there are still two more games remaining for each team.
Assyriska's opponent will be known within the next two weeks, depending on the points the bottom teams attain and whom they play in the last game.
Assyrian Student in Turlock Fears Deportation from U.S.
Courtesy of the Modesto Bee
7 October 2004
By Jeff Jardine
(ZNDA: Turlock) Monika Vardeh's résumé has an all-American look:
Honor student at Turlock High, class of 2001.
Graduate of Modesto Junior College.
Senior at California State University, Stanislaus.
Teller at Bank of the West in Hughson.
She speaks English perfectly, with only a slight Middle Eastern accent, and also knows Assyrian and bits of German.
"She can go anywhere in the world, and they'll know she's an American," said Ron Mekah, her fiancé. "They can tell."
Therein lies the rub. She doesn't want to go anywhere else. She wants to stay here. But the U.S. Department of Homeland Security wants to deport her to Germany, which, she fears, would send her to certain death in her birthplace of Iran.
She needs to convince American authorities that she belongs here, in the United States and in Turlock, and she took a step toward achieving that Wednesday morning when she surrendered to authorities in San Francisco.
The meeting went better than she expected. Officials are allowing her to remain free without bond until her case is sorted out.
"They trust me," she said shortly after her hearing on the morning of 6 October. "They usually handcuff (immigrants), but my lawyer talked them out of it. They treated me with dignity. They looked at me as a human, not a number. They took my background into consideration. It was absolutely phenomenal."
Vardeh must go to San Francisco every third Tuesday of the month to sign in, letting officials know of her whereabouts. She can't leave the state without advising them of her plans. She can't leave the country, period, which is interesting since they're trying to deport her.
And yes, they still want to deport her. But it's not that simple.
The 22-year-old Turlock woman is caught in one of those immigration Catch-22s.
She was born in Iran in 1982. Her family — all Christians — fled Ayatollah Khomeini's Islamic fundamentalist regime in 1985. They went to Germany, hoping to continue on to the United States, which they did — a dozen years later.
Monika's brother, Jeffrey Warda, preceded them to America and received permanent resident status. Their mother, Pratis Chalabi, and Monika came here on visitors' visas in 1998, when Monika was 15.
Warda tried to sponsor them for permanent status. Immigration approved Chalabi's residency, but denied Monika's. So she applied for political asylum in 1999.
Immigration officials, she said, canceled numerous hearings on her case. Years passed before she learned that her political asylum request had been denied. She appealed, and that also was denied.
When she dropped her second stage of appeal — on advice of her attorney, Banafshef Akhlaghi — it triggered the order for deportation to Germany.
Akhlaghi knew the move ultimately would force U.S. officials to look more closely at Vardeh's case and, more importantly, make them understand what would happen if they deported her.
Vardeh never was granted refugee status by Germany, and that country now refuses to take her back or grant her a travel visa. And the United States won't send her directly back to Iran.
"I can't go back to Germany," she said. "They won't allow it. The minute I set foot in Germany, they'd put me on the first plane to Iran. And the minute I set foot in Iran, they'd kill me."
So now she waits, hoping Germany will stand firm in its refusal to take her back.
Once that happens, she can take her immigration case to trial, where she can show how American she's truly become, that this country is her home.
Her entire family is here. She has no relatives remaining in Germany or Iran.
She's finishing her education here, scheduled to graduate in the spring. She works here. She wants to get married and have her family here, to live the great American dream.
Yes, she is American in everything except the paperwork.
"We respect what they (the Homeland Security people) are doing," Vardeh said. "We just want to live in peace. We don't want to live in terror. We've done that before."
Here is an article written in the local town of Forsyth, Ill. about my uncle going to work in Baghdad after 45 years.
Syria Launches Program to Save Aramaic Language
Courtesy of the Australian Broadcasting Company
4 October 2004
By Hamish Robertson
(ZNDA: Damascus) In Syria, the government has launched a program to save one of the world's oldest and most important languages from dying out.
Aramaic is believed to have been first spoken in ancient Mesopotamia about 3000 years ago. And scholars say it was the language spoken by Jesus Christ. But it's now only spoken in three villages in central Syria and even these communities need help to pass it on to their children.
Our Middle East correspondent Mark Willacy compiled this report in the village of Ma'aloula in central Syria.
MARK WILLACY: Sunday morning in the Qalamoun mountains north of Damascus, and church bells summon the Christian community to mass. In the hilltop village of Ma'aloula the service is performed in a mix of Arabic and Aramaic.
In the church of Saint Serge, Father Toufic Eid recites the Lord's Prayer in Aramaic.
TOUFIC EID: In fact Aramaic was the language of all this area here and Jesus spoke in Aramaic. And this language remained in these villages, Ma'aloula, Jebadin (phonetic) and Sarqa (phonetic).
MARK WILLACY: Outside the church Joseph Sharbit and his friend Mike Khoury are discussing the looming fig harvest in Aramaic. I ask Joseph about the future for this ancient language.
"I am very much afraid this language will disappear," he says. "But at least now there is a new institute here in Ma'aloula to teach it to our children so we can keep it alive," he tells me.
His friend Mike Khoury explains that Aramaic is the oldest language in the Middle East.
"It existed in Damascus 1,000 years before Jesus Christ," he says in Aramaic. "It's now only spoken in three villages, but the new government institute is trying to keep it going. We're very proud of it," he says.
About ten per cent of Syria's population is Christian, and for them Aramaic is a direct link to Jesus Christ.
"The language is over 3,000 years old," says Joseph Sharbit. "And in this village we are making an effort to pass it on to the next generation," he says.
Bob Rasho of Forsyth, IL Returning to Homeland to Help with Reconstruction

Courtesy of Herald & Review
16 October 2004
By Huey Freeman
(ZNDA: Decatur) Bob Rasho believes the war in Iraq is the right war at the right time.
The 66-year-old former civil engineer is moving to Baghdad to act upon his belief.
"I will be part of the U.S. Embassy staff in Baghdad," Rasho said in an interview at his Forsyth, Illinois home, where he has lived since 1980.
Rasho's assignment will be to advise Iraqis on reconstruction projects as part of the State Department's Iraqi Reconstruction Management Office.
A native of Iraq who has lived in the United States since 1959, Rasho said he is motivated by a desire to serve his adopted homeland.
"I feel that I owe it to this country," said Rasho, a friendly, easygoing man who became a U.S. citizen in 1970. "This is a unique opportunity to serve this country in a time and place where I can be useful for our overall cause. I feel very strongly for the cause of fighting the war on terrorism."
The retired Illinois Power project manager flies to Washington, D.C., on Sunday to receive two weeks of State Department training before joining the staff in Iraq. He said his experience as an engineer and manager, as well as his ability to communicate with Iraqis in their native language, will help him in his new job.
A native of Habbaniya - in the heart of the Sunni Triangle, 45 miles from Baghdad - Rasho has not returned to Iraq since he moved to Chicago as a young engineering student.
"Moving to America was the dream of everyone in Iraq, particularly the Christian minority," Rasho said, adding that Christians have been systematically persecuted and discriminated against by the overwhelming Muslim majority. Rasho belongs to the Assyrian ethnic group.
"Assyrians are as ancient as Indians in the United States," Rasho said.
The Assyrians, along with other minorities, including Kurds and Turks - as well as the Shiite majority - have been treated as second-class citizens by the Sunni Arab ruling class in Iraq for more than 80 years, he said.
Rasho said minorities have been discriminated against in many ways, including employment and educational opportunities.
"We had no rights," Rasho said.
Since the Baath Party seized control of the government in 1968, things have gotten worse for all non-Sunnis. The Sunni Arabs comprise about one-fifth of the nation's population.
"Things have really gotten bad since Saddam and his Baathists took over," Rasho said. "They were only good for Sunni Arabs.
"They did not recognize Assyrians as an ethnic group. They forced them to adopt Arab names and register as such. This to me is ethnic cleansing."
For example, all sermons in Christian churches had to be approved in advance by Saddam's secret police. A picture of Saddam had to be posted in each church, and services had to include words of praise for the dictator.
Rasho said it infuriates him to hear so many reports on the mistreatment of Iraqi prisoners by a few "stupid, misguided American soldiers" in Abu Ghraib prison while Saddam's massacres have gone largely unreported.
"He instilled fear in everybody," Rasho said. "He massacred hundreds of thousands of people. He gassed the people of Halabja."
Rasho said he did not support the idea of overthrowing Saddam until 9/11. Before that, he advocated the idea that the Iraqis themselves should figure a way to overthrow Saddam.
"However, 9/11 in my opinion was a wake-up call to all Americans who cherish our freedom, our democracy and our way of life," Rasho said. "The wake-up call was that these fanatic Moslems - not all Moslems -are determined to destroy our way of life. So we had no choice but to try to destroy them first."
But why Iraq, and not just Afghanistan, where al-Qaida had its base?
"Both countries, in my opinion, were very dangerous in support of terrorism," Rasho said. "As far as Saddam Hussein, particularly after the United States and the coalition kicked him out of Kuwait, he was directly and indirectly supporting terrorism."
As evidence, Rasho cites the presence in Iraq of Abu Nibal and Abu Musab Zarqawi, known terrorists believed to be responsible for killing Americans in the Middle East. Zarqawi, who has been linked to al-Qaida, is the leader of the group that has been abducting and beheading civilians in Iraq.
"Saddam was as dangerous, if not more dangerous, than the Taliban in Afghanistan because Iraq had rich resources," Rasho said. "The brutality of Saddam was well-known and his hatred of the United States."
Rasho believes in the strategy of having well-equipped U.S. soldiers fight jihadists, or Muslim holy warriors, in Iraq, rather than waiting for them to hit America again.
Pauline, his wife of 33 years, and their adult children, David and Anne, support his service in Iraq.
"It's just something he wants to do," Pauline Rasho said. "He's supported this family through all these years. I feel I need to support this decision."
She said she is not apprehensive, despite the well-known dangers. Bob Rasho said he will be living in a well-guarded embassy complex, within the Green Zone, also known as "the bubble."
Shortly after hearing news of the attack in the Green Zone two weeks ago, Rasho called the people he will soon be working with in Baghdad.
"They are OK, and I am still proceeding with my plans," Rasho said, adding that there are thousands of people working in the zone. "The group I am with is all safe. My future colleagues are all OK. It's a war zone. Things happen."
Pauline Rasho said she might become apprehensive once he's gone, but now she is too busy with family and friends to think about it.
"He will be in the Lord's hands, and he'll take care of him," she said.
Members of Operation Enduring Support, a Decatur-based military family support group, have embraced Rasho as one of their own. He has faithfully attended the group's weekly meetings for the past 20 months, encouraging service members who are home on leave and consoling those who have lost loved ones in battle.
"He's meant an awful lot to the soldiers because it's made them more aware of the Iraqi people," said Betty Gaumer, who leads the support group along with her husband, David. "Just knowing that he's so supportive and so appreciative of the efforts has been meant a lot to them."
David Gaumer said he considers Rasho a loyal American who has been doing a lot for the United States and will do a lot for Iraq.
"He's just a fabulous person, and I think it's wonderful that he's doing this," he said.
[Zinda: Mr. Rasho is the uncle of our reader, Ms. Mona Malik, Chair of the Narsai's Taste of the Mediterranean, to be held this year on Friday, 12 November.]