The Other Iraq War
Arnold Beichman
The Washington Times
29 March 2005
There is another war going on today in Iraq about which little is heard. It is a war against Christianity. Christians in Iraq are a comparatively small, windling minority: fewer than 800,000, merely 3 percent out of a population of 26 million.
Though Iraqi Christians are a minuscule minority, they suffering unrelenting Muslim persecution. The Iraqi Christian population, once was more than 15 percent, decreases daily due to emigration to safety in Western countries. Muslim persecution in Iraq of Christians was highlighted in January when Archbishop Basil Georges Casmoussa in Mosul was kidnapped. Cooler Muslim heads must have prevailed because he was released the next day.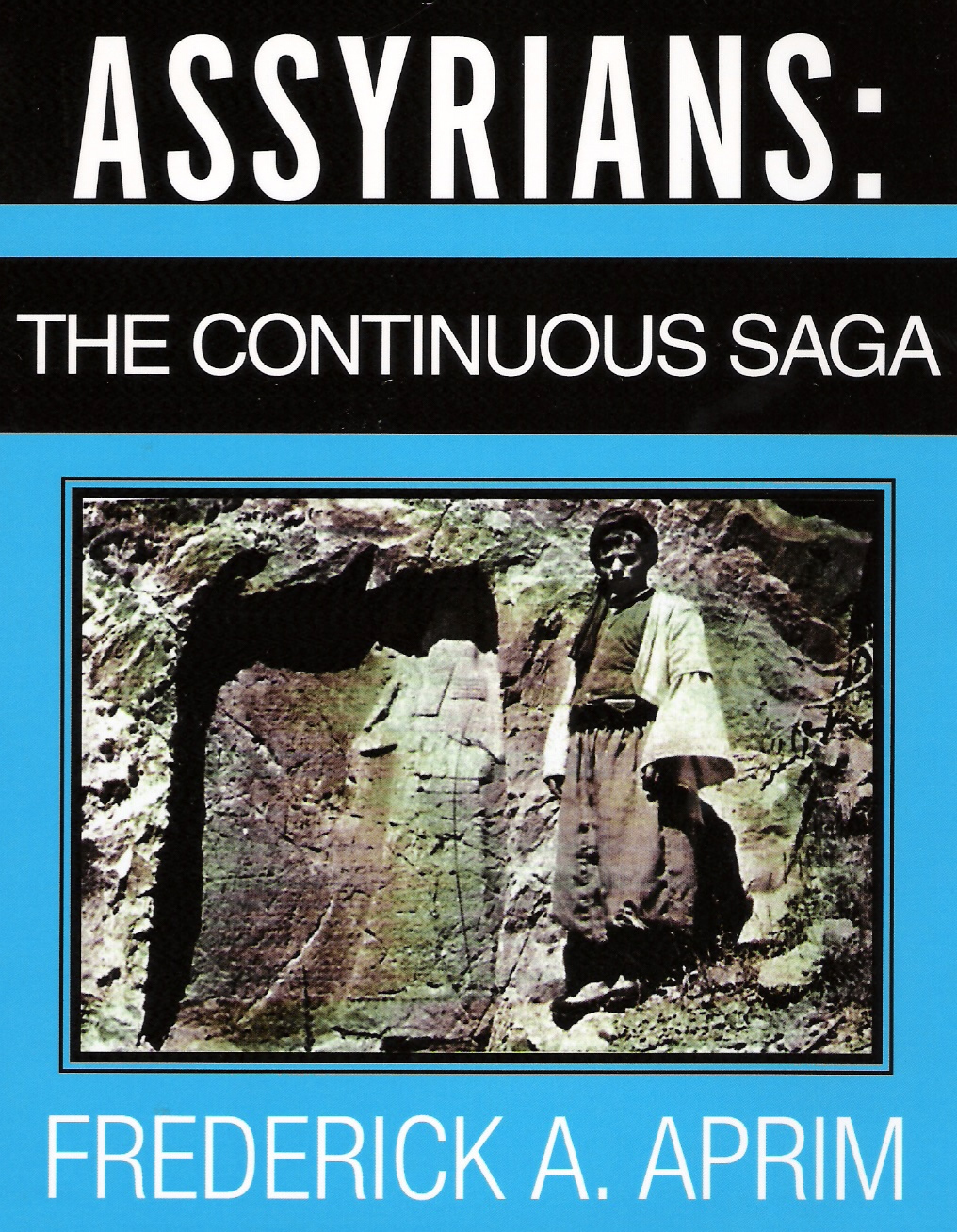 Assyrian Continuity from Fall of Nineveh to Modern Times / 309 pages
Hard Cover $30
Paperback (Soft Cover) $20
Price includes shipping and handling.
Send money orders (preferred)
or personal checks to:
Fred Aprim
P.O. Box 446
Hayward, CA. 94543 USA

Iraqi Christians have historically played an important role in the country. Tariq Aziz, 69, now in coalition custody, and once a familiar face on Western TV, is a Chaldean Catholic. During Saddam's dictatorship, he was Iraqi foreign minister and later deputy prime minister and at one time was even targeted in an assassination attempt by Iranian Islamic terrorists.
It is a paradox that during the Saddam Hussein dictatorship, Iraqi Christians "enjoyed considerable religious freedom," according to Nimrod Raphaeli, senior analyst with the Middle East Media Research Institute. Successors to the dictator Abdul Karim Qassem, assassinated in 1963, employed Christian women, who all spoke excellent English, as I then noted. They were practicing Chaldean Catholics under guidance of a Belgian priest who conducted his office without let or hindrance.
All that has changed. Last August, five churches in Baghdad and four in Mosul were hit in a single day's attacks that killed 12 people. In October, five churches in Baghdad were hit on the first day of the Muslim month of Ramadan. In November, eight people were killed in two church bombings. It is considered justifiable homicide to kill a Muslim convert to Christianity.
Iraqi Christians are now specifically targeted by the Islamists because they allegedly collaborate with what is called the "invading crusading army" or simply because they are labeled infidels and therefore fair game. Iraqi Christians report destruction of Christian businesses, harassment of Christian university students and especially Christian women, who are forced to wear the veil.
The Christian "collaboration" allegation is true in that because most Christian schools give English a high priority in the language curriculum, the multinational forces naturally have hired Christians for office work, especially translation.
Because of discrimination against Iraqi Christians in the public sector and the military, Christian businessmen have entered the service and retail sectors of the economy, which included liquor stores. Islam bans alcohol so the liquor retail business was taken over by Christians to sell to their co-religionists. They have prospered because, says Mr. Raphaeli's report, many Muslims ignore the Koran ban on alcohol. In fact large sums garnered by the Saddam regime under the "oil for food program" were used by Saddam to import fine wines and liquors for himself and his cronies.
With the fall of Saddam, Islamists ordered the Christian liquor store owners to close shops. Islamists gutted the liquor stores when their owners failed to shut down. Some recalcitrant owners were shot and killed. Christians have complained that, after being driven out of the liquor business, Muslims moved in to their stores and continued selling liquor publicly.
Christian Iraqi university students are hassled by Muslims. At the University of Mosul, Iraq's second-largest, 1,500 Christian students, in fear for their lives, have stopped attending classes.
Fearing attack, Christians celebrated last Christmas in their homes, not in churches. In fact, priests avoided the traditional midnight Mass and told their parishioners to stay away from churches at Christmas time out of concern for their safety. Said Patriarch Emanuel III, the Patriarch of Babylon:
"As leaders of the Christian communities in Iraq, we are pained by what has happened to our country. There is destruction of our people, resources, buildings and churches. We grieve over the tragic death of many of our children and the injuries and psychological shocks suffered by others."
This is the unreported war in Iraq, a war which will go on until not a single Christian, nor a single Christian church, remains in Iraq. And it is a war supported by Muslim clerics, whether Sunni, Shi'ite, or whatever sect.

[Zinda: Arnold Beichman is a Hoover Institution research fellow and a columnist for The Washington Times.]

Let Us Work Together for Autonomous Assyrian Province in Northern Mesopotamia
Dr George Habash
United Kingdom
On 30 January 2005 our people have given their verdict and that is that we do not belong to a centralised system of government that marginalises our existence in our own homeland the land of our forefathers.
The refusal of our people to vote indicates a serious concern that must be taken seriously by all Assyrian politicians and activists to relay this message of rejection to the status quo position into a wide and robust national Assyrian action for self determination that has been long overdue due to political tinkering in the past hundred years by both local and global masters.
The groundswell and shake up of the political system in the past two years following the fall of Baghdad on 9 April 2003 show us beyond any illusion that this state formed after the Armistice of 1918 is unworkable unless it goes through a process of Yugoslavisation ie a federation of minor states that will go free after a decade, two or so.
There are at least four national components which make up this state, the Kurds in the north east, the central Arabs, the southern Arabs and the Assyrians and their compatriots (the Yezidis and other minorities who live with them in their geographical heartland). Here I speak on behalf of my people the Assyrians and appreciate any ethnic group not mentioned here to seek their own redemption.
An Iraqi Christian family is searched by a security man before they enter al-Najat Syrian Catholic church to attend the Easter Sunday service in central Baghdad. Despite high security threats, Iraqi Christians crowded into the church of al-Najat in Baghdad on Sunday to celebrate Easter along with their counterparts worldwide. After the U.S.-led invasion of the country, insurgents began targeting Iraq 's Christian minority, accusing them of cooperating with American 'infidels' by working as translators, house cleaners and merchants. Reuters/Ali Jasim
The old system of governing has failed and is defunct where a minority in the centre wants to rule the whole country by force willy-nilly; the southern Arabs had enough of this abuse and are not interested in governing the whole country and do not have the means to do so but are determined to run their own parts even if that leads to disintegration or partition; the events of the past two years clearly and indelibly mark such desire.
The southern Arabs are content with their own massive areas from south of Baghdad down to the Gulf manned by a large population and sustained by huge oil reserves beneath their soil.
Our Kurdish neighbours in the north east are also determined to keep their status bestowed to them since 1991 and even moving few steps forward to legalise that existence by a federal law that they want to promulgate.
Where do we the Assyrians stand following this rout and spoil especially after the verdict given by our people on 30 January 2005 elections-no to status quo and no to centralised system?
The current state is internally delineated and apart from the three groups who share the big slices of the pie, the only losers are the remaining ethnic groups and the Assyrian/Christian group is the most vulnerable group unless an urgent action is taken to salvage the 'Last Stand' from extinction.
The inherited state is divided between the three groups in the form of provinces and while the Kurds have 3 provinces, the centre and southern Arabs share 15 provinces among them.
The Assyrians form the majority of the Christians in the land and have been denied such privileges even though they are historically and logically considered the native and indigenous people of the land.
Since the creation of the current state the Assyrian heartland which is roughly defined as the land subtended between the Tigris river and the Upper Zab has been denied the central funds and is judged the most neglected area in the country due to prejudices subjected against the Christians in competing with other non Christian areas within the province of Nineveh which once included the current Duhok province.
The current policy of grab advocated by the major three groups urges us to seek our own salvation and destiny lest we disappear overnight and the solution is to force our way and challenge those in the corridor of power in today's state.
We ask and not beg for an Assyrian province in the land between the Tigris and Upper Zab and this means splitting of Nineveh province into two east and west of the Tigris river and that also requires the inclusion of our areas from parts of Duhok province. Remember this geographical area is not only 'the Nineveh Plain' but the whole land between the two rivers and that includes plains, valleys and mountains.
The outcome of this scheme will give us a fully administered Assyrian province shared by Assyrians and Yezidis and all other inhabitants of that geographical area in the middle and flanked by partial Assyrian presences in west Nineveh province and Duhok province and Arbil province.
This Assyrian province in the middle of the north will be fully Assyrian in identity and neither be part of any neighbouring provinces which meant neither Kurdish nor Arabic in substance. It will remain part of the central state until local autonomy is formalised for this fledgling new status in par with the statuses of the other provinces of the country.
The Assyrian province will be allocated funds from the central treasury and this money will be used for the first time in rehabilitation and modernisation programmes to facelift the province that was subject to neglect ever since the creation of state.
The province will be multi ethnic and multi ecclesiastical and each town and village will retain its nature apart from reversing the demographic change that was imposed in the past. This will consolidate the freedom of each ethnic background and buttress the ecclesiastical denominational identity of each town and village.
Each town and village will run its own affairs and hierarchical posts will be given according to the will of the majority.
All present Assyrian towns and villages are overcrowded and built in arable lands therefore new towns and villages must be constructed to house and manage the population growth and the return of our people in Diaspora. New towns and villages must be built on the slopes of mountains or adjacent to rivers and in sparse areas along the province to give the province an Assyrian existence.
This will be true as our people tend to aggregate and upon approving such province the presence of our people in Baghdad and Basrah for example will become unwanted; many of our people will return to the heartland because as events proved the de-secularisation of society will clash with our presence in other parts where strict one sided culture is enforced. The multi culture nature of Kirkuk for example might make it workable as a metropolis northern city but events in the future will further test that.
The economy of the province funded from central treasury will flourish and plans for development will be forged in fields of agriculture, dairies and light industries. A tourist village should be constructed with modern facilities to attract world tourists as we have the correct climate for such tourism industry and historical and ecclesiastical sites to show.
The proposed province once approved will opt for better education system, better transport communication facility and will run itself by its own sufficient police force. It will also adopt its own national flag and anthem and the relationship between this province and the centre will be in par with other provinces. If they go solo we go solo too.
Our people in Diaspora are not content with their lives as aliens and stateless in foreign countries and in my view up to 50% might return once we have an autonomous province in our heartland in the northern Mesopotamia and up to 85% might return if we have a full independent state.
This is our solution and our demand and we are determined to see that implemented and we tell it without hesitation and let the central government know we will not back away until that hope comes true and if hard press we go for a full independent state and take to the streets worldwide as we have done in recent months.